2010 Rookie Impact




6/29/10



It's not the will to win, but the will to prepare to win that makes the difference.
- Bear Bryant

Everyone wants to win, but relatively speaking, very few people are willing or able to sacrifice the time and resources to make sure winning "happens". Far too many pro sports owners believe money or simply wanting to win a championship should be enough to get their teams into the Super Bowl. Being willing to spend money and knowing where to spend it are two completely different things in sports, for it takes a great scouting and personnel department to recognize the talent, the right coaches to mold it and enough of the right leaders in the locker room to make sure each player is on the same page.

Fortunately in fantasy football, we are only required to speculate on the results of the aforementioned ingredients of football success. But just because we are mere spectators doesn't give us the right not to prepare ourselves for the upcoming season as well. It has been said that if you don't vote, you have no right to complain. Fantasy football isn't much different in the sense that if you don't prepare over the summer and have a pretty good stance on each "candidate" that you may draft, you have no right to complain when your teams hang around mediocrity all season long.

A good part of the preparation process every summer is trying to figure out just how much impact rookies can have in fantasy for the upcoming season. In most cases, running backs steal the show when it comes to immediate contributions, although that notion has been challenged in recent years by the rookie campaigns of players such as Matt Ryan, Eddie Royal and Hakeem Nicks. Even the notion that a rookie who goes through a long holdout cannot be productive in Year One has taken a beating by the likes of Michael Crabtree. However, any fantasy owner need ask themselves only a few questions to get started when it comes to rookie evaluation for fantasy purposes:
Is he in a position to succeed?

For a RB, does he have a good line to run behind and an OC that likes to run the ball? For a QB, does he have a good pass-blocking line and 2-3 decent options in the passing game? For a WR or TE, does he have a good QB throwing him the ball? Does he operate opposite a star WR or is he being counted on to carry the passing game?



Is he a day one starter or will he see the field at least half of the game?





Does his "style" fit in the team's offense?

(Unfortunately, we can't take for granted that teams and their personnel departments do this.) For example, does Ryan Mathews' power and vision fit into San Diego's scheme? Does C.J. Spiller have the explosiveness to succeed in light of Buffalo's porous offensive line? Can Jahvid Best's speed provide big plays behind Detroit's offensive line where Kevin Smith's power could not? Does Demaryius Thomas' natural talent allow him to follow somewhat successfully in Brandon Marshall's footsteps? Does Dez Bryant show why he was labeled by some as the most talented player in the draft or do his supposed lackadaisical off-field habits lead him down the path of one Adam "Pacman" Jones in the pressure cooker than playing for the Dallas Cowboys can sometimes be?
Certainly, there are more questions that can be asked, but to establish a baseline on a rookie, I think this gives us a pretty good start. At the very least, I hope to provide each of you my initial thoughts on the incoming class before I really buckle down on player evaluations next month with the release of the first round of PSAs.
Note: The rankings below are for the 2010 season only and are ranked in order of likelihood of fantasy impact. (For example, QBs like Sam Bradford or Jimmy Clausen may accrue more fantasy points given their position, but the chances of them impacting a fantasy team are slimmer than say, a potential fantasy WR3 in a three-WR league, because the WR could be an every-week starter.)
Rookies Who Just Missed The Cut:

15. Rob Gronkowski, TE New England
Reasons to like Gronkowski: Without a doubt, Gronkowski's biggest advantages heading into his first season are opportunity and the presence of Tom Brady. "Gronk" needs to only beat out fellow rookie Aaron Hernandez for the right to be Brady's main middle-of-the-field outlet as free-agent signee Alge Crumpler is simply an extra offensive lineman at this point in his career. Because the former Arizona standout projects as an above-average receiver who can block in the run game (unlike Hernandez), Gronkowski figures to remain on the field all three downs once he becomes acclimated to the playbook. Despite the fact that Ben Watson's production never seemed to match his athletic ability, Brady did not hesitate going to him in key situations when it was necessary to do so. It shouldn't take very long before Brady realizes Gronkowski's hands are more consistent than Watson's ever were. The rookie's prototypical size should immediately serve him well in the red zone, although it seems unlikely he'll get the call inside the 20 too often in 2010 with Randy Moss still on the team.
Reasons to dislike Gronkowski: Back injuries are always unpredictable, which is pertinent because that is the surgery that sidelined the rookie from Arizona for the entire 2009 season. Much like Jermaine Gresham, Gronkowski will have the added challenge of overcoming a full season of not playing competitive football, which should automatically drop rookie-year expectations. While playing on the same offense as Moss and Wes Welker (eventually) certainly has its advantages, also consider that both players are considered among the elite WRs in the game (when healthy), meaning "Gronk" will be sitting no higher than third in the pecking order on most offensive plays.
Fantasy Assessment: Rookie TEs are never a good bet for great production in fantasy, but if there are two players who can buck that trend this season, it would be Gronkowski and Gresham. In Gronkowski's case, his size and hands may one day remind some of Jason Witten, but for now, he'll need to be happy with being the third or fourth option in the passing game on most plays (behind Moss, Julian Edelman and Welker when he returns). His size could lead him to become a top red-zone option right away in the Patriots' offense, but his actual fantasy contribution will probably be limited in 2010.
Fearless late-June prediction: 32 catches, 370 yards, 3 TDs
14. Jordan Shipley, WR Cincinnati
Reasons to like Shipley: The loss of T.J. Houshmandzadeh was huge for Cincinnati in 2009. Despite a lack of eye-catching talent and speed, he consistently was the man Carson Palmer looked for in key situations because he could find the windows in zone coverage and was always where his QB expected him to be, which was usually 1-2 yards behind the first-down marker. Although Shipley will not be expected to be a Houshmandzadeh clone anytime soon opposite Chad Ochocinco, the rookie has many of his same qualities already in the football smarts category. Shipley has an incredible knack for knowing where to go at the exact right time his QB needs him to be there and is an accomplished returner in the kicking game, all of which reminds many people of Wes Welker.
Reasons to dislike Shipley: As I just stated, many folks liken Shipley to Welker. While that could be true a few years down the road, I doubt that will be the case simply because Welker has always been a fast-twitch WR with elite quickness. While Shipley has many of Welker's tools right now (such as fearlessness, return ability and great hands), he isn't near that level of quickness yet. Moreover, Shipley joins a passing offense in 2010 that will be much different than the anemic 2009 edition. Antonio Bryant figures to be much better than Laveranues Coles was in his only season as a Bengal and Jermaine Gresham will almost certainly evolve into a player that Palmer will depend on sooner than later.
Fantasy Assessment: Early on, I expect Shipley to be a much better WR in reality than in fantasy because Ochocinco, Bryant and Gresham will probably be the focus of the offense in the red zone when the Bengals plan to throw the ball inside the 20. Now, if any of those three players end up injured for any length of time, Shipley could emerge in the same kind of way Julian Edelman did last season. Barring that circumstance, the one area where Shipley should thrive immediately – regardless of the health of the Bengals' personnel – is in first-down conversions, where he will give the opponent's nickel back fits on a weekly basis.
Fearless late-June prediction: 36 catches, 400 yards, 2 TDs; 1 return TD
13. Brandon LaFell, WR Carolina
Reasons to like LaFell: The most immediate advantage LaFell offers immediately is the ability to run block, which probably doesn't sound like a big deal in the fantasy football world. But on a running team like the Panthers, it is quite important and probably will be the key factor as to why he will steal the starting job away from Dwayne Jarrett at some point in 2010, if not Week 1. One trait that allows him to be a good run blocker is his size, which he happens to use very well in the passing game to shield off defenders when catching the ball and running through weak tackles once he puts it away. Much as you would expect from a 6-2, 211-pound WR who is willing to run block, LaFell is fearless catching the ball over the middle, which serves a nice complement to Steve Smith's big-play ability.
Reasons to dislike LaFell: As far as 57-792-11 lines go in college football, it says how much was expected of LaFell that he was labeled a disappointment in his final season with LSU. While drops – which often came as a result of trying to make the play before securing the ball – played a large role in his shaky senior season, it's hard to say how much of his "average" production was due to the Tigers' 56-44 run-pass ratio and how much of it was due to the combination of Jordan Jefferson and Jarrett Lee at QB. Much like the man whose spot he hopes to replace (the recently-retired Muhsin Muhammad), LaFell is no speed merchant. The final drawback LaFell will encounter is HC John Fox's intense loyalty to veteran players. As poor as Jarrett has been in his three-year Panther career, it's quite likely LaFell will need to play at a level well above his veteran competition to secure a starting spot.
Fantasy Assessment: Typically, I hate the rationale in fantasy football that sounds like this: "Well, who else does he have it to throw to?" In LaFell's case, however, that weak argument may actually hold water. Matt Moore can't throw every pass to Smith and since Carolina has little more than Jeff King and Dante Rosario at TE, the WR2 in this offense will likely see more targets than he probably should. Despite Muhammad's supposed inability to separate from coverage over his final two years in Carolina, "Moose" still averaged over six targets/game each season. LaFell isn't quite the receiver fellow LSU alum Dwayne Bowe is, but he's clearly the second-best talent Carolina has at WR right now (behind Smith). Only Fox's preference for veterans figures to keep LaFell from enjoying one of the better seasons from a rookie WR in 2010.
Fearless late-June prediction: 41 catches, 515 yards, 4 TDs
12. Dexter McCluster, RB/WR Kansas City
Reasons to like McCluster: There are always exceptions to the rule – meet the 2009 version of that right now. At 5-8, 165, McCluster is hardly a physical marvel. However, the former Ole Miss standout is all passion, versatility, explosion and football intelligence, which is why he figures to enjoy a fairly long NFL career as an all-purpose threat. With the demanding Todd Haley as his new HC, all of those qualities figure to endear the second-round pick to his new boss, who I suspect will get the most out of his talents eventually. Beyond Jamaal Charles and Dwayne Bowe, the Chiefs certainly have room for the rookie to make a huge impact on offense and special teams. Also, McCluster should be one of the league's best run-after-catch players for as long as he plays, if not one of its most exciting players to watch. While the obvious comparisons to Percy Harvin are good ones, there are some stark contrasts as well. One major difference between the two former SEC standouts during their college careers is that while Harvin was one of many weapons in the Florida spread attack who never saw more than 142 offensive touches in a single season during his Gator career, McCluster saw 181 rushing attempts in 2009 alone.
Reasons to dislike McCluster: As I have touched upon already, McCluster's size is his biggest hindrance as he enters the NFL, even if begins by playing exclusively out of the slot. Fearlessness is often a desired trait in the league, but one must wonder initially if the mighty mite's big heart will expose him to collateral damage the few times he'll be asked to run between the tackles. It's not that he's fragile by any stretch of the imagination – and he actually understands how to run the ball like a NFL runner – but again, collisions with a 230-240 pound LB over 16 games are different for a 215-pound RB than a player 50 pounds lighter. While McCluster is very well put together physically, the difference between him and someone like Percy Harvin is that Harvin entered the league at 200 pounds. McCluster will likely never reach that weight. Perhaps more important than his dimensions, though, is his current competition, ex-Cardinal WR Jerheme Urban – a Haley protégé from their time together in Arizona. Urban typically held his own when given the opportunity to play as a Cardinal, so it is quite possible the rookie will split time in the slot with him.
Fantasy Assessment: Much like Harvin, McCluster won't see a great deal of carries in his rookie season behind Charles or Thomas Jones, but unlike Harvin, he isn't a sure bet to be the slot WR on a full-time basis. I expect he will see a great deal of action as a kick and/or punt returner and even as a change-of-pace RB on occasion, but it will likely take Chris Chambers reverting back to his form as a member of the 2009 Chargers or Urban getting injured for McCluster to enjoy the kind of season Harvin did last season.
Fearless late-June prediction: 30 carries, 170 yards, 1 TD; 31 catches, 400 yards, 4 TD; 2 return TDs
Reasons to like Tate: In fantasy, Tate's biggest strength right now is opportunity. With Nate Burleson now in Detroit, the competition the Golden Domer has for a starting spot in Seattle is suspect at best (Deion Branch, Deon Butler, Mike Williams, etc). At the very least, Tate should immediately contribute in three-WR packages. As for his own skill set, the one characteristic that often gets mentioned right away with Tate is his ability to turn into a running back after he catches the ball. Working in Charlie Weis' offense while at Notre Dame, Tate is a better route runner than most players coming out of college, so from a readiness standpoint, the potential is there as well.
Reasons to dislike Tate: Tate's main drawback at this point is that the Seahawks aren't set up for his immediate fantasy success from a personnel standpoint. If T.J. Houshmandzadeh had a deep threat opposite him – allowing Tate or Houshmandzadeh to regularly work the slot – then I'd say Tate would have a decent shot to make a significant rookie-year splash. But if Tate is required to be the deep threat this season, he is destined to disappoint. Although he does a good job at tracking the ball in the air and outfighting his opponent for the 50-50 ball, Tate's speed and size aren't going to strike fear in many CBs in the league.
Fantasy Assessment: Comparing him to a player of a similar skill set from last season – Hakeem Nicks – Tate has less competition on his own team but less sheer talent than Nicks. Some draft analysts also compare him to Carolina's Steve Smith. While the comparison isn't completely off-base when looking at their run-after-catch skills, Tate doesn't possess the waterbug-like quickness or the elite acceleration that has made Smith such a revelation since 2003. Fantasy owners hoping for the best from Tate will recall that new OC Jeremy Bates (along with Mike Shanahan) oversaw a Broncos offense in 2008 that saw a less-refined rookie WR in Eddie Royal catch 91 passes. In the end, however, I tend to believe Houshmandzadeh will lead the WRs in fantasy production with Tate in some kind of time-share situation with Branch or Butler. I think the overall production between the three players (Tate, Branch and Butler) will be good for Seattle, but the individual numbers for the rookie will likely be merely average.
Fearless late-June prediction: 39 catches, 535 yards, 4 TDs
10. Mike Williams, WR Tampa Bay
Reasons to like Williams: If you eliminate Kellen Winslow (a TE) and Antonio Bryant (no long with the team), the receiver with the most catches last season was rookie Sammie Stroughter with 31 receptions. It's difficult for me to recall the last time a fourth-round draft pick was pretty much a lock for a starting job in his rookie year, but Williams is not your typical WR and the Bucs are not your typical offense – at least talent-wise. With QB Josh Freeman's huge arm and Williams' ability to win on the jump ball down the field, the former Orange WR could be the answer to the Bucs' ability to stretch the field and create big plays. Much like Dez Bryant, Williams is a big, physical WR who will fight for the extra yard and excels at run after catch.
Reasons to dislike Williams: If, in your opinion, Dez Bryant pushed the envelope in terms of off-field issues, then Williams put the stamp on it and delivered it himself. In his time at Syracuse, Williams was suspended for the entire season in 2008 after cheating on a test, suspended again in 2009 for violating team rules and then reportedly quit on the team shortly thereafter. Follow this link for Williams' side of the story.) Despite being a big-play WR, Williams is not a burner and his ability to separate is poor for someone with his physical dimensions, so he is definitely a work in progress – especially considering the fact he essentially missed 1 ˝ seasons in his four-year stay in Syracuse.
Fantasy Assessment: Williams strikes me as the type of player that we will love to hate in fantasy – a WR who follows a huge week up with 2-3 mediocre performances thereafter. In other words, I feel he will be a "fantasy tease". Players that leave as big of an off-field mess as Williams has to this point don't typically mature quickly once they reach the big stage and start cashing in five-and-six-figure paychecks each week. The talent is there for Williams to have a reasonably good first season, but I fear he is not the type of player that will handle success well early in his career. To his credit, he has been a good soldier in Bucs' camp and is already under contract, so he will have the benefit of all the offseason work he can handle and may have finally surrounded himself with good decision-makers off the field. The exhibition season will be big for his fantasy stock.
Fearless late-June prediction: 43 catches, 586 yards, 4 TDs
9. Jermaine Gresham, TE Cincinnati
Reasons to like Gresham: With Reggie Kelly a question mark as he returns from his Achilles' surgery last year, the path is clear for Gresham to make an early impact. The sheer talent of this 6-5, 261-pound specimen is incredible, even if the history of the NFL suggests that rookie TEs don't tend to fare all that well. To get an idea of how gifted Gresham is, he has already elicited comparisons to Tony Gonzalez and Antonio Gates for the hands and fluidity he shows in the passing game. Without gushing too much about the Oklahoma rookie, he is essentially a huge receiver that is a load to bring down after the catch. In Chad Ochocinco and Antonio Bryant, Cincinnati has a pair of starting WRs who can still tear up a defense on occasion, but not so good where they have the right to demand the ball no matter the opponent. So, the chances that Gresham gets to work the middle of the field breaking up Cover 2 coverage week after week this year is pretty high.
Reasons to dislike Gresham: In my opinion, only rookie QBs face a steeper learning curve coming into the league than rookie TEs on the offensive side of the ball. TEs not only need to learn how to run pro-quality routes in the passing game, but also need to pick up the blocking techniques necessary to be effective enough in the running game so as to not tip the offense's hand when it comes to play-calling. Gresham isn't near the liability as an in-line blocker that his current teammate Chase Coffman was coming out of Missouri, but that is the one area where he is lacking the most. (Fortunately, Gresham will be able to fall back upon the experience of one of the game's best blocking TEs in Kelly for at least this season.) Aside from his well-documented injury history, the biggest concern for Gresham from a fantasy prospective is the Bengals' history of production from the TE position (Rodney Holman and Tony McGee are the only notable ones over the last 20+ years).
Fantasy Assessment: Much like fine wine, Gresham's game tape from 2008 only gets better as time passes. Because he is a similar talent to the player I compare him to right now – Jermichael Finley – the possibility of huge production in his rookie year is there. However, as I just mentioned above, expecting any rookie TE to flourish right away is probably asking too much. I won't set the bar too high for Gresham as I continue to re-emphasize the difficult transition from college to pro – especially after a full season away from the game – but Gresham is one of my favorite TE prospects to come out in years and should be a valuable red-zone weapon from Day 1.
Fearless late-June prediction: 36 catches, 530 yards, 6 TDs
Reasons to like Bryant: Size, talent, run-after-catch ability…about the only physical quality Bryant doesn't have in spades is great track speed, which is one of the more overrated traits in football simply because it is one of the most obvious. (How often did Jerry Rice – or heck, even Ed McCaffrey – ever get chased down in the open field?) Bryant's desire when the ball is in the air and his willingness to fight for yards is second-to-none in this class of rookies. He also has the highly-desired ability to catch the ball with his hands – as opposed to being a "body catcher" like so many college receivers are. In Dallas, defenses will be forced to make Bryant the third priority as Jason Witten and Miles Austin demand constant attention, if not double teams, so the rookie should almost always be facing "off" single coverage.
Reasons to dislike Bryant: Dallas has a lot of mouths to feed on offense nowadays, so I'm not sure Bryant reaching 60+ receptions this season is a high priority if Witten catches 90 passes and Austin repeats last season's 81 receptions. Using those two numbers as a barometer for those players and Romo's numbers last season as a benchmark, 171 of Romo's 347 (49%) completions are already used up on two players, and that is before the catches that Marion Barber, Felix Jones, Tashard Choice, Martellus Bennett, Roy Williams and Patrick Crayton figure to see come their way. Much like some of the players he is compared to (Terrell Owens and Brandon Marshall, for example), Bryant's in-game focus as well as off-field concerns are question marks. While fellow competitor Roy Williams has promised to help his new teammate out as much as possible, Williams will make it as difficult as possible for Bryant to steal his starting job opposite Austin.
Fantasy Assessment: In a dynasty league format, Bryant could conceivably be a top 2-3 pick rookie selection. However, assuming each of those aforementioned players (Barber, Jones, etc.) haul in at least 20 passes – Jones had 19 while Bennett and Choice each grabbed 15 in 2009, every other player was well over 20 – Bryant's ceiling is at the 50-catch mark in 2010 unless Romo shatters last year's career-high completion and attempt marks. I suppose if I had no questions about Bryant's immaturity – which is likely what the source of most of his character concerns are at this point – or off-field decisions, I would place him a bit higher on this list. But much like my forecast on DeAngelo Williams last summer, there are a lot of potential obstacles for Bryant to overcome. For this season, in redraft leagues anyway, I'd let another owner deal with Bryant unless he becomes an incredible value pick in the middle to later rounds of your draft.
Fearless late-June prediction: 42 catches, 570 yards, 5 TDs
7. Demaryius Thomas, WR Denver
Reasons to like Thomas: Whereas some of his WR draft classmates made headlines for their off-field exploits, "Bay Bay" was selected by Denver in part because he has been a model citizen with a good work ethic – a common characteristic that HC Josh McDaniels is focusing on as he runs out the previous regime's players and turns the Broncos into a power-running, efficient pass offense. It is likely the same character and work ethic that drew the Broncos to such a raw but ultra-talented prospect like Thomas. Along with his ability to make the big play down the field, the one outstanding quality Thomas has going for him in fantasy is opportunity as Denver wants and needs him to be productive right away – he is expected to play the Brandon Marshall role in this offense as soon as possible. Furthermore, Thomas is a very good run blocker for such a young WR, which only increases the chances he'll see major playing time early in the season on all three downs.

Reasons to dislike Thomas: Thomas' ability to get deep made him a sexy pick for a lot of teams on draft weekend, but one of the places that didn't seem to be a good fit was Denver. In Kyle Orton, Brady Quinn and Tim Tebow, the Broncos have a trio of QBs who are all below-average (at best) throwing the deep ball. It's also ironic that McDaniels decided to pair Thomas up with Tebow because both players are definite projects – in Thomas' case, it is the fact that HC Paul Johnson's option attack at Georgia Tech did not ask him to do much more than run block and go deep. As tough as Tebow's transition to the NFL will likely be, Thomas' may be every bit as tough as so few high-round draft prospects are as inexperienced at running a NFL route tree like Thomas is.
Fantasy Assessment: Ostensibly, McDaniels sees visions of Tebow throwing intermediate-to-deep strikes to Thomas in 2011 and beyond or else he wouldn't have drafted the combo in the first round in April. The problem with that logic is that Tebow is a project at QB, one which is far from NFL competent with his accuracy on the deep ball – the very thing Thomas has going for him right now. Thomas is also a project himself coming out of the option attack at Georgia Tech, which didn't exactly ask him to hone his route-running skills. Thomas is a wonderful talent, but it's a strange marriage at the very least – as both players will require multiple years to improve essential fundamentals at the NFL level, functions their college teams did not require of them – and one that has as much chance to backfire as it does to pay off. Initially, expect Thomas expect to be worth a roster spot immediately in fantasy simply because Denver has no one else in its WR corps who can do the things Thomas can, so he'll have ample opportunity to post solid end-of-the-year numbers.
Fearless late-June prediction: 46 catches, 690 yards, 5 TDs
6. Arrelious Benn, WR Tampa Bay
Reasons to like Benn: The first characteristic most observers will notice about Benn is his size. At 6-1 and 220 pounds, Benn certainly looks the part of a West Coast wideout and has the skills to match as he is a hands-catcher who is excellent in the run-after-catch department. A quick look at his stats – and the game tape – will reveal that much like a Percy Harvin, Benn was used in the backfield on occasion to create big plays for the Illini over his three-year career. But much like several other players on this list, Benn could very well endear himself to the fantasy masses in 2010 because he should be named an immediate starter.
Reasons to dislike Benn: It's almost unthinkable that a player with Benn's talent could score just 10 rushing and receiving TDs in three seasons of college football, so a strong case that no matter what his situation was in Illinois, he should have been able to cross the stripe a few more times. Despite his pre-draft 4.36 40-yard time at his pro day, Benn shows better acceleration than track speed – which isn't necessarily a bad thing – so be forewarned that he won't ever likely be referred to as a deep threat, but rather a WR who is capable of making the big play. Lastly, Josh Freeman flashed last season, but still has a long way to go to be considered an accurate QB. On one hand, Benn is used to playing with inaccurate signal-callers, but on the other hand, fantasy owners probably would be wise to not expect Freeman's presence to necessarily boost Benn's numbers right away.
Fantasy Assessment: As stated above, Benn's college production is cause for concern, but Juice Williams' erratic throws game after game probably hurt him just as much as the Illini's 60-40 run-pass ratio did. It also didn't help his final college numbers that he fought injuries all season long, including the dreaded high ankle sprain three plays into his first game of 2009. When I look at the tape, I see parts of two players he models his game after – Hines Ward and Anquan Boldin. Because he will be a flanker for the Bucs in their West Coast offense, Benn should be able to reach his stated goal of more than 50 catches in his rookie season, likely outperforming his new teammate (Mike Williams), who is getting a lot of hype nowadays in their first season together.
Fearless late-June prediction: 56 catches, 686 yards, 4 TDs
Reasons to like Tate: Finally, the Texans landed a RB who is a decent fit for their zone-run offense. At his best, Tate is an explosive, one-cut downhill runner who plays to his size and will break tackles. With 40-yard-plus runs in each of his four collegiate seasons, Tate even offers up a bit of big-play-ability as well. While it is easy to say he was a one-year wonder at Auburn by looking strictly at his college stats, much of his time was wasted by the Tigers splitting carries in his freshman year with Kenny Irons (2006) and figuring out just what kind of offense they wanted to run two years later (2008). Also working in Tate's favor is the fact HC Gary Kubiak seems to want him to succeed more than the traditional rookie with some of the public comments he has made about the RB since the draft.
Reasons to dislike Tate: On the surface, it wouldn't seem like a RB coming off cervical fusion surgery and an undrafted RB from a season ago could present much of an obstacle for a talented second-round RB, but Slaton and Arian Foster aren't pushovers and have enjoyed success – to varying degrees – in the NFL already. Slaton was initially considered a third-down RB type out of the draft in 2008 and could easily fall into that role on a more permanent basis if Foster and Tate can handle the heavy lifting. Therefore, it looks like it will be a three-horse race on how Houston wants to split up 402 carries – the number of runs the Texans have averaged since Kubiak became the coach in 2006. Speaking more to his individual talent, Tate will need to improve upon his patience and overall decision-making if hopes to end up the featured runner in this offense before the end of the season. Houston also seems content to let Foster have first crack at the starting job entering camp, meaning Tate cannot go through training camp like he has went through OTAs and mini-camp – injured.
Fantasy Assessment: Fantasy owners would like the merry-go-round that is usually the Texans' backfield to come to an end – Tate could make that happen. It sure seems like Kubiak wants it to happen too, but this backfield situation is every bit as murky as Buffalo's – it is quite possible that Slaton becomes the receiving back and Foster becomes the short-yardage back – and that's likely one of the better-case scenarios for Tate. The amount of gap between Tate's fantasy floor and ceiling is larger than it is for any other player on this list this season. Simply put, if a rash of injuries strikes the Texans' backfield like they have in recent years, Tate could easily be Rookie of the Year. Or, he could just end up leading a very convoluted three-headed RB monster in touches. Or, he could end up watching as Slaton revisits 2008 or Foster carries the momentum from last year over to this season. Again, his fantasy stock at this point is very volatile. If there is a player on this list that my projection may change greatly on between now and draft time, it would be Tate.
Fearless late-June prediction: 133 carries, 580 yards, 5 TDs; 15 catches, 105 yards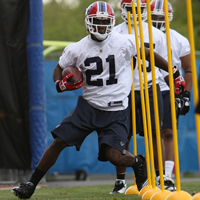 Spiller's situation in Buffalo may limit his fantasy production in 2010.
Reasons to like Spiller: Every rookie class has a divisive pick for fantasy purposes, and this year's award figures to go to Spiller, who is widely viewed as the most explosive player of the 2010 draft. His versatility to play in the backfield as well as move out to the slot – along with his ability to break off long runs – are the traits that his supporters will stand behind, suggesting that will be enough to make him a definite fantasy asset more weeks than not. Furthermore, new HC Chan Gailey is an experienced offensive mind that has shown he can get production from his personnel at the NFL level on a number of occasions.
Reasons to dislike Spiller: Conversely, we don't have to go back too far to see what typically happens to "explosive" backs that land in less-than-ideal situations. Buffalo, in my opinion, is the worst situation for any back in the Reggie Bush-Darren McFadden class of situational big-play backs to land in 2010. (Mind you, I'm not saying Spiller is McFadden or Bush just like I never suggested McFadden was a Bush clone.) First off, the Bills have hands-down the worst offensive line in the league. Their two projected starting guards – second-year players Andy Levitre and Eric Wood – are potential building blocks, but outside of that the rest of the starting line (LT Demetrius Bell, RT Cornell Green and C Geoff Hangartner) would struggle to start for just about any other team in the NFL and the reserves at those positions aren't exactly on the brink of pushing for significant playing time either. This becomes more problematic for Spiller as he hasn't shown himself to be the type of runner to turn a run inside, primarily because he rarely ever had to in college (although he is certainly not just an outside runner). Spiller's other major issue is the fact that he joins the one position of the Bills' team that is actually loaded with NFL-caliber talent: RB. While Marshawn Lynch may eventually get the trade he wants out of Buffalo, the rookie's bigger concern for fantasy purposes right now is the very capable Fred Jackson. The fourth-year pro from Coe College proved to the NFL last season that he is definitely an all-around back capable of carrying an offense. Ball security was been a major issue for Spiller at Clemson, fumbling 15 times in four seasons, losing eight. On a team that will already be offensively challenged, that kind of carelessness with the football will not be accepted.
Fantasy Assessment: Much like Bush, Spiller's fantasy value will vary greatly depending on whether he is being drafted for PPR or non-PPR purposes and whether your specific league's scoring awards return yards and scores. Again, much like Bush, I can easily see the rookie being asked to touch the ball over 200 times in 2010, but with nearly half of those touches coming in the kick and punt return games. In my opinion, it would take an early long-term injury to Jackson to see Spiller's value rise significantly this season, although that occurrence may not be the best for the rookie's long-term health. Believe it or not, Spiller would have been a wonderful fit in the Bills' early 90s "K-Gun" offense, but until the personnel around him gets an infusion of talent, Spiller will be highly inconsistent at best in fantasy. For the next 1-2 years at least, look back at what Tiki Barber did in his pre-feature back days and you should have a fairly good idea of what to expect.
Fearless late-June prediction: 115 carries, 475 yards, 3 TDs; 52 catches, 370 yards, 2 TDs; 2 return TDs
3. Montario Hardesty, RB Cleveland
Reasons to like Hardesty: At 6-0 and 212 pounds, Hardesty has good size for a NFL RB. Time after time in 2009, Hardesty showed that he is a punishing, physical runner who enjoys contact just as much as he enjoys making an oncoming tackler look silly in the hole with his incredible spin move. What's even more impressive is that in today's NFL – where ball security is so important – Hardesty fumbled no more than once a season in his college career. So, if the final few games of last season was any indication of what Cleveland wants to be going forward, Hardesty is exactly what the doctor ordered – a strong one-cut runner who can carry a ground game. For as pathetic as the Browns' offense was for the majority of the season, the fact they have an above-average line that has manufactured some pretty incredible spurts over the past few years (Jamal Lewis' 2007 season, Jerome Harrison's incredible late-season surge in 2009) suggests that Cleveland has some potential for fantasy owners again in 2010.\\\\
Reasons to dislike Hardesty: Stats rarely tell the full story on a player, but with Hardesty stats tell a lot more than they often do. His longest run during his college days was 43 yards, which after 560 carries gives you a pretty good idea he isn't the most explosive RB. Injuries throughout Hardesty's career robbed him of a better body of work, which may partly explain his relatively pedestrian 4.3 YPC in college. Aside from that, he joins a backfield stable that already employs 2009 fantasy playoff darling in Harrison, a hybrid-RB supreme in Peyton Hillis and last summer's preseason sensation in James Davis.
Fantasy Assessment: Anyone that wants to get a good idea of Hardesty's ceiling needs to watch the Tennessee-Florida game last season or his final two regular season games vs. Vanderbilt and Kentucky. The fact that team president Mike Holmgren and HC Eric Mangini seem to be on the same page regarding Hardesty being the "feature back" suggests that he is set up well to be consistent in the workload department, which we know is often more than half the battle to a player being productive in fantasy and reality.
Fearless late-June prediction: 230 carries, 944 yards, 5 TDs; 16 catches, 117 yards
Reasons to like Best: For what it looks like the Lions are trying to do on offense, it appears to be a good marriage between player and scheme. Best is a blur – especially in the open field – and should only be more dangerous on the Ford Field turf eight times a year. Additionally, Best is not the type of RB who necessarily shoots everything to the outside to take advantage of his speed; in other words, he possesses good vision and is decisive when he sees a hole in the defense. Amazingly, Detroit has assembled enough offensive pieces now to make running the ball possible for OC Scott Linehan as Calvin Johnson and free agent signee Nate Burleson will tie up more defensive backs than Bryant Johnson and an injured Calvin Johnson could in 2009. Add to that mix Brandon Pettigrew and Tony Scheffler, each of which should pretty much ensure that Best will rarely ever face anything more than seven men in the box.
Reasons to dislike Best: Despite a great career at Cal, injuries cut short what could have been an ever better stay in Berkeley. Best underwent elbow and foot surgeries prior to suffering a frightening concussion injury vs. Oregon State last season that ultimately ended his season. At 5-10 and 200 pounds, Best is a bit on the smallish side to be considered a NFL feature back, which is what it appears he will be, at least as long as it takes for Kevin Smith (ACL) to make it back to 100%. When that does happen (perhaps by mid-2010 or more likely 2011), it's possible they will end up in a committee. The other big drawback to Best is that he has the distinct (dis)pleasure of operating behind pretty much the same offensive line that saw their RBs rush for 4.0 YPC – tied with three other teams for 25th best in the league last season. In fact, it's been so bad in Detroit the Lions haven't had their most prominent back rush for more than 4.1 YPC since 2004. The addition of LG Rob Sims from Seattle will help, but a lot of the running game's success early on in Best's career will depend on just how well the non-speed parts of his game (vision, decision-making, knowledge of the playbook, pass-catching ability) carry over from his days at Cal.
Fantasy Assessment: Allow me to be among the first to say that only the offensive line may stop what could be the beginning of an offensive juggernaut in Detroit. C.J. Spiller was selected much higher than Best in the first round of April's draft and is getting the most hype right now, but Best is every bit as electrifying as the Clemson standout. The fact of the matter is that the Lions should now be able to see the light at the tunnel in terms of building a team – at least on the offensive side of the ball – so Best is in a better position to succeed than recent Detroit RBs such as Smith and Kevin Jones. So long as Best can stay healthy, he will have some huge games this season, but I fear that the offensive line and the return of Smith will conspire to limit Best's upside this season.
Fearless late-June prediction: 240 carries, 1080 yards, 7 TDs; 40 catches, 294 yards, 1 TD
See a detailed analysis as to how I felt about Best well before the draft (bottom of the article).
Reasons to like Mathews: Outside of following one of the best RBs of all-time in LaDainian Tomlinson, it's hard to get a much better situation nowadays than the one Mathews finds himself in as a rookie. Virtually guaranteed around 290 touches by HC Norv Turner earlier in the offseason, the 6-0, 218-pound Fresno State standout figures to be in the best position of all the rookies to post impressive fantasy numbers this season, not only because he has the most opportunity in terms of touches but also because his new supporting cast should enable him to ease into his role. Nothing is going to come easy, of course, but with all the attention that the passing game gets because of Philip Rivers, Antonio Gates and Vincent Jackson, Mathews should rarely ever see more than seven men in the box. Perhaps best of all, Mathews is more in line with the traditional kind of runner that Turner is used to working with - a powerful grinder in the mold of a Stephen Davis, Ricky Williams or Emmitt Smith who can pound away at a defense all game long.
Reasons to dislike Mathews: Depending on your point of view, Darren Sproles is either the ideal change-of-pace RB or the little gnat that won't allow the fantasy owners to have one more true feature back. As usual, the answer to that debate is somewhere in the middle and it's probably not such a bad thing when considering we don't want our RB studs to get worn down by Week 12. Mathews may eventually develop into a good receiver, but initially he'll hand over much of the work in the passing game over to Sproles simply because Mathews isn't the natural his teammate is at catching the ball plus the rookie is not the most willing pass blocker. Outside of Sproles, it's no secret that San Diego had one of the league's worst run-blocking lines last season. For roughly half the season, the rushing game was historically bad. While some of that were injuries to key personnel up front, the Chargers surprisingly did next to nothing to upgrade the offensive line this offseason, setting themselves (and Mathews) up for a potentially big disappointment in 2010.
Fantasy Assessment: Mathews is the surest bet of all the rookies for the workload fantasy owners want from their players. While I still believe the collapse of the running game was placed too much on Tomlinson's shoulders, it was probably time for him to leave San Diego for a multitude of reasons. In Mathews, Turner has the physical RB he has long been associated with in his coaching career. But even as much as I like Mathews (click on the link below), it will be an uphill battle for him to average 4.0 YPC behind the same line that could only muster a 3.3 YPC for LT and a 3.7 YPC for Sproles. Owners will also want to temper the 40-catch season that Turner has in mind for his new RB, but otherwise there's little reason not to expect 290-300 touches from Mathews. His biggest obstacles at the moment are the holdouts of Jackson and LT Marcus McNeill. If the duo follows through on their threat to stay away from the team well into the season, Mathews falls behind Best on this list.
Fearless late-June prediction: 285 rushes, 1135 yards, 12 TDs; 22 catches, 155 yards, 1 TD
See a detailed analysis as to how I felt about Mathews before his fantasy stock starting going through the roof this spring (bottom of the article).
As a bonus for the dynasty league owners out there that want another opinion on the players they should target in their upcoming rookie drafts, here's how I view this class long-term in June 2010:
Suggestions, comments, musings about the article or fantasy football in general? E-mail me.