At the end of my last article, Zero RB Draft Strategy, I said the following: "I wouldn't suggest ever entering a draft with a plan to stick to a strict draft strategy, but if the draft starts unfolding in a way that presents strong wide receiver values at all of your early round picks, don't be afraid to go all-in on Zero RB." The same can be said for any other strategy.
Last week, I joined an MFL10 on hosted by myfantasyleague.com. For those of you that don't know, MFL10s are best ball, draft only PPR leagues that cost ten dollars to join. It's a 20-round draft, and that's your team for the season. Every week throughout the year, your lineup is automatically filled with your highest scoring options. A starting lineup consists of: 1QB, 2RBs, 3 WRs, 1 FLEX and 1 Defense.
I entered this draft with no set strategy. As it unfolded, something interesting happened: I suddenly found myself in the midst of a Zero WR draft.
The idea behind the Zero WR strategy is simple. Considering how fragile the running back position appears to be, loading up on the position early in your draft will greatly increase your chances of hitting it big. In theory, it shouldn't hurt as much to wait on wide receiver, because wide receiver is one of the deepest positions in fantasy football.
In this MFL10 draft (my team is @thefantasymate), I came away with four running backs in the first five rounds, and didn't draft a single wide receiver until Round 6. I will explore this draft and determine if Zero WR is a viable fantasy football draft strategy.
1.03 – Adrian Peterson, RB, MIN

Before the draft began, I set a draft list on the website, listing Adrian Peterson as my top pick and Antonio Brown as my second choice. If Peterson went first or second, this Zero WR strategy would have been stopped before it ever got started. It seems like people in the fantasy world are either all-in or completely avoiding Peterson. If you are against Peterson, there are plenty of other running back options at pick No.3. You will likely be able to acquire someone like Le'Veon Bell, Jamaal Charles, or Eddie Lacy in Peterson's place (in this draft, Bell and Charles went first and second).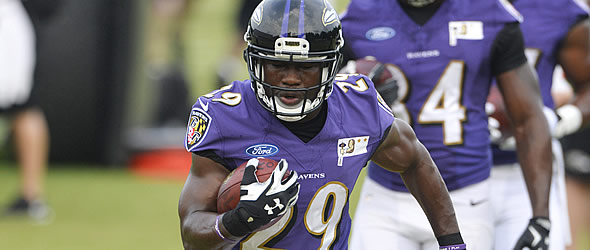 The Ravens run-first philosophy makes Justin Forsett one of the safest RB2s in fantasy football.
2.10 – Justin Forsett, RB, BAL
This pick was an example of following my own advice. In Bust Rates for Top RBs and Ws, I said I'd make sure all the ADP RB1s are off the board before considering the players at the end of the WR1 list. Here, I took Forsett with Mike Evans, Randall Cobb and T.Y. Hilton all still available. Forsett may be a bit of a risk ("age" and "one hit wonder" are the biggest concerns), but the information available to me suggests Forsett is a strong late second round pick. As of now, he is the lead back in a Ravens offense that just added Marc Trestman as their offensive coordinator. We all know what kind of PPR machine Matt Forte was in Trestman's offense in Chicago. Forsett may not match Forte's talent, but Forte's results give a glimpse into what kind of upside Forsett has this season.
3.03 – Jimmy Graham, TE, SEA
I found myself in an awkward zone of player availability in Round 3, something that occasionally happens in fantasy drafts. The players I loved were off the board, and it felt "too soon" to take any of the next wave of players. (Side note: please don't draft with this perspective, it's my biggest fault as a drafter. In reality, there's no such thing as "too soon" for the best player on your board.)
That faulty draft approach, however, left me with an intriguing idea: How about I take a chance on Jimmy Graham? As recently as one year ago, Graham was considered the best tight end in the league. An injury filled year and a move to a run-heavy team has left him second fiddle to Rob Gronkowski in the minds of fantasy owners. This could be setting up an interesting value opportunity in the third round of drafts. Seattle is a very smart football team. They didn't send their starting center and a first round pick to New Orleans for the right to have Graham block for them. If the pairing of Seattle's smarts and Graham's talent ends up hitting, Graham could exceed his mid-third-round ADP.
4.10 – Andre Ellington, RB, ARI
As my fourth round pick approached, I still had not settled on making this draft "Zero WR." When I came on the clock, however, I felt Andre Ellington was the best player on the board. Even if he does lose some of the volume he had in early 2014, he should still be a strong running back play in PPR formats. I should note that I made this pick before the Chris Johnson signing. Right now that doesn't change my outlook on Ellington, but it's definitely a situation to monitor as we approach drafts in late August and early September.
5.03 – Joseph Randle, RB, DAL
Before this draft, Joseph Randle was a player I could never find myself pulling the trigger on. His ADP has moved up into the end of the third round in PPR leagues, which seems like a steep price to pay considering all the questions surrounding the Cowboys backfield. In this league, however, I adored the idea of making Randle my RB4. In a more conventional looking draft, a RB you take in early Round 5 will likely be expected to help carry your team. In a Zero WR draft, I'm able to take a shot at Randle's upside (running behind the Cowboys offensive line) without nearly as much risk, since I'm not necessarily depending on him.
6.10 – Vincent Jackson, WR, TB
7.03 – Larry Fitzgerald, WR, ARI
The way this turn unfolded is a major argument against any kind of "Zero" strategy. I'm not concerned with the players I took, mind you. Vincent Jackson's 2014 stats were nearly identical to teammate Mike Evans outside of the huge disparity in touchdowns. If a couple of Evans' scores went to Jackson instead, the Bucs receivers would be getting viewed completely differently entering 2015. Larry Fitzgerald is one of my favorite players to take in Rounds 7 and 8. Overall, he was a major disappointment in 2014, but he averaged 81 yards per game when Carson Palmer was on the field, a pace of nearly 1,300 yards.
As I said, the problem was not with the players. The problem was that I had Peyton Manning available to me at each pick and I felt that I had to pass on him in favor of the receivers. I understand why he falls into Round 6 or 7, but generally I hate passing on him when I have the opportunity to acquire him at this point. I was backed into a position corner, but that's the risk you take when you commit to a "Zero" draft.
8.10 – Breshad Perriman, WR, BAL
9.03 – Torrey Smith, WR, SF
Funny thing about this turn: two of my top targets around this area are usually Steve Smith and Anquan Boldin (I love old wide receivers, apparently). Instead, I got their teammates. I liked both of these picks because I'm trying to hit it a home run with the Zero WR strategy. These were the 43rd and 45th receivers drafted, but each has the talent and opportunity to provide WR2 value. These players will have a big say in making Zero WR look brilliant or horrible.
10.10 – Tom Brady, QB, NE
Tom Brady would likely be going 3-4 rounds earlier if it weren't for the 4-game(?) suspension to start the season. If you reach the 10th round and still are in need of a quarterback, I love the idea of drafting Brady then pairing him with another quarterback a few rounds later, which is exactly what I did here.
11.03 – Delanie Walker, TE, TEN
Yes, this team already has Graham, but Delanie Walker could be good enough this season to fill my FLEX spot if needed. Walker is one of my favorite tight ends to draft late, so if something happens to Graham (injury; flops with new team), I feel secure at the position. This is a move I would have been far less likely to make in a standard league as opposed to best ball, but I also wouldn't have ruled it out entirely, either.
12.10 – Stevie Johnson, WR, SD
Stevie Johnson is one of the trendiest late round fantasy names of the summer, to the point where I was a little surprised to get him here. All reports say he is developing a connection with Philip Rivers and he's been as impressive as any receiver the Chargers have in camp. He might not be the strongest week-to-week option with Keenan Allen, Malcom Floyd and (eventually) Antonio Gates around, but he should have an opportunity to relive his Buffalo days of fantasy relevancy.
13.03 – Carson Palmer, QB, ARI
Palmer was the guy I had in mind when I moved forward with my Brady-and-a-partner plan, so I'm glad he made it to me in Round 13. In a standard league, you can probably wait even later to get Palmer, but I had to pull the trigger here since everyone is drafting 2-3 quarterbacks due to the best ball format. In his six games last season, Palmer averaged 21.3 points per game, borderline QB1 numbers. If I can get that kind of production out of him while waiting for Brady to make his return, I'm one happy fantasy football owner.
14.10 – Percy Harvin, WR, BUF
15.03 – Cody Latimer, WR, DEN
In the last ten rounds, I have gone from owning zero wide receivers to owning seven. It's not a collection of receivers I would typically end up with in a draft, but I also normally wouldn't use Zero WR. These two receivers are at opposite ends of the spectrum in terms of the logic behind selecting them in the late rounds.
Harvin is a great talent in a bad situation; Latimer is an unknown quantity in a great situation. These are each the type of things you want to look for when filling out the end of your bench. If Harvin's talent can trump Buffalo's awful quarterbacks and/or Latimer flourishes once he sees the field regularly in a Peyton Manning offense, this Zero WR draft could wind up looking spectacular.
16.10 – Jordan Reed, TE, WAS
Just one year removed from being one of the most popular late-round tight ends, Jordan Reed has been discarded by the fantasy football community. With season ending injuries to his tight end brethren in Washington, Reed is left alone to be the man at his position. Reed's own injury problems have derailed his seasons in the past, but in late Round 16, it's tough to pass on a guy with such a clear path to TE1 status.
I probably would never draft a third tight end in a regular league (in fact, I'd rarely opt to draft a second tight end), but best ball with a RB/WR/TE FLEX makes drafting three tight ends a viable move.
17.03 – Lance Dunbar, RB, DAL
The member of my early round running back faction that I fear the most is Joseph Randle, so this move to grab Dunbar is a protection play. Darren McFadden is likely next in line if Randle falters, but he has his own injury (and skill?) problems, so it's not crazy to think that Dunbar could wind up getting a shot at some point down the line. At the very least, Dunbar could contribute to my lineup as a pass catcher (remember, this is a PPR league), even with Randle getting most of the work.
18.10 – 49ers Defense
19.03 – Browns Defense
Since it's a best ball, I needed at least two defenses to cover for the other's bye. Don't draft two defenses in regular leagues.
20.10 – Fred Jackson, RB, BUF
This is about as reactionary as it gets for fantasy football drafting. I came on the clock with this pick about half an hour after seeing the LeSean McCoy hamstring news, so I had to jump at the prospect of a potential starting running back sitting on the board in the 20th round. Reports are McCoy will be back by Week 1, but as a Bills fan who has witnessed Fred Jackson continue to show up year after year despite his predicted demise, I wouldn't write him off just yet.
Final Roster
QB: Tom Brady, Carson Palmer
RB: Adrian Peterson, Justin Forsett, Andre Ellington, Joseph Randle, Lance Dunbar, Fred Jackson
WR: Vincent Jackson, Larry Fitzgerald, Breshad Perriman, Torrey Smith, Steve Johnson, Percy Harvin, Cody Latimer
TE: Jimmy Graham, Delanie Walker, Jordan Reed
D/ST: San Francisco, Cleveland
As this draft unfolded, I was not thrilled with the way it was working out. It felt like my wide receivers were a mess, no matter what I did to address the situation. But now that I can see the team written out as a full roster, I'm changing my tune a little.
My group of running backs all have question marks, but if they come through, this has the potential to be a very strong group. If just two of the big four can come through with RB1 seasons, the main purpose of the strategy is a success.
At quarterback, I get five weeks of Palmer, one of my favorite late round quarterback options, followed by the return of Brady. At tight end, I get one of the elite players in the game, with two high upside players to back him up. I feel 100% comfortable with those positions, whether best ball or standard league play.
That being said, I can't fully endorse this strategy, especially in a league where you are required to start a minimum of three wide receivers. If you are in a league that requires a minimum of two wide outs, or you're the type of owner that feels like you need to have the running back position locked down going into the season, this could certainly be the strategy for you.