The statistics tell the story. The evidence is clear as day. The NFL, unequivocally, has morphed into a passing league. Everyone knows it. But when the numbers are examined, the proof is startling. Last season, there were five players with 100 or more receptions and another four with 90 or more. Compare that to 15 years ago—1998—when no player had 100 catches, and only one player—O.J. McDuffie—had 90.

Relatedly, only two running backs had 300-plus rushing attempts in 2013, whereas 11 had 300 or more in 1998. The changing offensive philosophy has a direct effect on fantasy football. No longer is the so-called "Marshall Faulk Rule" applicable, which called for fantasy owners to select two running backs in the first two rounds if they desired success for that season. Consequently, wide receivers have become a much bigger and more necessary cog for fantasy football players. With that, here's a list of five breakout receivers to target that I believe will have hugely productive seasons.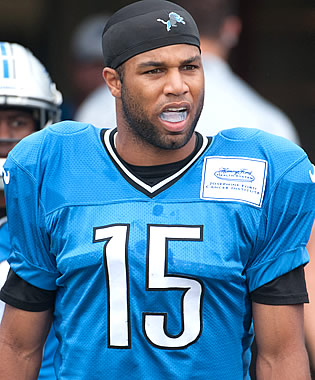 Golden Tate's ADP (WR33) suggest fantasy owners love him as a low-end WR3.
Golden Tate, DET – It's been awhile since Jim Caldwell led a team as head coach, so perhaps it's necessary to remind readers about his philosophy now that he occupies the corner office in Motown. Some of you may look at Detroit's pass-first mindset over the last couple years and think that that'll be a thing of the past with his arrival. Not quite. In Caldwell's first two seasons as Indianapolis' head coach, the Colts led the league in pass attempts in 2008 and were second in attempts in 2009.
What does that mean for Golden Tate? Everything. It says that Detroit will adhere to the aerial attack that has characterized the offense over the past three seasons. With Calvin Johnson garnering so much attention from defenses, Tate will be faced with one-on-one coverage on a regular basis and should be able to put up solid numbers as a result. Tate is the best No. 2 WR the Lions have had since selecting Megatron in 2007. The production Tate had last year (64 receptions, 898 yards, 5 TDs) came while toiling in an offense in Seattle that had the second-fewest pass attempts (420) in the league. Playing in a Detroit offense that could easily have as many as 200 more pass attempts than Seattle, while playing opposite Megatron, should make Tate an intriguing low WR2/high WR3.
Emmanuel Sanders, DEN – Emmanuel Sanders has been in the news lately for his assertion that Peyton Manning is a better leader than Ben Roethlisberger. Who cares what his opinion is about his quarterback? I'm just bummed that all this talk about what he thinks is giving those uninformed fantasy owners an additional reminder of Sanders, who had an OK season in 2013 but whose production could explode as part of the Denver offensive machine.
No one expects Manning to duplicate his historic season of 2013 when he tossed 55 TDs. It is assumed that Sanders will take over Eric Decker's spot opposite Demaryius Thomas. Decker, you may recall, finished with 88/1,288/11. Sanders is not as big as Decker, but he is arguably more athletic with a bit more quickness—two traits that should translate into coming close to mirroring Decker's performance from last season. Sanders' performance week to week could be hit or miss, especially considering Manning's ability to spread the love. Regardless, we should all expect a career year from Sanders.
Sammy Watkins, BUF – We hear talk every year about how difficult it is for first-year receivers to make an impression on the NFL. The special ones, though, tend to make their presence felt right away—most recently, A.J. Green (65/1057/7) and Julio Jones (54/959/8), both in 2011. Sammy Watkins is cut from their cloth, I believe. A uniquely gifted athlete, Watkins is fun to watch after hauling in passes; his yards-after-catch ability will add untold value to his fantasy stock over the years.
The one caveat with Watkins, however, is the development of QB EJ Manuel. His play last year did not give us a preview of any forthcoming All-Pro recognition in his future, although he seems to have the physical tools to become a serviceable QB and a non-hindrance to fantasy studs such as Watkins. If Manuel shows any semblance of growth as a QB, Watkins will be the beneficiary of that development while rewarding savvy fantasy owners with a fairly solid season.
Terrance Williams, DAL – After Miles Austin made his annual pilgrimage to the sideline due to injury last year, Terrance Williams replaced him in the lineup. While he didn't necessarily set the world on fire with his play, Williams had some moments last year. Specifically, he had his best stretch between weeks 4 and 8, when during that five-game period he tallied 21 catches for 338 yards and 4 scores.
With Austin now in Cleveland, Williams gets the chance to show his stuff on a regular basis. Dez Bryant and Jason Witten will be the focal point of the Dallas offense, and, as a result, the focal point of opposing defenses. The second-year youngster should be able to have enough productive games to warrant a standing as a high-end WR3.
Cordarrelle Patterson, MIN – In the abyss that was Minnesota quarterback play in 2013, rookie Cordarrelle Patterson provided Vikings fans with a healthy dose of excitement and optimism for the future. Even though he finished the season third on the team with only 45 receptions and a surprisingly low 10.4 yards per reception, Patterson flashed ridiculous versatility. In addition to his four TD receptions, he also had three rushing TDs and two kick return scores. It seems the Vikings' plan was to use Patterson in the way they once used the diverse skills of Percy Harvin.
For Patterson's sake, it'd probably be best for QB Matt Cassel to win the starting gig over rookie QB Teddy Bridgewater. I've never been a fan of Cassel, but I certainly believe his short-term ability will go a long way toward providing Patterson with a solid complementary piece in the passing game. Patterson will almost certainly take over as the top receiving threat alongside Greg Jennings, who looked dreadfully timeworn in 2013, this year. It'd be a shame if Minnesota can't find consistent ways to incorporate Patterson's physical gifts. The 6-2, 216-pound beast is primed for a really nice season; much like Sammy Watkins, though, that will rely heavily on the play of a suspect QB.