We saw record- breaking stats from rookie wide receivers in 2014, including three – Odell Beckham Jr., Mike Evans and Kelvin Benjamin – cracking the top 20 in fantasy points. The pass-happy trend in the NFL is leading to more points scored by the position, as 17 receivers averaged double-digit fantasy points last season. With so many quality options for fantasy owners to choose from, the position's arrow is definitely pointing up. Here are my top 15 wide receivers for 2015:


1. Demaryius Thomas, DEN – My No. 1 wide receiver heading into 2014 didn't disappoint and finished way ahead of Calvin Johnson, the consensus No. 1 pick at the position. Assuming good health and he stays put in Denver, Thomas will be a no-brainer, top-five fantasy wideout even if the Broncos become less dependent on the pass.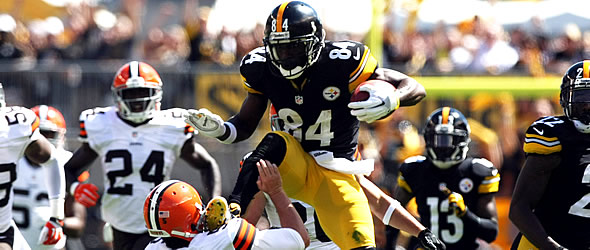 Antonio Brown (129 catches in 2014) will remain the focal point of the Steelers passing game in 2015.
2. Antonio Brown, PIT – The most consistent of all fantasy receivers, Brown has caught at least five passes for 50 yards in 37 straight games. He has 239 catches the last two years combined. Even a regression by Ben Roethlisberger won't keep Brown out of the top 10. He'll be one of the top three receivers taken in your draft this summer.
3. Dez Bryant, DAL – Bryant has scored double-digit touchdowns in each of the last three seasons (12, 13, 16). If the Cowboys let DeMarco Murray walk, expect Bryant to see a few more targets in 2015.
4. Julio Jones, ATL – At 26, Jones is coming into the prime of his career. He's one of the more physically gifted at his position, but injuries remain a concern. He'll remain a highly productive player in new OC Kyle Shanahan's offensive scheme.
5. Odell Beckham Jr., NYG – Speaking of gifted, OBJ proved in his rookie season he's capable of being the No. 1 target without Victor Cruz and will be the No. 1 target if and when Cruz (Patellar tendon) returns. Beckham posted almost identical numbers to Randall Cobb last season and did so in four fewer games. Cobb was the No. 6 fantasy wide receiver in 2014. Beckham is more than capable of being fantasy's No. 1 wide receiver in 2015.

6. Jordy Nelson, GB – Nelson is the deep threat in the Packers offense and is coming of his best statistical season as a pro (98-1,519-13). Back-to-back 16-game seasons should ease any injury concerns.
7. Calvin Johnson, DET – Megatron is the same age as Nelson (29) but chronic knee injuries are starting to be a concern. He still has plenty left in the tank, but this will be first season in a long time the Lions top receiver won't be the consensus top receiver in fantasy football.
8. Jeremy Maclin, PHI – Maclin's ADP heading into last season was the mid-sixth-round for standard 12-team leagues, which returned huge value as he finished as the ninth-best receiver. He should be a late second-round or early third-round pick in 2015, but I suspect his ADP will hover in the fourth-round range.
9. A.J. Green, CIN – Green battled injuries in 2014 (toe, biceps, concussion) on his way to his worst statistical season as pro (69-1,041-6) but still finished 21st among wide receivers. Even in the run-heavy Cincinnati offense, he will be a good bet to bounce back into the fantasy top 10 in 2015.
10. Alshon Jeffery, CHI – Jeffery's yards per reception declined last season (16.0 to 13.3), but he cracked double-digit touchdowns for the first time in his career. Brandon Marshall may be on the move, and the lack of confidence from management regarding Jay Cutler makes Jeffery difficult to project.
11. Kelvin Benjamin, CAR – The Panthers don't throw the ball very well, but when they do, they throw it to Benjamin. His 145 targets were tied for sixth-best with Jeffery, but his 73 receptions ranked him 23rd among wide receivers. Touchdowns saved his value during his rookie year, but he'll need better efficiency numbers in order to crack the top 10 as a sophomore.
12. T.Y. Hilton, IND – The lack of redzone usage and his touchdown upside limited to single digits keeps Hilton outside the top 10, but I'll take him as my WR2 any day of the week.
13. Randall Cobb, GB – Cobb's free agent status makes him a wildcard, but if he returns to Green Bay, he'll easily be in everyone's top 15. His 12 touchdowns last season were a career high.
14. DeAndre Hopkins, HOU – Hopkins (76-1210-6) bested Andre Johnson in 2014, and with Johnson turning 34 years old before the start of the season, Hopkins should continue to be featured as the No. 1 receiving option. The torch has been passed.
15. Mike Evans, TB – I'd have Evans higher, but the prospect of a rookie quarterback in Tampa, likely Jameis Winston, may lead to a more balanced offensive philosophy next season. The Bucs run-pass ratio was 40-60 last season.

Just Missing the Cut: Charles Johnson (MIN), Keenan Allen (SD), Emmanuel Sanders (DEN)

Up Next: Running Backs...