Rest assured someone at some point during each of your drafts will utter some variation of the words ďvalue pick.Ē But what exactly is a value pick? What is value? Value is a relative term that changes based on public perception. When I consider value, Iím looking for a positive return on my investment. Just because a player has an a fourth round ADP and is still sitting there in the sixth round does not make him good value. At the same time, taking a player a round or two above his ADP is not necessarily bad value. Again, everything is relative.
My goal in every pick I make is to take a player I believe will perform at a level above where I drafted him. Last season, George Kittle had a 12th round ADP. This year, he has a third round ADP. Kittle gave owners one hell of a positive return on investment. On the flip side, Jimmy Graham had a fifth round ADP. This year, he has a 13th round ADP. Thatís the type of pick we all hope to avoid.
Letís take a look at which TEs I expect to outperform their ADPs and which I expect to fail.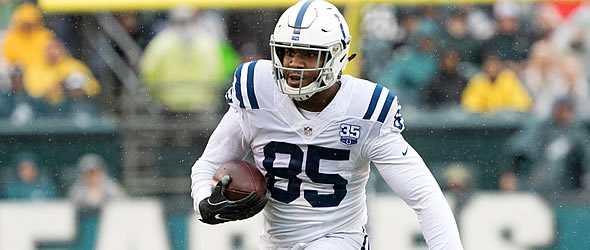 Overvalued: Eric Ebron's unsustainable touchdown efficiency vaulted him to the TE4 in 2018.
Undervalued
The case for Eifert being undervalued: Eifert is still an elite athlete under the age of 30 that is a few years removed from a 13 touchdown season.
The case against Eifert being undervalued: Eifert hasnít played a whole lot of football since 2015 and likely wonít be able to stay on the field this year either.
Verdict: For the most part, tight ends are properly valued this year so I need to dig deep to find the value. Eifert can be had at the steep price of nothing. You can literally take him in the last round. Travis Kelce is in a tier by himself at the top. After Kelce, there is George Kittle and Zach Ertz. Next, we have O.J. Howard, Evan Engram, and Hunter Henry. Beyond that, you might as well stream the position. Rather than spend a valuable draft pick on a replaceable TE, just take Eifert. If Eifert fails, you drop him and youíre in the same position you would have been in regardless. Assuming he makes it through the preseason unscathed, Eifert is going to be starting for the Bengals in Week 1. Perhaps he regains even 75% of his old form. Heís still a monster red zone target and capable of producing mid TE1 numbers if things break right. If not, he didnít cost you anything to begin with.
The case for Waller being undervalued: Waller is a super athlete, just 27 years old, and projects to start in a position where Jared Cook saw 101 targets last season.
The case against Waller being undervalued: The Raiders may be a low volume passing target and when they do throw, the bulk of those passes are going towards Antonio Brown.
Verdict: The reason Waller is so intriguing is because he is a converted wide receiver. That makes him more athletic than almost every TE in the league. At 6í6, he is a legitimate red zone option and despite the addition of Antonio Brown and Tyrell Williams, the Raiders are seriously lacking in the ancillary passing game options. Waller could easily slide in as that third option. 80-90 targets are not outside the realm of possibilities. Waller, like Eifert, is not currently being drafted. There is really no justification for taking guys like Kyle Rudolph or Dallas Goedert over Eifert and Waller. Rudolph has no upside and Goedert is literally a backup TE. Gamble on Waller and if things donít work out, I promise you can stream players that produce more weekly fantasy points than most of the current double-digit ADP tight ends.
Overvalued
Eric Ebron, Colts
ADP: 6.12, TE7
The case for Ebron being overvalued: Ebron is coming off career highs in all statistical categories, which is not repeatable.
The case against Ebron being overvalued: Andrew Luck may throw 40 touchdowns this season and he likes targeting the TE in the red zone.
Verdict: Ebron posted career highs in targets (110), receptions (66), yards (750), and touchdowns (13) last season. Just take a look at those numbers for a moment. Ebron scored a touchdown once every five receptions. That type of efficiency is absurd and there is no chance he can repeat it. To be fair, he doesnít need to score 13 touchdowns again to justify his ADP. The problem is, I would be surprised if he even got to eight this season. Luck leaned on Ebron out of necessary as 13 of his receptions, 3 of his touchdowns, and 176 of his yards came in the two games T.Y. Hilton missed. Jack Doyle only played in six games. The Colts WR2 was a combination of Ryan Grant and Chester Rogers. Marlon Mack only played in 12 games. This season, the Colts have a healthy Jack Doyle, Marlon Mack, and plan on integrating Nyheim Hines even more into the passing game. They signed Devin Funchess and drafted Parris Campbell. There are so many more weapons at Luckís disposal; he just has no reason to lean on Ebron like he did last season. Ebron could easily lose 30-40 targets and combined with a decrease in efficiency, he is unlikely to return value anywhere near his price.
The case for Hockenson being overvalued: Hockenson is a rookie TE on a run first offense and a team that does not have a great history of TE success.
The case against Hockenson being overvalued: Heís very athletic and could shock the world with a productive rookie season.
Verdict: Full disclosure, it was very difficult for me to say anything positive about T.J. Hockenson. Heís not a bad player by any stretch, but he is not this generational talent he is being made out to be. Heís an above average/good player that will need time to develop like almost every other tight end in NFL history. Even Evan Engramís rookie season was a product of circumstance in him being the only real option in the passing game. Hockenson is competing with Kenny Golladay and Marvin Jones for targets. He is also no lock to see the majority of the TE snaps after the Lions went out of their way to sign Jesse James. The TE position is the most difficult position to transition from college to the pros. Hockenson is a smart kid, but he will need time to acclimate. Rookie TEs just donít produce fantasy numbers and it does not make sense to draft Hockenson at all, let alone as a TE1. Add in the fact that Matt Patricia is secretly one of the worst coaches in the NFL (wonít be much of a secret after this season) with his run-first scheme despite possessing a team built to succeed through the air, Hockenson may be asked to block more than fantasy owners care to admit. It is very difficult to paint any realistic picture by which Hockenson is fantasy relevant as a rookie.