Rest assured someone at some point during each of your drafts will utter some variation of the words "value pick." But what exactly is a value pick? What is value? Value is a relative term that changes based on public perception. When I consider value, I'm looking for a positive return on my investment. Just because a player has an a fourth round ADP and is still sitting there in the sixth round does not make him good value. At the same time, taking a player a round or two above his ADP is not necessarily bad value. Again, everything is relative.
My goal in every pick I make is to take a player I believe will perform at a level above where I drafted him. Last season, Patrick Mahomes had a 10th round ADP. This year, he has a third round ADP. Mahomes gave owners one hell of a positive return on investment. On the flip side, Tom Brady had a fifth round ADP. This year, he has an 11th round ADP. That's the type of pick we all hope to avoid.
Let's take a look at which QBs I expect to outperform their ADPs and which I expect to fail.
Undervalued
Kyler Murray, Cardinals
ADP: 8.06, QB9
The case for Murray being undervalued: He has the skills to be both an RB2 and a QB1.
The case against Murray being undervalued: He's a rookie operating behind a bad offensive line with an entirely new coaching staff.
Verdict: I can't get enough of Kyler Murray. I am a firm believer in the late-round quarterback strategy, but I think there is merit to reaching for Murray. It is easy to stream a low-end QB1 as not much separates the non-elite at the postion. Even if he costs a seventh round pick, Murray's ceiling is legitimately the highest scoring player in fantasy football. He has that in his range of outcomes. Patrick Mahomes was a league winner last year because he was so much better than every other QB. That can be Kyler Murray in 2019. He rushed for 1,000 yards his final season at Oklahoma while also throwing 42 touchdowns. Kliff Kingsbury is going to install his air raid offense and the Cardinals want to set records for pace of play.
The ability of Kingsbury and Murray to execute remains to be seen, but the upside is tantalizing. If they can accomplish even 75% of what they strive for, Murray can throw for 3,500 yards while adding 1,000 on the ground with 30+ touchdowns. Rushing rookie quarterbacks have a strong history of success from Michael Vick to Cam Newton to Dak Prescott to Lamar Jackson. We've seen some of the worst passers to ever start significant games such as Tim Tebow and Josh Allen be strong QB1s based on their legs alone. Can you imagine a melding of Lamar Jackson on the ground and Drew Brees through the air?
The case for Roethlisberger being undervalued: He finished as the overall QB2 in 2018 and is not in the decline phase of his career just yet.
The case against Roethlisberger being undervalued: The Steelers lost the best wide receiver in the NFL and project to be more run-heavy in 2019.
Verdict: Roethlisberger's ADP is fine. I wouldn't take him any earlier than the 10th or 11th round. The reason he is undervalued is because of his ranking amongst quarterbacks. How is Big Ben going as the 16th QB one year after he finished second at the position? I know Antonio Brown is gone, but JuJu Smith-Schuster is an alpha WR1 and the Steelers have added Donte Moncrief, Diontae Johnson, and will have an increased role for Jaylen Samuels. This offense will certainly be worse than years past, but the decline is being overstated. Roethlisberger being drafted after Tom Brady and Philip Rivers is just bad process. The best QBs can succeed without the best weapons and Roethlisberger is still one of the leagues' better QBs. Roethlisberger belongs firmly in the back end of QB1s and is a great target for those waiting on the position.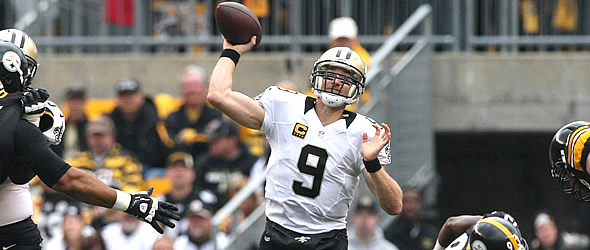 Overvalued: More emphasis on the run game has capped the fantasy upside of the Saints quarterback.
Overvalued
Drew Brees, Saints
ADP: 7.06, QB7
The case for Brees being overvalued: He finished as the QB8 last year as the Saints continue to rein in his pass attempts.
The case against Brees being overvalued: Despite being over 40, Brees is still one of the league's most efficient and effective QBs playing in a top offense.
Verdict: What is the difference between Brees and Big Ben? It's certainly not four rounds. In 2018, Brees averaged less than 1.0 FPt/G more than Mitchell Trubisky, who can be had at the end of the 13th round. Brees will probably be a QB1 this year and he may even be a mid QB1, but it won't matter. Burning a seventh round pick on a quarterback that doesn't have elite upside is a great way to hinder your ability to win matchups.
Brees attempted just 489 passes last year, a career low. He threw for 32 touchdowns, a 6.5% TD rate, which is 1.2% above his career average. Brees' pass attempts have dropped precipitously the past two seasons. The guy who averaged 650 pass attempts from 2007-2016 is gone as the Saints have become a run-first team. Sure, one could look at Brees' pass attempts from last season and think that a natural increase in volume would make up for an expected drop in efficiency. While I do think an increase in volume is likely, a 2017 repeat where Brees attempted 536 passes and threw 23 touchdowns seems like a realistic outcome. I fully believe that Brees could still sling it if he had to but Sean Payton has no interest in asking Brees to do it anymore. He will have his spike weeks, but the high ceiling no longer exists.
Philip Rivers, Chargers
ADP: 10.09, QB14
The case for Rivers being overvalued: He hasn't been a QB1 in years and simply lacks upside to make a difference.
The case against Rivers being overvalued: Even at age 37, Rivers is still going strong and Hunter Henry's return could bolster his touchdown upside.
Verdict: I already know the counter argument to my anti-Rivers stance: Rivers is safe. He threw multiple touchdowns in all but two games last season. You know he won't fail you. That's all true but why do I want a safe pick in the double digit rounds? You can easily replace Rivers' production by streaming the position to a QB9-12 value.
Over the past five seasons, here are Rivers' finishes by average fantasy points per game: QB13, QB13, QB19, QB14, QB13. His range of outcomes is basically a QB10-14. He is not going to lose you any matchups, but he won't win them either, and we play to win.
Your QB, whoever he is, should be someone that has the potential to break into the top five and be a matchup changer. That's not Philip Rivers. He will provide you with par value for his ADP and you never want par value in a late-round pick. Draft someone you will either drop by Week 3 or who can win you a league.