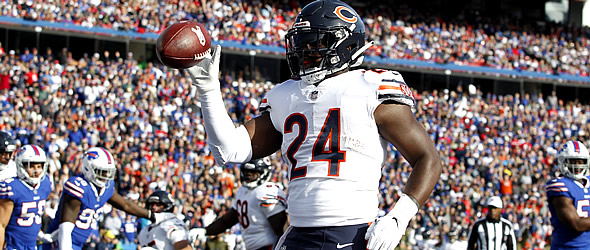 Jordan Howard to PHI: A rare trade that creates two potential fantasy assets while destroying zero.


From an NFL standpoint, this was a very minor trade. The Bears traded Jordan Howard to the Eagles for a 2020 sixth round pick (that could become a fifth round pick). For fantasy purposes, this could be huge.

Both Matt Nagy and Doug Pederson seem to be very much entrenched in the "running backs don't matter" camp (because they are smart). The Eagles won a super bowl with a three man committee that included Jay Ajayi. The Bears have had more talented running backs in Howard and Tarik Cohen, but neither player costs very much. Cohen was a fourth round selection and Howard a fifth.

In Chicago…

The Bears' biggest offseason move was signing Mike Davis to a two year, $6 million contract. He's the one I'd like to discuss first. Davis has always been an underrated player. He has nice agility (74th percentile), but not much else. He finished 19th in juke rate and 22nd in yards created per carry last season, which only reinforces his ability to make defenders miss.

Davis was a solid, if unspectacular option who had a couple useful weeks for fantasy owners last season. In Week 4, he touched the ball 25 times and finished as the RB6. In Week 5, Davis touched the ball 14 times and finished as the RB18. In Week 9, Davis touched the ball 22 times and finished as the RB11. In Week 10, Davis touched the ball 15 times and finished as the RB14. And finally, in Week 15, Davis touched the ball 13 times and finished as the RB19. He had plenty of other weeks where he was completely useless, but no one is suggesting that Davis was a reliable fantasy asset in 2018. The point is that when given opportunity, he has proven capable of performing.

Howard carried the ball 250 times last season and saw 27 targets. That's a lot of volume suddenly available in Chicago. One thing we can be sure of is it's not all going to Cohen (99 carries, 89 targets). Cohen should see an uptick in usage, but Davis is going to have a substantial role. He could be looking at 180-220 carries and 30-40 targets as Davis is a much better pass catcher than Howard. Like most fantasy analysts, I still like Cohen more than Davis, but Davis is definitely a name to file away for August and see where his ADP ends up. Once you hit the third round of fantasy drafts, the running backs become increasingly unreliable and I think Davis will settle in around the fifth or sixth round and could be an absolute bargain.

Of course, this all hinges on what the Bears do in the upcoming NFL draft. I would be shocked if they didn't take at least a day three back, possibly a day two back. Depending on who that is, our projections for Davis may change (Cohen is locked into his role). For now, I'm definitely bullish on Davis as the 2019 RB class is completely devoid of top end/game breaking talent.

In Philadelphia…

Teams typically don't go out of their way to acquire players they do not intend to use. This bodes well for Jordan Howard, who really couldn't have landed in a better spot. Howard joins the Eagles and doesn't vaporize the value of anyone (unless we're seriously counting Josh Adams). The makeshift trio of Wendell Smallwood, Corey Clement, and Adams will now be replaced partially by Howard. I say partially because Doug Pederson is not going away from his committee approach. The change I expect to see is more of a 60-30-10 split than the 40-40-20 split we saw for most of last season. Look for Howard to command a 60% opportunity share with Smallwood as the 30% runner up and Adams cleaning up the scraps. I expect Clement to be cut.

The Eagles may draft a day two or three back, but I doubt anyone they take will be much of a threat to Smallwood, who won't have any fantasy value anyway, and will be no threat to Howard.

Howard is a near perfect fit with the Eagles. They should once again have a strong offense and Howard will dominate goal line carries. His touchdown ceiling rises in Philadelphia and the strength of their passing attack will help open up the run.

In 2018, no team had a higher shotgun snap rate than the Eagles at 79%. Over his career, Howard has averaged 5.2 ypc running out of the shotgun against just 3.8 ypc from under center. Given Howard's deficiencies in the passing game, the shotgun would appear, at the very least, avoid telegraphing exactly what play is coming. The Bears passed the ball from under center a league low 24% of the time. Opposing teams certainly picked up on this trend and it likely led to them keying in on Howard and the running game whenever the Bears lined up under center. The Eagles ran the ball from the shotgun 30% of the time, fifth most in the league. The Eagles more pass heavy offense should actually improve Howard's effectiveness on the ground by making it less obvious as to when he is actually getting the ball.

This is the rare trade that creates two potential fantasy assets while destroying zero. I am interested in both Howard and Davis as the right prices this season. We are still so early in the process that ADPs are meaningless, but to satiate the curiosity of the reader, I would be looking to draft Howard late third/early fourth round and Davis anywhere in the sixth round or later.