Recently, we've been discussing some 2017 fantasy heavyweights—QBs, RBs, and WRs—who stand a reasonably good chance of frustrating expectations this coming season. Now it's time to discuss those up-and-comers who could conceivably replace them and become the fantasy heavyweights of 2018.

Note: All rankings are based on FFToday's default standard scoring.

A quick reminder of the Top 10 fantasy WRs from last season...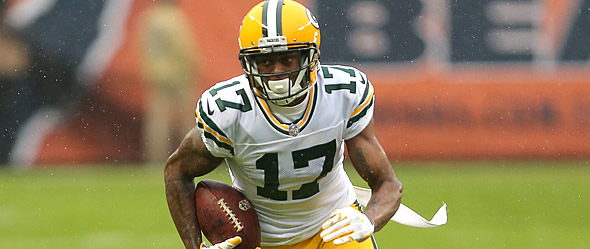 The potential for an increased target share has fantasy owners drooling over Davante Adams.





Wide Receivers Most Likely to Rise in 2018:



Davante Adams, GB: Odell Beckham Jr. is the best receiver on the planet and, accordingly, the most obvious Top 10 riser for the 2018 season. Itís a closer race than you might think, however, as the Giantsí ultra-talented wideout has proven to be a persistent injury risk (a seasonís worth of missed games in his brief four-year career) and canít get on the same page with the New York brass regarding a contract extension. These are big enough warning signs to open up the conversation to guys like Davante Adams.

Adams is a very talented receiver in his own right, of course (tall, fast enough, red zone menace), and thereís no shame in not being OBJ. What makes Adams extra special heading into 2018, however, is the opportunity to be the No.1 target for the best quarterback on the planet. Jordy Nelson, Aaron Rodgersí favorite target, was jettisoned after falling off a 2017 cliff and ended up in Oakland, mainly because of Rodgers (broken collarbone) but also much to the Head Cheeseís chagrin. Regardless, there are games to be won and mats to be gotten off of and Adams is more than capable of assuming the role Nelson once did. The Fresno St. product put up remarkably similar/productive seasons in 2016 and 2017 (10.7 and 10.6 pts/game, respectively) and did so on about 120 targets. In his prime, Nelson was garnering northward of 150. Add 30 to Adamsí bottom line and heís Top 5 easy.

If there are any headwinds for the Packís new WR1, itís a presumed reemphasis on the running game and a likely red zone rival in Jimmy Graham. Nevertheless, his quarterback is one of the very best at spreading the love around and there will be lots of love to spread around in Titletown this season.

Doug Baldwin, SEA: Jimmy Graham wearing green and gold instead of fluorescent green is one really good reason to throw a little extra love Dougie Baldwinís way in 2018. The Seahawksí No.1 wideout has regressed ever so slightly from WR7 to WR10 to WR14 in standard scoring leagues the last three seasons, and this inversely correlates with Grahamís Emerald City arrival and subsequent ascension up the TE charts (TE17 to TE2 to TE4). Graham was particularly useful in the red zone his final two seasons in Seattle (16 of his total 18 TDs as a Seahawk) and now that heís gone, there appears to be no TE left on the rosteróore WR, for that matterólikely to poach those valuable looks.

Graham being gone is definitely one of several indications the Hawks are acknowledging, privately if not publicly, that their Super Bowl-contending window is likely shut. They wonít come out and say it, naturally, but the talent drain has been sudden and wide-ranging: Graham, Richardson (Paul), Sherman, Bennett, Chancellor, other Richardson (Sheldon), Avril, Shead, etc. The once-feared Legion of Boom, in other words, has been officially relegated to the annals of NFL history. Itís hard to find a silver lining for Hawks fans, but hereís one for us and for Mr. Baldwin: Russ Wilson is still the guy slinging pigskins and #89 is still far and away his favorite target.

Pete Carroll et al. are probably too good to allow a total defensive freefall in the Pacific NW, but a significant step back is very possible and this will put a lot of pressure on Wilsonís offense. Itís the classic fantasy calculus playing out: bad or rebuilding defense ė good fantasy offense. Expect more from Baldwin as the Seattle O attempts to keep up in 2018.

Demaryius Thomas, DEN: While Adams and Baldwin continue to benefit from great quarterback play, Thomas is probably looking forward to mere competence from his new battery mate this season, something thatís been in painfully short supply the last several years in Denver. Since Peyton Manning abruptly became a shadow of his former self and then subsequently walked off into the sunset, Thomasí per-game numbers have significantly declined from a high of 14.2 (in 2014) to 7.8 (last year). This despite the fact heís still commanded a Top 10-worthy target share, 144 and 140, respectively, in 2016 and 2017.

Enter Case Keenum, last yearís surprise breakout candidate, who should guarantee a minimum level of aptitude under center and possibly even a lot more. Keenum wasnít necessarily spectacular last year in Minneapolis, but he completed two-thirds of his passes and sported a nifty 22-7 TD-to-INT ratio. This while Bronco quarterbacks were spraying balls all over the place, mostly into the hands of thankful opposing defenders (22 picks v. just 19 TDs). Keenumís careful efficiency was a great pairing for the Vikingsí championship-caliber defense and similar synergies could be established in Colorado where the Broncos continue to boast of a top-notch stopper unit.

Thomas looks to be clearly on the back side of his career and has definitely struggled with nagging injuries during this recent stretch of disappointing production. Nevertheless, reports this past offseason indicate heís been revitalized by an overhaul of his exercise/dietary regimens. Maybe itís just silly season chatter and unfounded optimism, but Thomas was still very serviceable/relevant when not completely healthy. If heís truly put those health concerns in the rear-view mirror, Iíve got a hunch heís got one or two great years left in him and Keenumís arrival might just be the catalyst for a mini-renaissance in 2018.