It's a "what have you done for me lately?" kind of league and we're the legion of optimistic amnesiacs who eat, drink, and sleep it. One would think we'd be better at forgetting the immediate past and focusing instead on what lies ahead. As I document every summer, though, many of the guys we were raving about last December are the same guys we're buzzing about now are the same guys we'll ultimately bemoan come this December. Did I say many? I meant most. In the seven years I've been writing this article, 57% of Top 10 performers have failed to retain Top 10 status the following season. Let's take a look at who disappointed last year, why, and who we should maybe be wary of in 2018.

Note: All rankings are based on FFToday's standard league scoring.





Who Missed the Cut in 2016 (6/10): Aaron Rodgers, Drew Brees, Matt Ryan, Andrew Luck, Blake Bortles, & Jameis Winston



Think it's rare for the top-rated fantasy quarterback to fall all the way out of the Top 10 the very next season? It isn't. Aaron Rodgers is one of NINE #1 QBs to take that steep rankings plunge since the turn of the century—not to mention the fourth who's either enshrined in Canton (Kurt Warner) or soon will be (Brady and Manning). That's half. If the #1 QB has only a 50-50 shot to be a QB #1 the following year, what hope do we have come draft day?

The Head Cheese played only seven games in 2017 thanks to a broken collarbone, the fewest he's appeared in since 2007 when he was still holding a clipboard for Brett Favre. Ironically, and unfortunately, the guy holding Rodgers' clipboard was also named Brett (Hundley). Newsflash: It didn't go well. Speaking of clipboards, that's the only thing Andrew Luck held last season. The Colts' franchise man didn't take a single snap under center as he convalesced from offseason shoulder surgery.

Drew Brees, Blake Bortles, and Matt Ryan can't blame injuries for their respective ratings dips as all three started every 2017 game. Brees and Bortles seem to have been the victims of seismic schematic shifts as both attempted 120+ fewer passes than they had in 2016. Ryan, on the other hand, seems only to have been the victim of a wicked Super Bowl hangover (849 fewer yards and 18 fewer TD passes on a similar number of attempts). Jameis Winston, who missed three games and large portions of two others, definitely could point to health as the reason he didn't repeat as a Top 10 performer. He won't be able to use that excuse next year, however, as his recent #MeToo moment means he'll miss at least three more and likely any opportunity of making a triumphant Top 10 return.



Most Likely Candidates to Fall from the Top 10 This Year: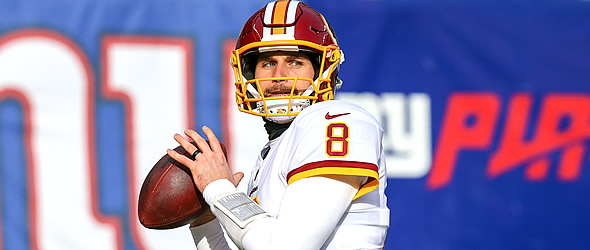 Washington to Minnesota: Cousins' shift to a more well-rounded team may reduce his fantasy output.



Kirk Cousins, WAS: Kirk Cousins, MIN: Patience paid off for the former Washington field general this spring when Minnesota rescued him from franchise tag limbo and made him the highest paid player in NFL history ($84 million over three years). Cousins held that title only until Matt Ryan broke Atlanta's bank two months later, but he's guaranteed every last bit of that 84 large, joins a legit Super Bowl contender, and has arguably the league's most productive WR tandem, Stefon Diggs and Adam Thielen, to play catch with. Simply put, it's good to be Kirk Cousins right now. That doesn't mean we can expect continued Top 10 fantasy production, however.

In his three seasons as Washington's full-time starter, Cousins averaged 563 passing attempts per season and 22.8 fantasy points/game, heady numbers for a guy drafted BEHIND supposed franchise QB Robert Griffin III in 2012. Moreover, he did this with unreliable and ever-changing battery mates (three different leading receivers), a below-average running game, and a way-below-average defense. In many ways, Cousins was the ONLY stable thing about a Washington squad that regularly hovered around the .500 mark. He was great because he pretty much had to be.

The Vikings, in stark contrast, are the very portrait of stable right now. Built for Super Bowl success around a conservative-ish offense (521 passing attempts per season over that same stretch), a dynamic sophomore RB (Dalvin Cook), and the league's stingiest defense, Coach Zimmer doesn't need his new quarterback to be great. He needs him to take care of the ball, score a few points, and let the next gen Purple People Eaters handle the rest. I pegged Cousins for a Top 10 dropout one year early, it seems. Unless he continues scoring rushing TDs at an unsustainable rate, he's a prime candidate for regression in 2018.

Alex Smith, WAS: Mr. Smith goes to Washington to fill those cleats Cousins left behind and how he'll fare on his third NFL tour stop is pretty much anybody's guess. The former Niner/Chief is coming off by far his best statistical season (4,042 yards, 26 TD passes, and his first Top 10 fantasy performance), but Kansas City didn't spend precious draft capital on Patrick Mahomes so they could park him behind a career journeyman for several years.

"Career journeyman" sounds disparaging, I realize, and especially when used to describe a former #1 overall draft pick. It's actually kind of a compliment, though. Smith has been toiling away under center for 13 years now, most of them as a starter. It's compliment enough, I'd say, that three different franchises have thought highly enough of him to hand the keys over and say "win us some games." Winning, by the way, is something the former Ute does pretty well (88-62-1 career record), though typically in a way that doesn't excite fantasy GMs. He's all about quick, safe throws, low risk decision-making, and good legs, traits Andy Reid crafted an entire offense around. Jay Gruden is certainly capable of doing the same thing in Washington to best leverage Smith's talents, but…well, remember what I said about Cousins' unreliable cast mates?

Outside of Jordan Reed, who struggles to stay on the field, and maybe Jamison Crowder or Chris Thompson, Washington will be painfully unproven at the meat and potatoes skill positions (rookie RB Derrius Guice and wideouts Josh Doctson and Paul Richardson). ESPN recently ranked all teams 1-32 based on skill position talent alone and Washington came in at 18th. I think they were being charitable. Regardless, the team Smith left behind in KC was ranked 1st. Consider 2017 a likely one-hit wonder.

Dak Prescott, DAL: By most statistical measures, Prescott suffered a sophomore slump in 2017 after his outta-nowhere 2016 rookie season. His completion rate dropped five percentage points, his passing yardage dipped several hundred yards, and his interceptions climbed sharply from 4 to 13. Most importantly for Cowboys fans, this seeming statistical decline had major ramifications in the W-L column as Dallas won four games fewer than it had the year prior, costing itself a playoff berth in the process.

I say "seeming" because, from a fantasy perspective, Prescott was barely discernable from the rookie sensation he starred as in 2016 (merely 13.6 fewer fantasy points). So, chalk it up to constant distractions (Zeke Elliott's on again-off again suspension, Dez Bryant's pouting) and move on, shall we? Well, the 'Boys won't be moving on with #88 at all this season, actually. Bryant was summarily released in mid-April. Just three weeks later, Prescott's other security blanket, Jason Witten, traded his #82 jersey in for a MNF microphone, calling it quits after 15 years. Before Memorial Day, in other words, 45% of Prescott's 2017 targets and 50% of his TD receptions had walked right out of AT&T Stadium.

There's no question a fully committed and fully eligible Elliott will take lots of heat off Dallas' developing triggerman. It's even possible not feeling pressured to get Dez the ball all the time will make Prescott a more well-rounded player. Nevertheless, that's a lot of firepower the Cowboys will need to replace and, to date, it doesn't really look like they've done that. If I'm Jason Garrett and Co., I'm scaling back the game plan in 2018, getting Dak back in his comfort zone, and giving the ball to Zeke early and often. Expect a better overall performance but slightly worse fantasy numbers this season.