One of the most difficult tasks in drafting a fantasy football team is trying to decide between two players you feel have nearly identical value. Knowing how to break such a "tie" can be important, as often a pick comes down to a dilemma between Player A and Player B. The purpose of this article is to not only identify players of similar value in 2019, but also take a look at the process of solving those dilemmas. Our final installment of this feature examines two running backs playing on opposite sides of the state of Ohio.

Both Nick Chubb and Joe Mixon are in the prime of their careers. Chubb is entering his second season while Mixon is about to embark on his third as a Bengal. Both appear capable of carrying a significant workload this season and both are being drafted either late in first rounds or sometime in the second round depending on scoring systems. So, who gets Buckeye State bragging rights in fantasy football? Let's move in for a closer look.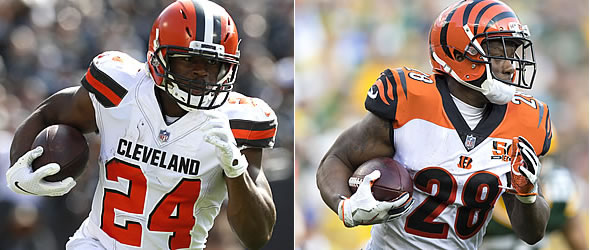 The Strengths
Chubb had to wait his turn in Cleveland last season as Carlos Hyde was the Browns' starter at the onset and then Chubb shared the stage with Duke Johnson before truly taking on the role of a workhorse. Once given his chance, Chubb was explosive, netting 996 yards rushing with less than 200 carries.

This year, given his likely increase in attempts, that 5.2 yards per carry average should propel him well over the 1,000-yard mark. In addition, the Browns' offense is going to create plenty of red zone opportunities and Chubb is coming off a rookie season in which he scored 10 touchdowns while only starting nine games. That makes him a more prolific scorer than Mixon all the while residing on a far superior offense that never allows a defense to stack defenders in order to stop the run.

In short, all signs point to Chubb being a top-5 RB during the initial half of the 2019 season. The trade of Duke Johnson to Houston helped to solidify that reality.
Mixon took a big leap forward in 2018 after a somewhat pedestrian rookie season in Cincinnati. Mixon only averaged 3.5 yards per carry as a rookie, but given the opportunity to carry the ball 5 more times per game, that number soared to 4.9 yards a tote.

Whereas Cleveland is emerging as an aerial assault team, Cincinnati is looking to establish more of a ball control offense and Mixon is the centerpiece of that plan, particularly without A.J. Green being in the lineup. Giovani Bernard is a solid veteran, but no longer poses a threat to cut into Mixon's workload, making Mixon one of the safest picks to be made on draft day. His ceiling is lower than Chubb's, but his 1,464 yards from scrimmage in 2018 appear to be well within reach and could easily be surpassed.
The Weaknesses
The fact that Chubb found the end zone 10 times last season in restricted use gives you an idea of what his TD upside is. However, he's got Odell Beckham Jr. to contend with for scores and Beckham will likely be used near the goal line given his propensity to physically dominate cornerbacks. Add in David Njoku as an emerging red zone threat and it would be reasonable to suggest Chubb's TD totals won't be any higher than last season.

The bigger issue facing anyone drafting Chubb, has to do with Kareem Hunt's eventual return post-suspension. If the postseason is a possibility for Cleveland upon Hunt's return, they will no doubt lighten Chubb's workload for a January push. So, while you're looking at a top-5 RB through October, you might be looking more at a RB in the 12-18 range down the stretch.

Whereas Chubb will rarely see an extra man in the box to stop the run, Mixon will see that formation often. Stopping him will be top priority for defenses, perhaps even when A.J. Green eventually/hopefully returns. The Bengals simply aren't built for the kind of offensive fireworks the Browns are and the result will be fewer trips to the red zone and ultimately fewer chances for Mixon to score TDs.

Mixon certainly has a chance to lead the league in rushing yards, particularly if Ezekiel Elliott holds out into the season. But, he also hasn't topped 300 receiving yards in either of his first two seasons.
The Verdict
If there were no Kareem Hunt to consider, this would be a relatively easy choice for me. Chubb plays in a better offense and will have better opportunities to score. He demonstrated last season that he's capable of having "monster" games and without Duke Johnson to take away all of his third down work, his receiving totals should rise.

Here's the issue, though: You have to consider the impact of Hunt, keeping in mind the Browns will be trying to keep players fresh for a playoff run while that won't be an issue in Cincinnati. Fantasy playoffs take place in December and if I had to project who would be the more productive back based on what I've just noted, I'd lean Mixon ever so slightly.

Maybe you just need to base this decision ultimately on your league's playoffs. If it's a liberal playoff system (at least half of the league makes the playoffs), Mixon gets the nod as he'll be the slightly more valuable player down the stretch.

But, if only 1/3 of the teams in your league make the playoffs, then you've got to worry first about getting there. That would make Chubb the higher priority given how valuable he looks to be the first eight weeks of the season.

In the end, I expect overall production to be similar with Mixon garnering more yards and Chubb more touchdowns. Workhorse RBs in the prime of their careers are always a great find on draft day and it's in the range of outcomes for you to get both!