Week 3 of the Preseason brought out two kinds of strategies from teams across the league. Some showed their cards, allowing starters to find their groove while other teams kept their studs on the bench. We begin with the two teams we'll see in action in just ten days…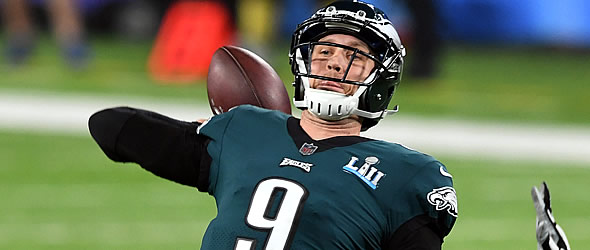 Concern for the Eagles offense is growing as Nick Foles turns in an uninspiring performance.




1. Opening Night may be an Offensive Dud



Next Thursday, we are supposed to be treated to two of the best teams in the NFC duking it out to open the 2018 regular season. One can never fully trust the preseason in terms of acquiring confident insights, but it is safe to say at this point that the Eagles and Falcons have looked awful on the offensive side of the ball in August. The two teams combined to score 6 points in the third week of the preseason and through three weeks, the Falcons are averaging just over 5 points a game while the Eagles have netted a whopping 11 points per game.

Carson Wentz hasn't seen the field for Philadelphia, nor has his top receiver, Alshon Jeffery. In Atlanta, there has been no sign of Julio Jones or Devonta Freeman. Maybe these two teams will magically get in synch in time for next Thursday's tilt, but opening night is feeling like a 13-10 contest with minimal fantasy impact. Proceed with caution with these two teams, particularly if Nick Foles draws the start. He's been underwhelming in the pre-season (16-26, 171 yds, 0 TDs, 2 INTs) and hasn't resembled the guy who was the Super Bowl MVP.



2. The Chiefs Offense Could be a Fantasy Goldmine



As noted in the opening paragraph, it has been staggering the number of teams who have basically kept their starters in mothballs for fear of injury. One team that has taken the opposite approach is Kansas City, where Patrick Mahomes has been given a license to throw, throw, and throw some more during the preseason. Mahomes totaled 196 yards this past weekend on 18 completions with 8 of those completions going to Tyreek Hill. If you haven't drafted yet, move Hill up into your top 10 at WR as it is becoming evident the Chiefs are ready to feature him in a big way while the connection with Sammy Watkins (1 rec, 15 yards) continues to struggle. As for Mahomes, his ceiling looks high, particularly in leagues that don't penalize heavily (or at all) for interceptions. He is likely to throw 15-20 picks during the season, but he'll also have games where the yardage totals are staggering. Get onboard now if you can and consider Mahomes a borderline QB1.



3. Adrian and Alfred May Have Something Left in the Tank



We shared with you last week that Washington wasn't pleased with their RB options in the post-Derrius Guice universe. In response, they signed a 33-year old Adrian Peterson and threw him right into the frying pan last Friday night. Peterson responded favorably, running decisively for 56 yards on 11 carries. No one expects the Peterson of old to re-emerge, but perhaps low-end RB2 numbers are possible for at least the first month or two of the season.

In San Francisco, where injuries have depleted the RB corps, veteran Alfred Morris took advantage of his opportunity to the tune of 84 yards on 17 carries. While the performance won't put Morris on the fantasy radar in a major way, it will likely keep him on the opening day roster. And, it could make him a good handcuff for Jerick McKinnon owners in deep-rostered leagues.



4. Noise From Detroit's Former Tight End



If you've been playing fantasy football long, you know it's hard to trust Eric Ebron. To date, Ebron has entered several seasons with "breakout" hopes only to see those hopes dashed by uneven performances and injuries. So, Ebron finds himself in Indianapolis and while he'll share the field with Jack Doyle, his performance vs. the 49ers raised some eyebrows. Ebron caught 5 passes for 54 yards - the most impressive being a 15-yard TD strike from Andrew Luck. Maybe Indy was just checking down to Ebron so as not to tip their hand for the season opener… or maybe Ebron finally can have that career year many have predicted for so long. The truth probably lies somewhere in the middle. Consider Ebron the Indy tight end with the greatest ceiling, but also the lowest floor. If you've drafted a trustworthy TE1, he would make an ideal choice as a high upside TE2.



5. The Waters Have Been Tested in Carolina



Again, reading into all things preseason is a tricky business, but if you're going to take that plunge, it would seem that Christian McCaffrey has used the preseason to audition for an expanded role in Carolina. McCaffrey has touched the ball 29 times in August, including 14 this past weekend vs. the Patriots. The tea leaves suggest that C.J. Anderson and Cameron Artis-Payne are being looked at more as change-of-pace backs than a true complement to McCaffrey. It appears Carolina wanted to see if McCaffrey could handle a true lead back role, and they appear to have their answer. Along with Tyreek Hill, McCaffrey has been one of the two standouts of the preseason on the offensive side of the ball. Much like Hill, he should be firmly at the back end of the top ten at his position. In a preseason that hasn't told us much about a number of players, this situation has given us plenty to chew on.



6. It's Barber's World… but Should You be Excited?



Down in Tampa, everyone is aware at this point that Peyton Barber is going to be the Bucs' starting running back in Week 1. Yes, Ronald Jones made a nifty 37-yard catch this weekend, but he also proved once again that running between the tackles is not a strength at this point (6 carries, 7 yards). Barber, meanwhile, averaged nearly 7 yards a carry and scored on a 14-yard run to boot. The battle for starting RB is over for now, but the question remains - how excited should any owner be about owning a piece of the Tampa Bay rushing attack? After all, only five other teams ran the ball for fewer yards last year and only four averaged fewer yards per carry. It's always nice to see a RB situation clear up prior to September, but keep expectations low for Barber - as in low-end RB3 with limited upside.



7. Injuries and Retirements at WR for AFC Foes

Last year's AFC Championship Game participants have had some question marks at the wide receiver position. Allen Robinson left Jacksonville in free agency, Julian Edelman got suspended, and early last week, Kenny Britt was waived by New England to make room for Eric Decker. Now, Decker abruptly retired over the weekend and Marqise Lee, who was supposed to be Jacksonville's WR1 went down with a gruesome knee injury. As a result, Phillip Dorsett and Cordarrelle Patterson have become a candidate for redraft leageis and Dede Westbrook and Keelan Cole are seen as late-round targets with upside. Patterson makes for an intriguing deep threat in New England, but his value is sure to plummet when Edelman returns. As for Jacksonville, Westbrook and Cole are draft considerations, but remember, with Blake Bortles throwing them the ball, keep expectations modest. Donte Moncrief (3-62 on Saturday) may have a role to play as well, particularly as becomes more comfortable with his new surroundings. Stay tuned as these receiving corps remain fluid in spite of increased clarity.

8. The Bears are Likely to Come Out of the Gates Sluggish

Matt Nagy's curious decision to rest his starters in Week 3 of the preseason almost guarantees some growing pains coming out of the gate for a team that was essentially re-formed over the offseason on the offensive side of the ball. If any quarterback needed preseason reps this year, it was Mitchell Trubisky. Breaking in new wide receivers is always a tricky proposition and in addition to Allen Robinson, Taylor Gabriel and Anthony Miller are fresh faces in the offense and need time to get with their quarterback. Look for the team to lean on Jordan Howard in September as the passing game gets into gear. The problem is… defenses will recognize this and likely stack the box to limit Howard's impact. Nagy's preseason decisions may leave fantasy owners scratching their heads through September.

9. The Curious Fascination with Gore Remains Curious

While I admire Miami giving Frank Gore the respect he's due and stating that he's a "co-starter" with Kenyan Drake, this clearly represents another curious call that played out over the weekend. Drake is Miami's most explosive player and it's not even close with Drake accounting for 68 yards on only five touches vs. the Ravens. If the Dolphins are going to do anything offensively this season, Drake needs to the focal point and that was proven big-time on Saturday. I'd like to tell you that Drake's performance should bump up his redraft stock but until the coaches better acknowledge the obvious, better keep his value steady as she goes.

10. The Deepest of Sleepers

Have you noticed how well Chris Warren, the undrafted rookie and son of former NFL and fantasy football standout Chris Warren (SEA), is running during this preseason. The 246-pound bruiser has accumulated 250 yards in August on 46 carries and scored 2 TDs. Warren looks almost certain to make the team and with both primary running backs (Marshawn Lynch, Doug Martin) on the extreme downside of their careers, Warren's a guy to keep an eye on… especially in leagues that carry 18-20 roster spots.