An emerging concept with respect to putting together your fantasy team in a redraft league is to try to pair up your early selections (starters) with players that have ideal matchups on the weeks that your projected starters take the week off (bye weeks). The purpose of this article, however, is not merely to propose that as a strategy but to take the concept further and identify what specific "bench" players should be paired with some of the most prominent starting players in the game today. Before we dig into that on a week-by-week basis, let me offer a reminder about a couple of things.

First, we're talking primarily about players in the 13-20 range with respect to quarterback and tight end value, and the 25-40 range with respect to running backs and wide receivers. Players whose values are higher than that will likely be drafted as starters unless you're playing with kindergarteners in which case all bets are off. Second, any identification of players is based on which defenses got exploited in 2013 by specific skill position players. For example, nobody gave up more fantasy points to quarterbacks in 2013 than the Dallas Cowboys. The Cowboys also led in fantasy points surrendered to fantasy running backs. Wide receivers and tight ends performed best against the Eagles and Cardinals. And, while 2014 defenses won't look exactly like 2013 defenses, massive improvements don't come overnight or more specifically, over the course of an offseason. Still, some adjustments will be made based on the off-season changes that have occurred. With those things in mind, every ideal bye week replacement player fits within a certain range with respect to pre-season value and will be facing a bottom five defense in terms of points allowed to their respective position in 2013.

Week Four:

Prominent Players on Bye: QB Peyton Manning, RB Marshawn Lynch, RB Giovani Bernard, RB Montee Ball, RB Zac Stacy, WR Demaryius Thomas, WR A.J. Green, WR Larry Fitzgerald, TE Julius Thomas, TE Jordan Cameron

That's a lot of big names. If you end up drafting one or more of those players early in your draft later this month, here are some bye week gems based on matchups:

QB: Philip Rivers (vs. JAC): Playing at home against the Jaguars on a Sunday afternoon in San Diego makes Rivers an ideal quarterback to pair with an early round selection of Manning. In Week 7 last season, Rivers went 22-26 for 285 yards and 1 TD against the Jaguars. Jacksonville gave up the third most fantasy points to quarterbacks in 2013.

RB: Pierre Thomas (@ DAL): A Sunday night shootout in Dallas means Thomas will have a prominent role most likely running the football and receiving it as well. He should be paired with Lynch, Bernard, Ball, or Stacy on your draft day. The Cowboys will once again be without their middle linebacker and defensive leader, Sean Lee, which means plenty of room to roam for the Saints running backs in Week 4.

WR: Anquan Boldin (vs. PHI): Boldin is at home in Week 4 against an Eagles team that struggled mightily to contain possession receivers last season. Eddie Royal (7 catches, 90 yds, 3 TDs), Wes Welker (7 catches, 76 yds, 2 TDs), Rueben Randle (6 catches, 96 yds, 2 TDs), Rod Streater (5 catches, 98 yds) all lit up the fantasy scoreboard. As such, Boldin is a good pairing for stars like Demaryius Thomas and Green.

TE: Antonio Gates/Ladarius Green (vs. JAC): For the same reasons that Rivers is a great play, either Chargers tight end would be an asset on teams that land Julius Thomas or Cameron as their starters.

Week Five:

Prominent Players on Bye: RB Lamar Miller, RB Knowshon Moreno, RB Maurice Jones-Drew, RB Darren McFadden, WR Mike Wallace

As bye weeks go, this one is pretty benign, but it's possible that some will be looking to a Dolphin or Raider as a starter, so ideal replacements for those players are as follows:

RB: DeAngelo Williams (vs CHI): The Bears were near the top in giving up fantasy points to running backs (No.2 in FPts Allowed) and what does Carolina do best… run the ball. Jonathan Stewart (hamstring) has already missed time because of injury and is not even being drafted in most leagues. The running backs on bye this week are thin, but in case Miller comes out of the gate strong enough to be a RB2, Williams should be able to fill those shoes for one week.

WR: Doug Baldwin (@ WAS): The Redskins weren't particularly good against fantasy receivers last season (No.11 in FPts Allowed) and while the signing of DE Jason Hatcher is nice, the team hasn't done a whole lot in the off-season to improve their secondary. Plugging in Baldwin as your third receiver while Wallace sits on your bench should be adequate.

Week Six: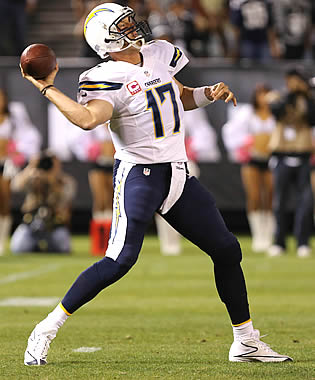 Rivers torched the Raiders in Oakland last season.
Prominent Players on Bye: QB Drew Brees, RB Jamaal Charles, TE Jimmy Graham

Three names only, but three BIG names whose absences will be felt significantly. No one can replace such firepower, but here are three players who are a good fit for stopgap duty:

QB: Philip Rivers (@ OAK): I know Rivers was just listed two weeks prior, but a great bye week fit is a great bye week it. No reason to over think it. The Raiders' defense should be improved this year, but not to the point of slowing down Rivers in an AFC West shoot-out. Philip hung 411 yds and 2 TDs on the Raiders, in Oakland last season.

RB: Steven Jackson (vs. CHI): As was noted above, the Bears simply don't have the horses to stop the run and even though Jackson is towards the end of a distinguished career, he'll still perform well this year in spot duty. Consider this the best "spot" for him.

TE: Eric Ebron (@ MIN): Five weeks ought to be long enough for Ebron to get his feet wet before he enters into a near perfect matchup with a Vikings team that struggled to stop tight ends crossing over the middle in 2013. Changes in the offseason in the secondary were marginal (Munnerlyn), so start Ebron with confidence barring something unforeseen.

Week Seven:

Prominent Players on Bye: QB Nick Foles, RB LeSean McCoy, RB Doug Martin, WR Vincent Jackson

If you've got Foles, McCoy, Martin, or Jackson on your team, you should look to make the following players a part of your team as well:

QB: Eli Manning (@ DAL): It's going to be a long year for Dallas's defense and Eli has a history of carving up the Cowboys even when they're at full strength. As such, the roster combination of Foles & Manning is more than sound, it's highly recommended.

RB: Bishop Sankey (@ WAS): Much like Ebron the previous week, this is a good time of the year to begin plugging in talented rookies. Rookies often struggle early and then hit a wall late, but excel in the middle if they're in the right situation. In this case, right situation…right matchup as the Redskins were 29th vs. the run last year and improved the offense more than the defense this offseason.

WR: Marques Colston/Kenny Stills/Brandin Cooks (@ DET): I will call it with confidence: New Orleans at Detroit is going to be the "shoot-out" game of the year with 1,000+ yards of offense produced. You can pair Vincent Jackson with the Saints receiver of your choice.

Week Eight:

Prominent Players on Bye: WR Victor Cruz, TE Vernon Davis

Another light week in terms of bye week fantasy impact, but Cruz and Davis are going to be starters on fantasy teams this fall, so here's a couple of very good replacement selections:

WR: Emmanuel Sanders (vs. SD): The Chargers will no doubt make every effort to limit the impact of Thomas & Thomas in this game making Sanders a sneaky good play.

TE: Zach Ertz (@ ARI): Arizona ranked dead last in fantasy points surrendered to tight ends in 2013, mainly because they have such good corners. As such, Ertz makes the perfect pairing on draft day with the veteran Davis.

Week Nine:

Prominent Players on Bye: QB Aaron Rodgers, QB Matthew Stafford, QB Matt Ryan, RB Matt Forte, RB Eddie Lacy, RB Reggie Bush, RB C.J. Spiller, WR Calvin Johnson, WR Brandon Marshall, WR Alshon Jeffery, WR Julio Jones, WR Jordy Nelson, WR Roddy White, WR Randall Cobb

That is a lot of key players sitting the week out. As such, the aim will be to try to nail this week with your best replacements, as it will impact nearly every reader of this article who is redrafting without exception. As such, please consider the following to be Week Nine gems:

QB: Carson Palmer (@ DAL): If your starters at QB are named Rodgers, Stafford or Ryan, this is the guy you want to draft. Palmer faces the Cowboys secondary and anemic pass rush in Week Nine in a controlled environment. Your Rodgers-, Stafford-, or Ryan-led teams won't miss a beat.

RB: Frank Gore (vs. STL): If Gore is still upright at this point, it will be a great week to use him. The 49ers face the Rams, who boast a ferocious pass rush, but were in the bottom five in fantasy points yielded to running backs last season. Look for Gore to be in the game more as a pass protector and trusted carrier of the ball.

WR: Mike Wallace (vs. SD): I hate to pick on the Chargers again, but they were third worst in the league with respect to fantasy points allowed to wide receivers, due primarily to lots of deep ball touchdowns. Who do they play in Week Nine? Whose primary role is to burn a team deep at least once a game? You get the picture.

Week Ten:

Prominent Players on Bye: QB Andrew Luck, QB Robert Griffin III, QB Tom Brady, RB Adrian Peterson, RB Arian Foster, RB Ryan Mathews, RB Alfred Morris, WR Andre Johnson, WR Pierre Garcon, WR Keenan Allen, TE Rob Gronkowski

Not quite what Week Nine brings with respect to player absences, but this week deserves greater scrutiny as well. Pair the players above with the following replacements:

QB: Tony Romo (@ JAX): If you draft Griffin or Brady, you will look for a borderline starter/high quality backup to pair them with due to the uncertainty of their status as true starters. Enter Romo, who happens to face the presumably hapless Jaguars in Week 10 while Griffin and Brady sit.

RB: Ray Rice (vs. TEN): For all we know, Rice may be starting by Week 10 , but you can get him cheap on draft day and you should consider doing so if guys like Adrian Peterson or Arian Foster are in your starting backfield. A home date vs. the Titans looks like Rice's best opportunity of the year to re-gain past glories.

WR: Terrance Williams (@ JAX): The Jags will no doubt see their best chance to win as trying to take Dez Bryant out of the game, leaving Williams to have a potential breakout game against them. As such, owners of Garcon, Allen and Andre Johnson would do well to draft Terrance Williams as the ideal bye week fill-in guy.

TE: Jared Cook (@ ARI): Got Gronk? Draft Jared Cook. He's got the Cardinals on the schedule that week and (again) they gave up four fantasy points more per game in 2013 than any other team. Not sure it will be 2013 Week 1 all over again for Cook, but he's a good fit as Gronk's primary backup.

Week Eleven:

Prominent Players on Bye: RB DeMarco Murray, WR Dez Bryant, TE Jason Witten

It's all about filling in for missing Cowboys in Week 11. Choices for replacements would be…

RB: Danny Woodhead (vs. OAK): Ryan Mathews is likely going to be spelled mid-season some to preserve him for a possible playoff run. A home game vs. the Raiders could be a blowout, which means a lot of second half work for Woodhead and/or Donald Brown.

WR: James Jones (@ SD): And…while Woodhead and Brown chew up clock in the second half, Matt Schaub or Derek Carr will be chucking it deep trying to catch up. That's where Jones will do most of his damage this season and as we've already established, this Chargers secondary isn't very good.

TE: Martellus Bennett (vs. MIN): Weather in Chicago can get a bit more dicey come mid to late November and when that happens, the running backs and tight end will get more play. In this case, it's against that same Vikings defense who failed to upgrade a poor defense in the offseason.

Week Twelve:

Prominent Players on Bye: QB Cam Newton, RB Le'Veon Bell, WR Antonio Brown, TE Greg Olsen

Finally, the bye weeks conclude with the Panthers and Steelers getting a (by this time) much needed rest. Some final suggested replacement pairings include:

QB: Eli Manning (vs. DAL): See Week Seven. The beauty of the scenario remains.

RB: Frank Gore (vs. WAS): This is Gore's second mention and I'm not even that high on him for this season. But, a great fit is a great fit and Snyder's Redskins seem more intent on trying to become a dynamic offense than focusing on the simple things like stopping the run, making Gore a nice pairing for the youthful Bell.

WR: Kendall Wright (@ PHI): You need a possession receiver to move the chains in order to rest your defense vs. Chip Kelly's high octane offense. Wright is that guy in this matchup with the Eagles' suspect pass defense (dead last in fantasy points given up to wide receivers in 2013).

TE: Dwayne Allen/Coby Fleener (vs. JAX): A lot of people will be counting on Greg Olsen to be a productive starting TE in 2014. If you're one of those people, either of the Colts' tight ends would serve as excellent backups given this home contest vs. the Jags.

Normally, I wouldn't encourage anyone to do much beyond reading an article and gleaning from it a thing or two to use in their team construction. However, in this case, let me make one final suggestion: Print this article and bring it with you to your draft. As you draft any of the prominent players above, write the name of their ideal bye week replacements down and grab those players later in the draft. You'll be glad you did.