Last week's question: Which player's floor has sunk to unexpected depths?



In last week's column, I whined about how much more disappointing Chris Hogan has been than I thought he could be. After 5 weeks of play, Hogan has racked up almost as many yards on the season (143) as DeSean Jackson had in Week 1 (146). The real killer is that I burned a 5th-round draft pick on Hogan, whereas Jackson was basically free.

I didn't grab Hogan as a home run play. I took him because I thought he was locked in as a viable WR 2/3 for the first quarter of the season. How did I get it so wrong? How do so many of us get it so wrong when it comes to estimating the worst possible outcomes from the players upon whom we spend the most draft capital?

If the responses I received via email and from commenters are any indication, we get floors wrong for receivers more often than at any other position. Almost every response I received concerned a handful of WRs (Hogan, Larry Fitzgerald, Marquise Goodwin, Jamison Crowder). No one mentioned quarterbacks or tight ends, and only a couple of grievances were filed against RBs.

Bruce had the misfortune of being able to compare his disappointment in Hogan with his disappointment in Fitz firsthand: "Hogan was so bad I waived him quickly, but it's Fitzgerald's low floor due to injury that's been dragging me down the most, as I keep thinking I need to start him!"
A reader named Kilpatrick made the mistake of banking on Fitzgerald in multiple drafts:
Fitzy has to be the easiest answer for me. Took him 4th or 5th round in every draft this year; thought I was getting incredible value.

His hammy hasn't helped. Neither did Bradford. I am still holding out hope for him to bounce back in a week or two, especially if he can heal and if DJ2K gets back to dominating as well (the entire offense needs to get better)...thankfully he is my WR3 in each league...still sucks.

In both ppr and standard, getting him as a back-end WR2 seemed awesome. Name recognition will definitely induce incorrect expectations when you don't factor in what else is happening with the team (poor offensive line and Mike McCoy Syndrome for the Cardinals). Also, obviously, the unpredictable injury-bug will negatively affect any positive expectations had during the draft. "You have to draft as if players will be there for all 16 (15 in reality) games. Exceptions always exist, but you cannot predict injuries."
Kilpatrick touches on several "murk factors" that come into play when we're trying to inspect the floor of a player: name recognition, team situation, and injury. Name recognition is always going to make a future Hall of Famer like Fitz seem extra tempting. We read team situations incorrectly all the time (especially when diagnosing offensive problems differently than the coaching staff). And when it comes to injury, there's probably nothing more frustrating than the hamstring, which seems far more likely to become a nagging problem in receivers than in running backs.
RDB's take on Jamison Crowder illustrates the problem of not visualizing quite the same offense for a team as the coaching staff:
For this week's question I would say Jamison Crowder. Alex Smith pretty much is back to being Alex Smith and so far is throwing primarily to his RBs and TEs. Crowder has had no more than 4 targets in any game this season. Additionally, Washington's playcalling has them leading the league in rushing plays per game. So, not the expected volume for the slot WR I got in the 8/9 round.
A reader named AZMaddog reported a similar frustration with a hamstrung player in Marquise Goodwin, though the mistake was compounded by owning Hogan as well:
I am with you on Hogan, I took him, ahem, in the third round thinking I was a genius and he would kill it for the first month and then at least be a #2 the rest of the way. Before he got hurt last year he was bordering a top 10 WR, most of the analysts agreed this year he would do well in the absence of Edelman and were very high on him. If he stinks it up tonight, I drop him.

I also thought I was being clever and took Goodwin in the 4th round. He was solid with Garoppolo at the end of last year and the two were doing well in the preseason and reports out of camp were promising. Can't predict injuries; I have already dropped him.
But if you think burning a third- and fourth-round pick on Hogan and Goodwin is bad, consider the quicksand that Danny fell into:
Floor sinking? I wish! [My team is] more like the La Brea tar pit. 12 team 9 man roster, 6 on the bench, half PPR. Round 1 - LeVeon Bell - figured he wouldn't hold out long with $850,000 per game tag. Round 2 - Larry Fitz - 100 catches per year, but not when you're limping around the field. I think Rich Eisen could cover him. Round 3 - Royce Freeman - so much hype, so much hype. Round 4 - Chris Hogan - enough said. Round 5 - Tom Brady - okay, we're good here. Round 6 - Marquise Goodwin - really? Apparently I can't get out of my own way. But the hits continue...among my other picks....DeVante Parker (apparently Hogan and Parker have been talking to each other..."Who wants to be irrelevant the mostest?"). Oh yeah, did I mention I got Greg Zuerlein to boot? (Pun intended.) 20 years of FF and I decide to go fight club on myself.
Yikes Danny. Any building with that many sinking floors would have to be condemned. You have my sympathies & my best wishes for next season (cuz you done, son).

Although Danny's disappointment involved Bell's holdout and Royce Freeman's anemic production, he had receivers to be concerned about as well. The only person who wrote to me to focus strictly on a running back was Bill:
The [Ravens'] loss at Cleveland can be attributed [to John Harbaugh] and his coaches' love for the passing game and not letting Alex Collins do what the fans and I know what he can do when given the chance. Letting him play just 30% of the snaps when he averaged almost 5 yards per carry is ridiculous. Collins is blamed for fumbling unmercifully by his coach and writers but nothing is said when Flacco throws an interception in the red zone, or plodder Buck Allen fumbles, which leads to a Cleveland field goal. WAKE UP Coach and let Alex PLAY.
I wanted to close with Bill's rant because it shows how we feel about players with sinking floors when their lack of productivity has nothing to do with name recognition or injury and everything to do with team circumstances created by coaching decisions. In this circumstance, we're almost always convinced that our perception of the player's floor is accurate—if only the coach would use him properly. But for some reason, I've come to expect these kinds of disparities in perception when it comes to running backs. I think I could only get as worked up as Bill about a receiver. YMMV.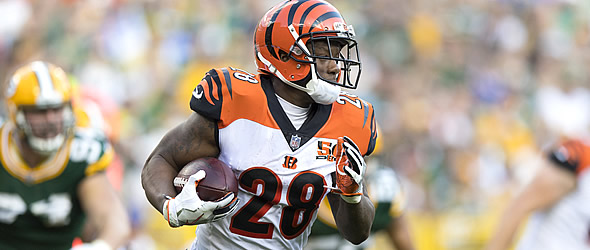 This week's question: What can leagues do to encourage trades?



The question for Week 6 comes from a reader named Jeremy:


One topic I haven't seen or maybe I missed, is how leagues encourage and embrace trading. Trading is such a great way to keep teams engaged, so I'd like to know if there are ways to further enhance our rules to increase and/or make it more enticing to make trades. Do leagues offer perks to teams that make trades for instance? Of course, this must be counterbalanced with collusion and/or teams mailing it in and trading away everyone for future draft picks.

I also wonder if anyone tracks trades throughout the season – I think it would be fun to have data to prove who were the trading winners and losers.
This question has come up in past columns, and I'll provide some reminders of past answers next week. But since the landscape of FF is always changing—especially with a new generation of owners being increasingly confident in their ability to make mutually beneficial trades—I hope to get some fresh input on this familiar question.

And as a special twist on Jeremy's second question (about evaluating who won a trade), let me invite readers to comment on the most interesting trade I saw this week: Odell Beckham Jr. & Phillip Lindsay for Joe Mixon & John Brown. How would you go about evaluating who "won" that trade?

Please email your answers to me or post them directly to the comment section below. My thanks to everyone who responded to last week's question.



Survivor Pool Picks



Trap Game: Bills at Texans

The Texans are 9.5-point favorites at home vs. the lowly Bills, but I'm wary—because I've already screwed up on both of these teams this season. When I believed in the Texans at home against a team that looked horrible the week before, the Giants beat them. And when I didn't believe the Bills had a chance to win a road game vs. a likely Super Bowl contender, the Vikings lost to them. Sure, the Bills have been written off by everybody who already has Shady McCoy back on the Eagles. But no matter how bad the team has looked at certain points this season, Buffalo defeated both the Titans (not nothing) and the Vikings (definitely something). And no matter how good you think Houston must be with the receiving trio of DeAndre Hopkins, Will Fuller, and Keke Coutee, the Texans always seem to find a way to play down to the level of their competition. I'm steering clear.

Pick #3: Panthers over Redskins
(5-0; GB, NO, CHI, LAC, CIN)

Somehow, the Redskins are 1-point favorites in this game, which suggests either that home-field advantage is overvalued or that no one actually watched the Skins play against the Saints on Monday night. It's not clear why the 2-2 Skins (coming off an ugly loss and a short week) should be favored against the much more dynamic 3-1 Panthers, especially with Adrian Peterson nursing a sore shoulder and Alex Smith being … well, let's just say that between the dinking and the dunking, he's no Cam Newton.

Pick #2: Vikings over Cardinals
(3-2; no, LAC, hou, GB, CAR)

Does it make you nervous to see the Cards as 10-point underdogs visiting Minnesota? Considering that the Bills were double-digit dogs when they visited the Vikings in Week 3, it should. Even so, it's probably unwise to think of exceptional games as the rule. This game has everything I usually look for in a survivor pool because it features two teams not from the same division with the stronger team at home. That formula failed when Buffalo came calling, but it still has a general applicability (even for the Vikings).

Pick #1: Packers over 49ers
(4-1; BAL, LAR, min, JAX, NO)

With a crowded backfield and a wide receiver carousel on overdrive, the Packers are hard to pin down from a fantasy perspective. But from a football perspective, they're the same old team: capable of beating anyone as long as Aaron Rodgers is semi-healthy—and more than capable of handling a hobbled opponent on Monday night at home. Just how hobbled are the 49ers? They lost Jerick McKinnon before the season began, Jimmy Garoppolo in Week 3, and all use for rising star Marquise Goodwin when Garoppolo went down. For good measure, backup RB Matt Breida has a sprained ankle. So yeah, hobbled.


---
Mike Davis has been writing about fantasy football since 1999--and playing video games even longer than that. His latest novel (concerning a gamer who gets trapped inside Nethack after eating too many shrooms) can be found here.