MyFantasyLeague.com Users...
Check out the most popular waiver wire pickups this week across thousands of MFL leagues. Also, quickly see who's available on your waiver wire this week by using the MFL Power feature at FF Today. Just input your league's 5-digit ID number away you go!

Targeting weekly waiver picks is a completely subjective business, but this column hopes to point out some obvious and not-so-obvious selections to help your team from week to week while you strive to collect fantasy wins, reach your league playoffs and win the elusive title that your friends say is out of your grasp. While I'm a big proponent of making trades to bolster your roster, the waiver wire can be an almost limitless resource when it comes to discovering fantasy value in strange places. Each week, I'll highlight some of the popular (and not-so-popular) players who can help your squad and may still be available in your league.

Feedback is always welcome, appreciated and encouraged. I'll get to as many e-mails as I can.


---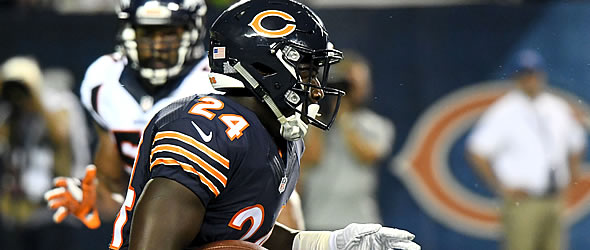 Sam Bradford looked comfortable running the Vikings offense after only two weeks with the club.
Quarterbacks
Sam Bradford, MIN – Bradford led his team to victory over the rival Green Bay Packers in his Vikings debut, throwing for 286-2-0 on 22-for-31 passing. Over a third of those targets went to Stefon Diggs, who's discussed below. Bradford has never been a gunslinger, favoring a measured approach over uninhibited chucking, but on a team with such a strong lead back he might find more room to operate downfield and show off his arm. He's only owned in about 10-25 percent of leagues and could be worth adding in deeper formats, especially if your backup was RGIII or you'd like to replace the unexciting options of Trevor Siemian or Blaine Gabbert.
Ryan Tannehill, MIA – Like Bradford, Tannehill (available in 40-60 percent of leagues) is an underachiever, but he had a monster Week 2, throwing for 389-2-2 and rushing for 35 yards. What that stat summary doesn't show is that Tannehill didn't complete a pass until the second quarter, and much of the yardage he compiled was late in the game with the Dolphins frantically playing catchup. There are still fractals of light popping through the rock wall at the end of the tunnel, but the Dolphins train is going to need to pick up a lot of steam with Arian Foster already fighting a groin injury and facing a slew of tougher defenses after Week 3 (Browns). He may be a one-week plug-and-play at home versus Cleveland, and only a drastic sea change in offensive philosophy can profoundly affect his value going forward.

Joe Flacco, BAL – UPDATE: It's almost a universal law that whenever I include Flacco in this column, he flames out spectacularly that week, but he's available in about 40-50 percent of fantasy leagues and there are more inconsistent QBs being scooped off the wire. Flacco has three TD passes (all to Mike Wallace) through two weeks and 560 passing yards (as well as three turnovers: two INTs and a fumble). He's more experienced than Carson Wentz and gets Jacksonville in Week 3, Oakland in Week 4 and Washington in Week 5. He's worth adding in 12-team leagues and might make a nice spot starter in deeper formats ahead of guys like Ryan Fitzpatrick, Tyrod Taylor and Jameis Winston, who all have tough matchups.
Brian Hoyer, CHI – UPDATE: Just kidding. Don't grab Hoyer unless you're in a 14- or 16-team league and you don't have a backup. He's pretty awful, and even a tasty matchup against the Cowboys (assuming Jay Cutler's mangled thumb keeps him out) can't bring his upside to the point where it's worth the risk. I'd have Hoyer ranked about 28th this week, which only puts him ahead of guys like Siemian, Gabbert, rookie Cody Kessler and Rams QB Case Keenum.

Updates
Alex Smith, KC – Now there's the Alex Smith we know. Smith (about 40-50 percent owned) was an unmitigated fantasy disaster Sunday, finishing with 186-0-0 and two lost fumbles. It was facing the Texans, but there's just not enough consistent upside to make me roll him out versus the Jets or Steelers in the next two weeks. He's also on bye Week 5. He's a drop candidate if you're willing to take a shot on Bradford or Tannehill.
Brock Osweiler, HOU – Osweiler had 268-1-2 against the Chiefs and has a relatively difficult schedule coming as well. He's got weapons, but there's just not enough upside given what we've seen the first couple weeks.
Carson Wentz, PHI – UPDATE: Wentz successfully navigated the enemy territory at Soldier Field (190-1-0, 10 rushing yards) en route to his second consecutive victory to start his career – becoming the first rookie QB in NFL history to do so without a turnover. He's a must-own in 12-team leagues and could warrant a start or two down the road in the right matchup.
Matthew Stafford, DET – Stafford also had a disappointing Week 2 performance throwing for 260-1-1 with 30 rushing yards in what should have been a better matchup for the Lions offense. Stafford was scooped up in whatever leagues he was still available in, but Week 3 facing the struggling Packers could be a better chance for him to break out. Don't give up on him just yet.
Josh McCown, CLE – McCown briefly left the game with a possible shoulder injury but returned and threw a couple TD passes to Corey Coleman (more on him below), finishing with 260-2-2. He's a hit-or-miss fantasy option with laudable upside and a dank dirt basement for a fantasy floor.
Editor's Note: Reports early this morning indicate McCown's shoulder injury could be serious.
Running Backs
Jay Ajayi, MIA – Ajayi took over the reins from Foster (groin) and rushed five times for 14 yards in Miami's Week 2 loss to the Dolphins, adding four catches for 31 additional yards and a lost fumble. He's not a world beater and isn't likely to engender much interest following a poor performance in what looks like a full-fledged RB committee, but the Boise State product will likely be the lead back in Week 3 facing the hapless Browns defense – and could make a low-end RB2 if he can hold onto the football.

UPDATE: Adam Gase said Monday that Foster is day-to-day, which still leaves the possibility of him playing against the Browns. If not, Ajayi will be joined in a timeshare by Kenyan Drake, who scored on a late TD against the Pats in Week 2 and could be the better PPR back.
Fozzy Whittaker, CAR – Whittaker replaced an injured Jonathan Stewart (hamstring, ankle) in the first quarter and finished with 16 carries for 100 yards and 3-31-0 receiving in Sunday's Week 2 win over the 49ers. He briefly left to be checked for a concussion after a second-quarter fumble, but only missed one drive. Stewart is going to miss "a week or two", so Whittaker (almost universally available in all fantasy leagues) will be a popular pickup and will fight for carries with Cameron Artis-Payne – a healthy scratch the first two weeks.

UPDATE: A day later, it looks about what we expected; Stewart will miss anywhere from 1-6 weeks (we still don't have an official diagnosis on the severity of the hamstring injury), Artis-Payne will be activated and assume a change-of-pace role, and Mike Tolbert will vulture some crucial touches where the good stuff happens. It's likely a situation to avoid, but Whittaker probably has the most value.
Alfred Morris, DAL – Ezekiel Elliott didn't have a carry after his second fumble on Sunday, and Morris only managed seven yards on his five carries – but he did have a TD and is a must-own handcuff for Zeke owners and a solid bench stash in 12-plus team leagues.

Jerick McKinnon & Matt Asiata, MIN – UPDATE: The torn meniscus suffered by Adrian Peterson won't end his season, but it's likely to keep him out of Week 3 against the Panthers and require a multi-week absence. Peterson is a notoriously fast healer, and neither Asiata nor McKinnon are meaningful long-term adds but I've seen some screenshots of seriously depleted rosters sent to me in the past few days (I'm looking at you, Langer!) and both of these guys will be picking up extra touches. It's likely to be a 65-35 split (McKinnon-Asiata), but the latter could exceed the former's value by picking up additional goal-line work.
Kenneth Farrow & Andre Williams, SD – UPDATE: Farrow is a relatively unknown rookie commodity with some latent value. Williams was a healthy scratch the first couple weeks, but with Danny Woodhead (torn ACL) out for the year, somebody's going to have to back up Melvin Gordon, who's now a high-upside fantasy RB1. Williams got a bad reputation as a weak runner during his time with the Giants, but if Farrow falters or fumbles away the backup role, he could see a mild fantasy resurgence in San Diego.
Updates
Theo Riddick, DET – Riddick had a relatively quiet Week 2 but he remains heavily involved in the passing game and could pick up additional carries if Ameer Abdullah (foot) misses any time.

UPDATE: Abdullah is unfortunately headed to North Carolina to meet with Dr. Robert Anderson, a well-known specialist, about his sprained foot. That probably means Riddick and rookie Dwayne Washington will handle the load for Week 3 and the immediate future. Riddick's value is well-known, but Washington (at 6-1, 223 pounds) offers a more punishing style more suited to goal line work and short yardage. He makes a nice dynasty stash and could emerge as the primary ball carrier if Abdullah misses an extended period of time.
Isaiah Crowell, CLE – Through two weeks, Crowell (about 75-90 percent owned) has been a top 15 fantasy back, even in PPR formats that tend to favor the complementary Duke Johnson. Crowell's ownership went up after a solid Week 1, and after his 133 yards and a TD on 18 carries in Week 2 (most of the yardage came on an early 85-yard TD run), he won't be available in many.
Christine Michael, SEA – Despite reports that Thomas Rawls (ankle) was ready to go for Week 2, Michael assumed much of the workload after Rawls exited following a leg contusion. The Seahawks may have just been playing it safe, but they lost the game despite an admirable performance form Michael. The fourth-year back had 60 yards on 10 carries and a lost fumble adding 3-26-0 on four targets.
Jalen Richard, OAK – Richard totaled just 17 yards on seven carries in Week 2. The Raiders employed a three-man RBBC on Sunday and Richard might be best left to deep dynasty leagues.
Chris Thompson, WAS – Thompson had 3-57-0 on four targets but managed just one rushing yard on two carries. He's definitely second fiddle to Matt Jones but should continue to see work in the passing game. When Washington falls behind – which should happen quite a bit this season – he could make a sneaky-and-cheap DFS punt.
Shaun Draughn, SF – Draughn had nine carries for 21 yards in the loss to Carolina. At best, he's a deep-league stash.
Wide Receivers / Tight Ends
Stefon Diggs, MIN – I was down on Diggs heading into 2016 with the conservative Teddy Bridgewater at the helm and most touts showing more excitement for the raw talent of rookie Laquon Treadwell, and I demoted him even further after the injury to the Vikings signal caller. But both Shaun Hill in Week 1 (7-103-0, nine targets) and Bradford (9-182-1, 11 targets) seem enamored with getting the ball to the shifty playmaker. He's only available in about 5-20 percent of fantasy leagues, but if he's somehow still available in yours (maybe a 10-teamer?), he makes one of the top adds of the week.
Corey Coleman, CLE – Coleman is available in about 20-40 percent of fantasy leagues despite leading the NCAAs in receiving TDs last year and 69 yards in Week 1 – I neglected to include him last week (as I picked him up in one 10-team league and should have been aware he'd be available in some) and regret his omission. He clicked with Josh McCown (5-104-2 on eight targets) in Week 2 and seems a decent bet for WR3 value on a team that has nothing to lose but more games.

UPDATE: With McCown (shoulder) likely down for multiple weeks, Coleman's immediate value takes a hit, especially given the uncertainty of rookie Cody Kessler. The Browns situation just went from bad to much, much worse.
Tavon Austin, LAR – He's a longshot for viable week-to-week production, and had just 5-50-0 on nine targets in Week 2, but he's been targeted 21 times in two games and has an excellent matchup in Week 3 facing the Buccaneers, who will likely crowd the box to stop Todd Gurley.
Phillip Dorsett, IND – Donte Moncrief is having an MRI on his injured shoulder, vaulting Dorsett – who had an impressive training camp – into must-own territory should the injury be serious. Dorsett's ownership levels are all over the place depending on league size and format (he currently ranges from about 35-70 percent owned), but the Colts schedule gets a lot more pleasant in the coming weeks and Dorsett's 120 receiving yards through two games could triple after tilts with San Diego and Jacksonville in weeks 3 and 4.
Quincy Enunwa, NYJ – Enunwa, (who is admittedly dealing with a rib injury suffered in Week 2) is physically between a WR and small TE, and he took on a Gronk-like role for the Jets on Thursday against the Bills, finishing with 6-92-0 on six targets from Ryan Fitzpatrick (giving him 13-146-1 on 14 targets through two games). He's the third option following Brandon Marshall and Eric Decker, but on a team boasting better offensive weapons in 2016, he could make a big impact. He's just 15-25 percent owned and is definitely worth adding in 12-team and deeper formats. I really like how this guy plays and runs with the football after the catch – just keep an eye on that rib injury.
Cole Beasley, DAL – "The Beas" was once again a fantasy factor and a Dak Prescott favorite, catching 5-75-0 on six targets from the rookie QB. He's a must-own in 12-team PPR leagues.
Jamison Crowder, WAS – The unheralded diminutive 5-8, 185-pound Duke product (owned in just 10-20 percent of fantasy leagues) is still developing in his sophomore campaign and now has six-catch games in back-to-back weeks for Washington, adding 6-39-1 in the loss to Dallas. He's a must-own in deeper PPR formats and a viable WR4/5 in 14-team leagues.
TE Jacob Tamme, ATL – Tamme hauled in 5-75-1 on eight targets in the Falcons' Week 2 win over the Raiders. He's been an undeniable factor in Atlanta's offense in back-to-back games, and while rookie Austin Hooper is getting some playing time, the veteran Tamme is locked in as the primary pass-catching TE. He's easily a low-end fantasy TE1 given the current scenario.

TE Dennis Pitta, BAL – UPDATE: Only Wallace has hauled in a TD passes for the Ravens, but that could change this week at Jacksonville. Pitta had 9-102-0 on 12 targets from Flacco Sunday, and he figures to be a low-end TE1 going forward with decent upside despite being owned in just 10-15 percent of fantasy leagues heading into Week 3.
Updates
Willie Snead, NO – It's now too late to grab Snead, who finished with 5-54-1 on Sunday.
Mohamed Sanu, ATL – Sanu was notably quiet during Week 2 but finished with 3-19-0 on five targets. He could see more work Julio Jones misses any time with his ankle injury. Stay tuned.
Will Fuller, HOU – With his second 100-yard game in as many weeks, Fuller became just the second receiver in NFL history to record 100 receiving yards in each of his first two NFL games. He finished with 4-104-0 on seven targets and appears to be the real deal. A top 10 fantasy receiver who was started in just 35 percent of leagues in Week 2, Fuller is gone from almost all free agent pools now.
Davante Adams, GB – Adams had just 3-26-0 in Week 2 but is still worth rostering in better matchups.
Nelson Agholor, PHI – UPDATE: Agholor had 4-42-0 on seven targets Monday night but is still struggling with drops. He's shown some improvement with his route-running and seems to fit well into the offense, but his maturity needs a sharper upward gradient if he wants the opportunities to continue.
Victor Cruz, NYG – Cruz didn't get to dance, but he played 74-of-79 snaps in Week 2 against the Saints and finished with 4-91-0 on eight targets. It pains me to say this, but he's worth owning in all 12-team formats.
Tyrell Williams, SD – The 6-foot-4 Williams caught 3-of-6 targets for 61 yards and a TD in Week 2 against the Jaguars, and makes a great big play complement to the WR1 brilliance of Travis Benjamin and the red zone work of Antonio Gates. He's not going to have a big week every time out, but he's got upside.
Eli Rogers, PIT – Rogers (1-9-0 on three targets) failed capitalize on Markus Wheaton's absence in Week 2 but remains a viable fantasy option in deeper formats.
Jeremy Kerley, SF – Kerley returned to Earth and caught 3-of-6 targets for 29 yards in Week 2. He's still a decent PPR league bench player on an NFL team that's looking for steady options.
Tajae Sharpe, TEN – Sharpe burned fantasy owners with lackluster Week 2 (4-33-0 on seven targets) but he played every offensive snap for the Titans and seems to have a lock on the No.1 WR role in Tennessee. This was a bad week for a relatively bad offense.
TE Clive Walford, OAK – There he is! Walford caught 6-of-7 targets for 50 yards and a score in the Raiders' Week 2 loss to Atlanta, and looks to be the No.1 TE for Oakland and one of Derek Carr's favorite targets. He's a risk-reward, low-end TE1 moving forward, but there aren't a whole lot of steady TE options in the league right now outside of the injured Gronkowski, Greg Olsen, Jordan Reed and Delanie Walker. Walford is probably a Top 12 or 15 TE with upside and could be on par with Dwayne Allen as a boom-or-bust TE play.
TE Jack Doyle, IND – Doyle had 4-37-0 on five targets in the loss to Denver and remains a low-end TE2 with upside.