QB Lamar Jackson
2020 QB Rank - No.10, 25.6 FPts/G
Itís no secret that thereís been a slow burn in the NFL for the better part of the last decade. A combination of college offenses making the transition to the NFL, better athletes playing the position and a degradation of offensive line play have contributed to make the dual-threat quarterback almost necessary in todayís NFL. We know that guys like Brady and Brees were the exception, but they would be all time greats in any era, so letís instead focus on the poster boy of the modern NFL quarterback, Lamar Jackson.
In his short career Jackson has done things never before seen in the NFL. Heís been the sole focus of defenses for the better part of the last two seasons and still managed to win an MVP award in 2019 and his first playoff game in 2020. Itís been established that heís the best running quarterback the league has ever seen, but in order to take the next step, he simply has to become more of a threat in the pocket. The discussion about whether or not he can do that, determines if heís a solid QB1, or a guy who can again win you a fantasy title by himself.
The Ravens know theyíve got to get more out of the passing game to get deeper into the playoffs, and they signaled that with their off-season moves. Baltimore invested cash in Sammy Watkins, and 1st round draft capital in Rashod Bateman and they seem intent on utilizing the running backs on routes more often. Can Greg Roman, who was never able to elevate Colin Kaepernickís game after he ran the 49ers to the Super Bowl in 2012, adjust the offense enough to help Jackson and the Ravens get over the hump? My gut says no. The 2019 season is likely to be Jacksonís best, and while heís got the highest QB floor in fantasy due to his legs, the position is just too deep to go all in on Jackson too early in your draft. Heíll be fantastic, donít get me wrong, but not worth busting your draft for.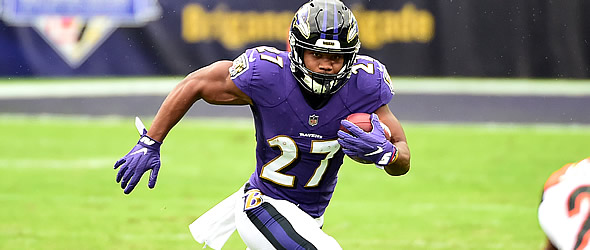 RB J.K. Dobbins
2020 RB Rank Ė No.20, 9.8 FPts/G
Despite a few tasty morsels early in the year, 2020 looked almost to be a lost season for Dobbins. Despite being the most explosive, athletic running back on the roster, the Ravens failed to make him a meaningful part of the weekly game plan. Then came the breakout in Week 8 against a Pittsburgh defense that had been stifling against the run. Dobbins took the rock 15 times for 115 yards and thus began his fantasy relevance. Over the last 10 games, including the playoffs, Dobbins carried the ball 10+times in eight of them, and scored 8 touchdowns (including a 7-game scoring streak). So with Ingram officially gone, and a big role ready, what does the 2021 fantasy forecast look like? Unfortunately... partly cloudy.

Consider a few things. First and foremost this is a three-way split in the backfield. Lamar Jackson isnít going to stop running the ball, and Gus Edwards signed a big deal in the offseason. Gus the Bus actually finished with more carries than Dobbins last year, and everything leads me to believe this backfield is going to be at best, a 60-40 split.

Despite glowing offseason reports and a decree to pass to the backs more, Dobbins is not a natural receiver and I wouldnít be shocked if Justice Hill was the player the Ravens turn to in certain passing situations. Itís clear to me that Dobbins is the most talented player in the backfield, but 220 touches could be his ceiling, and Nick Chubb and Ronald Jones were the only backs in the top-15 with 220 or fewer touches. With limited volume, fantasy owners would need peak efficiency or a windfall in the passing game to be anything more than a RB2.
RB Gus Edwards
2020 RB Rank - No. 28, 7.6 FPts/G
Your honor, I plead guilty of disrespecting Gus Edwardsís fantasy value the past several years. All things considered, Edwards was a fantastic value at running back last year, rolling to his 3rd straight 700+ yard season, all the while averaging a clean 5.0 yards per carry average. What Edwards lacks in speed and breakaway ability, he makes up for with a downhill, tough, grinding style. His 723 yards and 6 touchdowns set career highs, and the Ravens rewarded him this offseason with a 3-year $12 million dollar contract, but itís really the $8 million guaranteed that tells the fantasy story. The big guarantee means that Edwards is going to have more of a 1B role in the backfield than pure backup. The 4th year vet has been a solid tandem back since he came into the NFL, and is good to steal a handful of series from starter J.K. Dobbins. With upwards of 150 carries and potential for 5+ touchdowns a near given, Edwards has standalone value as a RB3/4 in standard leagues.
WR Marquise Brown
2020 WR Rank - No. 31, 7.8 FPts/G
Big things were expected in Year 2 for ďHollywoodĒ. This time last year there was a boatload of hype about the damage he could do with the reigning league MVP, and while he increased his numbers across the board, the yardage and reception totals were a disappointment, as Brown never really popped off. He had a smattering of decent games late in the year, but for a player expected to finish as an upside WR2, he fell short of those expectations.
The disconnect between Brown and Jackson cannot be understated as the 2nd year receiver only managed to snag 58% of his 100 targets (171st in the NFL...yikes). As bright as his star was a year ago, things have changed greatly since then. Sammy Watkins was brought in to provide some leadership to a very raw receiver room, and the Ravens spent the 27th overall pick on dynamic Rashod Bateman. The Ravens have talked about getting the passing game going this offseason, but to me, that means improving the efficiency, not suddenly becoming a pass first team. With additional mouths to feed, Brown will become even more of a boom/bust option than he already was, and joins a crowded group of WR3s.
WR Sammy Watkins
2020 WR Rank - No. 90, 5.4 FPts/G
Letís face it...Watkins was signed more for his leadership than his production. Injuries and ineffectiveness made his time in KC a near complete bust, and he goes from the most prolific passing offense in the league, to one of the most conservative. Watkins hasnít played a full season since his rookie year, and frankly hasnít been fantasy relevant for several years. Heís certainly a mighty upgrade on Dez Bryant and some of the other ragamuffin receivers Baltimore has relied on recently, but barring a titanic shift in offensive philosophy, only one receiver on this team is going to return fantasy value, and Iíd be surprised if it was Watkins.
Possibly the most NFL ready receiver in this draft class, Bateman joins an offense that was dead last in passing yardage last season. And while Iíd have visions of a Justin Jefferson season dancing in my head if Bateman was on a different offense, the fact is heís a rookie on a run-first team with a quarterback still developing as a passer. As talented and ďreadyĒ as he might be, heís certainly going to play a bigger role for the Ravens than he will as a contributor on your fantasy squad, but donít be shocked if heís Baltimoreís best receiver by seasonís end.
TE Mark Andrews
2020 TE Rank Ė No.24, 8.0 FPts/G
The Ravens have rightly realized that a passing game of Mark Andrews and a pile of dust are no way to win in the playoffs, hence the overhaul of the receivers this spring. Itís not a surprise as this pass offense took a BIG step back last year. It was always going to be near impossible for Andrews to match his dominant 2019 season, but itís fair to say last season was a letdown. Defenses were able to single up the outside receivers and box Andrews in with double teams. Touchdowns were sporadic, and there were way too many 3 receptions for 22 yards type lines last season. The fact he finished as the TE4 last year in standard leagues says everything about how gloomy the position was. I know it sounds like Iím down on the 4th year pro, but itís the exact opposite. I see a huge rebound in the yardage department, and he still will be the first option in the passing game. With other receivers worth paying attention to, Andrews should have much more room to roam the seams on play-action passes. With 20 touchdowns already in his career, Andrews is a good bet to push for double digit touchdowns once again. With improved consistency, ink in Andrews for another top-4 finish.