QB Carson Wentz
(2021 QB Rank – No. 14, 24.7 FPts/G)
The Commanders moniker won't be the only new addition in Washington this season as the team will now have a new face behind center after they acquired veteran Carson Wentz via trade. Wentz brings a strong arm and leadership to a team desperately in need of those things, but he does come with a long injury history that makes him a risk for both the Commanders and fantasy owners alike.
Wentz's 2021 saw major improvements from a 2020 season that led to him being traded away from the Eagles. Was efficient in a Jonathan Taylor-focused Colts offense and stayed healthy, but was still shipped away as the Colts acquired Matt Ryan in the offseason.
While he's not a particularly exciting player, Wentz should be an improvement over the Taylor Heinecke-led offense that Washington suffered through in 2021. He doesn't have the wheels or high-end upside to realistically be a QB1, but Wentz should be a solid QB2 in two-QB and SuperFlex leagues and he's a player who you could pair with someone like Trey Lance to start the season before you switch over to the youngster with more upside.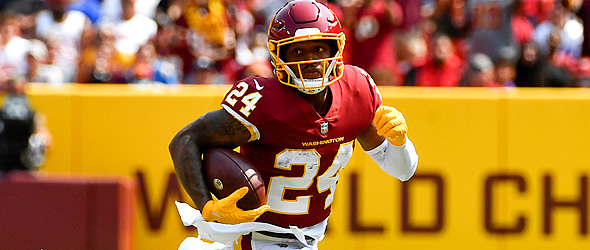 RB Antonio Gibson
(2021 RB Rank – No. 9, 13.1 FPts/G)
One of the fantasy community's favorite players, Gibson heads into his third season with perhaps more question marks about him than he had in either of his first two seasons.
We often hear the phrase, "if he only got more opportunities," but Gibson has been given the seventh-most carries among all running backs in the NFL over the course of his first two seasons in the league. He's produced solid numbers with the opportunities he's had and the talent is obviously there, but it simply hasn't manifested itself into high level fantasy production yet.
With the team opting to match the Bills' offer to keep J.D. McKissic this offseason, things don't look great in regards to Gibson seeing more opportunities in 2022 than he did in 2021. To make matters worse, the team also added bruising Alabama running back Brian Robinson in the third round of the NFL Draft. Commanders head coach Ron Rivera likened the duo of Gibson and Robinson to the duo of DeAngelo Williams and Jonathan Stewart from when he coached the Panthers. Without directly stating it, Washington has told us with their actions and insinuated with words that they want to limit the workload of Gibson who has dealt with some injuries and is now headed into his third season.
There will almost certainly be weeks where Gibson produces big numbers, but he could be extremely unpredictable and frustrating to own in traditional seasonal leagues this season. His draft cost is down from where it was in 2021 so it'll be easier for him to return value, but it might be tough to expect another top-10 finish at running back.
RB J.D. McKissic
(2021 RB Rank – No. 51, 7.7 FPts/G)
J.D. McKissic ranked 51st at running back in total points in 2021 in standard scoring formats, but shot all the way up to 37th in PPR formats despite playing in just 11 games. That 14-position gap pretty well explains the fantasy outlook for this pass-catching specialist who is essentially unusable in non-PPR formats. McKissic carried the ball more than eight times in a game just three times over his past three seasons and even then, the highest total of carries he saw was in Week 15 of the 2020 season when he carried the ball 13 times against the Seahawks.
McKissic does, however, bring some weekly boom upside in PPR formats. He's caught five or more passes in a game 14 times over his past 27 regular season games. This has allowed him to deliver some big PPR fantasy numbers in those contests, although he has admittedly also dropped some near goose-eggs multiple times when he gets game scripted out.
The ideal format to own a player like McKissic in is PPR best ball, but most fantasy players haven't gravitated over to that format yet, which means he's likely going to end up frustrating a lot of owners who will inevitably complain with phrases like, "when I start him he does nothing and when I bench him he goes off!"
Yeah, that's sort of what you sign up for with a player like McKissic and it's why he's being drafted later than many players whom he'll likely outscore in 2022.
One of the more frustrating landing spots from the 2022 NFL Draft has to be Alabama running back Brian Robinson. Robinson joins an already crowded Washington backfield that featured do-it-all running back Antonio Gibson along with pass catching specialist J.D. McKissic. While Robinson's bruising, between-the-tackles style certainly makes him an ideal complementary player in this backfield for the Commanders, it's tough to imagine a scenario in which he becomes a viable weekly fantasy asset without injuries - perhaps multiple injuries - to other players on this roster.
Instead, what's more likely to happen is that Robinson ends up playing spoiler in this backfield, most likely to Gibson, who stands to lose a greater share of his touches to Robinson than McKissic would given their skill sets. Robinson could very well end up being a regular contributor near the goal line for the Commanders, which would be extremely frustrating for fantasy managers who own Gibson. Worse yet, given that Washington isn't likely to be a high-powered offense to begin with, Robinson himself isn't likely to be consistent enough of a weekly contributor to justify placing him in in weekly lineups.
We've seen "handcuffs" become relevant fantasy assets in the past and perhaps Robinson ends up becoming one of those players, but you're probably better off making him a high waiver claim during the season than you are drafting him outright and holding him on your bench all season.
WR Terry McLaurin
(2021 WR Rank – No. 24, 8.0 FPts/G)
McLaurin has certainly exceeded expectations in regards to his original third-round NFL Draft capital, but fantasy owners who've been convinced that he's ready to break into the elite WR range have been left disappointed over his past two seasons. Still, back-to-back 1000-yard seasons while being thrown to by the likes of Taylor Heinicke, Kyle Allen and the broken down remains of Alex Smith certainly gives us hope that we've yet to see the best from McLaurin.
McLaurin now has a new quarterback as the Commanders acquired Carson Wentz via trade. Wentz joins the team after a decent season with the Colts and he will almost certainly be the best QB that McLaurin has played with. More specifically, Wentz is a passer who likes to push the ball down the field, which has been a problem for every other Washington quarterback that McLaurin has played with. We've seen McLaurin produce big numbers when he's been targeted downfield in the past, so there's plenty of reasons to be optimistic that he's headed for his best fantasy season yet in 2022.
On the other hand, there are some concerns that make drafting McLaurin a bit of a risk right now. The most pressing issue is that McLaurin is currently entrenched in a contract dispute with the Commanders as he is looking to get paid now that he has delivered multiple quality NFL seasons. We haven't heard that Washington is unwilling to give McLaurin an extension, but the fact that they haven't already come to an agreement and he's now sitting out mandatory team activities is certainly a cause for worry. It's more likely than not that McLaurin will be suiting up for Washington in Week 1, but the risk that he sits out an extended period of time remains and is rightfully suppressing his average draft position a bit.
The other concern is that Washington has made multiple moves to acquire new talent at wide receiver over the past two seasons. Most recently the team drafted wide receiver Jahan Dotson in April's NFL Draft, spending a mid-first-round pick to acquire the former Penn State wideout. While rookie wide receivers don't often supplant established star receivers very quickly, it seems obvious that Dotson will step on the field and immediately be the best wide receiver teammate that McLaurin has played with in the NFL. Add in the fact that the team added Dyami Brown with a third-round draft pick in 2021 along with veteran Curtis Samuel and it's starting to look like there will be more competition for targets for McLaurin in 2022.
McLaurin is the kind of player who can make up for a lower target share with increased efficiency on the targets he does see, especially if Wentz is targeting him down the field consistently, but there is a lot of potential volatility with McLaurin headed into this year and that makes him much more of a boom-or-bust type of player than we would've previously considered him to be.
Commanders' rookie wide receiver Jahan Dotson turned in 91 catches, nearly 1,200 yards and 12 touchdowns as a senior at Penn State in 2021. He was well on his way to a 1,000-yard season as a Junior in 2020 but missed a few games and fell just short, so it's good to see that he was a productive player against high-level collegiate competition.
Dotson may not start the season as the WR2 on the Washington depth chart, but will likely ascend to that spot by mid-to-late season and could have some real fantasy potential down the stretch. He's more of a dynasty asset right now than he is a player to be investing significant draft capital in this season, but keep an eye on his playing time and make sure to add him if it starts to look like he's going to be an every-down starter for the Commanders.
Rookie wide receivers who are drafted in the later parts of fantasy drafts rarely exceed expectations by significant margins and it's even rarer for them to truly break out with a big fantasy season, but we've seen Dotson's teammate Terry McLaurin do it recently and Dotson's first round draft capital is significantly higher than McLaurin's third round draft capital.
It's probably best to let someone else select Dotson in your fantasy draft, then wait for the opportune time to pick him up off of waivers once they inevitably drop him. Competing with McLaurin for targets in a relatively low volume passing game to begin with isn't likely to lead to immediate results for Dotson in his rookie season.
WR Curtis Samuel
(2021 WR Rank – No. 186, 0.8 FPts/G)
Samuel was an interesting offseason acquisition for Washington heading into 2021, but he dealt with a number of injuries that led to him missing most of the season. Now another year older with multiple lower body injuries in his track record, Samuel steps into a Washington offense that has significantly more target competition now that they drafted wide receiver Jahan Dotson with a first-round pick.
Samuel does have some Cordarrelle Patterson/Deebo Samuel to his game as we've seen by his production as a runner, but he's in an extremely crowded backfield and is unlikely to see more than a couple of touches out of the backfield in any given week.
His career high in receiving yards is just 851 and he's never scored more than seven total touchdowns in a season, so the upside just doesn't seem to be there other than maybe as a late round flier in best ball formats.
TE Logan Thomas
(2021 TE Rank – No. 41, 2.7 FPts/G)
Tight end Logan Thomas was one of the later-round tight ends that a lot of fantasy experts were hyping up heading into the 2021 season, but he ended up playing in only six games and eventually suffered a season-ending torn ACL in Week 13. While the medical community has come a long way in helping players get back on the field and Thomas is reportedly "ahead of schedule," it would seem like a stretch that Thomas will be ready to go to start the 2022 season. Chances are strong that he'll start the season on the PUP list which would mean that he'd miss at least the first six weeks of the season.
Additionally, the Commanders investing so strongly in their wide receiver room isn't a great sign for Thomas' upside as he was already struggling to secure a consistently high weekly target share. The team did lose Ricky Seals-Jones in the offseason so there isn't much competition here once Thomas does make his return, but it's still rarely a great option to use actual draft picks on already-injured players like Thomas, especially at a position like tight end which has so few difference-making players to begin with. Instead, it'd be wiser to let someone else in your league draft him and use their IR spots or even flat out drop him once he's ruled out to start the season. Then, when the opportunity is right, you swoop in to secure that highly coveted borderline TE1 fantasy production!