When I first started playing fantasy football, in the late 90's, a "sleeper" was often a player that other league managers had not even heard of. As the game has become more popular and we have access to tons of quality information through the internet, there are very few players that would fit this definition today, at least not in competitive leagues.

Today a "sleeper" refers to a player that does not normally get drafted in most standard leagues with typical scoring settings and with average-sized benches. In most standard leagues, this usually means the drafts are no more than 15 or 16 rounds max.

While I don't necessarily advocate drafting these players in standard sized leagues, (although I have several times) they are players I would definitely watch carefully and plan on grabbing quickly if you find yourself with an open roster spot and/or a situation changes where they could become a viable fantasy starter.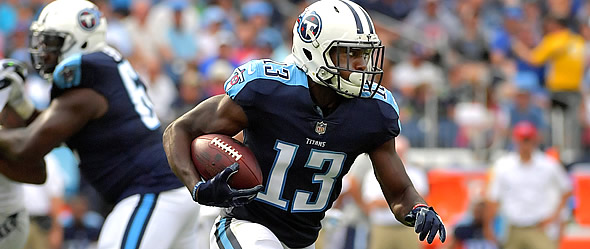 An undisclosed injury to Rishard Matthews could help propel Taywan Taylor into the fantasy spotlight.


Taywan Taylor (WR, Tennessee)

As an early 3rd round pick last year, Taylor disappointed, totaling just 16 catches and 231 yards as a rookie. Because of this lack of production, and the expected emergence of Corey Davis, Taylor is going undrafted in most drafts. Taylor has breakout candidate written all over him and I have been routinely drafting him in the last couple rounds.

For starters, most rookie receivers struggle in their first season, especially players from smaller schools, like Taylor (Western Kentucky) and especially wide receivers limited in their route tree. For 2018, Taylor gets to start fresh with a year under his belt and a new offensive coordinator, Matt LaFleur, who should bring excitement to the Titans boring passing attack just like he did with the Rams last season. With the Titans 2017 top receiver (Rishard Matthews) sitting out most of training camp with an injury, Taylor has shined, playing in the slot and on the outside with the starting offense. With a solid run game, offensive line, and quarterback generating enough buzz to attract the defenses attention, Taylor may turn out to be one of those sneaky players that turns into an every-week fantasy starter.

With respectable size (5'11'' 205lbs) and elite quickness (6.57 3 cone), Taylor has the skill set to strike from anywhere on the field and now has a coordinator who should find creative ways to get him the ball. If Matthews injury ends up being more serious than first thought, I could see Taylor flirt with 100 targets in this revamped offense as Mariota's safety net when Davis is doubled. Even if Matthews returns soon, it appears Taylor has done enough this preseason to earn more playing time and carve out a role as a full-time player. If you have your drafts soon or if he is on waivers I would encourage you to grab him, at least until we hear more about Matthews' injury status.

Cordarrelle Patterson (WR, New England)

The oldest player on this list, at the ripe old age of 27, Patterson is now on his third team in three years but has the natural talent to be a huge difference maker. Patterson has been seen (and used) as a special teams ace and gadget player through his first five years in the NFL but has never been given a larger role despite his 1st round draft pick pedigree. He has not only been misused by his former teams, but also placed in situations that were not easy for him to succeed.

In New England the receiving corps may seem crowded with Julian Edelman, Eric Decker, Chris Hogan, and Rob Gronkowski all carrying name value, but it is not hard to picture a scenario where Patterson climbs the ranks to make a big impact. Gronkowski is a perennial injury risk and the three wide receivers are on the wrong side of 30, not to mention Edelman's suspension. Patterson has a chance to carve out a real role in New England if he gets off to a hot start, which is a possibility considering the rave reviews he's been getting at training camp.

What also differentiates Patterson from these players is his raw size/speed combo that has made him one of the league's best return men for several years. He worked hard this offseason to improve his acceleration, in order to get off the line faster and separate from defenders quicker. While I don't necessarily expect a ton of targets for Patterson given the other polished receivers on the depth chart, I also don't expect the others to contribute 16 games based on their histories. If one of the guys currently above him on the depth chart goes down, Patterson could prove to be an every week starter in an elite offense. For someone that is currently going undrafted in most leagues, Patterson is a perfect sleeper candidate that could be a league winner if his performance finally catches up to his physical talent.

Dallas Goedert (TE, Philadelphia)

I know, I know, you are already shaking your head. I can hear you saying out loud: "rookie tight ends never do anything in fantasy football." And I usually agree, as there are very few examples of the contrary, but hear me out. The immediate reaction in most fantasy football circles to Goedert being drafted by the Eagles was negative in large part due to the fact that the Eagles already have Zach Ertz on their roster and signed for several more years. While this obviously caps Goedert's upside, all is not lost, and is in fact presenting value on an ultra-talented tight end that is going undrafted in the majority of leagues.

Goedert was seen by many as the most talented in the 2018 TE class, with speed and spectacular catch-making ability, capable of making an Evan Engram type impact in year one if the situation was right. Goedert will obviously not start as long as Ertz is healthy but the team employs a two-TE formation almost a quarter of their snaps so seeing the field enough to accumulate solid stats should not be a big issue. Given the injury risk of Alshon Jeffery, the uninspiring play of Mike Wallace, the team lacks a true target hog, which could play in Goedert's favor as he looks to establish a role in offense.

Goedert has reportedly been a beast in training camp and had a great preseason debut, catching 4 balls for 66 yards and a touchdown. Even with the offensive pieces in place, Goedert could be a great red zone target and flirt with a touchdown every other game. If any of the key receivers go down, especially Ertz, Goedert could be an every week option as big play/touchdown threat that could easily put up low-end TE1 numbers in 12 team leagues.

If you are punting the position in drafts, which isn't a bad strategy, I'd be keeping a close eye on Goedert the next month or so, and if you are in a league that plays in a TE premium format he should be firmly on your radar.

Tyler Boyd (WR, Cincinnati)

As the 55th player drafted in 2016, Boyd came in with high expectations and had a solid year for a rookie, with 54 catches for over 600 yards. Boyd was drafted in last season in the later rounds as a possible breakout player but completely disappointed, playing just 10 games and catching only 22 balls. Because of the subpar performance most owners have forgotten about, or at least disregarded Boyd as a bust as he enters just his third NFL season.

There are a few things I like about Boyd, starting with his situation in Cincinnati, where he is currently listed as No.2 on the receiver depth chart. If all goes according to plan the Bengals will play A.J. Green on the outside and then a combination of Boyd and John Ross, depending on the formation and situation. Boyd should see a ton of targets in the slot but they also plan on playing him outside where he can use his size (6' 2'') in certain situations compared to the more diminutive Ross. With Green taking the most defensive pressure and Ross stretching the field with his speed, Boyd could be a target monster out of the slot where he can use his body to shield smaller defenders.

Last year's starter, Brandon LaFell is gone and perennial injury risk Tyler Eifert hasn't shed his label, giving Boyd an opportunity at 100 targets by years end. With offensive coordinator Bill Lazor fully taking over the offense, the tempo should be much faster and Boyd already seems to have his trust, as he had his best game of the season in Week 16 (5/91/1) when Lazor was calling the plays.

While I don't view Boyd as a big play guy who will single-handedly win you weeks, he could be a very consistent weekly WR3 that piles up catches and yards with the occasional touchdown. Boyd's background as an ultra-productive college player along with very positive news from training camp all point to a breakout year. I've taken Boyd in a few standard drafts and have him at the top of my watch list in several other leagues where he went undrafted. Continue to monitor the news from Bengals camp but don't wait too long to grab Boyd, as fantasy owners tend to follow receiver targets, and in this offense Boyd could see a ton.

Chase Edmonds (RB Arizona)

Sleeper running backs are hard to come by this season but Edmonds fits the bill as someone who could offer a huge return on investment if things fall the right way. Edmonds has quickly climbed the depth chart in Arizona and is currently number two, just behind starter David Johnson. While sitting behind one of the league's absolute best players does not often turn to fantasy gold, there is some reason to be optimistic in Edmonds case.

First, Edmonds has the skill set to be an every-down back, not just because his coaches and teammates have said so during training camp, but also because of his athletic profile and his college production. If Johnson were to miss any time, Edmonds has the ability to be a plug and play starting option, as there is very little quality depth and competition behind him. Of course, it is difficult to draft a player like Edmonds in a shallower format with Johnson currently healthy and expected to carry the bulk of the load, but the Cardinals have been experimenting with both players on the field at the same time with Johnson at fullback and Edmonds at tailback or Johnson as the single back with Edmonds in the slot. Of course these formations will not equate to more than a few touches but I could see a scenario where Edmonds earns up to 12 touches per game even with Johnson healthy. While this won't be enough to start Edmonds in most leagues, it could be just enough to keep him on your roster in the case that Johnson does miss some time.

With Johnson expected to carry a heavy workload, nobody would be surprised if Edmonds was forced to carry the load a few weeks this year and in that scenario he could put up borderline RB1 numbers. In shallower leagues I am not big into handcuffing running backs unless the backup could produce similar numbers to the starter, which I believe in this case could be true.

If you're not a Johnson owner you may still want to take a late round flier on Edmonds, or at the very least put him on your watch list and pounce if Johnson gets dinged up or the Cardinals get Edmonds more involved than anticipated.