With so many fantasy football websites, magazines, blogs, podcasts, and television shows out there today, the definition of "sleeper" has changed. Before the internet, fantasy football sleepers were players that most casual, and sometimes even dedicated fans, had never heard of. Today, with constant media attention and 24-hour websites devoted to giving updates on virtually every player in the NFL, there no players that go completely unnoticed, especially by fantasy football addicts like me and most likely, you!

There are two types of sleepers in fantasy football today; let's call them nappers and deep sleepers. Nappers are guys who a lot of people out there, "experts" and otherwise, may call "sleepers," but the names always seem to be the same. 95 percent of the fantasy community knows a lot about these players and they are being drafted sometimes at an ADP that is not very sleeper-esque (yes, I made that word up). For example, this year's list of so-called "sleepers" from around the web (quick google search) include players like Allen Robinson, Josh Hill, Martavis Bryant, David Cobb, John Brown, and Charles Johnson, just to name a few. The problem I have with these guys being labeled as sleepers is virtually nobody is sleeping on them. In fact, most of these guys are being drafted in the top eight or nine rounds!

I want to be on the lookout for true sleepers – guys who, in almost all cases, are not being drafted at all, but if things fall the right way, could make a major impact in your league. The following five players I present are, in almost all cases, going undrafted, but I believe each has a shot at fantasy glory if the situation presents itself. While you may not have the bench spots available to draft any of these guys, monitor them closely, as any one of them could pay big dividends later this season.

WR Justin Hardy, ATL
The Atlanta Falcons selected Hardy in the early fourth round this year, and while his measurables are relatively unimpressive (5'10'', 192 lbs., 4.55 40yd dash), Hardy was highly productive in college (over 100 receptions each of past two seasons) and does a lot of the little things well enough to demand some playing time right away. Hardy will never be a No.1 wide receiver for any team in the NFL, but he is very instinctive, has great hands, plays aggressively, blocks well, and looks smooth running around the middle of the field snagging passes. On a pure talent basis, Hardy is just above average for a NFL receiver, but part of being a true sleeper is sometimes more about situation than talent.

As of now, Hardy is probably fourth or perhaps even fifth on the Falcons depth chart, but a closer look at the guys above him will reveal some real opportunity. Julio Jones is obviously the man in Atlanta, and as long as he is healthy, he will lead the team in targets and every other category for receivers, including getting the most defensive attention. Roddy White has a great resume and at his peak was among the best in the game; the issue with White is I do not think he has been healthy in quite some time. After playing in all 16 games the first eight years of his career, White has missed 2 games in each of the past two seasons and his production has dropped as well. Recently, White underwent a procedure on his elbow, and while he is expected back for opening day, it is just another ailment to add to his almost 34-year-old body.

After White is Leonard Hankerson, who has been having a nice preseason but has been unproductive and/or hurt in four NFL seasons thus far. Devin Hester is also among the Falcons receivers, but we all know by now he is not an every-down wideout, and will concentrate mostly on returns. In one of the better passing offenses in the game, with a stud quarterback, no tight end threat, and a defense that will be bad once again, this offense will have lots of opportunity, and I'm betting that Hardy fills the void. While he won't start the season on fire, I could easily see several scenarios where he is fantasy relevant by mid-season. There is little need to draft or pick up Hardy right now, but closely monitor him and the receivers ahead of him, as any change on the depth chart could mean his ascension to being a solid WR3/flex option in 12-team leagues, with possibly even a bit more to offer in PPR leagues.

QB Tyrod Taylor, BUF
Taylor has been named the starting quarterback for the Bills. He will start multiple games this year and has enough upside to be fantasy-relevant in the right matchups. Taylor doesn't necessarily pass the eye-test for an NFL quarterback. He's shorter than ideal (6'1'') and looks more like a wide receiver or a kick returner that was put behind center to run some sort of trick play. The truth is, Taylor is never going to be a traditional type quarterback; he is an exceptional athlete with a strong arm who will need to be in a near-perfect situation to succeed as an NFL passer. If it is ever going to happen, THIS is his situation, and here is why he can make an impact.

First, the quarterback competition in Buffalo is among the worst in the league. Matt Cassel has shown he is nothing more than a backup, and EJ Manuel has shown, well, almost nothing in his two seasons. Taylor will need to fall flat on his before Rex Ryan pulls him for the mediocre options on the bench.

Second, the system Buffalo is running is just about perfect for Taylor's skill set. Offensive coordinator Greg Roman has spent the past few seasons in San Francisco, where he coached an athlete playing quarterback (Colin Kaepernick) in a run-first offense that produced more than a handful of high fantasy point games from his QB. We all know Rex Ryan is not afraid to think outside the box as well, and I would not be surprised if Taylor is used creatively as a read-option quarterback whose athletic ability is used to its full advantage.

Third, one of the most exciting things to me about Taylor's upside is the weapons around him. Sammy Watkins, on pure talent alone, may already be a top-10 NFL wide receiver and has had nothing but rave reviews this offseason as he enters his second year. Percy Harvin, when healthy, is still one of the most electric players in the league, and both Harvin and Watkins can take a 2-yard pass (or bubble screen) and turn it into 50 yards and a TD in the blink of an eye, meaning Taylor will not necessarily need to fire downfield laser bombs in order to rack up big passing yardage; he can simply let his receivers do the work for him. Add tight end Charles Clay into the mix and Taylor has multiple options who are plus-athletes at their position.

Finally, while LeSean McCoy will see a ton of handoffs this year, he is also one of the better receiving backs in the league, and similar to Watkins and Harvin, McCoy has taken many a dump-off pass or screen pass all the way to the endzone, further padding his quarterback's stats. So while Taylor lacks perfect footwork and has below-average NFL throwing accuracy, these flaws can at least be partially covered up by the system the Bills run, the talent around him, and his off-the-charts athleticism. While Taylor is not going to finish as a top-10 fantasy QB, he has the tools and the upside to be a very valuable streaming option or even a starter in a 2-QB league. While the rest of your league mates may scoff at the idea of starting a Buffalo QB, don't be the one to sleep on Taylor; he could provide some real explosive scoring weeks this season at a real bargain price.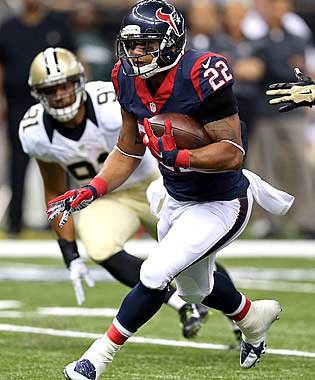 The Texans need Blue, Grimes or Polk to fill a RB void.
RB Chris Polk, HOU
When Arian Foster went down a few weeks back, the fantasy community was abuzz trying to figure out who the next man up would be, and in most cases, the consensus choice has been Alfred Blue. While Blue looks to get first crack at the job, I believe talent will win out and Polk will be the Texans back to own before long.
Coming out of college, Polk was an above-average talent with near ideal size (5'11, 222 lbs.) and soft hands, but some red flags, including injury history. In his first three years in Philadelphia, Polk was buried on the depth chart as a change-of-pace back behind LeSean McCoy and as a kick returner. As someone who watches every Eagles game, I always wondered why Polk was not given more opportunities because he had the look of a productive player. Obviously McCoy was a workhorse so Polk was never able to shine, but in Houston, Polk finds himself in a very good situation and a real opportunity to start and contribute even if Foster returns sooner than we think (which I believe is unlikely).
If any of you watched Hard Knocks this season, Polk was singled out as a guy who could play all three downs and has shown that ability thus far in two preseason games, rushing for 65 yards on 17 carries and catching 8 balls for 70 yards. While the running backs technically ahead of him on the depth chart, Blue and Jonathan Grimes, have also looked solid thus far, I believe Polk has the most talent of the three, and his ability to catch passes may give him the edge in playing time because the Texans are lacking quality receivers after DeAndre Hopkins.
With a decent offensive line, a conservative offense, and a defense that should put the offense in nice position, somebody will emerge from the Texans backfield as a top-20 RB most weeks. While it may not happen from the get-go in Week 1, I believe Polk will emerge as that guy and possesses the most upside of any Texans runner, making him the back you want to own on this team. Add in his value of being an undrafted player in about 98 percent of leagues and you could have yourself the steal of the year.
RB Charcandrick West, KC
West, for those of you who do not know, is currently third on the Chiefs RB depth chart. He is an interesting player to judge because he has off-the-charts athleticism and an explosive highlight reel, but playing college ball at a small school (Abilene Christian), it's not fair to compare him to players who lit it up against better competition. Now in his second year in the league (he did not touch the ball once last year), West has made an impression this preseason and has a good chance of finally seeing some action when the games really count.
While it may look like a steep climb to fantasy relevance for West, and it is, the payoff could be huge if the situation presents itself. Obviously, the main hurdle to West having any sort of value is the health of Jamaal Charles. While we can never predict injuries, we can look at the facts and perhaps take a small leap of faith that there is a fairly significant risk in counting on Charles to be injury-free. Charles will be 29 in December, has well over 1,500 total touches in his regular season NFL career, has had a major injury (2011 ACL), and despite only missing one full game, dealt with hamstring, ankle, foot, and knee injuries last year. If Charles stays perfectly healthy all 16 games, obviously West is an afterthought, but I'm willing to bet West gets a shot at some significant playing time at some point this season. Of course, Knile Davis, a perennial fantasy darling of handcuff-supporters, is still technically the second-string running back, but based purely on talent, I believe West is the better back. Watching West's game tape, I see a back who has patience, burst, wiggle, balance, and elite speed. At 5'10" and 205 lbs., West is big enough to break arm tackles and more than fast enough to run away from bigger guys who want to wrap him up. Add this to his soft hands (71 career college receptions) and in some ways West could compare favorably to Charles himself.
For those of you who are still non-believers, check out this video of the Chiefs versus the Cardinals this preseason. On a play-action fake, West comes out of the backfield, covered fairly well, catches about a 4-yard pass, turns it upfield, gets to the corner to beat the covering linebacker, completely jukes a DB out of his socks, puts his head down, and breaks another tackle and drags two more defenders another 2 yards for a 20-yard gain. This play encompasses the overall ability I see in West and is why I'm so excited about his prospects if he gets any kind of legitimate playing time. While the odds are against him at least early in the season, put West on your watch list and closely monitor his (and the other Chiefs RBs') situation closely because I believe he could be one of those out-of-nowhere guys who takes the league by storm if the cards fall the right way this season.
TE Derek Carrier, WAS
This one is digging DEEP, but at the tight end position, as you probably know, if you do not have a top-5 player, you might as well gamble on someone making a big splash because the next 10 or so tight ends are all very similar. Carrier, formerly of the 49ers, was traded a few weeks back to the Redskins after the Skins lost two of their top three tight ends for the year. Carrier is entering his third season and has just 9 catches (all last year) after entering the league as a major project at the position. He is a converted WR, where he played at a small school (Beloit College) and posted big numbers his senior year (75/1250/12) despite being constantly double-teamed. Carrier has adequate size for a pass-catching TE (6'3'', 240 lbs.) and also impressed at his pro day, including a 4.5 40-yard dash. By all accounts, Carrier is a smart kid who just needs time to develop to the pro game and learn the finer aspects of the position. Basically, he is a project, but one that has the physical tools to excel if put in the right situation.

This brings me to his current team, the Redskins. Ahead of Carrier on the depth chart is just Jordan Reed. Reed spends almost as much time in the trainer's room as he does on the field. The Skins offense produced over 90 receptions and over 1,000 yards to tight ends combined last season despite up-and-down play from the quarterback position. With Reed being the only other legitimate threat to catch passes at the position, chances are Carrier will see some action. Given the sorry state of the Redskins defense, chances are also good they will be playing catch-up late in games and a seam-stretcher like Carrier may see a solid number of deep targets when he gets in the game.
If Reed misses extended time, which is actually likely, Carrier could be an every-week start at the position if he learns the playbook quick enough. I'm not saying Carrier is the next coming of Jimmy Graham, but you are not investing anything in him at the draft and most of the tight ends after the top few provide little upside, so when he gets the chance, he is worth a look at such a shallow position. Closely monitor Reed's health and take a look at what Carrier can do; he is certainly worth a flier off the waiver wire.