ARI | ATL | BAL | BUF | CAR | CHI | CIN | CLE | DAL | DEN | DET

Instead of grading the draft, FFToday.com enjoys showing how the organizations intend for their picks to make an impact on their new teams. Before I discuss each teams impact players, sleepers, projects, and UDFA signings, I have six takes about the ESPN broadcast spectacle called NFL Draft Weekend:
The shortened format was both a blessing and curse. I didn't see the NFL Network's coverage—which I heard was good—but ESPN was clearly accustomed to far more time between picks. Covering the draft is inherently a challenging production, but even Chris Berman seemed lost this year. He was more speed bump than traffic cop. He's a class act, but his routines have gotten old. He needs new material. I'm also tired of seeing the same clips of Kiper, Ditka's dred locks, and the Jets draft mistakes. ESPN, stop being lazy and find something new from all those hours of material you have from this decade.


Where was the player's roundtable in Bristol? I guess a few years of dishing on rookies caught up with the veterans. The rookies have long memories. Now we're stuck with a bunch of reporters. Want a good round table? Bring in the real old timers who were drafted in an era with twice as many rounds and a fraction of the salaries. Give some perspective on what draft day was like back then. Jim Brown still knows a good runner when he sees one.
There weren't enough coach or GM interviews. I have to believe this had to do with the time element.
The interactive draft screen ESPN used was well-conceived, but poorly executed. Who wants to see some e-mail comment from a Regular Joe who can't spell "Stockar McDougle?" Instead of rotating the top three at each position along the right margin of the screen, show me continuously updated best available from Kiper. As my buddy Kent mentioned on Saturday, they also needed to switch out the team info running along the bottom. The same stat for the Cardinals had been there all week.
There was not enough Todd McShay. The debates between Kiper and McShay were great television. Kiper can get downright nasty, but McShay was a cool customer the entire time. Leading up to the draft, I loved watching McShay and Kiper trade barbs about CB Aqib Talib. Kiper spouted stats and McShay shot them down with a "film doesn't lie" explanation of Talib getting toasted repeatedly by about to go undrafted Maurice Purify. Both had good points about players, but it's that hint of desperation that Kiper must feel about McShay as the Young Turk gunning for his cushy spot that makes for good exchanges.
Trim the fat at the announcer's table. It was asinine to have Berman, Johnson, Mort, Young, Jackson and Kiper at the main table. Same with Sunday's crew of Wingo, Jaws, Mort, Kiper, and Carter. Keep it simple: Berman, Young, and Kiper at Radio City Music Hall and Mort, Jaws, and McShay steadily fed into the show from the Bristol roundtable. Much easier to mix and match. In fact, ditch Berman and give us someone who won't overdose the injection of his personality into the broadcast. Have all those "big name" reporters cover a team ala Ed Werder and the fine work he does in Dallas.
As I've said before, I am an observer/analyst of football talent rather than an expert on the machinations of draft day. I'll do some second-guessing of trading picks or how teams understood the draft board, but I'll leave most of it to everyone else you've already read by now.
What I will provide is my take on the team's impact player, project, sleeper, and my two cents on their overall draft. If you want more extensive analysis of the skill players your team selected, or players you're considering for your dynasty drafts, buy The 2008 Rookie Scouting Portfolio. I'll also profile the offensive skill position rookies in greater detail in my annual rookie impact series beginning in June.


Arizona
Impact Player: DE Calais Campbell, University of Miami
The conventional wisdom is to say CB Dominique Rodgers-Cromartie is the impact pick because he was the first round selection. I believe a strong pass rush hides the flaws of a less talented secondary. Don't believe me? Exhibit A: Tennessee Titans – Pacman Jones gone for the year and the defense becomes a top-10 unit with the great play of Albert Haynesworth which allowed the edge rushers to harass opposing QBs far more often. Exhibit B: New York Giants – Justin Tuck, Osi Umenyiora, and Michael Strahan took people's minds of Jason Webster and the rest of an inconsistent defensive backfield. Just as Tom Brady…By the way, Arizona picked three defensive ends in this draft, so just substitute any name in the place of Campbell in the paragraph below and you get my drift.
If Campbell can perform in Arizona like he did as an underclassman, this will allow the Cardinals to keep the ball hawking Adrian Wilson in coverage more often and employ him in less predictable blitzing schemes because the combination of Campbell, rising star, Darnell Dockett, and speed Karlos Dansby could wreak havoc. This could make Arizona an aggressive, game-changing defense.
Sleeper: RB Tim Hightower, Richmond
The Cardinals will fully expect WR Early Doucet to come in and make an impact. Chris Mortenson reported that former LSU coach Nick Saban thought Doucet was better than Dwayne Bowe and was shocked Doucet wasn't off the board earlier. Let's remember that Saban was profile in Michael Lewis' excellent book, The Blind Side, as one of the smoothest politicians ever in the game of coaching. He's still probably sitting on the white leather couch of living rooms of prep stars across the nation that Early Doucet was his recruit and a future NFL stud. Doucet has the toughness and skills with the ball in his hands to be a quality receiver, but he must learn to catch the football with his hands. Until then, he's not a player I'm targeting in dynasty drafts.
Hightower is a true sleeper. The Richmond Spider is a big, shifty, hard-nosed back who can catch the football. He runs like an NFL player. The issue is his speed. It would seem strange to believe it's easier for an RB to improve his speed than a WR to improve his hands, but I'll offer up Minnesota's Jake Reed and Troy Williamson as examples of body catchers who struggled in the pros. On the other hand, there are several examples of players who have gotten faster as a pro: Terrell Davis and Terrell Owens are two high profile guys who gained some extra jet propulsion within a few years experience. Tim Hightower was at first an aspiring soccer player. As a junior, he began to train with a speed coach and saw marked improvement. If he can continue to improve his speed, he has the overall game to effectively spell Edgerrin James—maybe even get a shot as a starter. It's a long shot, but…
Project: OT Brandon Keith
Keith has that great size teams seek in a lineman. He's also never found a home on the offensive line or at one college program. The Cardinals believe they can match him at a position and unearth a steal that will protect their cement-footed passers. Quality linemen often get drafted late, so this idea isn't such a stretch.
Notable Free Agents: LSU LB Ali Highsmith. His 40 time scared people off, but he's a decent football player who should be quality depth. Penn State QB Anthony Morelli is a good athlete and has all the physical tools, but his decision-making falls apart under pressure.

Impact Player: OT Sam Baker, USC.
Once again, conventional wisdom dictates Matt Ryan is the Big Kahuna on Peachtree Street, but it was the excellent decision to draft Baker that will be the true story for years to come. While the buffet tables at Radio City Music Hall and Bristol, Connecticut were second-guessing the selection, Atlanta's new GM Thomas Demitroff demonstrated excellent skill. Baker is a 3-time All American, who was a surefire elite prospect if he weren't hampered by injuries as a senior. The Falcons organization knew Baker was the last impact lineman available in this draft and made the move to get him. If Michael Turner and Matt Ryan are to have a chance to succeed, they need those big uglies to do the job. I would have rather seen Atlanta select Dorsey, but I have a sneaky feeling that we'll be looking back on this selection as a deft move that made the choice of Ryan worthwhile.
Sleeper: WR Harry Douglas, Louisville
This guy is one of my favorite players in this draft. Add 20 pounds and subtract .2 seconds off his 40-time and we're looking at a consensus top prospect at the position. Since I don't follow the consensus, Douglas is no surprise to me. Did you notice the football players at the ESPN buffet table were salivating over the guy? That's usually a good sign. He made Brian Brohm look good. He's a crafty player with great hands and body control. Thomas Demitroff is clearly a GM with a scouting background and he's winning me over.
Project: CB Chevis Jackson, LSU
It's difficult to say Jackson is a project, but it will take some time for him to adjust to the game because he lacks the great physical skills to make up for the mistakes he'll make as he transitions to the pros. He's going to be a quality, Cover 2 player.
Notable Free Agents: DE Brandon Miller, Georgia. The former strong side linebacker has the physical tools. Maybe the position switch will prolong his football career.

Impact Player: RB Ray Rice, Rutgers
Joe Flacco has the skills to develop into a starter. For that matter so does Troy Smith, who the Ravens have effectively said with the drafting of Flacco that they aren't convinced. But the player who will lessen the growing pains of any signal caller will likely be Ray Rice. Willis McGahee is a decent running back. He even shows flashes of excellence when motivated. The problem is he's been known to need extra motivation. With Rice joining the team, McGahee should have the motivation of a bonfire lit under his ass.
Why did the Ravens draft Rice? Besides his elite skills as a runner, McGahee has barely averaged 4 yards per carry for his career. Granted much of that career was with Buffalo, but he has shown a disturbing tendency to wear down the stretch. From weeks 1-9, McGahee averaged 4.3 ypc. From weeks 9-16, he plummeted to 3.8 ypc. In 2006 he averaged 3.7 ypc in the first half and 3.9 in the second half. In 2005, he went from 4.2 ypc in the first half of the season to 3.2 ypc in the second half. Ray Rice actually gets stronger as the game wears on. He's also known as a leader, and the offense needs one. It will likely be another 3-4 years before a QB truly takes command in the huddle. I don't think it will be long before Rice begins bridging that gap.
Sleeper: OG Oniel Cousins UTEP
The Ravens need to retool their offensive line and Cousins has the physical skills to develop into a fine offensive guard. He just needs coaching after getting bounced from defensive tackle to offensive tackle while in college. I believe guard will be his true position and he'll be one of those quiet picks that make GMs like Ozzie Newsome continue to look good.
Project: ILB Tavares Gooden, University of Miami
Gooden is the classic athlete with promise, but needs a lot of instruction. It doesn't take much to deduce that Ray Lewis probably influenced this pick. Lewis, an active Hurricane alumnus, probably believes he can take Gooden under his wing and mold him.
Notable Free Agents: None reported at this time, but we're hopefully that Minnesota receiver and FFToday.com Board participant, Ernie Wheelwright gets a shot. Wheelwright has been optimistic about his conversations with Coach Harbaugh. He said the Ravens told his agent that his weaknesses were consistency and run blocking. What I do recall of Wheelwright was good athleticism and the ability to adjust to the football. He didn't have a pro prospect at QB and the Gophers emphasis was the ground game so the lack of constancy in the passing game didn't help matters. We'll wish him luck catching on…

Impact Player: WR James Hardy, Indiana
If there is a player that can raise the fortunes of the Bills from surprisingly tough opponent in 2007 to playoff contender in 2008, it's the player who can produce as the complement to Lee Evans. Hardy has the size, hands, and work ethic to develop into a good possession receiver. His tendency to shy away from contact bothers me a bit, but overall I like Hardy's prospects. QB Trent Edwards is an underrated player with a bright future and I wouldn't be at all surprised if he makes a big leap in year two, especially if Hardy can at least be a reliable redzone option in single coverage.
Sleeper: RB Xavier Omon, NW Missouri State
Omon reminds me of former ECU, Browns, and Redskin star Ernest Byner. He's a 228-lb, runner with great balance, a good first step, elusiveness, and vision. He can catch the football very well. I would not be at all surprised if his career parallels Michael Turner's at this point. Omon lacks great speed, but from what I've seen of him I'm convinced he's got NFL starter ability. The Bills have done a good job of picking players since Marv Levy returned to the fold. I think this is another example of astute scouting.
Project: WR Steve Johnson, Kentucky
If you combined the best of Johnson and Hardy, the Bills offense would take a quantum leap in 2008. The UK product has speed, strength, and good moves after the catch. He lacks some consistency catching the ball, but he shows sound enough fundamentals that I believe he'll show enough flashes in Buffalo for the Bills to believe he'll have a future with them.
Notable Free Agents: None at this time, but I believe the Bills had another quality draft and are a year away from becoming a wild card team if they can stay healthy.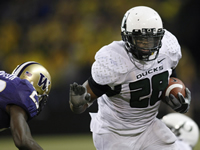 Waldman: Stewart is the best all-around running back in this draft.

Impact Player: RB Jonathan Stewart, Oregon

Stewart is the best all-around running back in this draft because he may not be the best in every characteristic that makes a good RB, but he's one of the best in every facet of the game. He might be the most well rounded back I have scouted since I began the Rookie Scouting Portfolio in 2005. What I love about Stewart is his freakish agility for his size and his ability to play with injury and produce. I like DeAngelo Williams and believe he can be a productive NFL back, but I think John Fox is copycatting the success of the Jaguars with Fred Taylor and Maurice Jones Drew. Fox realizes Delhomme's career is winding down, at best and Matt Moore's promise is still in the early stages of development. Two blue chip backs can take a lot of pressure of a young quarterback and a defense in transition.

Sleeper: OG MacKenzy Bernadeau Bentley College

He's a D-II prospect coming off an injury but from what I hear, he can play.

Project: OL Jeff Otah, Pittsburgh

Otah is a bull of a run blocker, but weak in pass protection. I think his development will frustrate the Panthers because he'll be good in one facet of the game and shaky in the other.

Notable Free Agents: S Joe Fields, Syracuse.


Impact Player: RB Matt Forte, Tulane

One of my favorite players in this draft and his experience at Tulane prepared Forte for the NFL more than his peers because he consistently faced defenses that had linemen regularly in the backfield before he took a step with the ball. This is a back that has good anticipation and makes the most of a play. He demonstrated this in the senior bowl, where the plays are generic and skill really comes to forefront. Forte does everything well except block and he'll eventually fix this aspect of his game. I believe the Bears finally got it right with this selection. He's an all-round back who has excellent vision, gains yardage after contact, and has better than average speed. This pick will allow the Bears to put an end to the Cedric Benson chapter.

Sleeper: WR Earl Bennett, Vanderbilt

Bennett is the type of receiver the Bears have never had in Chicago and they are going to like him right away. This is a physical kid who will make the big play across the middle, but also outmuscle defenders in the redzone. He's acrobatic, but also a grinder. He'll need time to adjust to more sophisticated routes, but he should quickly become a Windy City favorite.

Project: TE Kellen Davis, Michigan State

Although the Bears did not draft a QB, this is the third of three players I mentioned who I really liked in this class. Chicago already has the talented Ben Olsen, but Davis has the athleticism and natural receiving ability to be just as good, if not more dynamic, than Olsen. I'm surprised Davis dropped so far. I would have much preferred him versus all but two tight ends in this class. He may need more development before he makes an impact because he saw time as a defensive end and only had a limited amount of targets as a tight end while in college.

Notable Free Agents: QB Nick Hill Illinois State.


Impact Player: LB Keith Rivers, USC

When the Bengals made the playoffs, they were accurately pegged as a 2000s version of the 70s San Diego Chargers. What wasn't mentioned is the Bengals were sporting some semblance of a defense. Odell Thurman was rookie of the year. Justin Smith also gave some pressure off the edge. Since then, Thurman has been suspended and none of their other defensive picks have worked out as planned. Keith Rivers is a solid player who should help shore up the linebacker corps with the return of Thurman. If only the organization can resolve its soap opera with Chad Johnson…

Sleepers: WR Andre Caldwell, Florida/WR Jerome Simpson, Costal Carolina

Neither are Chad Johnson and T.J. Houshmandzadeh, but both are talented receivers who could develop into starting quality receivers. The writing is on the wall with these picks: neither of the current starters will likely remain Bengals for more than two seasons if these two draft picks pan out. Caldwell has better after the catch skills than any receiver on the Bengals roster, but he needs to work on his skills as an intermediate and deep threat. Simpson could develop into the Houshmandzadeh role with more coaching. Carson Palmer is clearly the franchise and the Bengals are trying to prepare for the eventual turnover this team will experience at the skill positions around their QB. It also seems to me that Simpson and Caldwell are the type of players who have more dressed-down personalities than their current corps.

Project: WR Mario Urrutia, Louisville

This kid is the project version of Texas' Limas Sweed. He can catch the football anywhere on the field, but he needs a lot of work on routes and gaining separation. If he can improve his speed just a bit, Urrutia will be an excellent target for Carson Palmer.

Notable Free Agents: None at this point.


Impact Player: None.

The Browns didn't pick until the 4th round and their draft lacks a guy who appears to be an immediate starter. TE Martin Rucker from Missouri can catch the football, but he's not as dynamic as Winslow—even post motorbike accident. Rucker would be a far cry from their starter if he has to get plugged into the mix as the starter.

Sleeper: WR Paul Hubbard, Wisconsin

I love this kid's game. He'll start off as the #4 receiver but if he can maintain his focus, he'll see more game time in '08 than one might expect. Terrell Owens is an excellent athlete who demonstrated good hands technique despite some frequent lapses catching the football early in his career. He shored up his weaknesses to become a superstar. Troy Williamson is a great athlete who cradled the football. He's still trying to put it together. Put Hubbard in the Owens category. He's not as dynamic after the catch, but he has excellent body control and makes the tough catch. He also has more speed coming out of college than Owens did. Will he be as good? Probably not, but he has starter potential. Enjoy drafting him in the mid-rounds of your rookie drafts. I know I will…

Project: LB Beau Bell, UNLV

He has all the athletic tools, but doesn't trust his instincts. This means he either lacks the great instincts to read and react or just needs more time to study the game. Pro Footbal Weekly's Nolan Nawrocki characterized Bell as "a very poor man's Adalius Thomas." If you're a patient owner in a deep dynasty league or building a team from scratch with IDPs, Bell could be a nice flier in the late rounds.

Notable Free Agents: WR Lance Leggett, University of Miami; S Justin Harrison, Illinois


Impact Player: CB Mike Jenkins, South Florida

Jenkins is one of the better cover corners in this draft and regardless of Pacman Jones' status the USF product will help the Cowboys right away. If Jones returns and plays well, Jenkins will make the Dallas secondary that much better. Felix Jones is a good player and will have a chance to play the Julius Jones role immediately, but I believe 80% of the time, Marion Barber is good enough to do the trick. The Cowboys will be that much better with the presence of Jenkins because you can never have enough good corners against all these multiple receiver sets.

Sleeper: RB Tashard Choice, Georgia Tech

If you haven't seen the YouTube clip of Choice making a pregame speech check it out. It gave me chills and I'm a Georgia Bulldog. I know this doesn't make Choice great, but this kid has the heart of a lion and plays with that chip on his shoulder that can make an average athlete a better than average football player. He originally went to Oklahoma, but knew he wouldn't get chance to play behind Adrian Peterson so moved to a place where he could play. He has good balance, vision, and a nice first step. If Marion Barber's contract isn't resolved or he finds himself taking an extensive tour of the training room, Choice will be a much sought after waiver wire addition. Felix Jones will get the first crack as the primary guy in this case, but Choice will make this team and push Jones.

Project: TE Martellus Bennett, Texas A&M

Physically, he's all you want from the position as a blocker and downfield receiver. He needs to learn how to approach the game of football and work hard on his craft. If he does this, he could have a long, productive career. If he doesn't, he'll be that draft day tease who relies too much on his athleticism. Many have pegged him for this type of career coming out of the gate.

Notable Free Agents: WR Danny Amendola, Texas Tech. Don't we all love to make the prediction "He'll be the next so-and-so." Amendola has earned the moniker as "the next Wes Welker." They come from the same school, have the same good hands, and both are tough as nails. Wisely, no one drafted this kid as a part of a trend. Welker is a fine player, but the jury is still out whether Welker is even a consistent 50-60 reception guy in a different offense or sans Randy Moss. RB Keon Lattimore out of Maryland has some skills. It's not likely he'll make the active roster, but stranger things have happened in the NFL.


Impact Player: OT Ryan Clady, Boise State

Excellent pick. He moves very well and should make quick strides into becoming a cornerstone on the Broncos offensive line. The more time you can give Cutler, the better. Denver has always made due with mid-to-late round skill players and I think they still believe in that formula. This is a pick that will help Denver rebound offensively.

Sleeper: RB Ryan Torain, Arizona State

Torain might be the best yards after contact runner in this draft. He reminds me of Corey Dillon during his first year with the Patroits. Early in his career, Dillon was a monster of a player without a lot of help. He had lost a step when he came to the Pats, but he had the savvy, technique, and toughness to be an impact player. Since Mike Shannahan has proven time and time again that the best player at RB will start, Torain has a real opportunity to beat out Travis Henry and Selvin Young. My money is still on a healthy Henry, but we all know neither Henry nor Young are allergic to the training room. Keep an eye on this kid. Shannahan said Torain reminds him of Terrell Davis.

Project: FB/H-Back/TE Peyton Hillis, Arkansas

I read in ESPN's draft notes that Hillis needs to improve his hands. I guess I was watching a different Peyton Hillis. Just to be sure ESPN, I was watching the guy from Arkansas who demonstrated good body adjustment to the ball and very good hands technique on balls thrown high, low, behind him, and over his head. Is there another school that has a Peyton Hillis? That's the only explanation I can offer for their comment. He's only a project because the best way to classify his position is "football player." Maybe Shanny gives him a shot as an H-back or TE. Trust me when I say Cutler needs all the weapons he can get because it seems like all his skill players get nicked up.

Notable Free Agents: RB/WR Anthony Aldridge, Houston.


Impact Player: RB Kevin Smith, University of Central Florida

The knock on Kevin Smith is that he dances too much. If you count swift moves to avoid defenders 3-5 yards in the backfield as he's taking the handoff then I agree. Otherwise, this kid is a patient runner with terrific ability to cut in the hole as well as read his blocks. The real knock on Smith should be the tendency for him to stop churning his legs when initially wrapped up and his inconsistency as a receiver. Otherwise, you're looking at a player with uncommon skill as a runner. He was a former cornerback and his hip flexibility shows allows him to make sudden and violent changes of direction. He's more powerful than people give him credit and a glider along the lines of Marcus Allen or Robert Smith.

He's one of my top three candidates for offensive rookie of the year because he's already a more instinctive runner than Tatum Bell and Detroit's transition from a pass-first to a run-first philosophy will be less difficult than imagined. The only knock on Smith will likely be opposing defenders who say he'll be dancing too much—in the end zone. Then again, Smith might choose to follow the path Barry Sanders…

Sleeper: LB Jordon Dizon, Colorado

Think about Zach Thomas for a moment: athletically ordinary, but a genius at using what he has to play the position of linebacker. I'm not sure Dizon is a linebacker-savant on the level of Thomas, but the needle points closer in that direction than one might think. The LB class isn't very strong this year, so he could be a nice late round pick for a dynasty league owner.

Project: OT Gosder Cherilus, Boston College

He has everything you need to expect him to become a quality starter. He'll be better in the run game right away, but pass protection might be a frequent issue early in his career. Just keep handing that ball to Kevin Smith and roll away from Cherilus' side and throw those jump balls to Williams or Johnson. If only it were that simple…

Notable Free Agents: None at this point.

Part 2...