The final week of the NFL season proved to be an exciting final slate of games as the last seeding in the AFC playoffs came down to the wire. The Bengals completed their quest to play spoiler for their divisional rival Ravens with Tyler Boyd scoring a game-winning touchdown on a fourth and 12 with just over a minute to play.
Jimmy Garoppolo and the 49ers closed out the year on a five-game winning streak with a 34-13 win over the Rams at the Coliseum. It wasnít the most impressive performance of the year for Jimmy G, and the Rams did not play their starting offense, but it is clear that San Francisco has a lot of momentum heading into the offseason.
Although they failed to make the playoffs, Philip Rivers and Keenan Allen ended the regular season on a high note with a 30-10 win against the Raiders. Rivers threw for 387 yards and three touchdowns, while Allen posted nine catches for 133 yards and a touchdown.
Rivers and Allen were the centerpieces of a Chargers cash stack on my ticket this week. Here is a review of the entire lineup, including a poor choice to go with T.Y. Hilton against the Texans.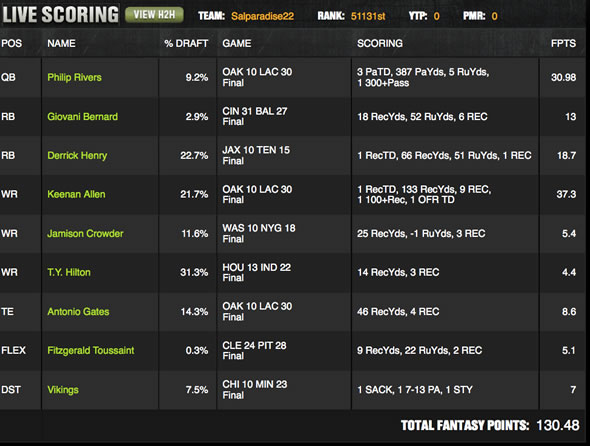 Quarterback: Philip Rivers
Points: 30.98
Grade: A
Rivers saved one of his best performances for last with 30.98 fantasy points on 28 of 37 passing for 387 yards and three touchdowns. He was the clear cash game play for me based on the fact that the Raiders allow the 12th most points to opposing quarterbacks, and the Chargers needed a win to keep their playoff hopes alive. He also made the most sense in cash with other possible options like Ben Roethlisberger and Jared Goff sitting in their respective games.
Running Backs: Giovani Bernard & Derrick Henry
Combined Points: 31.7
Grade: C-
Joe Mixonís return as the primary early-down back killed Bernardís value in what could have been a big game. I failed in my assumption that Mixon would be limited by his ankle injury and head coach Marvin Lewis would lean on the hot hand of Gio against the Ravens. Bernard still came through with 13 points, but he received only 10 carries against the Ravens and Baltimore did a solid job of limited him in the passing game.
My other choice at running back proved to be a better selection, as Derrick Henry made the most of his start for the ailing DeMarco Murray. Running the ball against the Jags has proven to be the best way to attack their top-rated defense, and Henry came through with 111 total yards and a score. Surprisingly, most of his points came on a 66-yard touchdown reception to help seal the victory for the Titans. It wasnít expected, but Iíll take the points any way I can get them.
Wide Receivers: Keenan Allen, Jamison Crowder, & T.Y. Hilton
Combined Points: 47.1
Grade: D
Itís not easy to receive a grade of a D when your wide receiving corps includes the top performer of the week, but somehow I pulled it off with the subpar performances by Jamison Crowder and T.Y. Hilton.
I like to balance my wide receivers in cash games with an expensive player with a high floor, and a few upside players who have high ceilings. Allen was my must-play player of the week and seemed like a no-brainer to stack with Rivers, with Hilton playing at home against the Texans as my upside player. Hilton torched the Texans for 175 yards and two scores when the two teams faced off Week 9, and he posted a season-high 12 targets last week against the Ravens. Instead of combining with his high target volume and stellar play against Houston, Hilton continues to be one of the most frustrating players to predict, with 4.4 points on three catches for 14 yards.
Tight End: Antonio Gates
Points: 8.6
Grade: C
With a touchdown in each of his last two games and Hunter Henry no longer in the mix, Gates is once again a viable fantasy weapon in DFS. The future hall of famer posted a season-high 20 points against the Jets Week 16, with six catches for 81 yards and a touchdown.
My assumption that his volume would continue in this game proved to be true with six targets and four catches for 46 yards, but his touchdown streak did not extend to three games.
Flex: Fitzgerald Toussaint
Points: 5.1
Grade: F
I was correct in my assumption that the replacement for Le'Veon Bell would have a solid fantasy day against the Browns. Unfortunately, I was incorrect in my guess that Fitzgerald Toussaint, and not Stevan Ridley, would get the majority of touches. Ridley came through with 80 yards and a touchdown on 17 carries, while Toussaint received just seven touches for 31 yards.
I set this lineup on Friday before leaving town for a hiking trip over New Years and missed out on the ability to make any changes prior to Sunday's game. Luckily for me, the rest of my lineup provided enough points to overcome this gaffe.

D/ST: Vikings
Points: 7
Grade: D
My goal is to get at least ten points as a floor from my cash game defenses, with the hope of a defensive score as a bonus to bring me closer to 20 points. I felt that the Vikings had the best chance of reaching ten points by limiting Mitchell Trubisky and the Bears to less than seven points and a few turnovers, with the upside of a possible defensive score in play. Neither thing happened, as the Vikings scored just seven fantasy points and they did not force a defensive score.