Version 1.0 - 2/8/10.
Version 3.0 - 4/20/10.



65. St. Louis Rams – Rob Gronkowski, TE, Arizona


Injury-prone star is the total package if he can stay healthy. Health concerns, particularly his back, drop him here, where he provides a nice security blanket for their new franchise QB.



66. Detroit Lions – Chris Cook, CB, Virginia


After an impressive Senior Bowl, he blew teams away at the Combine with his size, speed and athleticism. Could go earlier, but still raw, he missed a lot of time in college due to injuries and an academic suspension for 2008 season, so he has a couple red flags. Safety might end up the best place to play him.



67. Tampa Bay Buccaneers – John Jerry, OG, Mississippi


Brother Perry was a first-round pick for the Falcons last year, but John wasn't viewed as nearly as much of an NFL prospect until the evaluation season. He impressed at the Senior Bowl and showed some surprising athleticism at the Combine for a mountain of a man – enough that he could be considered as a potential tackle as well as a guard.



68. Washington Redskins – NO PICK


This pick was used in the 2009 supplemental draft to select DE Jeremy Jarmon.



69. Kansas City Chiefs – Koa Misi, OLB, Utah


He has played pretty much every position in the front seven during his career on the Utes, before settling in a DE. The Chiefs will appreciate the versatility and look at him primarily at an OLB in their 3-4, where he offers good pass rush potential but is a weakness in coverage.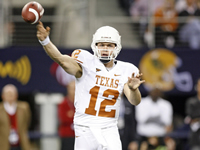 Bigger McCoy Nightmare - Falling into Round Three or being drafted by the Raiders?

70. Oakland Raiders – Colt McCoy, QB, Texas


Al Davis ends McCoy's nightmare free fall. I admit this scenario is unlikely, but I think it is not only completely plausible, but hardly his floor. There is a world of difference between being talented enough to be a great college QB and just a starting NFL QB. Short and lacking arm strength, I won't be surprised to see McCoy fall further.



71. Philadelphia Eagles (from Seattle Seahawks) – Vladimir Ducasse, OG, Massachusetts


A project from the Football Championship Subdivision (aka FCS, aka Division I-AA) who has the size and physical attributes, but needs to develop. He was getting a lot of hype until the Combine, where he has a solid performance, but showed he is probably limited to guard at the next level. A raw product with athleticism and promising upside, he is exactly the type of player HC Andy Reid likes to identify in the mid-rounds. The release of Shawn Andrews makes it certain Reid will hit the offensive line at least once in this draft.



72. Cleveland Browns – Alex Carrington, DE, Arkansas State


Massive small school project who stood out at Senior Bowl and had a solid Combine. He is the perfect fit for end in a 3-4.



73. Buffalo Bills – Dan LeFevour, QB, Central Michigan


They opt for the development prospect this year instead of chasing one of the top guns. HC Chan Gailey has a good history with mobile quarterbacks.



74. Miami Dolphins – Brandon LaFell, WR, Louisiana State


The top senior WR prospect in the draft was bypassed by a caravan of underclassmen and didn't help himself at the Combine, but is a great fit and value for Miami here. He doesn't have elite speed, but is the big target QB Chad Henne needs.



75. Jacksonville Jaguars – Sean Lee, LB, Penn State


Considered a first-round talent after a great junior season in 2007, Lee tore his right ACL in the spring of 2008 and missed the season. After returning in 2009, he sprained the ACL in his left knee in September. He missed three games and never returned to top form with lingering issues in both knees. He was solid, but unspectacular at the Combine, with an impressive 24 reps despite not really jumping out at you in the eyeball test. However, he is a football player. If he adds a solid 5-10 pounds, MLB is probably his best position for the next level. He could be a three-down player in the middle, with a great feel for dropping back in to coverage.



76. Chicago Bears – Carlton Mitchell, WR, South Florida


Offers the size they need to upgrade with at the position with excellent speed, but a very unfinished product. OC Mike Martz would prefer a more polished route runner, but with no pick until the third round, a developmental prospect with his tools is the better value at wide receiver here. They really don't need another small receiver like Mardy Gilyard or Andre Roberts here. However, Blair White or Taylor Price could be alternatives if they go receiver. Another pick I could see here is DII hidden gem DB Akwasi Owusu-Ansah. A speed/size DB with return skills from a small school who can play anywhere in the secondary is a text book pick for GM Jerry Angelo.



77. New York Giants – Ben Tate, RB, Auburn


Lots of inconsistency at running back for the Giants last year. They'd probably prefer an option who is a better receiver and more elusive with this pick, but Tate brings some speed they are lacking and has feature back potential.



78. Tennessee Titans – Amari Spievey, CB, Iowa


Lacks elite speed, but one of the most physical corners in the country is an extremely overlooked prospect who is HC Jeff Fisher's type of player.



79. Carolina Panthers – Greg Hardy, DE, Mississippi


For some time, the Panthers have tried via the draft and free agency to find a compliment and, now, the successor to DE Julius Peppers with little success. After the departure of Peppers, they have just three ends on their roster. While Charles Johnson has gotten more of an opportunity than Everette Brown, but neither appears to be a certain solution. Tweener Hilee Taylor is just a situational player. After the departure of Peppers, those are the only three ends on their roster, so they have to look at further addressing the position at some point in the offseason. Hardy was looking like a surefire first-round pick until injury problems started becoming a bigger issue in 2008. He has had a couple of surgeries on his right foot for stress fractures and aggravated the problem prior to camp last year. Then he broke his wrist in mid-season and struggled through the rest of the year, while questions about his dedication and work ethic began to arise. He showed flashes of his potential in the Shrine Game, but was typically inconsistent. The Combine was a disappointment, with poor performances in most of the work outs. However, when healthy, he can be a force with great pass rush skills and at a legitimate 6'4" and 280 lbs., he has the ideal size to be a two-way end in a 4-3. Tremendous upside, but horrible durability. He's likely too big a risk for the Panthers here, but he is the last remaining prospect in this draft who could be a dominant 4-3 end. Selecting a quarterback here would be a logical move too.



80. San Francisco 49ers – Mardy Gilyard, WR, Cincinnati


The 49ers have expressed their desire to improve their return game in this draft. This undersized multi-talented playmaker is the perfect fit as a slot receiver and excellent returner with this pick. Confident effort guy who HC Mike Singletary will love.



81. Denver Broncos – J.D. Walton, C, Baylor


After cutting Casey Wiegmann, nice fit for the team's need at center.



82. Houston Texans – Akwasi Owusu-Ansah, CB, Indiana (PA)


40 at the Combine, but he ran again at Ohio State's Pro Day and despite the pain of torn labrum, showed much better speed on a fast track. Size/speed guy with return skills who can play anywhere in the secondary. Sorting out where to put him and where to put Earl Thomas is a problem the Texans will be glad to have in their secondary.



83. Pittsburgh Steelers – Joe McKnight, RB, Southern California


With Willie Parker on his way out, a new speedy compliment to the pounding Rashard Mendenhall.



84. Atlanta Falcons – Jimmy Graham, TE, Miami


Converted hooper could become next Antonio Gates under HC Mike Smith. Grabbed attention at Senior Bowl for his great hands and runs. Raw, but has time to develop behind Tony Gonzalez for another year or two.



85. Cincinnati Bengals – Morgan Burnett, S, Georgia Tech


Age and inconsistency are problems in at safety in Cinci. Burnett slipped briefly after sitting out the Combine with a hamstring, but blew scouts away at Georgia Tech's Pro Day. He was named to several All-American teams after an outstanding sophomore campaign in 2008. His numbers were down a bit in 2009, but he still flashed his playmaking skills with four picks, a forced fumble and a blocked kick. He's climbing back up draft boards, so probably doesn't fall this far, but DC Mike Zimmer would love to get his hands on Burnett here.



86. Cleveland Browns (from Oakland via New England) – Thaddeus Gibson, OLB, Ohio State


The Browns use the pick they acquired for Kamerion Wimbley to draft his potential replacement. Workout warrior who is too small to remain a DE at the next level has impressed in conversion to OLB so far.



87. Green Bay Packers – Jared Veldheer, OT, Hillsdale


The 6'8" DII prospect is a fast riser after a tremendous Combine. He is raw, but with Clifton and Tauscher resigned to be their bookends for this year, the Packers can afford to develop his appealing potential.



88. Philadelphia Eagles – Dexter McCluster, WR, Mississippi


Despite adding free agent RB Mike Bell, more depth is needed at running back after parting ways with Brian Westbrook. A multi-talented utility back, McCluster was one of the stars of Senior Bowl. HC Andy Reid will find a way to utilize his skills.



89. Arizona Cardinals (from Baltimore Ravens) – Jamar Chaney, ILB, Mississippi State


Great size and athleticism, but it didn't always translate on the field.



90. Arizona Cardinals – Selvish Capers, OT, West Virginia


Promising athlete with good athleticism, but needs to hit the weight room and learn. Not ready for prime time, but more upside than other prospects who could be plugged in faster.



91. Dallas Cowboys – Jacoby Ford, WR, Clemson


Significantly upgrades return game and offers big play potential as a slot receiver.



92. San Diego Chargers – Perrish Cox, CB, Oklahoma State


After being suspended from the Cotton Bowl for missing curfew, twice, and turning in a disappointing Combine performance, Cox has seen his stock plummet. He wasn't allowed to participate in Oklahoma State's Pro Day and will have a private workout on March 30th. A physical corner who was considered a potential first-round pick, Cox has plenty of upside and adds value as a kick returner.



93. Cleveland Browns (from New York Jets) – Major Wright, S, Florida


Solid football player and physical tackler who can play either safety position, he answered questions about whether or not he had the athleticism for the next level at the Combine.



94. Minnesota Vikings – James Starks, RB, Buffalo


A torn labrum kept him out all of the 2009 season, otherwise he'd be discussed earlier than this. Starks is a versatile player who started as a quarterback before switching to cornerback and finally settling in to become the University of Buffalo's all-time leading rusher. He put on a show at the Combine and his stock is rising. The Vikings have yet to address the gap in their backfield left by Chester Taylor's departure, so they will likely draft a RB at some point. New England is also reported to be very interested in Starks.



95. Indianapolis Colts – Dekoda Watson, LB, Florida State


Watson pleasantly surprised with his size, coming in over 6'1" and a chiseled 240 pounds at the Senior Bowl and Combine. He was expected to be a bit smaller and possibly need to convert to safety, but that is decent size for WLB in their Tampa Cover 2. Injury and academic problems have been a problem, but he played every game last year and put up great numbers. He has kept the momentum going through the evaluation process and could squeeze in to the third round. Safety will be a strong



96. New Orleans Saints – Dennis Pitta, TE, Brigham Young


Consensus All-American demonstrated more speed and athleticism than expected at Combine and Pro Day. The Saints carry a lot of risk at the position with Jeremy Shockey as their primary TE.

Round One