Version 1.0 - 2/8/10.
Version 2.0 - 3/18/10.



1. St. Louis Rams – Sam Bradford, QB, Oklahoma


While others still had the top DTs in the discussion, I explained in my last mock why Bradford would be the pick. After a dominating performance in his workout at the end of March, the discussion is over. Not that it would have impacted the decision regardless, but QB Marc Bulger was also released, as expected. The acquisition of QB Donovan McNabb by the Redskins also eliminates the team most likely to try to trade up for Bradford. Barring some unforeseen circumstance, it would be a shock if Bradford was not the first overall pick and to the Rams. Ignore GM Billy Devaney proclaiming this pick is not a lock and it could still be traded, as well as reports Bradford won't sign a pre-draft contract. This is posturing for leverage in negotiations by both sides.



2. Detroit Lions – Ndamukong Suh, DT, Nebraska


The top of the draft is really starting to fall in to place now. The acquisition of OG Rob Sims from Seattle would seem to end the discussion of moving LT Jeff Backus inside and Detroit drafting OT Russell Okung.



3. Tampa Bay Buccaneers – Gerald McCoy, DT, Oklahoma


While it would be surprising to see the Bucs pass on McCoy, this spot still has a chance to shake up the draft. RFA LT Donald Penn was not happy about being assigned the highest tender, which prohibited other teams from pursuing him for the cost of first- and third-round picks, and is yet to sign despite no other teams offering him a contract by the 4/15 deadline. It seems unlikely Penn would hold out, but he could try to push for a sign-and-trade. This potentially volatile situation leaves OT Russell Okung a possibility here, which would really shake up the first round. S Eric Berry will not be selected this early and if GM Mark Dominik makes a surprising pick here, it would be WR Dez Berry. There is no longer a market for any team that falls in love with QB Jimmy Clausen and worries about trading up to this spot ahead of the Redskins to get him. However, it wouldn't surprise me to see this pick moved at a discounted price as the Glazer family is having their share of financial challenges with the other professional football team they own, Manchester United.



4. Washington Redskins – Russell Okung, OT, Oklahoma State


While I had Okung here since my last mock when it was apparent the Rams would go Bradford, the Great QB Debate in Washington officially ends for everyone else with the surprising addition of Donovan McNabb. If Okung goes early, HC Mike Shanahan shouldn't be too disappointed to get OT Trent Williams instead. There are some reports he is the preferred pick here.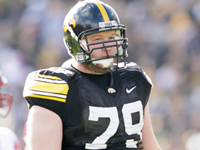 The Chiefs will have many options at pick #5 including Iowa OT Bryan Bulaga.

5. Kansas City Chiefs – Bryan Bulaga, OT, Iowa


GM Scott Pioli will have to think long and hard about passing on a potential superstar like S Eric Berry, but ultimately the most pressing need is protecting the investment he banked his career in KC on, Matt Cassel. 2008 first-round pick Branden Albert didn't succeed as a LT and they need to keep Cassel vertical, so they bring in the athletic Williams to protect the blind side and move Albert to RT or return to his natural guard position to hopefully be more productive. It's a close call between Bulaga and OT Trent Williams, both providing solid Combine performances that compliment what you see on film. Most are mocking Bulaga to this spot based on NFL Network's Mike Mayock previously pointing out the relationship between Pioli and Iowa HC Kirk Ferentz. However, going back to his Patriot days, Pioli has never been involved in a front office that drafted an Iowa lineman. I don't think that's much of a factor and go back and forth on who is the better prospect between Bulaga and Williams. After going back and looking at Bulaga a bit more, I think he might be the better pure LT prospect. If anyone is clamoring for Berry or QB Jimmy Clausen at this point, Pioli would be all too happy to trade down a few spots and still get a premier OT while picking up an extra pick or two.



6. Seattle Seahawks –Trent Williams, OT, Oklahoma


The trade for QB Charlie Whitehurst takes QB Jimmy Clausen out of consideration here. HC Pete Carroll is now free to address one of his two biggest needs: offensive tackle or a playmaker on either side of the ball. With LT Walter Jones appearing inching closer to a retirement decision now that he won't be at their first camp of spring, I think Carroll will not want to wait on their important gap on the line – especially if two of the top offensive tackles are already off the board. I could see any of Williams, Russell Okung or Bryan Bulaga being the pick here; it just depends on who falls. Williams offers the most versatility of the three and is a nice fit for the expected zone-blocking they will use. Otherwise, S Eric Berry or RB C.J. Spiller should be the pick here. The secondary has a few serviceable parts, but is lacking in upside and, after the release of S Deon Grant, has just one certain starter in CB Marcus Trufant.



7. Cleveland Browns – Jimmy Clausen, QB, Notre Dame


While many continue to project S Eric Berry with this pick, which I agree is a likely possibility, some mocks have come around to the logic for selecting Clausen here I explained in my last mock. When new team president Mike Holmgren brought in former protégée Seneca Wallace from Seattle, the ideal bridge QB to run his WCO while a new franchise QB is groomed, and purged the QB corps he inherited, Cleveland drafting a QB made a lot of sense. After Holmgren gave free agent Jake Delhomme a ridiculous two-year contract, selecting a QB appeared to make less sense and I started thinking Holmgren must not like either Bradford or Clausen (doesn't matter what Holmgren publically says, this time of year is a misinformation jubilee) because he laid the groundwork to put off finding a new QB for a year. However, the trade of OLB Kamerion Wimbley for a third-round pick clarified my thoughts on the subject. Cleveland then had the juice to trade up a couple spots, if necessary, to at least get ahead of Seattle's 6th pick (of all teams, Holmgren wouldn't want his last team snagging the guy he thought was a franchise QB) and maybe up to Tampa Bay's 3rd pick. After Washington brought in QB Donovan McNabb, the need to trade up is now moot. So that brings us back to Delhomme. I assume that move was a high-premium insurance plan. If he doesn't like Clausen here, Delhomme becomes a reclamation project. I'm sure Holmgren likes Delhomme's intangibles and since his problems are reportedly more mental than physical, holds out hope they can be corrected for some short-term gains along the lines of what Kurt Warner did for Arizona. Disregard reading in to Holmgren's comments about wishing he "liked Clausen more", the misinformation is flying around this time of year. The bottom line is, I think Holmgren would prefer to start his reign in Cleveland with a long-term solution at QB and I'm relatively confident he'll be impressed enough with Clausen to make him the choice here, especially not having to trade up to get him. With the secondary a mess, as I mentioned, it is popular for others to mock Berry or CB Joe Haden here. The addition of CB Sheldon Brown makes Haden less likely, but it's hard to argue with Berry. If they aren't taking Clausen, it seems he's definitely the pick here if Berry gets by KC and Seattle.



8. Oakland Raiders – Bruce Campbell, OT, Maryland


With a bevy of young talent at skill positions on offense, adding a top prospect to an offensive line that has been a lingering problem seems obvious. Of course, Al Davis rarely follows conventional wisdom in the draft, spurning solid necessities for shiny luxuries known as workout warriors. Well this spot offers the perfect combination of need coinciding with the type of athletic specimen Mr. Davis loves. Campbell blew everyone away at the Combine with his terrific measurables and freakish performances in workouts. While that might not jibe with his limited and unexceptional work on film, this would be a textbook Al Davis pick. The only reason not to expect this to happen is that a consensus has quickly built among pundits that Campbell will be the pick here, which is usually the top reason to think that won't be the pick. OT Anthony Davis is probably the better pick here, but his Combine performance was the antithesis of what Davis looks for. As for alternatives, although he lacks the big arm Davis desires, under different circumstances, QB Jimmy Clausen has the swagger and name recognition Davis values if he fell here. The hit for cutting Jamarcus Russell is actually manageable at his point, but Davis has looked like he'll continue to stand behind him and has a history of doing so with his draft picks that become personal projects. Defensive ends Carlos Dunlap and Jason Pierre-Paul also have the athleticism Davis covets, but the acquisition of OLB/DE Kamerion Wimbley from Cleveland makes them unlikely to address the position here.



9. Buffalo Bills – Anthony Davis, OT, Rutgers


The team has yet to recover from trading Pro Bowl LT Jason Peter prior to last year's draft and compounding the problem by ignoring the position with their two first-round picks. With both top QB prospects off the board, addressing OT should be the pick. It's a no-brainer if Russell Okung, Bryan Bulaga, or Trent Williams falls, a bit less certain with Davis, whose stock has taken a hit with his workouts. After a disappointing Combine, with the lowlight being just 21 reps on the bench for a player whose work ethic is questionable, Davis continued to hurt his stock by leaving his Pro Day early. Apparently Davis showed up to meet with teams in the morning at Rutgers' Pro Day, but then refused to weigh in and left unexpectedly before the drills started. In a vacuum, this would be a bad decision, but probably not hurt his draft value. However, this type of lack of accountability has plagued Davis' throughout college and is now a major red flag. Still, he represents the last of the top-tier of prospects at the position. If either top QB fell, the Bills would have a tough decision. Not sure either Sam Bradford or Jimmy Clausen has the arm to thrive in Buffalo's weather. Also making a QB selection questionable is the new tandem of GM Buddy Nix and HC Chan Gailey. A distinguished talent evaluator, Nix has been around for a while, but never had responsibility for the final decisions. After seemingly failing in landing one of the many big name coaches available, Nix settled on Gailey. Not exactly the type of choice that seems the answer to a team that has gone through five coaches in the last decade. Bottom line is both Nix and Gailey need to turn things around fast to hold their jobs. That being the case, improving the offensive line to support the running game, one of Gailey's strengths as a coordinator, and trying to salvage something from Trent Edwards seems the quicker fix than rebuilding around a rookie QB. Gailey has been able to achieve reasonable success with quarterbacks far less talented than Edwards in the past. I also think acquiring strong-armed QB Jason Campbell from Washington is a very likely alternative to solving their QB problem some where other than with this pick.



10. Jacksonville Jaguars – Eric Berry, S, Tennessee


After filling their biggest gap, a pass rushing DE, with the signing of free agent Aaron Kampman, as well as bringing back Reggie Hayward for depth there, GM Gene Smith has options with this pick. While top offensive playmakers like RB C.J. Spiller and WR Dez Bryant are appealing, I think Smith will be looking to shore up his defense with this pick. Berry falling here is likely their best-case scenario. Clearly I think it reasonable he falls this far, but I do struggle with projecting five offensive tackles going in the top ten picks. If Berry is gone, LB Rolando McClain, CB Joe Haden, S Taylor Mays, who I previously projected at this pick, and versatile S Earl Thomas are all logical picks here. While QB Tim Tebow's stock seems on the rise and he is reportedly a target for owner Wayne Weaver, but I don't believe he has a shot of going this high. If they really want Tebow, it would make more sense to trade down. The addition of Kampman and Hayward doesn't preclude them from still going after another DE, especially since they are likely to have their pick of the litter with the 10th pick. The pass rush bottomed out last year as the worst in the league, totaling just 14 sacks, while Kampman brings injury concerns coming back from knee surgery and Hayward can't seem to stay healthy. The team will go back to a base 4-3 this year and 2008 first-round pick Derrick Harvey will start at left end, so a rookie like Derrick Morgan or Jason Pierre-Paul could be eased in as a pass rush specialist with Kampman and Harvey. The team reportedly had a strong presence at Georgia Tech's Pro Day, where there are potential fits of both Morgan as a first-round pick and S Morgan Burnett as a mid-round possibility.



11. Denver Broncos (from Chicago Bears) – Rolando McClain, LB, Alabama


The trade of WR Brandon Marshall to Miami definitely made the pick here I've been projecting since my first mock, Dez Bryant, look more likely. However, with another early second round pick from the Marshall trade, I noticed the number of quality WR options left in the second round compared to the defensive front seven options. I'm not concerned with Bryant's character, it's not the impetus of changing the pick here, it's more that Denver really needs to be sold that Bryant is a unique talent here to pay the opportunity cost of not going defense with this pick. Hence for what should be a no-brainer for Bryant, I'm now projecting they take McClain. In addition to being among the best players available, he fills a need after the surprising release of Andra Davis. McCain's stock has bounced back from a disappointing Combine performance, which he attributed to a hamstring problem. There were also reports that he suffers from Crohn's disease that raised some concern about him, but he has now refuted those stories. Regardless, McClain remains a solid first-round prospect. The overhaul of the defensive line through free agency, with the additions of NT Jamal Williams and DE Jarvis Green, seem to indicate they won't address the defensive line with this pick, but Williams is a stopgap and DT Dan Williams would be a smart pick here too.



12. Miami Dolphins – Dan Williams, DT, Tennessee


The eight-game suspension for aging NT Jason Ferguson makes addressing this position now even more pressing. Williams has been a fast-rising prospect and a good fit to be the key disruptive force in the middle of a 3-4. It had been popular to mock LB Rolando McClain at this pick, until they added veteran Karlos Dansby. That doesn't preclude McClain from being the pick here, while he lacks elite athleticism, McClain brings the two key attributes Bill Parcells wants in his linebackers – big and smart. Outside linebacker is a significant need, as well, and the Dolphins should have their choice of all the pass rush specialist tweeners available, but I don't think any are a good value here. With the addition of WR Brandon Marshall via trade, Dez Bryant is no longer a consideration if he falls here.



13. San Francisco 49ers – Joe Haden, CB, Florida


With help in the secondary already a need, the team is pleasantly surprised to find the top CB in the draft fall out of the top ten. Forget the Combine 40 time, Haden is a shutdown corner who creates turnovers in the air and on the ground. He could go as high as 7th overall. If Haden doesn't make it this far, S Taylor Mays or S Earl Thomas could be the pick, as well as offensive line. They are also likely to consider an offensive tackle here and maybe even a linebacker. There is also a lot of discussion of their potential interest in RB C.J. Spiller, both for his running and to improve their return game. It is an appealing strategy, but the opportunity to really improve a couple other areas makes more sense when the depth chart is already solid at running back. An interesting scenario could be QB Jimmy Clausen falling this far. Many who believe Cleveland won't select him are mocking him here, as recently exiled GM Scot McCloughan was the top proponent of incumbent QB Alex Smith. Smith's contract is also up this year, so the team should likely address QB at some point in this draft, if not this high.



14. Seattle Seahawks (from Denver Broncos) – Dez Bryant, WR, Oklahoma State


After sorting left tackle with their sixth overall pick, the Seahawks should probably use this pick to address their gapping hole at defensive end, and they have all of them available to choose from. Instead, HC Pete Carroll looks to add playmaking ability and instant excitement to the offense. Previously I had projected that would come via the selection of RB C.J. Spiller, but Carroll's extensive sniffing around Brandon Marshall made me rethink upgrading that position is his higher priority. Bryant's draft stock has fallen like AIG in the press as we approach the draft. Reports of him dropping down or off the draft boards of various teams continue to surface. The fact he didn't work out at the Combine or Oklahoma State's Pro Day due to a lingering hamstring injury, so we haven't seen anything from him since September, but the bigger concerns seem to be with character and dedication. I don't disagree, but Bryant's biggest flaw seems to be immaturity as opposed to being a bad seed and I don't believe he falls far.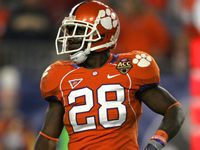 Spiller: Too much value to pass up.

15. New York Giants – C.J. Spiller, RB, Clemson


GM Jerry Reese likes to draft to fill holes, so if LB Rolando McClain is available, he is likely the pick. Without Antonio Pierce, the defense needs not only a player to fill the position at MLB, but the role of a leader, and McClain would be a great fit for both. LB Sean Weatherspoon is rising up boards could be the choice for the same, as well. However, in this scenario, Spiller falls and is too much value to pass up. The running game hurt them last year and their kick return average was among the worst in the league. Spiller is getting far too little love in mocks and from draft pundits. While he may lack ideal size, the kid is special. There are home run hitters, and then there is Spiller. He had 21 touchdowns over 50 yards and 9 of those were over 80 yards. Another strong consideration here would be the defensive line. There are reports they'd like to move Osi Umenyiora and add one of the top DE prospects. The addition of S Antrel Rolle as the highest paid safety in the history of the NFL means they definitely are no longer looking a safety here.



16. Tennessee Titans – Jason Pierre-Paul, DE, South Florida


The pass rush needs a jump-start and with the departure of Kyle Vanden Bosch through free agency, I'd be shocked if the Titans don't take a defensive end here. With a resume thin on starting experience, Pierre-Paul needed to impress in workouts and didn't disappoint. Pierre-Paul has more bust potential than DE Derrick Morgan, but also the higher ceiling. I could see either one being the selection here if both are available. The fact Pierre-Paul may remind HC Jeff Fisher of a young Jevon Kearse had me switch the pick here from Morgan in my previous mock. The other top ends will be a consideration, as well. Carlos Dunlap's baggage and reportedly unimpressive interviews are dragging him down, despite first-round talent. Everson Griffen's stock is going the opposite way, so he's in the mix too. With the quality options that should be available here, I'd be shocked if the Titans drafted anything other than a DE here.



17. San Francisco 49ers (from Carolina Panthers) – Brandon Graham, OLB, Michigan


The undersized tweener turned heads at the Senior Bowl and while draftniks and pundits raced to move Graham up draft boards. While he came in under 6'2" at the Combine, he continued to impress with his workouts, particularly his movement in drills and 31 reps on the bench. His versatility and pass rush potential could make him the next Elvis Dumervil. HC Mike Singletary is definitely a guy who goes by what he sees on the field over measurables, and I think Graham is more his type of guy than fellow tweeners Sergio Kindle and Jerry Hughes are also possibilities here. Offensive line will be a consideration here and so will defensive back, particularly if they didn't address it with the 13th pick.



18. Pittsburgh Steelers – Maurkice Pouncey, C, Florida


President Art Rooney II has publically stated the team needs to get better at running the ball; so addressing that will be a priority in the draft. Pouncey could immediately provide an upgrade at guard before replacing current C Justin Hartwig down the road and continuing the great legacy of centers on the Steelers. The team values that flexibility, and it's the same reason G Mike Iupati could be the selection here, as well. Bringing back Ryan Clark likely means they won't address safety with a high pick. An interesting scenario would be C.J. Spiller falling to this pick. Spiller is the perfect compliment to a north-south runner like Mendenhall and brings the playmaking and return ability they just lost after shipping WR Santonio Holmes out. This is the absolute floor for Spiller and I have no doubt the Steelers select him over anyone else I expect could realistically fall this far.



19. Atlanta Falcons – Derrick Morgan, DE, Georgia Tech


An aging John Abraham and the failure of former first-round pick Jamaal Anderson to develop in to a threat from edge leave defensive end a significant need. While recent mid-round picks Lawrence Sidbury Jr. and Kroy Biermann have some promise, GM Thomas Dimitroff is unlikely to pass on the opportunity to acquire a potentially elite end. Morgan is as solid a first-round pick as you'll find. Equally good as a pass rusher and against the run, his Combine performance reinforced every positive view of him. Intelligence and character complete a great package. However, he just doesn't seem like a special player to me, and why I struggle projecting him higher. The other top ends will be a consideration here if the Titans select Morgan instead. I'm sure they'd be just as happy to get Jason Pierre-Paul. The latest buzz has LB Sean Weatherspoon, who would also address a need, as the pick here. However, I can't see them passing on Morgan or Pierre-Paul if either is available here.



20. Houston Texans –Earl Thomas, S, Texas


It's all about beating Peyton Manning in the AFC South and the Texans need better defensive backs to do it. Thomas has gone through the evaluation process in the shadow of safeties Eric Berry and Taylor Mays, but packs plenty of talent, strength and instinct in a slightly undersized frame. A natural ball hawk, he can also play corner and the Texans need help at both spots, so he brings them plenty of options as they continue to address the secondary in free agency. The loss of Dunta Robinson makes it likely they could also select one of the top true corners with this pick. Running back is a bit of a wild card. Which Steve Slaton they believe is the real one – the inspiring 2008 rookie or the injury-plagued sophomore slumper of 2009 – dictates how early they add another runner. I could see Ryan Matthews being a consideration, but if C.J. Spiller falls, he just gives them another smaller back to pair with Slaton. Defensive tackle is another position they may want to address here, with plenty of good choices on the board, but they probably have too much money invested in the front four already to do that here. With the quality of secondary options that should be available here, I'd be shocked if they selected something other than a CB or S.



21. Cincinnati Bengals - Jermaine Gresham, TE, Oklahoma


Between injuries and the bust that was Chase Coffman, TE was an unmitigated disaster in Cincinnati. Despite missing all of last year with a knee injury, Gresham is the top TE prospect that adds value as a blocker as well as a receiver. The anemic passing game gets a boost with the addition of free agent WR Antonio Bryant, but adding Gresham to the mix brings even more potential and flexibility to the offense. Defensive tackle and safety will also be prime considerations here. I can easily see this spot stopping S Taylor Mays from dropping further.



22. New England Patriots – Sergio Kindle, OLB, Texas


A pass rusher at OLB makes so much sense here that it almost certainly won't happen. As I mentioned in my previous mocks, HC Bill Belichick typically eschews drafting a tweener high. However, Kindle is a versatile player, able to handle the run and pass, in coverage or blitzing, as well as work inside. The team needs a playmaker on the edges of their 3-4 and Kindle has great potential here, but I think he is a bit overvalued. Fellow tweeners Brandon Graham and Jerry Hughes should also be considerations here. Hughes offers more upside as a pass rusher, but is less versatile than Kindle at this point. If they don't go with an OLB, DT Jared Odrick as a five-technique DE makes a lot of sense. Despite the fact they added Daimone Lewis from Carolina, they've lost Richard Seymour last year and Jarvis Green this year and need to do something about their run defense. Odrick is a Belichick guy – a big, versatile lineman who is a team player. On the other side of the ball, the cupboard at TE behind an aging Alge Crumpler. They've gone TE in the first round a couple times under Belichick, so Jermaine Gresham could also be the pick. I think they wait until the second round to address WR, unless Dez Bryant is available here.



23. Green Bay Packers - Kyle Wilson, CB, Boise State


Al Harris will be 36 before the season ends and is coming off a devastating knee injury in November. While Charles Woodson is coming off a season that saw him voted Defensive Player of the Year and hasn't missed a game in two years, he turns 34 this season and is a constant presence on the injury report. Wilson confirmed he was a shutdown corner at the Senior Bowl and adds value as a returner. After not running at the Combine, he performed well in all the tests and drills, including two sub-4.5 40 times. My biggest concern is the Packers seem to prefer bigger corners for their scheme. At 5'10" flat and under 200 pounds, Wilson doesn't fit the profile and they may look at a player like CB Chris Cook later instead and address OLB or OT here. The Packers allowed the most sacks in the league last year and many expect the Packers to address offensive line here. However, they re-signed both LT Chad Clifton and RT Mark Tauscher. Considering the sack total, bringing their tackles back might not seem like a good decision, but Tauscher didn't sign with the team until mid-season due to an injury and the protection improved after he joined. While it wouldn't be a surprise to see them select an offensive tackle here, the signings of Clifton and Tauscher give them options at addressing other needs with their first pick and taking a developmental prospect for the line later. An OLB to replace Aaron Kampman, like Jerry Hughes, is another possibility.



24. Philadelphia Eagles –Everson Griffen, DE, USC


HC Andy Reid loves drafting defensive linemen early and this year should be no different. There is plenty of first-round talent available on the defensive line this year and some should be left for Reid to choose from here. Other than Trent Cole, their collection of ends features a shaky coalition of role players who may have overachieved a bit in recent years and have, or should be expected to, return to the mean in their performance. Griffen didn't live up to his potential in college, but his performance at the Combine confirmed he definitely still can at the next level. If Derrick Morgan or Jason Pierre-Paul falls, clearly they would be in the mix, and I also think Carlos Dunlap will start to be a serious consideration around this pick. His combination of size and athleticism makes him a great fit for an Eagles' defense that likes to come at you from all angles and could move Dunlap around the front seven. After trading CB Sheldon Brown and losing OL Shawn Andrews, both those positions could be considerations here and could still represent best player available. LB Sean Weatherspoon could be the pick too, but as much as Reid likes drafting linemen early, he dislikes drafting linebackers early. Look for a developmental prospect at QB later in the draft; no way he makes a move like taking Tim Tebow here. Kevin Kolb is his man.



25. Baltimore Ravens - Jerry Hughes, OLB, Texas Christian


The acquisition of Anquan Boldin frees them up from possibly reaching for a WR and gives GM Ozzie Newsome the flexibility to do what he does best, clean up the mistakes of others by grabbing falling quality. Perception of Hughes fell a bit as his production decreased in 2009 after leading the nation in sacks with 15 in 2008. Still, he had 11.5 sacks last year and is one of the best pure pass rushers in this draft class. While undersized to remain a defensive end in a 4-3, he looks like the perfect fit to follow the same path as Terrell Suggs in a successful conversion to 3-4 rush linebacker. Last year's second round pick, Paul Krueger, is bulking up to focus on playing DE instead of OLB, so this addressing this position is also a need. There are also strong indications DT Jared Odrick could be the pick here as the five-technique DE where depth is thin and a versatile player for their multiple fronts. The other likely selection is at corner, where Fabian Washington and Ladarius Webb are both coming off torn ACLs, and with Samari Rolle released as expected, it's a position the Ravens are already lacking the talent they are used to there. Newsome is a big fan of Alabama HC Nick Saban and former Tide CB Kareem Jackson could be the selection. The team reportedly has also shown a strong interest in rising CB Devin McCourty, so he could also be the pick. I could also see CB Patrick Robinson ending the two-year absence of Seminoles from the first round. If they don't go defense, TE Jermaine Gresham would make sense, as I expect them to address that position at some point in the draft.



26. Arizona Cardinals - Sean Weatherspoon, LB, Missouri


No team was hit harder by the departure of several key players this offseason. With Sam Bradford and Jimmy Clausen off the board, the team isn't likely to address QB with this pick. They seem to prefer to bring in some cheap competition for Matt Leinart. They picked up a third round pick in their trade of Anquan Boldin to the Ravens and that fits nicely with the third-round tender needed for San Diego back-up QB Charlie Whitehurst, for which they are reportedly negotiating. Their depth at WR made accommodating a Boldin trade possible, so they aren't likely to address that position here with so many other needs. They signed Kerry Rhodes to replace the departed Antrel Rolle, a move I like a lot. While they could use some help at offensive line, LB is their biggest need. On the outside, Bertrand Berry has retired and they are not expected to resign free agent Chike Okeafor. While they added veteran Joey Porter, he has already run in to trouble this offseason, so I can see a pick like Sergio Kindle or Jerry Hughes making sense here. However, they also spent two picks last year on edge rushers, Cody Brown and Will Davis, who they should give a chance. The biggest loss was WILB Karlos Dansby and Weatherspoon would be a good fit to replace him. While some have criticized Weatherspoon as a potentially abrasive locker room presence, I think he'll actually bring the leadership and identity they lack on defense with his mouth. In addition to an offensive tackle, a security blanket TE for new starting QB Matt Leinart could be the pick.



27. Dallas Cowboys – Mike Iupati, G, Idaho


Iupati erased any doubts about his ability against superior competition at the Senior Bowl. The release of penalty-prone LT Flozell Adams and the significant injury history of RT Marc Comombo seem to indicate an OT would be the selection here, but the team is high on Doug Free to replace Adams and they really lack depth on the line, of particular concern for a contender. Iupaiti can play tackle, but is probably best suited to guard. A safety should also be a strong consideration here.



28. San Diego Chargers – Ryan Matthews, RB, Fresno State


Last year's leading Division I FBS rusher came to the Combine and proved his athletic ability is more than sufficient to provide similar production at the next level. He likely erased any doubts of being worth a first-round pick for this particular team, who need to do something at RB after parting ways with Ladainian Tomlinson. Whereas the Chargers previously had to be debating spending their first-round pick to get Matthews, their biggest concern now is whether or not he makes it to them, particularly past Houston. They also let an aging and dinged-up Jamal Williams go, so NT becomes a significant need. Adding Terrence Cody here is a very viable option.



29. New York Jets - Jared Odrick, DT, Penn State


Having shored up CB with the trade for Antonio Cromartie, the Jets should look for the best value in their front three or at pass-rush linebacker. Odrick, who many expect to go higher, fits the bill here as a five-technique DE. Other options include Carlos Dunlap, who has the size to play end in a 3-4 and whose risk/reward gamble starts to make sense here, or Brian Price. HC Rex Ryan is a top player's coach and a good fit for players with baggage like Dunlap. Less of a need is a blitzing OLB, but Sergio Kindle or Jerry Hughes could be in the mix if they fall.



30. Minnesota Vikings – Devin McCourty, CB, Rutgers


After tearing his ACL late last season, there is concern that CB Cedric Griffin won't be ready for the start of the season. On the other side, an aging Antoine Winfield struggled through an injury-plagued season and even if he can return to being an elite player, the lack of quality behind him was exposed when he was dinged up. McCourty was a solid collegiate performer who turned heads with his athleticism in the evaluation period and is a borderline first-round pick. Although Pat Williams plans to return in 2010 at 37 years old, addressing defensive tackle here and improving the depth makes sense. The wildcard, once again, is Brett Favre. The assumption is he returns next year, but if he decides to really, really retire this time, that impacts the draft plan. I can't see a scenario where Jimmy Clausen falls this far, but the Vikings could be in play to trade up if Favre makes a shocking announcement this week. It could also be around where Tim Tebow is targeted, if a team doesn't want to risk waiting until Day Two. So regardless of if the Vikings want him and what Favre does, this pick could be in play for another team wanting Tebow. With a deep corner class, the Vikings would probably be happy to trade down and get an option like Chris Cook later, who they reportedly are very interested in, but isn't a first rounder.



31. Indianapolis Colts – Charles Brown, OT, Southern California


A long offseason for the Colts after their Super Bowl loss has to include considering the future at center after Jeff Saturday, who turns 35 this year. If C Maurkice Pouncey were available, I could see him being their preferred pick here. He comes from a complex offensive system, and despite his disappointing Wonderlic score, he clearly appears able to handle the challenging mental aspects of the role on this team. He could step in as a guard while Saturday plays out his career and then slide over to center. However, with Pouncey gone, the team should look at OT. LT Tony Ugoh lost his job last year and the tackle position is influx. Brown appears to be climbing up draft boards based on potential and might not make it to the second round. He didn't demonstrate the athleticism expected at the Combine from the former TE and has a disappointing 21 reps on the bench. However, he has a great frame with long arms and is a nice developmental prospect, but probably not ready to plug in at left tackle. The defensive line could likely be addressed with this pick, while linebacker and the secondary could also use some improvement in depth. I could see an undersized rusher they will keep with his hand down, like Brandon Graham or Jerry Hughes, being a nice fit if either falls. There is some speculation offensive tackle could be the focus here with a strong group of prospects after Tony Ugoh lost the LT job last year. However, the Indianapolis Star pointed out OLine coach Howard Mudd has retired, so the once-promising Ugoh might get a fresh start. The main concern with projecting an offensive lineman at this pick is GM Bill Polian has never selected an offensive linemen in the first round for the Colts.



32. New Orleans Saints – Taylor Mays, S, Southern California


Mays gambled and lost coming back for his senior year. USC had a tough season and his game was overanalyzed to the point his draft value fell. He reminded people of his immense physical potential with a great showing at the Combine and his stock is back on the rise. I don't believe he will be converted to an OLB, but that is a need for New Orleans as well. With FS Darren Sharper still an UFA and a possible target for the Jets if they don't bring in OLB Jason Taylor, the Saints could lose their playmaker in the secondary. Mays will never be the ball-hawk Sharper is, but could provide an intimidating presence instead. I think the Saints ideal realistic potential scenario would be for LB Sean Weatherspoon to fall to this pick.

Round Two