Version 1.0 - 2/8/10.
Version 3.0 - 4/20/10.



33. St. Louis Rams - Daryl Washington, LB, Texas Christian


The versatile Washington can play all three spots, adding depth at a position of need and can challenge for a starting role outside.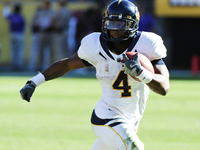 Best would be a perfect compliment to a healthy Smith.

34. Detroit Lions – Jahvid Best, RB Caifornia


Starting RB Kevin Smith tore his ACL late last year and has significant shoulder problems for which he may have also had surgery this offseason, so there are major concerns about when he'll be fit to return to football. Best, who brings a very different skill set than Smith, is a great fit even once Smith returns and a no-brainer here.



35. Tampa Bay Buccaneers – Golden Tate, WR, Notre Dame


With reliable hands and elusiveness in space, Tate is the perfect fit for what the roster currently lacks and a much-needed new weapon for their young QB.



36. Kansas City Chiefs – Terrence Cody, DT, Alabama


Cody saw his draft stock fall as he showed up tipping the scales at 370lbs at the Senior Bowl. He was down to 354 at the Combine and 348 at their Pro Day a week later. It looks like cutting weight hurt his strength, as he only put up 22 reps on the bench. Cody remains a borderline first-round pick and GM Scott Pioli should be happy to find a true nose tackle for their 3-4 here.



37. Washington Redskins – Brandon Spikes, LB, Florida


Name recognition has Spikes valued higher by many, but he's basically a two-down thumper. Good fit inside for the 3-4 scheme the Redskins are expected to switch to this year.



38. Cleveland Browns – Kareem Jackson, CB, Alabama


If the Browns don't get QB Jimmy Clausen in the first round as projected in this mock, they could look at grabbing one here. Otherwise, they should be looking at defense with this pick. Jackson had an impressive Combine, demonstrating excellent athleticism and interviewing very well. The Browns need plenty of help in the secondary and Jackson is a good fit. With the trades of OLB Kamerion Wimbley and DL Corey Williams, both those positions could be targeted here, as well.



39. Oakland Raiders - Brian Price, DT, UCLA


The PAC-10 Defensive Player of the Year is a disruptive force who showed great pass rush ability for an interior player in racking up seven sacks last year. After cutting Gerard Warren, the Raiders have a need here and Price has the potential to be a solid five-technique end in a 3-4, which the addition of Kamerion Wimbley leaves a possibility for the Raiders converting to this year.



40. Seattle Seahawks – Charles Brown, OT, Southern California


The gamble on not addressing offensive tackle in the first round pays off for new HC Pete Carroll as he lands one of his former players to help fortify the line in Seattle. There has been discussion of Brown as a first-round pick, but he didn't demonstrate the athleticism expected at the Combine and has a disappointing 21 reps on the bench. He has a great frame with long arms and is a nice developmental prospect, but probably not ready to plug in at left tackle. Might not make it to the second round.



41. Buffalo Bills – Jared Odrick, DT, Penn State


The Bills are converting to a 3-4 and need to find some outside linebackers and ends to fit the scheme. Odrick has nice potential as an end is a long shot to still be available here. I could see him going to the Patriots, Jets or Vikings in the first round.



42. Tampa Bay Buccaneers (from Chicago Bears) – Dominique Franks, CB, Oklahoma


Depth at corner a problem and Ronde Barber will be calling it a career soon. I wouldn't be surprised to see them go back-to-back wide receivers, they need that much help at the position.



43. Miami Dolphins – Ricky Sapp, OLB, Clemson


Undersized for DE at the next level, Sapp can use his quickness and athleticism to develop in to a solid pass rusher. With the loss of Jerry Porter, the Dolphins need help on the edges. A big WR like Brandon LaFell or Demaryius Thomas will be a strong consideration here to give QB Chad Henne the big target he needs.



44. New England Patriots (from Jacksonville Jaguars) – Corey Wootton, DE, Northwestern


The loss of Richard Seymour last year and Jarvis Green this year makes defensive end a big need to address in the draft. Wootton looked like a potential first round pick in 2008, but tore up his knee in their bowl game and then battled ankle problems on road back last season. Definitely passes the eyeball test with the ideal size and build for a 3-4 end. They typically like to address the line in the first round, so I wouldn't be surprised if they already made a defensive end selection there, expecting more quality left at wide receiver and tight end at this pick.



45. Denver Broncos – Reshad Jones, S, Georgia


A tough player with great measurables who can player either safety spot. He brings some great run support to a position they desperately need an infusion of talented youth.



46. New York Giants – Tyson Alualu, DT California


High motor guy who brings the versatility to play inside or outside, which the Giants value.



47. Carolina Panthers – Demaryius Thomas, WR, Georgia Tech


A raw prospect who didn't see much work in Tech's run-heavy offense, he is a big target with good hops and nice YAC – the perfect complement to Steve Smith. He could fly up draft board if a broken foot heals well enough for him to work out and run before the draft.



48. San Francisco 49ers – Rodger Saffold, OT, Indiana


Shrine Game star continues to gain momentum through the evaluation process. Although looking like more of a right tackle, that would be good enough opposite Joe Staley.



49. New England Patriots (from Tennessee Titans) – Arrelious Benn, WR, Illinois


Benn was limited in an incompetent Illinois offense who failed to utilize him and there were also some questions about his work ethic. If not Benn, the fellow wide receiver prospect Demaryius Thomas could be the choice.



50. Houston Texans – Montario Hardesty, RB, Tennessee


During a injury-plagued sophomore slump by Steve Slaton, HC Gary Kubiak struggled to find any consistency from a variety of runners he paraded in and out of the lineup. While I think Slaton will bounce back, the episode proved the team needs a reliable second option, preferably a Thunder to Slaton's Lightning. Montario Hardesty had a break through at the Combine and that his running style and ability is reminiscent of Clinton Portis won't be missed by Kubiak, who was the OC in Denver that made Portis a star.



51. Kansas City Chiefs (from Atlanta Falcons) – Chad Jones, S, Louisiana State


After passing on Eric Berry in the first round, GM Scott Pioli adds the versatile big safety from LSU who adds value as a returner, as well. His 9 reps on the bench were a bit disappointing. If S Reshad Jones falls, he could be the pick here, as well as S Morgan Burnett or S Major Harris.



52. Pittsburgh Steelers – Brandon Ghee, CB, Wake Forest


Despite investing a couple of picks in the position last year, the Steelers could improve their starter opposite CB Ike Taylor. Ghee is a physical defender coming off a great Combine, but needs to work on his coverage skills.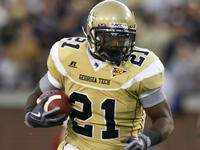 Another RB for Belichick's RBBC.

53. New England Patriots – Jonathan Dwyer, RB, Georgia Tech


His numbers were down, as Tech's option offense afforded plenty of carries to A-Back Anthony Allen and mobile QB Josh Nesbitt, and the Combine was a minor disaster for him, but Dwyer has plenty of upside. His experience and willingness as a role player is a great fit for HC Bill Belichick's RBBC. In my initial mock draft, I had Tebow slotted for one of the Patriots' second round picks, and I begrudgingly moved away from that, but still think it makes a lot of sense. Few coaches have the job security to spend an early pick and figure out what to do with Tebow later. There is plenty to like about Tebow – he is an impressive physical specimen and his leadership and intangibles are off the chart. Belichick has the luxury of taking time to see if he can develop Tebow into a pro QB, while finding ways to work him in certain packages for short-term return. You know Tebow will be dedicated and put the work in, so it won't be for lack of effort if it doesn't work out. This pairing is actually a no-brainer, the question is does Belichick see enough upside to make the move. If he doesn't, and doesn't go RB here, the other two options here seem pretty obvious, as obvious as any prediction can be when it comes to Belichick and the draft. As this mock already address defensive end and outside linebacker for the Patriots, tight end and corner are the other options. The departure of Ben Watson and Chris Baker leave the cupboard bare at the position and plenty of options with one of their three second round picks. I also guarantee CB Amari Spivey is high on Belichick's draft board. He lacks elite speed, but is one of the most physical corners and a great fit.



54. Cincinnati Bengals – Geno Atkins, DT, Georgia


Undersized interior lineman with disruptive burst a good fit in their defensive line rotation that needs some improvement.



55. Philadelphia Eagles – Navorro Bowman, LB, Penn State


Some baggage and an unspectacular Combine have Bowman, once looked at as a possible first-round pick, falling down draft boards.



56. Green Bay Packers – Eric Norwood, OLB, South Carolina


Inconsistent, but has shown flashes of greatness on his way to becoming South Carolina's all-time leader in sacks and tackles for loss. Almost came out last year, didn't help his standing much this year, but a very good Combine performance did. Excellent fit opposite Clay Matthews on the edges of their 3-4 with Aaron Kampman gone.



57. Baltimore Ravens – Anthony McCoy, TE, Southern California


With Todd Heap's career wrapping up in Baltimore, a tight end will be high on the shopping list. McCoy is a throwback, a solid blocker without great speed, but with decent hands. He doesn't have the upside of some other prospects, but has a low floor and value as a blocker. New England would be an unsurprising landing spot for him, as well.



58. Arizona Cardinals – Tim Tebow, QB, Florida


As a young TE coach in his first season with the Steelers in 2001, HC Ken Whisenhunt observed Pittsburgh's OC Mike Mularkey and QB coach Tom Clements orchestrate an incredible performance in running an offense with a run-first mentality quarterback named Kordell Stewart. Now Tebow is a different player than Stewart and the story of Stewart's NFL success is a short one, but the point is that it is going to take a visionary coach to adjust his offense to fit Tebow and reach his considerable potential. Offensive assistant coaches Russ Grimm and Mike Miller were also on the Pittsburgh staff with Whisenhunt and I can see a scenario where they are confident they can develop Tebow into an NFL QB. It's likely a rebuilding year for the Cardinals and after two great years, Whisenhunt has the job security to make a move like this. The strategy fits the situation well, as the team wants to give QB Matt Leinart a fair shake. They've brought in Derek Anderson to compete with Leinart for this year and would certainly find some interesting packages to sprinkle Tebow in immediately, while his long-term development is focused on the practice field.



59. Dallas Cowboys – Nate Allen, S, South Florida


Classic centerfield type who is solid across the board and can be a leader of the secondary.



60. San Diego Chargers – Cam Thomas, DT, North Carolina


Nose tackles are in high demand with more teams switching to 3-4 base defenses. This might be a bit of a reach, but Thomas has been moving up through the evaluation period.



61. New York Jets – Damian Williams, WR, Southern California


Once considered a possible first-round talent, his pedestrian speed is a problem for a receiver without exceptional size. This is probably a little low for him, as Williams has the upside of fellow USC-alum Steve Smith on the Giants. Braylon Edwards is likely gone next year and Jerricho Cotchery just isn't on the same page with QB Mark Sanchez and OC Brian Schottenheimer as he was with the previous regime, so WR should be address early in this draft for the Jets.



62. Minnesota Vikings – Arthur Jones, DT, Syracuse


Viewed as a possible first-round pick coming in to the season, his stock dropped after a late knee injury with cost him appearing in the Senior Bowl or at the Combine. He is a pure run-stuffer and nice future replacement for Pat Williams.



63. Indianapolis Colts – Lamarr Houston, DT, Texas


Worked as both a tackle and end for the Longhorns, bringing the flexibility up front the Colts value. Previously considered a mid-round pick, a very good Combine performance has his stock on the rise.



64. New Orleans Saints – Toby Gerhart, RB, Stanford


The departure of Mike Bell leaves an opening for a power runner with a nose for the end zone – a good fit for the PAC-10 single-season TD record holder.

Round Three