Version 2.0 - 3/18/10.
Version 3.0 - 4/20/10.

Note: Coin flips will decide which teams pick 74th, 80th and 83rd.



65. St. Louis Rams – Daryl Washington, LB, Texas Christian


Versatile Washington can play all three spots, adding depth at a position of need and can challenge for a starting role outside.



66. Detroit Lions – Greg Hardy, DE, Mississippi


Once expected to be a Day-One pick, injuries and inconsistency last year have Hardy in a freefall. However, he's a good risk-return gamble at this point.



67. Tampa Bay Buccaneers - Jon Asamoah, G, Illinois


The Bucs Tackles are solid to serviceable, but their interior offensive line could use some help.



68. Washington Redskins – Kyle Calloway, OT, Iowa


Three years of starting experience, not to mention his 6-7 315 lb frame, makes Calloway an attractive addition to the Redskins who could use help on the offensive line.



69. Kansas City Chiefs – Damian Williams, WR, Southern California


Chris Chambers is a free agent and Dwayne Bowe has struggled to get on the same page with HC Todd Haley. The depth chart after Bowe is thin on talent making receiver a prime need for Kansas City.



70. Philadelphia Eagles (from Seattle Seahawks) – Morgan Burnett, S, Georgia Tech


It has been musical chairs at FS, where Sean Jones couldn't secure the job. Burnett could make an immediate impact in the Eagles secondary.



71. Cleveland Browns – Dan LeFevour, QB, Central Michigan


The Browns are likely to keep one of their two current quarterbacks (Anderson or Quinn), but they still need a developmental prospect.



72. Oakland Raiders – Micah Johnson, LB, Kentucky


An injury-riddled senior season dropped him but he's a big-hitter and the Raiders could lose an LB to free agency.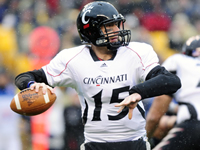 The Bills should opt for Pike instead of chasing a top gun.

73. Buffalo Bills – Tony Pike, QB, Cincinnati


The Bills should opt for the development prospect this year instead of chasing one of the top guns. Pike has one of the better arms in the 2010 class and has a classic 6-6 NFL frame. How he transitions from a spread offense to a pro-style offense remains to be seen.



74t. Chicago Bears – Rodger Saffold, OT, Indiana


An impressive Shrine Game performance lands Saffold in Chicago as they try to upgrade their offensive line again.



74t. Jacksonville Jaguars – Donald Butler, LB, Washington


Butler will not just add depth, but could challenge for a starting job. His ability to play all three linebacker positions makes him a versatile selection.



76. Miami Dolphins – Eric Norwood, OLB, South Carolina


LB Joey Porter and DE Jason Taylor could both be gone this season leaving a pass-rushing void at the end of the line. Norwood could fill the void but his ability in coverage is a question.



77. San Francisco 49ers – Mardy Gilyard, WR, Cincinnati


Gilyard is an undersized playmaker as receiver and returner. He has an opportunity to make an impact in the slot.



78. Denver Broncos – Cam Thomas, DT, North Carolina


Ronnie Fields struggled full time as the nose tackle. Thomas can at least help rest him, if not develop in to a better option.



79. New York Giants – Geno Atkins, DT, Georgia


Atkins is an undersized interior lineman with a disruptive burst of speed. He's a good fit as a role player in their defensive line rotation.



80t. Carolina Panthers – Arthur Jones, DT, Syracuse


Jones dropped in value due to a knee injury that ended his career early. He has a reputation as being a better run defender than a pass rusher but could be a solid addition to thin DT group in Carolina.



80t. Tennessee Titans – Dexter McCluster, RB, Mississippi


Cut in the mold of Darren Sproles, McCluser, a super utility back, was one of the stars of Senior Bowl. He can play running back, receiver, as well as return kicks and punts for the Titans.



82. Pittsburgh Steelers – Joe McKnight, RB, Southern California


With Willie Parker on his way out, a new speedy compliment to the pounding Rashard Mendenhall is in order and McKnight certainly fits the bill. He's a dynamic playmaker but comes with some off-field question marks.

83t. Atlanta Falcons – Jimmy Graham, TE, Miami
Converted hooper could become the next Antonio Gates under HC Mike Smith. Graham grabbed attention at Senior Bowl for his great hands and runs. He has time to develop behind Tony Gonzalez for another year or two.

83t. Houston Texans – Major Harris, S, Florida
Bernard Pollard, who joined as a free agent after being released by Kansas City, was their best safety last year. This position needs help.

85. Cincinnati Bengals – Marshall Newhouse, G, Texas Christian
Appealing physical specimen but needs development to help improve the offensive line. He was impressive at the East-West Shrine game lining up at both Tackle and Guard.

86. New England Patriots – Koa Misi, OLB, Utah
Misi is an edge 3-4 pass rusher who turned some heads at Senior Bowl. He played the bulk of his college career as a defensive end but should have no problem making the transition to outside linebacker.

87. Green Bay Packers – Thaddeus Gibson, OLB, Ohio State
Converted DE is a project after leaving school too early. He projects to be a 3-4 outside linebacker with good speed and strength, just lacks name-recognition compared to other LBs in the 2010 class.

88. Philadelphia Eagles – Toby Gerhart, RB, Stanford
The end is near for Westbrook. At 6-1 235 lbs, Gerhard is more of a bruising back and will be a nice compliment to LeSean McCoy. Gerhard led the nation with 28 rushing touchdowns and won the Doak Walker Award as the nation's top running back.

89. Baltimore Ravens – Larry Asante, S, Nebraska
Asante finished his career at Nebraska as the third-leading tackler among defensive backs and earned first-team All Big 12 honors in 2009. The Ravens young safties have been unimpressive and Asante could find himself in a starting role in 2010.

90. Arizona Cardinals – Rob Gronkowski, TE, Arizona
Local product missed last season due to a back injury, but has great upside as a security blanket for Leinart. He posted 47 catches for 672 yards and 10 touchdowns in 2008.

91. Dallas Cowboys – Darrell Stuckey, S, Kansas
Stuckley had a team-high six solo tackles and seven tackles total in the East-West Shrine Game. He has excellent top-end speed for a Safety and would add much needed depth to the Cowboys secondary.

92. San Diego Chargers – Alex Carrington, DE, Arkansas State
A small school project, Carrington is versatile enough to play end in a 3-4 or 4-3 scheme. His stock is rising after a good showing at the Senior Bowl.

93. New York Jets – Jordan Shipley, WR, Texas
Braylon Edwards should be back, but Sanchez needs more weapons. Shipley has been criticized for his lack of speed, which will likely make him a third-round pick. He'll fit nicely into a slot role in a pro-style offense.

94. Minnesota Vikings – Ben Tate, RB, Auburn
The 5-11, 218-pound back rushed for 1,362 yards and 10 touchdowns in 2008 and with Chester Taylor set to be a free agent, the Vikings could use some depth behind Adrian Peterson.

95. Indianapolis Colts – Myron Rolle, S, Florida State
How he runs at the Combine will tell if he is still a prospect at safety or a small linebacker. Rolle surprised some by declaring for the draft in 2009. He's extremely athletic and has good instincts for the game. Expect him to get a bump in value if he shows well at the Combine.

96. New Orleans Saints – Jason Worilds, DE, Virginia Tech
Worilds was named second team All-ACC the last two years and decided to forgo his senior year of eligibility to enter the NFL Draft. He'll try and demonstrate at the Combine whether or not he can play the outside linebacker position in a 3-4 defensive alignment.

Round One