Version 2.0 - 3/18/10.
Version 3.0 - 4/20/10.

Note: Coin flips will decide which teams pick 42nd, 48th and 51st.



33. St. Louis Rams - Colt McCoy, QB, Texas


If the Rams acquire a veteran like Michael Vick or Jason Campbell, they still need a development prospect at QB. If they don't, the urgency becomes greater to add a QB with this pick. I'll assume the latter scenario, because McCoy is a bit of a reach here.



34. Detroit Lions - Patrick Robinson, CB, Florida State


Robinson has first round talent, but may fall out due to inconsistency and not being an impact player. Detroit is happy to add him here to help their desperate situation at corner.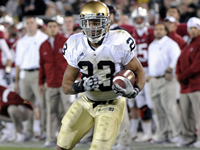 Tate is be a much-needed weapon for QB Josh Freeman.

35. Tampa Bay Buccaneers – Golden Tate, WR, Notre Dame


With reliable hands and elusiveness in space, Tate is the perfect fit for what the roster currently lacks and a much-needed new weapon for their young QB.



36. Washington Redskins - Vladimir Ducasse, OT, Massachusetts


After gambling on a franchise QB with their first pick, the Redskins will be happy to find some help to keep him vertical with this pick. Ducasse is a project from the Football Championship Subdivision (aka FCS, aka Division I-AA) who has the size and physical attributes, but needs to develop.



37. Kansas City Chiefs - Brandon Spikes, ILB, Florida


Name recognition has Spikes valued higher by many, but unless he demonstrates some unexpected elite athleticism at the Combine, he's more of a two-down thumper. Good fit inside for new DC Romeo Crennel's defense.



38. Seattle Seahawks – Charles Brown, OT, Southern California


The gamble on C.J. Spiller with their second pick of the first round pays off for new HC Pete Carroll as he lands one of his former players to help fortify the line in Seattle. Brown is definitely one the low end of the top tier of offensive tackles, but a solid option here.



39. Cleveland Browns – Corey Wootton, DE, Northwestern


After getting the playmaker for the secondary in the first round, time to deal with lots of needs in the front seven. Wootton looked like a potential first round pick in 2008, but tore up his knee in their bowl game and then battled ankle problems on road back last season. Definitely passes the eyeball test with the ideal size and build for a 3-4 end.



40. Oakland Raiders - Terrence Cody, DT, Alabama


Cody saw his draft stock fall as he showed up tipping the scales at 370lbs. Al Davis will have visions of Ted Washington when he gets a look at this guy and overlook the risk.



41. Buffalo Bills – Ricky Sapp, OLB, Clemson


Undersized for DE at the next level, Sapp can use his quickness and athleticism to develop in to a solid pass rusher. With Bills converting to a 3-4, they need some players who fit the scheme.



42t. Tampa Bay Buccaneers (from Chicago Bears) - Devin McCourty, CB, Rutgers


Someday Ronde Barber will retire (probably) and depth at corner is a problem, so a zone coverage corner with decent size and good speed who is outstanding on special teams would be a great addition here.



42t. New England Patriots (from Jacksonville Jaguars) – Aaron Hernandez, TE, Florida


With Ben Watson likely to leave via free agency, HC Bill Belichick needs another player to pair with Chris Baker in his two-TE sets. Hernandez isn't much of a blocker, which may be a problem, but he was the top receiving TE in the country last year.



44. Miami Dolphins – Brandon LaFell, WR, Louisiana State


The top senior WR prospect in the draft was bypassed by a caravan of underclassmen that pushed him out of the first round, but in to a great fit with Miami. He doesn't have elite speed, but is the big target QB Chad Henne needs.



45. San Francisco 49ers – Brandon Graham, OLB, Michigan


The undersized tweener turned heads at the Senior Bowl and while draftniks and pundits raced to move him up draft boards, the reality of his limited size and measurables will knock him back down a bit at the Combine. That doesn't mean he can't be the next Elvis Dumervil, just that he won't be drafted that high by most teams that will point to physical limitations before investing that much in him. HC Mike Singletary is definitely a guy who goes by what he sees on the field over crunching numbers and won't hesitate to scoop Graham up if he falls here to help his pass rush.



46. Denver Broncos – Lamarr Houston, DT, Texas


Houston has already seen work as an end in some 3-4 sets with the Longhorns, the role which he'll move to full time in Denver. After ignoring their down linemen in last year's draft, the Broncos will be looking for some impact players for the whole front seven in this draft.



47. New York Giants – Jahvid Best, RB, California


Despite plenty of options, the running game struggled for the Giants last year. Best brings a different skill set than any other runner on their roster, with home run speed and plenty of utility.



48t. Carolina Panthers - Demaryius Thomas, WR, Georgia Tech


A raw prospect who didn't see much work in Tech's run-heavy offense, he is a big target with good hops and nice YAC – the perfect complement to Steve Smith.



48t. New England Patriots (from Tennessee Titans) – Tim Tebow, QB, Florida


Few coaches have the job security to spend an early pick and figure out what to do with Tebow later. There is plenty to like about Tebow – he is an impressive physical specimen and his leadership and intangibles are off the chart. Belichick has the luxury of taking time to see if he can develop Tebow into a pro QB, while finding ways to work him in certain packages for short-term return. You know Tebow will be dedicated and put the work in, so it won't be for lack of effort if it doesn't work out. This pairing is actually a no-brainer, the question is does Belichick see enough upside to make the move. RB Jonathan Dwyer is another possibility here.



50. Pittsburgh Steelers – Mike Johnson, G, Alabama


Owner Art Rooney II has called for the team's offensive philosophy to return to running more. While he won't be play calling on Sunday's like Jerry Jones might if he issued such an edict, you can expect the message was received. Johnson helped pave the way for Heisman Trophy winner Mark Ingram and would upgrade the weakness on the interior line of the Steelers.

51t. Kansas City Chiefs (from Atlanta Falcons) – Chad Jones, S, Louisiana State
After passing on Eric Berry in the first round, GM Scott Pioli adds the versatile big safety from LSU who adds value as a returner, as well.

51t. Houston Texans – Jonathan Dwyer, RB, Georgia Tech
During a injury-plagued sophomore slump by Steve Slaton, HC Gary Kubiak struggled to find any consistency from a variety of runners he paraded in and out of the lineup. While I think Slaton will bounce back, the episode proved the team needs a reliable second option, preferably a Thunder to Slaton's Lightning. Dwyer is the perfect fit. His numbers were down, as Tech's option offense afforded plenty of carries to Anthony Allen and mobile QB Josh Nesbitt, but Dwyer was no less impressive. A future feature back, he is a steal in the second round.

53. Cincinnati Bengals – Nate Allen, S, South Florida
The injury-plagued safety position needs to be improved even if all the principles are healthy this year.

54. New England Patriots – Amari Spievey, CB, Iowa
Spievey lacks elite speed, but one of the most physical corners in the country is an extremely overlooked prospect that is a great fit for HC Bill Belichick's system at a position of need.

55. Green Bay Packers – Dominique Franks, CB, Oklahoma
The Packers need to inject some youth behind aging, chronically-injured starters Charles Woodson and Al Harris.

56. Philadelphia Eagles - Navorro Bowman, LB, Penn State
Local boy can bring some consistency and quality depth to an LB corps that was exposed when hit by injuries.

57. Baltimore Ravens – Brandon Ghee, CB, Wake Forest
A physical defender with good speed, but needs to learn how to cover, upgrades their patchwork group of corners.

58. Arizona Cardinals – Selvish Capers, OT, West Virginia
Three starting offensive linemen are free agents and declining LT Mike Gandy among them is likely to not return.

59. Dallas Cowboys – Sean Lee, ILB, Penn State
Depth needs to be addressed at the inside linebacker position.

60. San Diego Chargers – Ryan Matthews, RB, Fresno State
Last year's leading NCAA Division I rusher becomes the compliment to Darren Sproles with the expected departure of LaDainian Tomlinson.

61. New York Jets – Donovan Warren, CB, Michigan
With Lito Sheppard and Donald Strickland likely out, depth at corner is a high priority need for the Jets.

62. Minnesota Vikings – Kareem Jackson, CB, Alabama
A torn ACL late in the year by Cedric Griffin could prevent him from starting the season healthy and depth at corner is a concern for Minnesota regardless.

63. Indianapolis Colts – Tyson Alualu, DT California
Alualu is a high motor guy is type of player GM Bill Polian excels at finding on defense.

64. New Orleans Saints – Anthony Dixon, RB, Mississippi State
Pierre Thomas and Mike Bell are free agents, while rumors (prior to their Super Bowl victory) swirl that Reggie Bush is gone unless his contract is renegotiated to a lower cap number. Bottom line is the running game in New Orleans is likely to need new faces this year.


Round Three