Bye Weeks: Detroit, Houston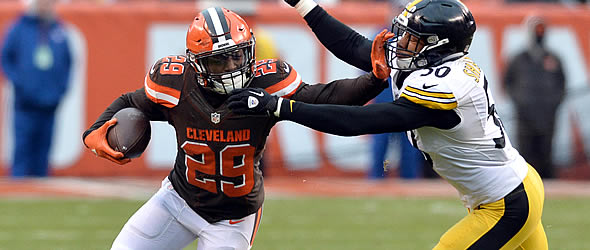 Duke Johnson ranks 37 spots higher than running mate Isaiah Crowell in standard scoring leagues.
Grab a Helmet

Duke Johnson v. TEN: The Kevin Hogan experiment was predictably calamitous and, apparently, short-lived as DeShone Kizer will be back under center for the Brownies Sunday. That may not be great news for Cleveland fans (Iím guessing theyíre used to it?), but itís great news for fantasy GMs who own The Duke. In his last three games working with Kizer, Johnson, a running back in name only, has averaged six receptions, 82 yards from scrimmage, a touchdown, and 14+ points per contest. Even accounting for the 3.9 he tallied last week and the 2.0 he notched in Week 1, heís still the 12th best points producer at the RB position. This despite carrying the ball only 21 times all year andÖyou know, playing for Cleveland. Iím not sure they win a game this season, but Johnson could win you some big ones if he keeps performing like this. Start him.

Alvin Kamara @ GB: His former teammate grabbed all the headlines last Sunday, but Kamara demonstrated with ten carries, double what heíd previously received, why the Saints may have ultimately deemed Adrian Peterson expendable enough to ship off to the desert. The former Tennessee Vol rushed for 75 yards, a career high, in the Saintsí wild 52-38 win and displayed uncommon athleticism when he leaped over Detroitís Darius Slay on a red-zone sweep in the third quarter. Google it if you missed it. Heís averaging almost seven yards per touch now and seems to be in line for about 15 touches per game now that ADís moved on. That equates to triple digit yardage which, when added to a touchdown here and there, should prove fairly useful moving forward. Consider him a poor manís Tevin Coleman who can even possibly be used in tandem with Mark Ingram in deeper leagues.

LeGarrette Blount v. WAS (Mon): The Eagles are flying high at 5-1, meaning folks have mostly forgotten Doug Pedersonís asinine Week 2 game plan which featured exactly ZERO rushing attempts for Blount and, not surprisingly, the only loss of the season. Talk about outsmarting oneself. If we add the assumed 8.9 points (Blountís per-game average) to his 2017 total, heíd be sitting at No.12 overall in the running back ranks, not bad for a guy who plays barely half the snaps and hasnít touched the ball more than 17 times in one game this year. That isnít likely to change according to Coach Pederson, making Blount strongly dependent on a robust per-carry average and touchdowns. Heís looking good on that first part (his 5.6 per-carry average is good for fifth overall), but could use a few more six-pointers to really cement must-start status. I think he gets one Monday night.
Grab a Gatorade

Alex Collins @ MIN: I picked up Collins a couple weeks back for a song, reasoning the most efficient back in the league (6.4 yards/carry) would eventually earn most of the carries in an otherwise moribund Baltimore offense. He now has (15 to Buck Allenís 10 in Week 6, a season high), but I still canít convince myself to pull the trigger and actually start him. Whatís holding me back? Itís two things, actually. First, heís getting no looks in the red zone, likely because he hasnít completely earned back Coach Harbaughís trust after an early season fumbling problem. SecondÖwell, that fumbling problem. If he lays another one on the carpet, he could very well be standing next to Harbaugh for an extended period of time. Eventually, Iíll give him some run, but a Week 7 matchup with the Vikings front doesnít seem like the ideal matchup. Wait on him.

Jonathan Stewart @ CHI: The list of folks who outscored Stewart last week includes every NFL running back who touched the football and all of those who didnít (not to mention everybody watching at home). The former Duck (GO DUCKS!!!) gained an embarrassing -4 yards on eight carries and also dropped a screen pass into the hands of a Philadelphia defender. It marked the second brutal performance in a row for J-Stew (18 carries for 21 yards the week prior), though it bears mentioning his teammates didnít fare much better on the ground. In fact, on the year, Carolina backs are averaging a meager 2.8 yards/carry, far and away the worst figure in the league. Systemic problems with the scheme or along the offensive line are possibly to blame, but the only trustworthy running back option in Charlotte right now is Christian McCaffrey, who contributes heavily in the passing game.

Orleans Darkwa v. SEA: Darkwa authored one of the unlikeliest 100-yard efforts in recent memory last Sunday night, running over, around, and through a Denver defense that, prior to last week, had only allowed about 42 rushing yards per game. This against the likes, no less, of Melvin Gordon, Zeke Elliott, Shady McCoy, and Marshawn Lynch. Darkwa's 117 yards, in other words, was a full 60+ yards more than any other back had been able to manage against the Broncos all season. The Tulane product looks to catch lightning in a bottle this weekend against the Seahawks, but the odds of him reproducing that effort seem remote. Seattle's not nearly as stout against opposing rushers (about 100 yards/game), but they still possess a fearsome front seven and won't be losing sleep thinking about how to contain Odell Beckham Jr. or the once-dangerous Giants receiving corps. Be very suspicious of Darkwa.


Quarterbacks | Running Backs | Wide Receivers