Bye Weeks: N/A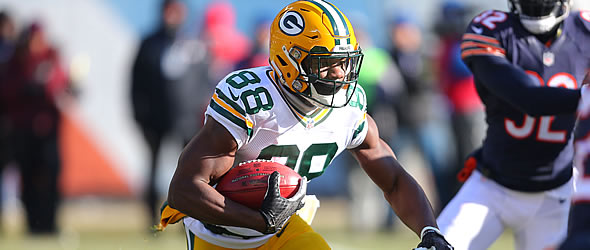 Ty Montgomery was on the field for 90 percent of the Packers offensive plays in Week 1.
Grab a Helmet

Javorius Allen v. CLE: Your league mates are busy scrambling after Tarik Cohen and Kerwynn Williams, most likely, but for my money, Buck Allen is just as interesting a waiver wire target and probably comes cheaper. The former Trojan wasnít even a consideration in fantasy circles a week ago, but got thrust into a prominent role in the Ravensí offense after Danny Woodhead pulled a hammy early in the win against Cincinnati. How prominent? Only four RBs carried the football more in Week 1. Game flow definitely dictated some of that, but what most intrigues me about Allen is what he didnít demonstrate at all last Sunday, his pass-catching chops. He tallied 45 receptions as a rookie (2015) and even authored a 12-reception day against Miami in Week 13 of that season. Heís not an auto-start but I like him to get plenty of work against the Browns this Sunday.

Marlon Mack v. ARZ or Chris Carson v. SF: The short list of sure thing running backs is one name shorter in Week 2 (David Johnson), so itís time to start thinking about next-man-up options before your league mates do. The Colts think they have a gem in the training camp darling Mack, a fourth-round selection in Aprilís draft. Though he wasnít terrific last Sunday in the blowout loss to the Rams, he did manage 11 touches (same as starter Frank Gore) and scored once (should have been twice). Meanwhile, Carson, a seventh round pick, ended up being the Seahawksí most productive back against Green Bay (six carries for 39 yards) and is rumored to be in line for more attention against San Franciscoís iffy run stoppers. If you lost Johnson and werenít able to nab this weekís waiver wire darlings, think about these two under-the-radar rooks. They could definitely surprise.

Ty Montgomery @ ATL: Iím biased, yes, but it still puzzles me Montgomery received so little love from prospective GMs and pundits heading into this season. Sure, he was trying to pull off one of the more unusual position switches in NFL history. Sure, the Packers drafted three RBs, ostensibly to identify a more traditional workhorse and/or complementary piece. Sure, heíd only tallied a single 15+ carry performance in his brief career at the position. Actually, make that two now. Facing arguably the best defense heíll face all year, the former wide receiver notched 19 carries, 54 rushing yards, a score, and 39 more yards receiving in the Packís victory, the kind of all-around performance folks like me expected when we drafted him. Heíll have some ups and downs along the way, certainly, but Iím betting on more of the former than the latter. Start him against Atlanta Sunday night.
Grab a Gatorade

Jonathan Stewart v. BUF: 30ís the new 60 for NFL backs, but somebody forgot to tell J-Stew, whoís been plying his trade in Charlotte now for ten years. The former Duck (GO DUCKS!!!) hasnít played a full season since 2011, but if you take out two especially injury-plagued years, 2012 and 2013, heís been remarkably consistent, averaging about 9.5 points/game. I think he could post those kinds of numbers again this season, even with Christian McCaffrey in the fold, but there will be better matchups than this Sundayís. Sean McDermott, Carolinaís former defensive coordinator, has reclaimed the defensive front Rex Ryan tried to wreck by reverting to a 4-3 scheme, a more natural fit for the talent in place. The results through several preseason games and one real one have been quite promising. I like McCaffrey lots more than Stewart this week, even though the latterís a red zone hog.

Adrian Peterson v. NE: ADís Minnesota homecoming was an unmitigated dud last Monday night, punctuated by a weird sideline exchange with coach Sean Payton that quickly made the rounds on the interwebs. It certainly looked heated (though both parties deny it) and thereís no mistaking the look on Petersonís face: exasperated. I guess I would be too if I only managed six total touches in such a personally meaningful contest. To be fair, Coach Paytonís Belichick-ian running back usage seemed too clever by half, though maybe heís discovered something Peterson simply hasnít or canít accept, that heís more once great than great at this stage of his career. Drew Brees will be slinging it all afternoon to keep up with Tom Terrificís Pats, so leave the former Viking on your bench. He wasnít very involved Monday as a runner but even less so as a receiver (one target).

Carlos Hyde @ SEA: Iíve always liked Hyde's size and skill set, but he seems like the type of back who will turn out decent career numbers only to disappear, probably sooner rather than later, into running back oblivion. His timing is mostly to blame for this relative lack of notoriety/relevance as the once-proud Niners have fallen on hard times of late. Save for an 8-8 campaign his rookie season, the last of the Jim Harbaugh era, San Francisco has won only seven games in two seasons, only four of which the oft-injured Buckeye has participated in. They don't figure to make it eight and five, respectively, against a tough/angry Seattle team Sunday. Hyde was efficient in the Week 1 loss to Carolina (15 touches for 77 total yards) and could be again. I suspect he and the Niners will fall desperately behind, however, limiting overall upside. Sit him down.


Quarterbacks | Running Backs | Wide Receivers