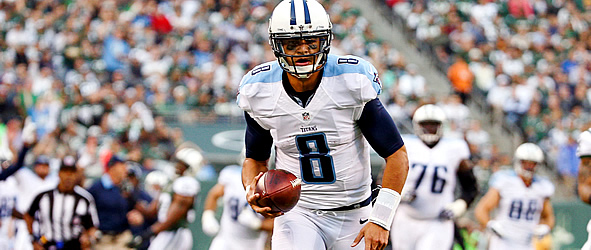 Marcus Mariota performed like a QB1 in five out of the twelve games he played in last season.
QB Marcus Mariota
(2015 QB Rank – No.24, 21.2 FPts/G)
Considering the lack of quality depth around him, Marcus Mariota had a good rookie year. The Titans have made it their goal to improve the supporting cast on offense and they've certainly made an effort at the running back position. The optimism is being fueled by the offense's moniker of #ExoticSmashmouth and true battles are being played out at both the running back and wide receiver positions. The offensive line was helped by the No.8 pick in this year's draft, Jack Conklin. He's being deployed at right tackle while free agent acquisition Ben Jones is viewed as an upgrade at the Center position. On the outside, Tennessee added the dynamic Rishard Mathews to veteran Kendall Wright and developing Dorial Green-Beckham. The outlook for this trio is promising but somebody will need to step into a playmaking role in order for Mariota to emerge as a worthy fantasy starter. The improvements to the running game should also translate into more scoring drives and potentially less mistakes by the quarterback. As a result, it's fair to project more consistency and a few more touchdowns out of Mariota's sophomore campaign. Matt Cassel will take over for Matt Hasselbeck as the grizzled backup QB with diminishing skills. Cassel wasn't very effective in eight games with Dallas last season and more of the same is to be expected if called upon this year.
RB DeMarco Murray
(2015 RB Rank – No.18, 9.6 FPts/G)
The team's off-season plan to build an offense around Marcus Mariota was set into action when the team pulled off a trade to acquire DeMarco Murray. This was seen as mostly a salary dump for the Eagles and a buy low situation for Tennessee. Considering the lack of a consistent force in the backfield throughout the 2015 season, it is a good gamble for the Titans and raises the fantasy potential of the entire offense in the process.
It would have been tough for any running back coming off a 2014 campaign with almost two season's worth of touches (450!) to be a success the following year, let alone working in Chip Kelly's up-tempo offense. In fact, it's somewhat amazing that Murray was able to register over 230 touches and avoid serious injury in the process. While plenty of fantasy managers will want to focus on the decline of Murray in Philadelphia, those who look towards the future will anticipate a rebound. And it could be huge. The offense is deeper across the field and the coaching staff is drooling over the possibility to have one guy take over the majority of the carries. That's a rare commodity in fantasy leagues and one that is not being valued in current drafts. Murray's injury risk is real and prevents the ex-Eagle from being a lottery pick. Nonetheless, his only competition is from a talented rookie with a limited skill set and a slew of complementary pieces that have failed to deliver when given the chance. Even if you don't think Murray is capable of returning to elite RB1 status he is in an ideal situation to earn a profit on his current fourth round price tag.
RB Derrick Henry
(2015 RB Rank – N/A)

The Titans landed the reigning Heisman Trophy winner Derrick Henry in the second round of this year's draft. He joins the growing list of Alabama rushers in the NFL and fits the mold of today's early-down running back. Most importantly, he strengthens the between the tackles rushing abilities of a team that had the fewest rushing first downs (66) in the entire league during the 2015 regular season. There is little doubt that Tennessee is hoping its new "thumper" can complement DeMarco Murray to help wear down defenses and take some pressure off their young quarterback. His fantasy forecast, however, does not carry as much optimism for 2016. He is not a threat in the passing game and many scouts have questioned his ability to pass protect coming out of college. He could find himself in a featured role if something happens to Murray so he will be an option for anyone interested in carrying a handcuff. Realistically, he is a low end RB4 with flex upside if the team decides to feature him near the goaline.
RB Antonio Andrews
(2015 RB Rank – No.46, 6.2 FPts/G)
Antonio Andrews wasn't expected to be much of a factor in the rushing game last year, but the former undrafted free agent was the best of an underwhelming group leading the team with 520 rushing yards. The coaching staff certainly gave him an 'A' for effort but their real feelings were conveyed by investing heavily in a position during the off-season. Consequently, the Titans are pushing their 2015 starter of ten games into a true reserve role. Bishop Sankey and Dexter McCluster will battle to be the backup on passing downs while second-year player David Cobb tries to keep his roster spot in a crowded backfield. With DeMarco Murray and rookie and Derrick Henry ahead of him on the depth chart, Andrews is an in-season free agent pick in redraft leagues.
WR Kendall Wright
(2015 WR Rank – No.74, 6.1 FPts/G)
A former first round pick back in 2012, Kendall Wright continues to frustrate coaches, quarterbacks and fantasy owners ever since the 94-1079-2 statline he posted in 2013. Despite high expectations from the coaching staff, Wright has competition to be the team's most productive fantasy wideout in 2016. He doesn't provide much touchdown potential nor does he blow the top off the defense on a consistent basis. The fact that the coaching staff may insert him into the slot further dampens his fantasy outlook. Perhaps the motivation of being a pending free agent at season's end will provide an extra spark in Wright's game to see him emerge as a more popular target for Marcus Mariota. The new regime in Tennessee is focused on getting more production from its receivers and Wright is in the mix but the leash is short… on the plus side it does remain attached. Fantasy owners should consider the Titans' passing attack a fluid situation and make a point to check back often to gauge the value of Wright and his teammates.
WR Dorial Green-Beckham
(2015 WR Rank – No.55, 5.6 FPts/G)
The largest ceiling of the Tennessee's receiving corps belongs to Dorial Green-Beckham. However, figuring out his floor will make you think twice before investing. DHB has the ability to get down the field to make plays as well as "post up" cornerbacks in the end zone. The makings for a truly gifted fantasy WR1 are all present if he can develop his route running enough to become a factor in the short and intermediate passing game. So far, the team has not been giving DHB looks with the first team at the outset of off-season workouts. He will have plenty of opportunity to push for a larger role in the offense throughout the course of training camp and the preseason so fantasy owners shouldn't overreact. It is very possible that DHB rides a wave similar to Allen Robinson a year ago, overcoming obstacles to be the team's top play-maker on offense. He's a great lotto ticket in the middle of the draft-especially for owners in three-wide receiver leagues. However, he could just as easily be squeezed out of regular snaps and be a part time player on a conservative offense. The range of realistic outcomes for DGB is high.
WR Rishard Matthews
(2015 WR Rank – No.48, 8.2 FPts/G)
Of Tennessee's top three receivers, Rishard Matthews was the most valuable fantasy commodity in 2015 and he feels like the safest bet to produce given the team's desire to sign him as a free agent. He offers more athleticism and a better fit for the short to intermediate routes that this offense has lacked. He has a good chance to earn a starting job but until his true usage and targets shake out it will be tough to accurately assess Matthews' fantasy value for 2016. Likewise, he is currently the first Titans receiver off the board in standard 12-team leagues. Tajae Sharpe is a rookie receiver out of UMass that will also be in the mix in the large battle at the position. His presence with the first team during OTAs appears on the surface to be a motivational ploy directed at Dorial Green-Beckham. Nonetheless, the team is high on the youngster and he may prove to be a long term option in the slot if Kendall Wright leaves in free agency next season. Harry Douglas and Justin Hunter are hanging around but the coaching staff seems to be abiding by the "out with the old, in with the new" adage at the receiver position. Tennessee could look to strike a deal or outright waive Douglas or Hunter before Week 1.
TE Delanie Walker
(2015 TE Rank – No.15, 6.3 FPts/G)
Delanie Walker proved once again that tight ends paired with rookie quarterbacks are a solid bet to make for fantasy owners. Of course other factors weighed in to create the perfect recipe for a 20-percent increase in targets as well. For instance, the lack of any semblance of a ground game or reliable target among the wide receivers meant that when the offense needed a first down it looked for Walker. And look for him they did as he posted career highs in receptions (94) and yardage (1088) in 2015. If things go according to plan, that won't be the case this year. As the offense has gotten deeper and stronger, the need for Walker to be the one stop cure for every situation has been spread out-especially inside the twenty-yard line. The team now has two capable running backs to turn to when in the red zone. Additionally, the Titans would be unwise to keep DHB on the sidelines in those packages as well. All indications are pointing to more blocking and less receiving in the Titans' ball control scheme. Be careful not to set your expectations for Walker too high in 2016 but don't sell him short. As Marcus Mariota's favorite safety valve, he remains one of the most targeted TEs in the NFL.