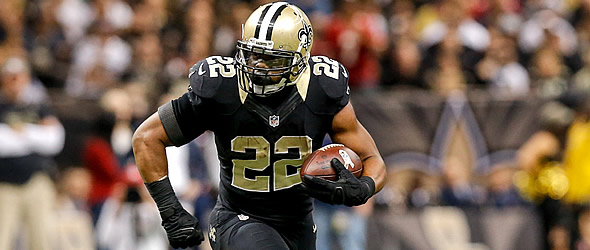 Health risk: A full season void of injury could land Mark Ingram (50 rec in 2015) in RB1 territory.
QB Drew Brees
(2015 QB Rank – No.6, 25.3 FPts/G)
Drew Brees has been one of the most consistent players in the fantasy realm for over a decade, yet there will be ample opportunity to buy him at a reasonable price heading into the 2016 season. On the surface, it is easy to write off the New Orleans veteran quarterback due to his advancing age (37) and three-year decline in total passing touchdowns and yardage. He also failed to finish amongst the top three fantasy QBs for the first time since 2005. Although it is hard to imagine Brees rebounding to elite status at this point in his career his "regression" may be getting overblown. This is not a case where a good quarterback has entered decline, but one where an elite option has seen his numbers fall back towards the pack. He finished 2015 as a top three fantasy quarterback on a points-per-game basis by throwing for more yards than anyone else while playing one fewer game than his peers. The quarterback position is tougher to navigate in today's pass-happy NFL. Not only are the gaps between tiers closer, but the number of options within each tier have grown in the past year as well. Fantasy owners who choose to wait and watch the more popular flashy names come off the board will likely find themselves scooping up a boring old top six fantasy option.
Luke McCown is currently slated to open the season holding the clip board for New Orleans. He could become a plug and play option if forced to fill in on a short-term basis. However, the team has been very pleased with the progress of 2015 third rounder Garrett Grayson this off season. Grayson is raw and untested at the NFL level but will be given every opportunity to overtake McCown as the primary backup. He is on track to take over for Brees as the team's quarterback of the future and carries speculative value in dynasty formats.
RB Mark Ingram
(2015 RB Rank – No.15, 12.8 FPts/G)
For a player who has notched YPC of 4.9, 4.3 and 4.6 over the past three years, Mark Ingram has yet to be the fantasy beast he resembles. The Saints tried to limit the pounding he took last season by giving him more than 15 carries only five times (out of twelve games played). To offset those touches, Sean Payton utilized his top runner more in the passing game to a resounding success. Ingram's prowess as a pass catcher saw his reception total hit 50 without playing a full season. The talent and opportunity to produce RB1 numbers is undeniable, however his health woes cannot be overlooked. He's missed at least three games in all but one of his five years as a pro and went over the 100-yard rushing threshold only once in 2015. Nonetheless, even risk-averse owners may want to take a chance on the enormous upside. Ingram is now entering his prime and rates as a top ten fantasy running back when healthy in all formats. He has virtually no competition to take over his starting job and plays in an offense that loves to rush the ball inside the red zone. His injury history will push him down draft boards and smart Ingram investors will add roster protection through the use of a handcuff or complementary depth at the position.
RB Tim Hightower
(2015 RB Rank – No.54, 12.4 FPts/G)
Tim Hightower's re-signing this off-season adds some intrigue to deep fantasy leagues. Hightower will be worthy of handcuff consideration after the team let Khiry Robinson depart via free agency and a lack of commitment to C.J. Spiller. When given a shot after Ingram went down late in the 2015 season, Hightower not only ran well, but chipped in nicely in the passing game and notched four scores in the process. If he can continue to produce and earn the confidence in Sean Payton, he could be worked into the rotation as a way to keep Mark Ingram healthy later into the season.
RB C.J. Spiller
(2015 RB Rank – No.74, 3.6 FPts/G)
Flop. Dud. Bust. All can be used to describe the down turn of C.J. Spiller's career. He remains in the mix for New Orleans but has not shown the explosiveness that made him an effective runner at Clemson and in Buffalo. Without a clear path to regular playing time, an inability to be effective in recent years and added talent to the roster fantasy owners will want to keep their distance from Spiller on draft day.
Travaris Cadet serves as depth in both the running and passing attack. If the team loses all confidence in Spiller, Cadet could see a few more opportunities. Daniel Lasco was added in seventh round of the 2016 draft. The rookie out of Cal recovered from a hip injury to post eye-popping numbers at the Scouting Combine. He fits the typical explosive play-making outside-the-tackles type of runner New Orleans has coveted over the Sean Payton era but will be need to prove himself on special teams before climbing the depth chart.
WR Brandin Cooks
(2015 WR Rank – No.12, 10.6 FPts/G)
After a slow start to his sophomore campaign Brandin Cooks settled into his role as the Saints' top receiving threat. From Week 7 on Cooks averaged 12.8 fantasy points-per-game, easily placing him amongst the top fantasy receivers. He stands out when compared to the other receivers being taken around his current ADP of 3.08 considering his situation. Working in a pass-heavy offense with an efficient quarterback at the helm; there is little reason to doubt Cooks' ability to repeat his success. The quality of the depth chart under Cooks has improved yet he still stands a fair chance at seeing his targets inch upwards as he gains more confidence in his third year. Value him as a WR2 who will moonlight as your team's top receiver a handful of times throughout the season.
WR Willie Snead
(2015 WR Rank – No.35, 7.8 FPts/G)
Willie Snead quietly emerged as a consistent depth play for fantasy owners in 2015. Although he only found the end zone three times all year, he was nearly able to turn 100 targets into 1000 receiving yards as a rookie - no small task. He lacks the ceiling of Cooks or Coleman and faces more possession type competition on the roster in the form of Coby Fleener and Michael Thomas. Nevertheless, he remains a starter in an offense that passes the ball over 600 times and would assume a larger role if Cooks was sidelined for any length of time. Considering his low acquisition cost, Snead should once again provide a useful depth option for fantasy owners to consider late on draft day.
WR Brandon Coleman
(2015 WR Rank – No.80, 3.4 FPts/G)
Brandon Coleman notched a modest but unspectacular rookie season in 2015. His 15.1 yards per catch provided fantasy owners a hint at his potential fantasy upside with Brees leading the Saints passing attack. Coleman has the size and talent to develop into a perfect complement to Brandin Cooks but he will need to take another step forward during the team's preseason. He may need another year before getting an opportunity to make a difference on the fantasy scene but deep league owners will want to monitor him closely.
WR Michael Thomas
(2015 WR Rank – N/A)
The Saints used their second round pick on a player they hope will replace the size they lost when Marques Colston retired. He is slated for a unique slot role in the offense that will allow him to use his six-foot three-inch frame to create mismatches. There are some who feel he could push Coleman for playing time out of gate so keep an eye on his progress throughout the preseason.
TE Coby Fleener
(2015 TE Rank – No.21, 4.2 FPts/G)
After years of frustrating fantasy owners in Indianapolis, Coby Fleener has taken his act to the bayou by inking a five-year pact with the Saints. He was never able to truly break out while sharing time with Dwayne Allen but will be the leading man for the Saints this season. A year ago, an old Ben Watson finished with the second most receptions and touchdowns in this offense. The Stanford alum provides New Orleans with more versatility and athleticism from the position. The situation is ripe for him to post career bests across the board. Consequently, fantasy owners will enter the fantasy year with renewed optimism regarding Fleener as a TE1 and make him a popular mid-round pick. Josh Hill returns after the team matched an offer sheet from the Chicago Bears. He will have trouble finding targets now that he is returning to a situational role in the offense.