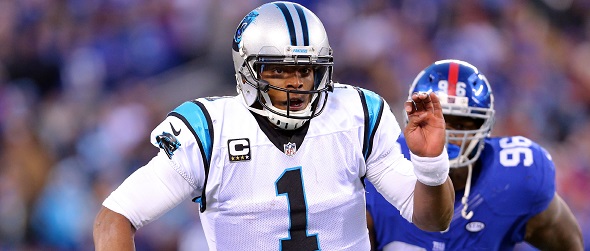 2015's Top Fantasy QB: Can Cam Newton sustain his new level of production in the passing game?
QB Cam Newton
(2015 QB Rank – No.1, 28.5 FPts/G)
Cam Newton's running abilities as a quarterback have always tantalized the fantasy community; however his arm failed to muster more than pedestrian stats in an era where passing stats have exploded. Last season, Newton and the Panthers were able to find a more efficient balance that paved the way to the Super Bowl. His dynamic approach allowed him to become one of the most consistent and highest producing fantasy players on a weekly basis. Can Newton sustain this new level of production in the passing game? Will his rushing totals decline after posting career best in rushing attempts and touchdowns in 2015? Yes and Yes. The receiving corps is stronger by getting their top man back, but veteran Ted Ginn Jr. also proved he can cut out a complementary role in the offense. The team moved up in the 2015 draft to select Devin Funchess and he looks ready to make a larger contribution with a year under his belt. Additionally, Carolina has one of the best red zone tandems in Kelvin Benjamin and Greg Olsen. Newton will deliver on the ground but it would be wise to factor in some regression when forecasting his 2016 season. The absence of Benjamin likely contributed to the approximately 30 percent increase in Newton's rushing attempts. Though the upside for double-digit scores on the ground is possible Carolina will have better supporting options available in 2016. Nonetheless, Newton figures to be a force again this season and worthy of anchoring your team on draft day.
RB Jonathan Stewart
(2015 RB Rank – No.16, 11.6 FPts/G)
Last season's injury to Kelvin Benjamin forced the team to rely on a questionable supporting cast in the passing game. The same might be true of the running game for Carolina in 2016. Jonathan Stewart can be great when healthy, but lingering injury concerns this preseason continue to cloud J-Stew's fantasy outlook. After missing time to a sprained foot and aggravating the injury not once but twice during the playoff stretch, the Panthers' top rusher is being limited during OTAs. Most teams take a cautious approach with injuries during the preseason but perhaps the injury may not be fully healed or is at risk of being an ongoing issue. In case you have forgotten, the former first-round pick in 2008 has only played 16 games once in the past six seasons. It can be argued that there isn't "competition" for carries in Carolina but options for a RBBC rotation seems almost inevitable.
RB Mike Tolbert
(2015 RB Rank – No.57, 4.1 FPts/G)
The running back depth chart may not matter much in Carolina as the team features mediocre options that will all likely be used behind Cam Newton. The injury risk associated with Jonathan Stewart will likely result in the team looking to give its other rushers more chances in 2016 but none are expected to be productive enough to secure a traditional backup role. Mike Tolbert is used more as a fullback but will be in the mix to vulture a few carries each game and perhaps a touchdown or two. He hasn't shown much in recent years but he has had useful fantasy years while working in a limited role in the past.
RB Cameron Artis-Payne
(2015 RB Rank – No.85, 5.0 FPts/G)
Cameron Artis-Payne fumbled in his last carry of the 2015 season and rode the bench over the team's final playoff games. The lack of a clear cut number two running back on the roster means he will still have a small chance to earn a more active role in 2016. At this point, his only fantasy value will reside in the deepest of leagues where he could draw one or two starting assignments if Jonathan Stewart's foot flares up again. Fozzy Whitaker has never been able to hold down a more prominent role when given the opportunity but adds another name to list of potential committee runners Carolina can deploy to keep Stewart fresh. Expect Carolina to be actively seeking running back help as roster cuts are made once the preseason schedule gets underway.
WR Kelvin Benjamin
(2015 WR Rank – N/A)
Kelvin Benjamin was one of the early injury causalities of the 2015 season following a torn ACL. The team moved on without him just fine in making the Super Bowl, yet early drafters were left scouring the waiver wire before the first week of the season. All reports on Benjamin's knee since the surgery have been positive to date. The huge six-foot five-inch receiver has been focusing on regaining strength and conditioning early in preseason workouts. Carolina fully expects him to be healthy and ready to ramp up his activities once training camp opens. Cam Newton has officially taken over as the leader of the offense as both passer and rusher. Nonetheless, Benjamin represents a huge upgrade over what the Panthers lined up on the outside a year ago. Newton may need time to rediscover the chemistry the two shared in 2014 but it shouldn't take too long before Benjamin is seeing plenty of work in the passing game. Carolina's top wideout remains outside the top ten fantasy receivers due to lower target upside than his peers and his quarterback's efficiency running the ball near the goal. If he can show the knee is fully healthy, Benjamin should reach pay dirt enough to provide his owners with quality WR2 level production. Unfortunately, anything less would not validate his current third round price tag. As a player carrying unknown injury risk and limitations in a low volume passing scheme, he may not offer investors as much room for profit unless his value drops prior to your draft.
WR Ted Ginn Jr.
(2015 WR Rank – No.25, 10.0 FPts/G)
Ted Ginn, Jr. was considered a bust as a first-rounder by many before he had even played a snap in the NFL. The first eight years of his career didn't offer much to dissuade such opinions. The early loss of Kelvin Benjamin last season didn't create much buzz as most fantasy managers passed him by for Devin Funchess. Yet the former all-purpose OSU Buckeye stepped up his play to post career highs in touchdowns (10) and yards per catch (16.8) in route to becoming a sound FLEX option for owners in deeper formats. It wasn't completely out of picture either because Ginn had success in 2013 while with the Panthers snaring five TDs and averaging over 15.0 yards per catch. At 31 years of age, he has seemingly cemented a starting role in the offense. However, his role will dissipate when Kelvin Benjamin reclaims his place atop the depth chart and his atrocious drop percentage last season (10.4%) is difficult to ignore. Without steady work, Ginn is destined to be left undrafted in most shallow formats. However, he retains some value in larger leagues, especially until training camp allows everyone to assess the progress of Benjamin's knee.
WR Devin Funchess
(2015 WR Rank – No.57, 4.8 FPts/G)
It is not uncommon for receivers to take a year or two before truly grasping the offense in the NFL. Though many were hoping to see the rookie from the University of Michigan blossom in the wake of Kelvin Benjamin's loss it simply was too early for the youngster. Fortunately, this spring has offered a glimpse of a more driven player looking to expand his role for the upcoming year. Funchess has been a standout during team activities, gaining praise from the coaching staff along the way. His fantasy upside for 2016 remains cloudy but at only 22 years of age time is on his side. He should challenge for a starting role no later than next season and gets a bump in value for dynasty leagues as a result. Philly Brown also returns to provide some deep play ability but isn't a reliable fantasy asset. Former Jet Stephen Hill is coming off a knee injury and could be a dark horse to move up the depth chart with a solid preseason.
TE Greg Olsen
(2015 TE Rank – No.4, 9.5 FPts/G)
The loss of Kelvin Benjamin (ACL) certainly helped Olsen accrue career-best receiving yard numbers. The sure-handed tight end has grown to become one of Cam Newton's favorite targets. He is one of the NFL's best at converting third downs remains one of the most consistent fantasy tight ends as he enters his tenth year in the league. The 31-year old veteran should age gracefully over the next few years but it would be wise to cap his ceiling off near his three-year average. His advancing age also makes him more likely to miss his first game since his rookie season. Ed Dickson signed a three-year deal last off season and provides the team with another veteran at the position. Beau Sandland was a 2016 draftee of the Panthers. He is a project with good size and athleticism for the position but will need to develop for a few years before becoming fantasy relevant.