QB Matt Ryan
(2015 QB Rank – No.24, 21.2 FPts/G)
Matt Ryan continues to be a good but not great fantasy quarterback. The problem is, he has been reaching his pedestrian fantasy output with the help of above average receiving targets and a completion percentage over 65 percent in each of the past four seasons. It is quite possible that we have already seen Ryan's best fantasy season (2012) as he enters his ninth year at the helm of the Falcons' offense. The yardage is right in line with the game's top passers, yet his total number of 300-yard games has decreased in each of the past three years (he notched five in 2015). The down year (QB16) didn't sit too well with Ryan because he made a point of holding his own camp this off-season to go over basic schemes and communication in the passing game to prepare for his second year in Kyle Shanahan's system.
A glass half full fantasy owner will see an upgrade on the outside with Mohamed Sanu providing far more impact plays than Roddy White could in the twilight of his career. On the inside, the addition of center Alex Mack could prove to be a difference maker not only in the ground attack but in calling out pass protections. A few more passing touchdowns and status quo everywhere else seems to be the logical projection for Ryan in 2016. A lower ceiling than most of his peers will cause Ryan to slide down many preseason rankings, but he represents a more consistent option than most other fringe starting fantasy quarterbacks (Romo, Stafford, Tannehill).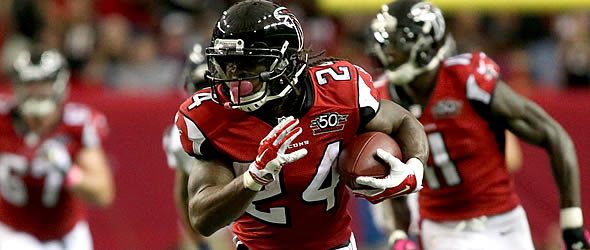 Last season's top fantasy RB still sits atop the Falcons depth chart but his usage could take a hit.
RB Devonta Freeman
(2015 RB Rank – No.1, 16.5 FPts/G)
In 2015, the Falcons reminded the fantasy community just how valuable a running back can be if given the opportunity to shoulder the majority of carries. Devonta Freeman outpaced all other fantasy horses despite barely reaching the 1000 rushing yard plateau. Tacking on an additional 73 receptions, three touchdowns and over 500 receiving yards pushed him ahead of the pack in only his second season. Unfortunately, Freeman's terrific results are not enough to keep NFL coaches from using more than one running back in today's offenses. This sentiment rings truer when the team employs another talented and capable running back. Tevin Coleman seems to have carved out a role as the team enters 2016. How expansive that role is remains to be seen.
Freeman's status atop the depth chart won't change due to Coleman, but his usage could take a hit now that the Falcons know what they have in the backfield. Additionally, the running game should get a boost if Alex Mack can solidify the offensive line. Mack is a Pro-Bowl caliber road grader when healthy. Combined with Jake Mathews and Andy Levitre, the left side of the line should provide the running game with ample room to maneuver. Considering the success Freeman experienced with last season's o-line, he has a good chance of posting another stellar fantasy season even with a decline in overall touches.
As is always the case with the top fantasy players from the season prior, Freeman is amongst the first players taken in early 2016 drafts. The real question as to whether he is a top five fantasy running back or simply a lower tier RB1 will depend on how the team chooses to divide the carries while keeping Julio Jones active in the passing game. Even with reduced touches, his opportunity and production in the red zone (most carries inside the 20 by a RB last season) keeps him in true RB1 territory.
RB Tevin Coleman
(2015 RB Rank – No.75, 3.9 FPts/G)
In the preseason a year ago, Coleman made the Falcons' backfield a two-man competition and his play during the regular season has only added more fuel to the ongoing duel for carries. Fumble issues will prevent him from pushing Freeman off the pedestal as the team's clear starter; however the coaching staff definitely wants to get the sophomore runner more involved in 2016. Fantasy owners should expect to see Coleman involved in the quick screen game. Although he only recorded two receptions last year, the former Hoosier has good enough hands to make an impact in the passing game. As an extension of the running game, the short passing attack would allow Coleman to use his game breaking speed. It is quite possible that Coleman sees his workload increase to 10-plus touches a game making him a solid RB4 with the potential to play as a RB3/Flex in Atlanta's one-two backfield punch. Considering the team's plans to emphasize their ground game, Coleman remains one Devonta Freeman injury away from being a starting running back. Consequently, he should be viewed as a premium depth option and potential handcuff target after the "name brand" starters have been taken off the board.
RB Terron Ward
(2015 RB Rank – No.101, 2.3 FPts/G)
Terron Ward is a small fireplug that made the team as an undrafted free agent a year ago. The coaching staff likes his competitive nature on a roster that lacks depth at the running back position. He would see a minor increase in touches should an injury to Freeman or Coleman occur. The team may also look to add more depth once roster sizes are reduced which could push Ward further down the depth chart.
WR Julio Jones
(2015 WR Rank – No.2, 15.4 FPts/G)
Those who bought into Kyle Shanahan as the wide receiver whisperer were rewarded by Julio Jones' huge 2015 fantasy output. As the only player to eclipse 200 targets, Jones joins Antonio Brown as fantasy football's top two receiving options entering 2016. Can he repeat his gaudy numbers again? Considering the team missed the playoffs and went 2-5 in games where Matt Ryan had 40 or more passing attempts it seems likely that the offense won't be trying to win ballgames through the air in 2016. The addition of a more capable No.2 option in the passing attack also makes it unlikely that Jones will see bulk targets as frequently as he did in 2015- he posted six games with at least 15 balls thrown his way. That doesn't mean Jones won't be a solid WR1 for fantasy purposes, however it does mean it will be tough for him to repeat last year's huge season. Atlanta is counting on Mohamed Sanu's presence and an established ground game to keep defenses from stacking coverage on Jones' side of the field. If successful, Matt Ryan should be able to take advantage of more downfield passes in Jones' direction. As a result, owners playing in "bonus" leagues that award extra points for long pass plays will want to pay a little more for Atlanta's leading receiver. Owners will have to pony up for a high-volume and consistent player like Jones; especially in PPR leagues where he should be one of the first five players drafted.
WR Mohamed Sanu
(2015 WR Rank – No.77, 3.7 FPts/G)
After giving a team leader like Roddy White a wide berth into retirement, the Falcons have struggled to fill the void opposite Julio Jones. That explains why they didn't hesitate in extending a five-year deal to Sanu in free agency. After playing second fiddle to A.J. Green in Cincinnati, Sanu switches conferences to join a scheme that should yield more than the 49 targets Sanu saw in 2015. He finds himself on a team with a compelling rushing attack, efficient quarterback and attention hogging number one receiver. His fantasy outlook places a low ceiling on his catches and yards. However, the former third-round pick from Rutgers should be able to feast on holes in defensive schemes aimed at stopping everyone but him. Considering the surroundings, Sanu has landed in a perfect spot to reach and eventually exceed his previous career bests. Before you go overboard, however, ask yourself: are the Falcons likely to boast two starting caliber fantasy wideouts a year after Devonta Freeman was the top fantasy running back? A current ADP outside the top 50 receivers seems about right as he is grouped with several secondary receivers with limited upside like Victor Cruz, Willie Snead and Mike Wallace.
WR Justin Hardy
(2015 WR Rank – No.132, 2.2 FPts/G)
Overshadowed by the Sanu signing has been the development of Justin Hardy. Chosen to be a project in the fourth round of the 2015 draft, he is the favorite to open the year as the primary slot receiver. Even if there were an injury to the teams starters, Atlanta would be more inclined to lean on its running backs than grant Hardy a more prominent role. Devin Hester has been released and the team drafted Devin Fuller in the seventh round of this year's draft class. He has been bitten by injuries in recent years, but projects as a burner on the outside.
TE Jacob Tamme
(2015 TE Rank – No.18, 4.8 FPts/G)
There just isn't too much to like about Jacob Tamme unless Peyton Manning is throwing him the ball. He isn't a true red zone threat nor is he a dynamic athlete working over the middle on a consistent basis. At this point in his career he is simply keeping the seat warm for youngster Austin Hooper. Levine Toilolo is the backup blocking tight end but fantasy owners will want to keep an eye on the use of the rookie third-rounder out of Stanford. Hooper is clearly the player to target in dynasty leagues but could also find himself with an evolving role on the offense in 2016. The coaching staff continues to view him as an asset in the passing game and will likely give him some of Tamme's snaps as he improves in practice throughout the year. He could have value late if he wrestles away the starting gig at some point during the season.