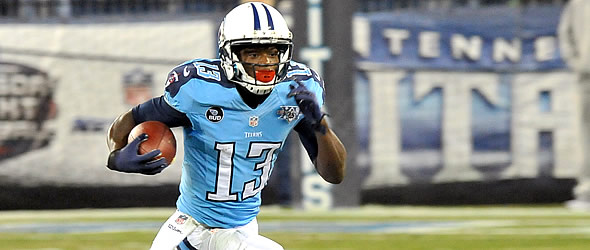 Kendall Wright's decreased role in Ken Whisenthunt's offense may not change anytime soon.
QB Marcus Mariota
(2014 QB Rank Ė N/A)
Oregon passers have a history of not panning out in the NFL in recent years and the same cloud looms over the Titansí quarterback of the future. On top of the nagging Joey Harrington comparisons are plenty of dismal rookie seasons from elite quarterback prospects. For this reason, Mariota will likely find himself as a fantasy backup in the majority of leagues. Then again, the hype machine continues to be a dominating factor to fantasy footballís preseason. The Titans are not a horrible destination for Mariota to land. The trio of Kendall Wright, Justin Hunter and Harry Douglas offers plenty of all-around talent with Delanie Walker emerging as a late-blooming tight end. The backfield situation could be better, but where the rushing attack fails the opportunity for more passing begins. Mariota may be another average Duck in the NFL, or he could be the next Dan Fouts. For 2015, heíll likely be neither, seeing his share of ups and downs being used primarily as a QB2 in the fantasy game. Zach Mettenberger figures to take another step forward as the teamís backup quarterback. He has more upside than most second-string quarterbacks, but rookies donít always pan out. Mettenberger would be worth a flyer if called into duty, but his best fantasy season isnít likely to happen with the Titans.
RB Bishop Sankey
(2014 RB Rank Ė No.42, 5.2 FPts/G)
The Titans finished the 2014 regular season ranked 26th in rushing yards per game. Although a rookie, Bishop Sankey struggled to be the focal point in the running game so much so that he never rushed for more than 61 yards in any game. Sankey finds himself atop the depth chart entering the year, and the pressure to perform is already mounting. The good news is he has the talent to succeed and make fantasy owners forget his 2014 campaign. Optimistic owners will gamble on improved patience, better blocking and more use of his receiving skills working alongside a new quarterback to regain his fantasy appeal. If Sankey does not fly out of the gates to open the season, he wonít have to look too far over his shoulder. The teamís choice to draft David Cobb was not only made to add a complementary runner to the fold, but also because the coaching staff is hedging their bets on whether Sankey can be the lead back moving forward. For now, Sankey remains the lead option in the Titansí RBBC approach and a RB4 or flex option for fantasy purposes depending on the depth of your league.
RB David Cobb
(2014 RB Rank Ė N/A)
Drafted in the fifth round this year, David Cobb is the replacement for Shonn Greene, who was released last month. Known as a sturdy runner between the tackles and great in pass protection, Cobb joins a young, talented offense. Although a RBBC seems inevitable in Tennessee, Cobb has the upside to garner more than just goal-line duty, making him an interesting fantasy asset heading into the season. This battle likely wonít be won until midseason, but considering the fact Sankey was given more than 10 carries only five times in 2014, the door is more than cracked open. Cobb still needs to prove himself at the NFL level but remains a player to watch as the preseason unfolds. Looking further down the depth chart, there doesnít appear to be a whole lot of competition behind Cobb.
RB Dexter McCluster
(2014 RB Rank Ė No.66, 4.0 FPts/G)
McCluster has never been able to truly fill the niche role of being a hybrid runner/receiver for the Titans and that isnít likely to change in 2015. The team actually reduced his role in the offense a year ago, which says a lot considering Greene was playing on two bad knees and Sankey was unable to break away from anyone. What is most disturbing is the lack of targets he received in the passing game. After coming off back-to-back 50-reception campaigns, he only was only able to muster 26 in 2014, a far cry from being a PPR flex option during those big mid-season bye weeks. Unless something drastic happens, heíll once again take up permanent residency on the waiver wire this season. Antonio Andrews is a second-year player out of Western Kentucky who spent most of last season on the practice squad. Heís hoping to make a splash in a thin backfield during training camp.
WR Kendall Wright
(2014 WR Rank Ė No.35, 8.1 FPts/G)
Talk about limiting a guy! Kendall Wright should be getting 93 receptions a year, not 93 targets. The 2012 first-rounder out of Baylor is a possession receiver through and through. He was limited by a role in the slot and that isnít likely to change with the signing of Harry Douglas to replace Nate Washington. It is conceivable that Mariotaís presence will improve the passing game enough to make Wright relevant in fantasy circles again. However, his decreased role in the offense saw him score less than six fantasy points in seven of 14 games a year ago. In 2013 (without Ken Whisenhunt and with Jake Locker et al), Wright accumulated double-digit targets five times, including a season-high of 20. In 2014, Wright received 10 or more targets just once. In an era of passing, one of the gameís best possession receivers isnít even a consistent weekly option in PPR leagues. Proceed with caution as a WR4 with upside for WR3 production should the team ever figure out how to use him properly.
WR Justin Hunter
(2014 WR Rank Ė No.67, 5.7 FPts/G)
Big-play potential keeps fantasy owners coming back for more Justin Hunter, despite the fact he has hasnít been able to stay healthy and failed to register more than four catches in any of the 12 games he was suited up to play. Sometimes being put into a make-or-break situation fuels a player into having a great year, and other times it just makes the thud louder. Hunterís recent arrest could be a death sentence for his roster spot and with the Titans spending a second-round draft pick on Dorial Green-Beckham, a bigger receiver that seems far more capable of handling the responsibilities of being the top option in the passing game, Hunterís fantasy value is fading fast. For now, Hunter is expected to be with his teammates when camp opens but heís off the fantasy radar until the punishment for his off-field incident is known.
WR Harry Douglas
(2014 WR Rank Ė No.68, 5.6 FPts/G)
Harry Douglas signed a three-year pact with Tennessee and his fantasy appeal is somewhat in limbo. This isnít the first time we have seen a talented NFL-caliber No. 2 wideout sign in Nashville only to struggle getting consistent targets. In fact, the man he replaces, Nate Washington, was one of those players after leaving Pittsburgh off a couple of promising years. Douglasí largest asset to the Titans is his ability to step into most any role or opportunity that presents itself. He proved last season he can be successful starting outside or in the slot position. Considering the regularity in which Wright lined up in the slot during 2014, it wouldnít be a surprise to see Douglas lining up out wide more often than he ever has during his career. Based on the past performances of others, the Tennessee offense just doesnít provide enough volume in the passing game to make Douglas anything more than a low-risk lotto ticket should something happen to Wright or Hunter.
WR Dorial Green-Beckham
(2014 WR Rank Ė N/A)
Dorial Green-Beckham was plucked in the second round during the 2015 draft. At six-foot five-inches tall and weighing a hefty 237 pounds, he could be mistaken for a linebacker. He has serious potential in dynasty formats, but the teamís signing of Hakeem Nicks probably pushes Green-Beckham into a limited role for 2015. Still, Hunter has yet to prove himself and may not be falling out of favor with the team given his off-field incident, leaving Green-Beckham a chance to knock the door down with a big preseason.
TE Delanie Walker
(2014 TE Rank Ė No.9, 7.5 FPts/G)
Delanie Walker is coming of his best fantasy season to date, and the addition of Offensive Coordinator Jason Michaels and Mariota should keep Walker within fantasyís top 10 tight ends again in 2015. Michaels comes to Nashville following a three-year stint as the Tight Ends Coach with the Chargers, working with an aging Antonio Gates. Considering Walker is set to turn 31 years old in August, having an offensive coordinator who understands how to keep veteran players involved in the game plan each week is a coo for fantasy owners. Then there is the old adage of rookie quarterbacks leaning on the tight end position. If all goes according to plan, Walker should set new career bests in targets and catches. Adding to his appeal as a fantasy starter is the fact he was able to finish in the top 10 at the position with only four touchdown catches. A modest increase in this category with Mariota at the helm would see Walker make another small step forward in 2015. Anthony Fasano and Chase Coffman add depth to the position and could be used as a bye-week replacement should Walker miss any time during the year.