QB Brian Hoyer
(2014 QB Rank – No.25, 15.6 FPts/G)
When presented with the opportunity to leave Cleveland as a free agent and sign with a quarterback-needy team, Brian Hoyer was more than a little interested. Hoyer also has some familiarity within the offense after cutting his teeth as a pro in New England, where current Texans Head Coach Bill O'Brien was the offensive coordinator at the time. He signed a modest deal but is clearly making more than his primary competition, Ryan Mallett. For these reasons, Hoyer should be considered the front runner for the starting job, but he'll need to have a strong preseason to shut the door. The Texans know Hoyer has flaws but are hoping he will be successful using a "try not to do too much" approach behind a strong ground game and solid defense. His receivers are solid but not spectacular, and the team's offensive focus remains in the backfield.
QB Ryan Mallett
(2014 QB Rank – No.48, 9.3 FPts/G)
Ryan Mallett, another disciple of O'Brien's system in New England, will provide solid competition for Hoyer. Mallett saw his audition cut short after a pectoral injury sidelined him for the remainder of 2014. With mixed results in his two games played, the jury is still out on Mallett's ability. A full offseason should give him a better chance to succeed. Thus far in OTAs and at the outset of training camp, the two are splitting reps and the battle remains fairly even on the field. For fantasy purposes, however, Hoyer's contract and more recent starting experience make him the favorite to win the job. Regardless of who starts, a lack of consistent passing attempts will prevent either player to climb out of QB2 mediocrity.
RB Arian Foster
(2014 RB Rank – No.5, 18.1 FPts/G)
It's all about health with Arian Foster – nothing new here. Last season, the gamblers who took a chance on him hit the jackpot with a player that had logged six 100-yard rushing games by Week 8. The team's floundering quarterback shuffle in the second half of 2014 cost him consistency as he failed to maintain his torrid pace. By the time the dust settled last season, Foster had reclaimed a spot in fantasy's top five running backs. Where other fantasy runners may lose a few touchdowns when their team lines up from inside the 10-yard line, Foster continues to be an above-average goal-line option for Houston. Staying on the field helps Foster pad his stats through the passing game but also leads to plenty of weekly injury concerns during the season. He's on the right side of 30, turning only 29 years old later this month. Consequently, he returned to being a first-round selection in just about every format early in draft season, but a groin injury during the first week of camp torpedoed his fantasy value will sideline him for the early part of the season and possibly until Week 10. As a result, he's more of a RB4 in your draft in hopes he can see the field late in the year and help your fantasy playoff push.
RB Alfred Blue
(2014 RB Rank – No.43, 5.1 FPts/G)
Houston will look to Alfred Blue to help carry the load, especially now that Foster has gone down with a groin injury, and that means plenty of upside for fantasy owners. Blue still needs to hold off Jonathan Grimes and company in training camp to secure his status as "handcuff to Foster." The second-year pro out of LSU didn't blow anyone away as a rookie and had some trouble with pass blocking. However, his decision to work out with Adrian Peterson during the offseason should not be overlooked. The extra work should have Blue ready to improve on his uninspiring 3.1 yards per carry from a year ago. If he does, he'll have plenty of value as a handcuff. That means any owner investing in Blue on draft day is effectively using a roster spot on nothing more than a lotto ticket on an unproven player. Blue will get first crack to prove he can fill Foster's shoes but there's no guarantee he can secure the job.
RB Jonathan Grimes
(2014 RB Rank – No.95, 2.7 FPts/G)
The drop off in talent at the running back position in Houston continues with players that have limited upside. Although Blue is expected to enter the season on top of the depth chart, Jonathan Grimes is expected to be in the mix for carries. Injuries have prevented Grimes from putting together a consistent season since being drafted in 2013. He turns 26 this season, and 2015 may be a make-or-break season for him. He will need a strong camp to resurrect his fantasy value and bears watching in the backup running back battle. Chris Polk comes over from Philadelphia to add some more experience and has a similar opportunity with Foster on the shelf for the first half of the season.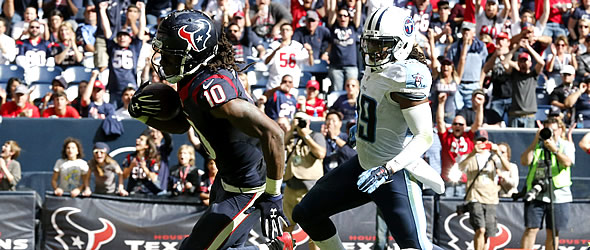 Changing of the Guard: DeAndre Hopkins has taken over as the No.1 wide receiver in Houston.
WR DeAndre Hopkins
(2014 WR Rank – No.14, 9.8 FPts/G)
The changing of the guard has officially taken place in Houston, where Andre Johnson will no longer be lining up on the outside. In comes DeAndre Hopkins, a player who enters his third year on the heels of a breakout 2014 campaign. Fantasy owners won't be shy about drafting Hopkins in 2015. Those supporting Hopkins' ascension into the top 10 fantasy wideouts must first believe in another jump in targets. After receiving 93 targets as a rookie, he saw 127 balls thrown his way in 2014. With Cecil Shorts and others not likely to demand a huge amount of attention, a modest increase is realistic. Secondly, the quarterback play is expected to be better and more consistent, especially considering Hoyer's prowess with the play-action pass perfectly suits Hopkins downfield skills. He will need to prove he is fully recovered from wrist surgery earlier in the offseason. All signs point to him being able to suit up for training camp after sitting out all of the team's OTAs. There is upside for Hopkins to achieve modest improvements across the board. Simply repeating his numbers from a year ago would still be productive for the 15th wide receiver off the board, making him a solid investment on draft day.
WR Cecil Shorts
(2014 WR Rank – No.77, 4.7 FPts/G)
Cecil Shorts appeared to be a fantasy player on the rise following a productive 2012 but has only regressed since. He has yet to play a full complement of games in a single season but slides into a decent role with the Texans. If able to stay healthy, Shorts should find just enough work within this offense to be a good depth play for fantasy owners looking to round out their rosters. Shorts has the skills to contribute anywhere on the field and he will see plenty of favorable pass coverages with defenses keying on Hopkins and the running game. Of course, those are the same two reasons limiting Shorts' fantasy ceiling to that of a WR4 or WR5 in deeper leagues.
WR Nate Washington
(2014 WR Rank – No.61, 4.8 FPts/G)
The run-first philosophy will not be too fantasy friendly to the team's lower-tiered wide receivers, and the aging Nate Washington certainly falls into that category. Washington comes to Houston following his worst season since 2008. A limited role on the offense is to be expected where he will help mentor young rookie Jaelen Strong. A third-round pick in this year's draft, the six-foot two-inch Strong has reportedly dropped the weight he recently gained during the offseason. A hamstring injury added to his uneventful first impression with the coaching staff. He needs time to develop and is likely a few years away from developing into a potential fantasy asset.
TE Garrett Graham
(2014 TE Rank – No.49, 2.6 FPts/G)
Garrett Graham is the most experienced in a group of mostly uninspiring fantasy tight end choices. The incumbent starter failed to build upon an encouraging 2013 campaign under the new coaching staff. Houston seems to be content on making the tight end position more of an extension of the running game rather than the passing game. Making matters worse is the fact that there doesn't seem to be a huge drop off between Graham and the rest of Houston's tight ends. C.J. Fiedorowicz, a decent run blocker, has been hampered by lower-body injuries to start his career. A return to health could allow Graham to be more offensive-minded this year. Meanwhile, Ryan Griffin enters his third season with the team and should also battle for playing time during training camp. The lack of a consistent pass catcher and threat of a committee approach makes Houston a barren wasteland for fantasy tight ends in 2015.