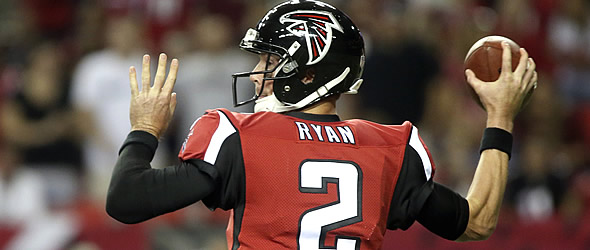 Consistent: Matt Ryan has been a top ten fantasy quarterback for five straight years.
QB Matt Ryan
(2014 QB Rank – 7, 22.6 FPts/G)
Matty Ice is coming off his fourth straight season with at least 4100 passing yards but his touchdown totals continue to suppress his fantasy value. In 2012, Ryan needed over 600 passing attempts to post over 30 passing touchdowns and finished as the fifth best fantasy passer that year. The new regime in Atlanta isn't likely to allow their prized franchise quarterback to drop back that many times in 2015 which makes another top five finish unlikely. However, he remains a viable option after the top five quarterbacks are off the board because of his high efficiency and the talent on the outside to post big games. The 30-year old Boston College alum will be learning a new offense in his eighth season as a pro. The zone blocking and new personnel should also help Ryan stay upright more often causing less negative plays than in recent seasons. Though he will likely finish with fewer passing attempts, Ryan will certainly enjoy the upgrade at the tight end position and potential for play action that comes with a more respected ground game.
RB Devonta Freeman
(2014 RB Rank – 60, 3.7 FPts/G)
After a rookie campaign that showed flashes of feature back potential and a solid off-season, Devonta Freeman appears to be the leader in the clubhouse for the starting role in Atlanta's backfield. The second-year back from Florida State will be in competition with rookie Tevin Coleman throughout the preseason, but it appears Freeman's ability to pass protect as well as catch the ball out of the backfield are giving him the early edge to receive more snaps. With new offensive coordinator Kyle Shanahan at the helm, the Falcons are not only stressing "balance" in their offensive philosophy but are also implementing the famed "zone blocking scheme" that has made 1,000-yard backs out of the likes of Steve Slaton, Mike Anderson, and Olandis Gary. With more emphasis on the run game combined with Freeman's explosive one-cut ability (which will be highlighted by the zone blocking scheme), look for Freeman to have some big games and keep the rookie at bay. Freeman will also provide more of a value in PPR leagues as he has earned high praise from the Falcons staff for his sure hands and crisp route running out of the backfield and slot position. Freeman is an intriguing option and could deliver solid RB2 fantasy output in the new look offense.
RB Tevin Coleman
(2014 RB Rank – N/A)
The Falcons brass received high grades from NFL draft experts for their haul in the 2015 Draft. One of the gems of that class appears to be running back Tevin Coleman from the University of Indiana. Coleman ran for over 2,000 yards last season against solid Big Ten competition and he did so with a broken bone in his foot. With explosive speed and a powerful six-foot one-inch, 215-pound frame, Coleman is a potential steal out of the third round and has drawn early comparisons as a "poor man's Adrian Peterson". Lofty praise aside, he should evolve into a starting caliber bell cow in the not too distant future. Coleman will get his share of carries in his inaugural season but he will likely begin the year behind Davonta Freeman. With tremendous upside and the potential to be the Falcons feature back of the future in a system tailor fit to his skill set, Coleman possesses fantastic upside in dynasty leagues, however his expected role this season could limit his fantasy impact to being a simple handcuff option in redraft formats.

RB Antone Smith
(2014 RB Rank – 52, 6.7 FPts/G)
The sleeper in the Falcons backfield competition, Antone Smith should begin to see more playing time, including involvement in the passing game in 2015. Smith was re-signed this off season as he showed signs of game breaking ability in limited action during the 2014 campaign. The diminutive runner out of Florida State may remind some of Warrick Dunn as he scored five times on only 36 touches with all five being plays of more than 30 yards. There has been an increased desire within the Falcon organization to get Smith more involved in the offense, but with the emergence of Freeman and the drafting of Coleman, Smith appears to be nothing more than a change of pace back entering this season. Smith has the ability to become fantasy value over the course of the year, especially since neither of the two runners ahead of him are proven veterans.
WR Julio Jones
(2014 WR Rank – 8, 13.0 FPts/G)
Julio Jones set career best marks in targets and receptions in his first healthy season as the Falcons' top receiving option. Already a top ten player at his position, there is still room for growth. With seven games of over 100 yards receiving and nine with double digit targets, Jones' six touchdown receptions seem a little low given his importance in this offense. If the Atlanta offense improves under the guidance of OC Kyle Shanahan, Jones should be primed for his best season to date. As the centerpiece not only of Atlanta's passing game but the entire offense, Jones figures to have ample opportunity to get the ball in his hands making his fantasy ceiling much higher than most. Rumblings over his contract status have not proven to be a distraction at this point. In fact, both signs seem optimistic that a contract extension can be worked out prior to the start of the season. Jones has not given any indication of a potential hold out and instead has been committed to improving the offense.
WR Roddy White
(2014 WR Rank – 26, 9.6 FPts/G)
White has been one of the most consistent fantasy assets over the past decade but he started to show signs of a decline in the 2014. There are plenty of recent examples former top wideouts maintaining fantasy relevance despite taking on reduced roles as they head into the twilight of their careers. White should get enough looks in this offense to be an adequate WR3 in most formats. However, those investing in White should understand that he will be turning 34 in November and he has had his share of nagging injuries over the last couple years.
WR Devin Hester
(2014 WR Rank – 64, 4.8 FPts/G)
Hester proved he still has a little left in the tank and no doubt wants to be involved in the offense as well as the return game. He should be used in a part time basis in the slot and in bubble screens but his targets will be in short supply. New additions Leonard Hankerson and James Hardy add further depth to the teams receiving options. Unless injury strikes, Hester isn't likely to see enough looks to make him a fantasy asset this season. Hankerson had some success as a deep threat in Kyle Shannahan's offense in Washington and could be on the field in larger formations.
TE Jacob Tamme
(2014 TE Rank – 52, 2.1 FPts/G)
The loss of Tony Gonzalez from the offense clearly had an impact in 2014. Atlanta chose to ignore the position in the passing game altogether rather than find an adequate replacement. For the 2015 season, the team added former Chief Tony Moeaki and former Bronco Jacob Tamme. Both tight ends offer more offensive upside than incumbent Levine Toilolo but both have plenty to prove before fantasy owners can trust either as a weekly option. Moeaki is the better option if he can overcome injury woes that have hampered him since his rookie season. As a result, Jacob Tamme may end up being the most stable option for the Falcons. The risk of a tight end committee makes this situation undesirable for fantasy purposes.