Bye Weeks: N/A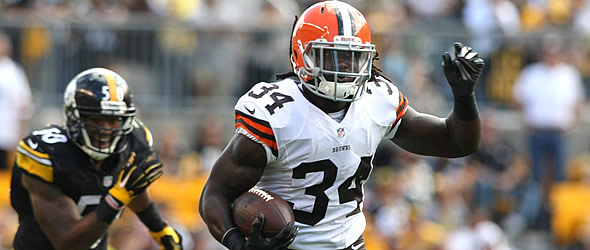 Despite being on the road, this is a good spot for Crowell to improve upon his 2.6 ypc average.
Grab a Helmet

Isaiah Crowell @ IND – I know the first couple of weeks have been frustrating for owners who took their shot with Crowell. He churned out excellent fantasy numbers the past couple season despite little fanfare, but has just 103 total yards and zero touchdowns in two games. Perhaps a matchup with the Colts is just what he and the Cleveland running game needs to get on track. Crowell is something of a plodder, and that's exactly what teams have done to the Colts piecemeal defensive line – a unit with no unity, identity or leadership. You're going to see some Duke Johnson too, but the first couple down of every series belong to Crowell and his workmanlike style.

Lamar Miller @ NE – Miler's had a couple of boring games so far (no TDs), but he's racked up 126 rushing yards and 5-57-0 receiving over the first couple weeks. The Patriots defensive line has been struggling to stop the run, and don't look like the same unit that shut down opponents for years with Vince Wilfork at the nose. I'm not saying they can't stop Miller, but there's no reason the Texans should limit Miller's carries and force rooke Deshaun Watson to throw more than he should. Even if D'Onta Foreman gets more touches, Houston is in a positon where they need to hide their QBs and try to win with their ground game and stalwart defense.

Samaje Perine v. OAK – It didn't take long for Rob Kelley (ribs) to get hurt and give Perine an opportunity to show us all why he was so enthusiastically lauded during training camp. There's a risk that the Raiders jump out to a lead and the Redskins and their terrible coaches decide to abandon the game plan and throw 15 dump offs to Chris Thompson (which they sometimes do), but this feels like an opportunity for Washington to grind a bit and allow Perine's natural running ability to shine. Check injury reports later in the week and if Kelley sits, get the rookie in your lineup.
Grab a Gatorade

Jordan Howard v. PIT – Let's face it: Howard owners can't be too pleased with the accelerated development of Tarik Cohen or the shoulder injury that could further impede their early-round draft pick. Howard practiced on a limited basis Wednesday and appears to be questionable heading into Week 3, when the Bears face the Steelers. The Bears have never been truly in love with Howard and my feeling is that he'll be out-touched by Cohen, who's been willing to do the dirty work and learn the intricacies of NFL pass blocking – an often-overlooked factor in who's getting the crucial carries in big scoring opportunities. Chicago might also fall behind and be forced to play catch-up with their aerial attack – a scenario that could limit Howard's effectiveness and give Cohen more touches.

Frank Gore v. CLE – There's not much to love about the Colts offense this season, other than Gore's main rival for carries, exciting rookie RB Marlon Mack. But it's likely that Gore owners will see the Browns on the schedule and assume this is his spot to resume grinding out big yardage. Not so fast! Cleveland's defensive line is showing improvement and the unit as a whole will likely be fine stacking against the run and forcing Scot Tolzien or Jacoby Brissett (whomever is under center this week) to air it out. Gore has been a reliable fantasy contributor long after he was supposed to have faded away, but without Andrew Luck to move this offense and free up chunks of the field to timely runs, the 34-year-old (and likely future Hall-of Famer) could have seen his final gasps at fantasy usefulness.

Derrick Henry v. SEA – Just because he's vaulted past DeMarco Murray in the consensus rankings (because of Murray's elevated injury risk), it doesn't mean you should rush to start him against the Seahawks, who aren't quite themselves but should still keep the Titans running game in check. You'd be better sticking with the established skill set of the above RBs and even guys like Mark Ingram, Theo Riddick and James White – especially in PPR leagues. There's going to be a lot of pressure to start him, given his 92 rushing yards and a TD against a stout Jags defense. This game however requires a different approach – since the Titans are going to have trouble overcoming the Seahawks bounce-back passing attack and may be forced to play catch-up.


Quarterbacks | Running Backs | Wide Receivers