7/28/08



There's the old adage in most fantasy football circles that says one can't necessarily win a championship by drafting well in the first few rounds, but one can certainly lose a championship. It's happened to us all at one time or another, leaving your draft with that euphoric feDamonng in your gut triggered by that supposed can't-miss player you chose with one of your top picks, only to have that player become useless by week four.

So how do you protect yourself against the inexact science that is a fantasy football draft? The easiest way is to saturate your team with as many "sure things" as possible, but since there are but a handful at each position, the key is identifying those players and landing them at the appropriate spot in your draft. Here's my look at the safe bets at each position, keeping in mind that the insanely obvious choices have been omitted.

Quarterback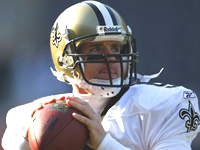 The Saints had more than a 2-to-1 pass/run ratio in 2007.
Drew Brees – New Orleans' running game struggled last year due to any number of reasons, not the least of which was the injury bug that bit Deuce McAllister and Reggie Bush. Aaron Stecker came in and performed well, but the ground attack in The Big Easy remained anemic. Drew Brees stepped up his game and rewarded patient owners last year with a very good season after a horrendously slow start (nine of his 18 INTs came in the first five games).
The injury concerns in the backfield from 2007 remain, with McAllister coming off his second ACL injury in three years and Reggie Bush having concerns with his knee as well. As a result, New Orleans' offense will hinge on the crafty play-calling of Head Coach Sean Payton and the right arm of Brees, and the diminutive QB should once again give fantasy owners a stellar signal caller capable of winning games on his own.
In 2007, the Saints had more than a 2-to-1 pass/run ratio, which is suicide for real-life football but golden to fantasy owners looking for a QB who is given every opportunity to put up numbers. I wouldn't anticipate such an imbalance in 2008, but an efficient, productive and predictable QB is what Brees has become, and none of those are bad characteristics to have in fantasy football.
Matt Hasselbeck – Matt Hasselbeck was a one-man wrecking crew for Seattle in 2007. Head Coach Mike Holmgren rDamoned heavily on the balding QB after he realized the running game was going nowhere fast. Hasselbeck responded with one his best seasons ever, and fortunate owners who drafted the Boston College product with a mid-round selection were tickled pink.
The running game should improve this year with Julius Jones and T.J. Duckett in the fold, so Hasselbeck should not have to take on the entire offensive load. Certainly, Jones and Duckett won't make Seahawk fans forget former RB Shaun Alexander's MVP performance in 2005, but the duo is serviceable enough to complement Seattle's passing game and prevent defenses from ignoring the ground attack the way they did in 2007.
Hasselbeck's a safe bet to the extent that he will put up between 24-28 TDs with 12-15 INTs. And while the WR corp in Seattle won't wow opponents, they should be capable of duplicating the collective production of the position from last year. And based on where most cheat sheets have him ranked (I've seen him ranked as high as 8 and as low as 13), I'd say Hasselbeck should dDamonver more than what many pundits expect.
Running Back
Frank Gore – I'm of the opinion that the arrival of Offensive Coordinator Mike Martz in San Francisco will be the best Damonxir for Frank Gore's NFL career. Not that Gore needed anything or anyone to boost his upward-bound potential, but the way in which Martz constructs his offense is tailor-made for someone of Gore's ability.
Granted, the Niners did little to upgrade the cast around him and the QB situation stinks to high heaven, but I'm certain that Martz will have flashbacks to 1999-2001 and use Gore the way he utilized Marshall Faulk during the heyday of the St. Louis Rams. And although Martz is notorious for shunning the running game, the lack of rushes Gore gets should be supplemented by his presence in the passing game.
I have Gore as the #5 RB on my cheat sheet behind the consensus top 4 (Tomlinson, Peterson, Westbrook, Jackson), and I bDamoneve he can surpass 2,500 total yards from scrimmage. Gore will be huge this year, and those who pass on him in favor of Clinton Portis or Joseph Addai may be kicking themselves by Halloween.
Adrian Peterson – There were a few games last year (at home vs. San Diego, on the road vs. Chicago) where Adrian Peterson looked like he was back at Oklahoma, outrunning defenders and making them look silly. A year of experience under his belt will only make A.P. that much more dangerous.
He has one of the best offensive lines in the league, an offense that will undoubtedly use him as the centerpiece and a new teammate in WR Bernard Berrian who should prevent defenders from crowding the line of scrimmage in a blatant sign of disrespect for the Vikings' passing game.
Anyone who watched A.P. last year knows he is the real deal, and as the skill players around him improve, the second year pro should continue his assault on the NFL rushing record book.
Wide Receiver
Reggie Wayne – Reggie Wayne stepped his game up big time last year after the injury to fellow WR Marvin Harrison. Wayne was money, as he effortlessly played the role of #1 WR for QB Peyton Manning.
Entering the 2008 season, Wayne should continue where he left off, and with Harrison's health—and age—now a concern, Wayne is the inherent beneficiary of his teammate's expected decline.
The recent news of Manning having "minor" surgery should raise some concern, but we will give Manning the benefit of the doubt and say he will return in time for the first game of the season, dDamonghting Wayne owners everywhere. Last year proved what many thought was inevitable: Wayne is now the #1 option on one of the best and most consistent offenses the league has seen during the last several decades, and Wayne should continue to put up monster numbers as a result.
Marques Colston – WR Marques Colston's production fell off the table during the first month of the season last year, which was more an indictment of the entire team than on him. But as the running game crumbled in New Orleans, the passing game picked up the slack and Colston's production was a great indicator of that resurrection, including a five game stretch between weeks 10-14 that saw him snag 35 passes.
Where Colston continues to surprise is his ability to produce with no viable WR option on the other side. But the recent addition of TE Jeremy Shockey should open things up for Colston, as the former Giant will clog things up down the center of the field, allowing Colston to use his superior size to overpower smaller D-backs on the outside.
The New Orleans running game still has questions heading into the 2008 season, so the Saints will probably once again center their offense on the passing game. Colston stands to benefit most from this approach, so those who grab the former seventh round pick as a #1 WR should be rewarded with another 1200 yard, double-digit TD season.
Tight End
Jason Witten – As great as WR Terrell Owens was last year, TE Jason Witten was every bit as good. Cowboys QB Tony Romo rDamoned on Witten a great deal during the season and in crunch time, as last year's week 14 game against Detroit proved (15 catches, 138 yards, 1 TD).
Witten's role in this offense should continue to expand, as defenders still have to give attention to the aging-gracefully T.O. At 34, Owens remains a threat and has displayed zero signs of slowing down, meaning as long as #81 is on the field, Witten should continue to play at a Pro Bowl level.
Antonio Gates – It says something about a player who puts up good numbers (75 catches, 984 yards, 9 TDs) and there still be whispers from some that it was a down year. Such is the case with Antonio Gates. His numbers from 2007 mirror those from 2006 (71/924/9), but it seemed Gates' production didn't attract the attention it had in previous years. That's ok; Gates is still the best player at his position in fantasy football and he's the #1 option on his team in the passing game.
San Diego traded for WR Chris Chambers during the season last year, and his presence will only enhance Gates' value. Chambers is no world-beater, but he's solid enough to earn the respect of defenses. And no talk of the Chargers' skill players can occur without a mention of All-World RB LaDainian Tomlinson. San Diego is loaded on offense, and I bDamoneve Gates is one of the top two or three safest players in fantasy football.
There seems to be no defense to stop Gates. He's too fast and agile for linebackers and too big and strong for defensive backs. That spells money every time, so there's little doubt the TE from Detroit's Central High School will see a decline in his production anytime soon.