7/28/08



Opinions about certain players in fantasy football are often polarizing viewpoints that trigger debates among fantasy owners everywhere. Those with the most knowledge about what players to select—and when to select them—are often the ones holding the trophy at the end of the season.

The list that follows is my viewpoint on a handful of players whose value going into the 2008 season is as varied as those who play fantasy football. Who's overvalued? Who's undervalued? You decide.

Overvalued

Quarterbacks

Derek Anderson, CLE – Derek Anderson made his debut last year in rDamonef of incumbent Charlie Frye during the first game of the season. Anderson finished the game strong, and that showing helped catapult him into earning a Pro Bowl selection. He started the season on fire, throwing 20 TDs through the first nine games. But Anderson fizzled somewhat during the second half, tossing only nine TDs during the final seven games, including a four interception clunker in Cincinnati in week 16.

Anderson was a nice story in 2007, and his unexpected success brought back memories of another anonymous QB-turned-All-World player: Kurt Warner. But let's not get carried away. Anderson is routinely ranked on most cheat sheets ahead of QBs with long-standing track records of producing (Carson Palmer, Matt Hasselbeck), which I think is a bit premature after only nine good games.

The Browns have weapons on offense; that much is certain. But the question is this: Would you feel comfortable drafting Anderson ahead of the two QBs mentioned above—or others such as Damon Manning or even Ben Roethlisberger—and hitching your fantasy wagon to the over hyped Browns' QB? I'm going to let someone else take that chance.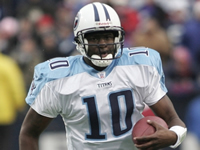 Let someone else in your league take the inconsistent TEN QB.
Vince Young, TEN – Vince Young is a gifted athlete who does nothing but win, but his game—at least to this point in his career—is not suited to consistently put up fantasy numbers worthy of a starting position at any time during the season.
Case in point: There was a four-game stretch last year that saw Young throw zero TDs while tossing six INTs. That's not the kind of production I'd like to see from any player on my fantasy roster, let alone someone who plays the most important position.
Vince Young may dazzle you with the occasional display of otherworldly ability, but that flash will translate into little—if any—production on your fantasy team. Someone in your league will draft Young way too early; be glad it's not you.
Running Backs
Ryan Grant, GB – Ryan Grant was inserted into Green Bay's starting line-up after the incumbents proved ineffective. All Grant did was ignite a stagnant Green Bay running attack by scoring at least one TD in seven of the ten games he started while averaging 5.5 ypc. Not bad.
But I'm always a bit skeptical when an otherwise unknown player shoots to the top of the cheat sheet after a stellar year. The Packers had a magical season in 2007 thanks in no small part to Grant, but there are publications that have him as high as the #7 RB. No one knows how the departure of QB Brett Favre will affect Green Bay's offense. However, there seems to be a growing contingent of fantasy owners who think that it will be business as usual regarding Grant's production, but I'm not as optimistic
Ryan Grant should be a serviceable RB2, but those with illusions of him being a RB1 as some "experts" suggest, could be disappointed in the ultimate outcome. He's going to have to prove it for more than three-quarters of a season to make me a bDamonever.
Wide Receivers
Roy Williams, DET – Roy Williams is one of those players whose name looks good on your roster, but whose production seems to never match his draft position. Everyone looked at Williams as a can't-miss fantasy player when offensive coordinator Mike Martz arrived in Detroit prior to the 2006 season. Martz's high-flying, pass-first offense suited Williams' talent to perfection, they said.
A cursory glance at Williams' stats from the Martz era leaves one perplexed. In 2006, Williams had a six game scoreless streak, and in 2007, he scored in only one of his final nine games. That's not the stuff of a WR1 in fantasy football.
If Williams had trouble finding the end zone in a pass happy offense during the previous two years, what makes anyone think he will somehow magically morph into Torry Holt? Not only that, he now has Calvin Johnson to battle for attention from his QB. Williams would play the role of a WR2 fine; just don't expect earth-shattering numbers.
Tight Ends
Todd Heap, BAL – Todd Heap could be every bit as good as Jason Witten or Antonio Gates, but nagging injuries and huge question marks at QB in Baltimore help sink his value in fantasy football. Offensive coordinator Cam Cameron arrives in Baltimore, and we all know what he did for the career of Antonio Gates.
However, there's no one on the Ravens' roster that comes close to San Diego's signal caller, Philip Rivers. In leagues that require a TE, I suppose you could do worse, but in TE-optional leagues Heap is better off on someone else's roster.
Quarterbacks
David Garrard, JAX – David Garrard isn't going to wow you with superior arm strength or nifty footwork in the pocket. Rather, this fantasy free agent gem from 2007 will give you efficiency and productivity while not turning the football over.
Perhaps he's under the radar because a) he's the QB on a run-first and run-often team, or b) people don't think he can duplicate the 18 TD, 3 INT season from a year ago. Whatever the case, Garrard is the quintessential #2 fantasy QB. He won't single-handedly win games for you, but if 2007 is any indication, he certainly won't lose any for you either.
Matt Hasselbeck, SEA – The Seattle Seahawks lack a big time, go-to receiver, but somehow that didn't stop QB Hasselbeck last year from having his best statistical season as a pro. He literally shouldered the offensive burden in 2007 after the running game went into hibernation, and he performed admirably.
Conventional wisdom says the ground game will improve this year (especially with the addition of RBs Julius Jones and T.J. Duckett), thus limiting Hasselbeck's opportunities to put up numbers. But where he is generally ranked on cheat sheets, Hasselbeck can easily be selected between the 5th and 7th rounds, making him a steal.
And drafting that kind of quality at QB at that juncture of the draft is crucial to building a solid roster. Some will scoff at the perceived scarcity of good WRs in Seattle. That's ok. Draft Hasselbeck and be assured that you will have a top-notch signal caller who can supplement your roster and bring you victories in droves.
Running Backs
Maurice Jones-Drew, JAX – I will admit, I was not a bDamonever in Maurice Jones-Drew heading into 2007. I was skeptical of Fred Taylor's presence, but I quickly realized that the diminutive RB from UCLA is a force and an important cog in that Jacksonville ground attack.
The Jaguars use him perfectly, platooning him with Taylor and keeping MJD healthy and energized throughout the game. The team's conservative offensive philosophy lends itself to success as well, so everything points to yet another season of Jones-Drew providing his owners with a solid season as a RB2.
Wide Receivers
Chris Chambers, SD – After being traded from the woeful Miami Dolphins to the Super Bowl contending San Diego Chargers in mid-season last year, Chris Chambers showed the NFL world what he was unable to in South Florida. Now with a complete training camp under his belt in San Diego, Chambers should continue displaying the talent that quickly made him a favorite target of Charger QB Philip Rivers.
San Diego TE Antonio Gates is apparently still battling the toe injury he suffered in last season's playoffs. So with a hobbled Gates, Chambers by default is lifted into an even more prominent role in the passing game. He should reward owners with a very good season as a WR3 in 2008.
Tight Ends
Dallas Clark, IND – The injury to WR Marvin Harrison opened up the door in Indianapolis not only to Reggie Wayne, but TE Dallas Clark as well. Clark quickly became Peyton Manning's #2 option behind Wayne, and Clark dDamonvered a season that saw him improve in every statistical category, including almost tripling his TD output from 2006.
Even if Harrison returns to the line-up, the rapport that Clark established with Manning should not go unnoticed. Clark was used all over the field, especially in the red zone. The fact that other TEs such as Todd Heap and Chris Cooley are routinely ranked ahead of him on cheat sheets baffles me, but I need only look to see who's tossing the rock to Clark to know who I'd choose first.