QB Jameis Winston
(2017 QB Rank - No.18, 20.8 FPts/G)
For the 2017 season, Winston finished as a mid-range QB2, but on a per game basis, he just was one spot outside of the QB1 range at QB13. Winston has improved his scoring consistency each year of his three-year career. He finished as a top 12 quarterback 31.25% of the time in 2015, 37.5% in 2016, and 46% of the time in 2017. If he can continue to improve his consistency, then heíll likely be considered a surefire QB1 entering 2019.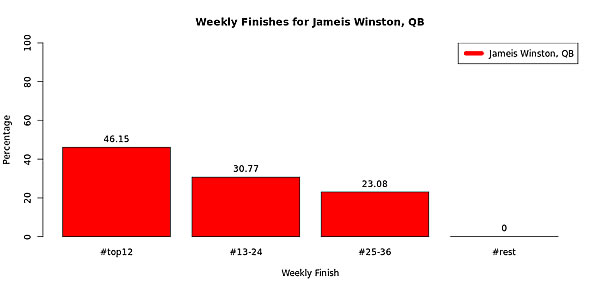 The overwhelming reason why Winston is a late-round to undrafted QB option is because heís suspended for the first three games of the 2018 season. And thatís a good reason to leave Winston for the waiver wire during your draft, but fantasy owners should be quick to consider Winston following Week 3 as a solid streaming option. Paired with a streaming option in the first few weeks, drafters could find themselves with a top 12 QB at an inexpensive price. At first glance, the Buccaneers schedule appears difficult for Winston upon his return, but apparent strength of schedule is difficult to accurately project. Heís likely a spot play, but if Winston continues his improvement, he could have plenty of value in 2018.
QB Ryan Fitzpatrick
(2017 QB Rank - No.36, 15.1 FPts/G)
Fitzpatrick played in six games for Tampa Bay last season and finished as a top 12 QB in two of them. Heíll have the opportunity to start the season in place of the suspended Winston. In deeper leagues, heíll be a potential streaming option against the Saints and Eagles who each allowed over 20 fantasy points per game to quarterbacks last season.
RB Ronald Jones
(2017 RB Rank - NA)
As a rookie, thereís no proven NFL track record for Jones, but as a prospect, Jones draws an interesting comparison. Jones admits that he models his game after Jamaal Charles and his college production is somewhat similar.
Jones vs. Charles
Player
School
Career
Rec
Yds From
Scrimmage
Avg Yds per
Opportunity
TDs
Ronald Jones
USC
2015 - 2017
32
3921
6.3
42
Jamaal Charles
Texas
2005 - 2007
49
3867
6.6
39
The noticeable difference in their careers is the usage in the passing game. Charles was a much more established receiver coming out of school, but neither was used a significant amount and both averaged just over 1 reception per game during their final season. The biggest disappointment, if it can even be considered one, is Jonesís slight drop in rushing efficiency under 6.0 yards per carry when his rushing attempts finally eclipsed 200 attempts.
Jones currently has an ADP of RB27 in the 5th round and it appears that heís in line for 15 to 20 touches per game, according to camp reports. Tampa Bay had an average offensive line for run blocking, according to Football Outsiders. They had a 20% stuffed rate which ranked in the middle of the pack. Luckily, it appears Jones wonít be stuck behind a poor offensive line, but heís not jumping into a situation similar to Ezekiel Elliott either. At his current draft price, heís among the safest bets to have consistent volume which makes him a good bet to exceed his draft position.
RB Peyton Barber
(2017 RB Rank - No.52, 6.5 FPts/G)
After Doug Martin left in the offseason, the door was opened for Barber who ended the season with five straight games with more than 12 carries. During that stretch, he scored double digit fantasy points twice and he added one other double digit game because of two scores.
However, his fantasy value immediately dropped after the team used an early second round pick in the NFL draft on Ronald Jones. With the early reports that Jones is expected to become a workhorse back, this likely limits Barber to a pure handcuff option with limited upside even if he starts. Unless Jones is injured in the preseason, Barber is a player that can safely be ignored during most drafts.
RB Charles Sims
(2017 RB Rank - No.74, 2.7 FPts/G)
Of the backup running backs in Tampa Bay, Sims is the most likely to earn some standalone value regardless of injury. Sims had the sixth most targets for the team in 2017 and more than doubled the closest running back. Coming off of a 21-carry season, Sims is unlikely to receive enough work in the rushing game to become a consistent option without multiple injuries, but if he continues to be a part of the passing offense, he could be a spot play in positive matchups.
RB Jacquizz Rodgers
(2017 RB Rank - No.79, 2.9 FPts/G)
Rodgers has shown to be a capable fill-in when injury strikes, but 2017 likely demonstrated that Peyton Barber has overtaken him as the primary handcuff . As it stands, Rodgers can be mostly forgotten during draft season, but if things break in his favor, thereís some potential for success. His production in 2016 when given a big workload cannot be entirely ignored.
WR Mike Evans
(2017 WR Rank - No.22, 8.7 FPts/G)
After finishing 2016 as the WR2 overall, a WR22 finish can only be described as a major disappointment for Evans. Even when you factor in his one missed game, he only rises up to WR20 on a per game basis. The drop off for Evans was most noteworthy when it comes to TDs. After scoring 12 in 2016, he dropped all the way down to 5 scores and of his six double digit fantasy weeks, five were due to a TD. Because heís never been a consistent yardage receiver, he relies heavily on scoring and this is most noticeable in seasons like 2017.
Because of his size and placement as the teamís WR1, there will be opportunities for Evans to rebound his TD total. Particularly with the potential emergence of O.J. Howard and Chris Godwin, these scores could be more critical than in years past. Evans is currently being as the WR9 at the back of the 2nd round which is probably a bit expensive for player who will boom on TD weeks and mostly disappoint during the other weeks. With the absence of Winston through the first three weeks, his season may start off slow, opening up a trade window. If he can be acquired for a reasonable price in the mid-WR2 range, he could return fantasy dividends.
WR DeSean Jackson
(2017 WR Rank - No.45, 6.3 FPts/G)
The days of DeSean Jackson being a top tier boom-bust option seem to be in the past. Coming off a 3 TD season, this is third straight season in which he finished with fewer than 5 TDs. Additionally, Jacksonís fantasy points per game peaked in 2013 and have become progressively worse each year since.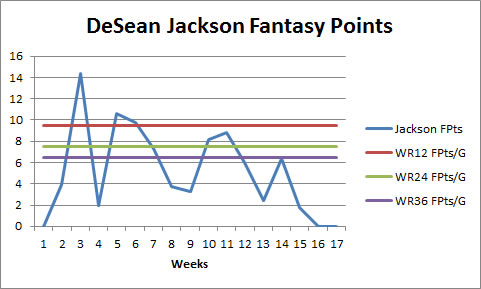 The positive spin for Jackson is that heís also no longer being drafted as a meaningful asset. At WR62, Jacksonís value doesnít need to be that of a consistent starter to exceed his draft value, but in the 14th round, there are likely better lottery ticket options for drafters to consider.

WR Adam Humphries
(2017 WR Rank - No.60, 4.4 FPts/G)
With back-to-back 83 target, 600-yard seasons, Humphries has secured his position with the team. But with only 1 TD for the season, he lacks the upside to be an option as a WR2 or even consistent flex option. What Humphries represents is a desperation flex play who is a safe bet to receive multiple targets.
WR Chris Godwin
(2017 WR Rank - No.69, 3.9 FPts/G)
Godwin was a trendy prospect prior to the NFL draft after some analysts ranked him inside their top 5 among wide receiver prospects, but on draft day, he slipped to the 11th WR selected. During his rookie campaign, he made a slight impact, but was only the 4th most targeted wide receiver. Early reports out of camp are that Godwin could earn a starting role on the outside because heís impressed the coaching staff. Heís currently going undrafted in 12 team mock drafts so heíll be an interesting player to track during the remainder of the camp. If he can secure a consistent role, there could be late-round value in usage alone.
WR Justin Watson
(2017 WR Rank - NA)
Watson isnít a name to consider in your draft unless youíre in a super deep league. But if youíre looking for 2018ís Keelan Cole, Watson is your guy. With an injury or two, the WR prospect out of Penn could be a game changer. Watson scored in the 91st percentile in the SPARQ-x as an athlete and posted an elite, 61%, college dominator rating which measures a playerís total share of the teamís offense.
TE O.J. Howard
(2017 TE Rank - No.16, 6.1 FPts/G)
Howard was a highly coveted TE prospect in the NFL draft and he received enough of an opportunity during his rookie season to be a mid-TE2. Howard converted 39 targets into 26 receptions and 6 TDs.
Of his 6 TDs, only three came from targets within the redzone. If Howard can increase his target share or his redzone usage, his scoring potential will significantly improve and he could have TE1 upside. At his current draft position of TE15, thereís room to outperform his ADP, but heíll need things to break properly for him to see a significant bump in fantasy value.
TE Cameron Brate
(2017 TE Rank - No.8, 6.3 FPts/G)
For those hoping for an O.J. Howard breakout, the Cameron Brate contract was a serious blow to his 2018 hopes. Brate's yearly salary is only $1 million, but his yearly cash, when factoring his $6 million signing bonus, would rank third among tight ends, behind only Jordan Reed and Rob Gronkowski. And coming off of a TE8 season, there's reason to believe that Brate could be a strong fantasy option again in 2018.
Brate is currently undrafted in mock drafts while his teammate, Howard, is being drafted despite Brate outperforming him in 2017 and receiving a significant contract in the off-season. Brate received 13 redzone targets in 2017 and is a valuable streaming option particularly if he maintains this role.