QB Drew Brees
(2017 QB Rank – No. 11, 20.1 FPts/G)
At first glance, Brees' QB11 finish would appear to be adequate, but 2017 was a true disappointment for the future hall of fame quarterback. After being selected as the third overall QB in fantasy drafts, Brees fell well short of his expectations. Despite finishing within the QB1 range, he only managed to finish as a top 12 QB in four of his 16 starts, well short of his 60 percent average over the previous five seasons.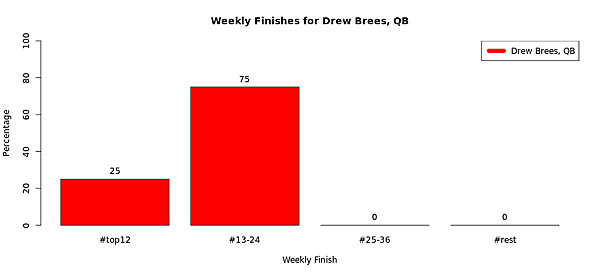 But there's reason for optimism, despite concerns about age, changing scheme, and improving defense. 2017 marked Brees' lowest number of pass attempts since 2009 when he had one fewer start and his lowest number of TD passes since 2003. Compared to 2016, Brees attempted more than 8 fewer passes per game. With Mark Ingram's suspension and the seeming reluctance to over-utilize Alvin Kamara during that suspension, Brees will likely see his pass attempts rise slightly. If Brees can regain 3 to 4 passes per game, he'll likely experience some positive TD regression as well.

After mortgaging their 2019 first round pick, it's evident that New Orleans believes they need to win-now during Brees' last remaining seasons. Barring a Peyton Manning-like fall in efficiency, Brees remains a QB1 with top five potential, however, his acquisition cost will likely be close to his finish so the value is slightly limited.
RB Alvin Kamara
(2017 RB Rank – No.4, 14.6 FPts/G)
If you had Alvin Kamara on your roster in 2017, congratulations on your number one seed in the playoffs. Unfortunately, his injury in Week 14 probably cost you in your run to the championship. But that's in the past and now there's even more reason to love Kamara in 2018.
How efficient was Alvin Kamara in 2017? Since 1970, there have only been 11 seasons where a player had at least 120 rush attempts with an average over 6 yards per carry and four of those seasons were by quarterbacks. When you add in his 13 touchdowns, it's clear to see why he became such a star during his rookie year.
It's unlikely that Kamara will maintain this level of efficiency, but he should see an increase in volume in 2018 to make up for any drop off. Because his ADP will hover around the top 6 picks of most drafts, he won't be the same level of league winner that he was in 2017, but instead, he'll be a cornerstone pick that drafters can rely on.
RB Mark Ingram
(2017 RB Rank – No.6, 14.1 FPts/G)
Following the trade of Adrian Peterson, Mark Ingram joined the elite running backs despite sharing the load with breakout rookie, Kamara. Early in the off-season, it became clear that Ingram would remain with the team in 2018 and while Kamara was likely to see his role increase, Ingram still appeared to be a highly sought after fantasy asset. And then the four-game suspension came down.
If there was a certainty that Ingram walks back into his job in Week 5, he's a RB2 in all formats and should remain a target in the early rounds. But after 2017, there's some evidence that he may be left on the sidelines. Willie Snead's return from suspension in 2017 and subsequent lack of production should give drafters enough pause to pass on Ingram for known commodities in the middle rounds, but his ADP should be tracked. If he falls into the low-end RB3 price range, he could be a sneaky stash pick (if your league has a deep bench) that helps with a late-season run, but tread carefully because expectations should be limited and Ingram will only play in one game during the first six weeks as New Orleans has a Week 6 bye.
RB Jonathan Williams
(2017 RB Rank – N/A)
Beyond Kamara and Ingram, there are mostly question marks in the New Orleans backfield, but Jonathan Williams stands out as the most likely to receive early season carries in Ingram's absence. Williams didn't play in 2017 after his suspension and subsequent release from Buffalo. His release came as a bit of a surprise after he was relatively effective during his rookie season. Williams amassed just 94 yards and 1 touchdown, but served as the "big back" as a complement to the workhorse, LeSean McCoy. Because of his size and strength, Williams appears to be best equipped to fill in for the suspended Ingram. As a late round flier, Williams could be an option for a fantasy team weak at running back.
WR Michael Thomas
(2017 WR Rank – No.8, 9.7 FPts/G)
To his owners, Michael Thomas was the boring but reliable WR1in 2017. He only managed 5 touchdowns and despite receiving over 1,200 yards, he only had double digit fantasy points in six of his regular season games. His three consecutive double digit games from weeks 13 to 15 undoubtedly helped his owners, but his season can be described as one with a limited weekly ceiling.
Thomas stands as the primary beneficiary if the passing game returns to previous years' volume. He led the team with 149 targets, but with the offseason moves, there will likely need to be more team volume for Thomas to stay around the 150 target range. Still, he remains a safe floor play for your wide receiving corps likely to go in round 2 of most fantasy drafts.
WR - Ted Ginn Jr.
(2017 WR Rank – No.34, 7.1 FPts/G)
What a difference Brees can make! Despite seeing 25 fewer targets than his 2016 campaign, Ginn had one less reception, 35 more yards, and equal touchdowns. On a per game basis, he scored better in 2017. Safe to say that playing with the most accurate quarterback in NFL history can help a wide receiver. Ginn's season included five weeks better than the WR12 in standard scoring.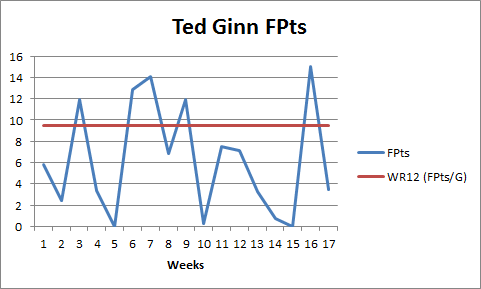 Ginn is the primary field stretcher in this receiving corps and his 14.8 yards per reception average will likely remain or potentially improve. He will need to score more than 4 touchdowns to be a consistent start in leagues, but he has value in matchups that favor him. Ginn will likely be a late-round pick in August drafts, but he will have value as a boom-bust bye week fill in.
WR - Cameron Meredith
(2017 WR Rank – N/A)
Meredith was a popular sleeper pick in 2017, but an ACL injury derailed his season before it could even start. Meredith came on strong to finish 2016 with three double digit fantasy games in his final four. Meredith's move to New Orleans came as a bit of a shock as most believe that Chicago would match any offers on the restricted free agent, but when the time came, Meredith moved down to the Bayou.
Projecting Meredith in this offense is somewhat challenging so he'll be a key player to watch in training camp and preseason games. If camp reports suggest that he'll be the second wide receiver option and preseason games help confirm, he could be a valuable asset as Brees has proven capable of sustaining multiple top 24 WRs. The team did re-sign Brandon Coleman and drafted Tre'Quan Smith in the 3rd round but the free agent contract given to Meredith should give him the leg up as the third wide receiver in the Saints offense. As a mid-round selection for a RB heavy team, Meredith has the potential to be gold.
TE - Ben Watson
(2017 TE Rank – No.17, 4.8 FPts/G)
Don't let Coby Fleener's time in New Orleans fool you. There's still value at the TE position in a Drew Brees led offense. The last time Watson played with Brees, he finished 7th best at the position with 825 yards and 6 touchdowns.
As his 4.8 points per game 2017 scoring rate would suggest, Watson isn't likely to be a safe TE start every week, but few players at the position can stake that claim. Beyond Ertz, Kelce, and Gronkowski, many of the TEs are simply streaming options and if he can reclaim a portion of his 2015 targets again in 2018, Watson could provide a valuable asset that you can pick up in the last few rounds of fantasy drafts.