QB Blake Bortles
(2017 QB Rank - No. 13, 19.5 FPts/G)
Bortles is the best example of a bad real-life QB, but valuable fantasy QB, however, the Jaguars' coaching staff has made a decision to shift the offense from a pass-heavy approach to one that leans heavily on the run game. 2017's 19.5 fantasy points per game represented Bortles' lowest mark since 2014. And even with this finish, Bortles finished as a QB1 in 37.5 percent of his games after being drafted as a late-round QB or streaming option.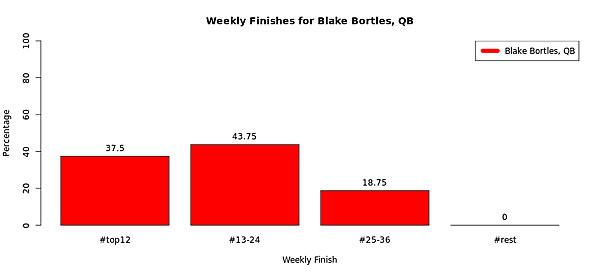 Jacksonville had the second highest run/pass ratio at 50 percent which is likely to continue in 2018 barring an injury to Fournette which hurts the upside of Bortles. In addition to this hindrance, the loss of Allen Robinson hurts his receiving group. As a late-round option, Bortles still has some upside as a streaming option, but it's less likely that he finishes as a top 12 QB unless the pass ratio improves.
RB Leonard Fournette
(2017 RB Rank - No. 8, 14.9 FPts/G)
After investing a high draft pick on Fournette, the Jaguars' organization brought with it a seeming change in offensive philosophy. Gone are the days of Blake Bortles being among the league leaders in pass attempts. Instead, they shift to a run-first offense centered on positive game scripts for Fournette. Despite playing in only 13 games, Fournette finished 7th in total rushing attempts and 8th in rushing yards. On a points per game basis, Fournette finished behind only Todd Gurley, Ezekiel Elliott, Le'Veon Bell, and Kareem Hunt.
As a fantasy asset, Fournette was a star early last season and even as his production slipped, he remained a reliable option through 2017. Fournette's start was near historic as he scored at least one touchdown in each of his first six games before succumbing to an injury and missing time during the middle of the year. All in all, he finished with ten scores on the year.
With a deep RB draft class, many veteran RBs were in jeopardy, but for obvious reasons, that wasn't the case for Fournette. After an appearance in the AFC Championship game, the Jaguars largely chose to stand pat at the position in the off-season which indicates another big volume season for Fournette. He should be a top 12 pick in leagues and owners can feel confident that he'll receive enough volume to have a strong chance to be a RB1 in 2018.
RB T.J. Yeldon
(2017 RB Rank - No.63, 6.0 FPts/G)
Yeldon largely serves as the counterpunch to Fournette's bruising style and only receives significant rushing work when Fournette is out with injury. In 2017, he served as the third option behind Fournette and Chris Ivory and only managed 49 carries for the season. With Ivory now in Buffalo, there's a chance Yeldon could see that total increase, but it's also conceivable that he falls below Corey Grant, as well. Yeldon enters this season coming off of three consecutive seasons with at least 40 targets and 30 receptions. In PPR leagues, he could serve as a desperation fill-in flex option because of this role, but Yeldon has been mostly uninspiring as a fantasy asset and is probably best left as a free agent for now.
RB Corey Grant
(2017 RB Rank - No.72, 4.5 FPts/G)
Grant is entering his fourth season in the NFL and only has 68 career carries, but he made an impact with three receptions in the playoffs and some reports from off-season activities indicate that he may see a larger workload in 2018. Jaguars' offensive coordinator Nathaniel Hackett stated Grant is "a guy we've got to get out there". He posted an impressive 8.3 yards per carry on only 30 attempts and consistently made big plays when given the opportunity. However, it's unlikely that Grant holds much value in 2018, but he's a free agent worth keeping an eye on if Fournette gets injured.
WR Marqise Lee
(2017 WR Rank - No.44, 6.9 FPts/G)
Lee led the team in targets in 2017 and with the exodus of Allen Robinson and Allen Hurns in free agency, he's poised to be the leader again. Lee set a personal best in targets per game (7.4) and had his second best season in since joining the league. His 96 targets ranked tied for 28th in the league and his 702 yards ranked 40th. He fell slightly short on touchdowns with only 3, but he's never been a big touchdown scorer.
As a fantasy asset, Lee's biggest hindrance will be the team's reliance on the running game and the team generally staying in low scoring games. For standard scoring leagues, his ceiling likely caps as a low-end WR2 but the most likely outcome is a WR3 who can be plugged in as a flex. As a mid-round pick, his price might be a little high because of his limited ceiling, but if he begins falling into the WR4/5 range, he's immensely valuable. In PPR formats, he may have extra upside if he once again leads the team in targets.
WR Keelan Cole
(2017 WR Rank - No.41, 5.8 FPts/G)
Cole made a late push in 2017 that brought his name to prominence. If you were bold enough to roll out the largely unproven wideout in weeks 13 through 16, it paid off. Cole was the top scoring receiver in the league over the last five weeks of the season averaging more the 13 FPts per game. And while his late season push provides some optimism, he wasn't heavily used in the playoffs, only 6 targets in three games, which can indicate a slight lack of trust.
Cole has arguably the highest ceiling of any of the Jaguars' receivers because of his field stretching style. If he's available in the final three or four rounds of 12-team leagues, he's worth a bench spot because he'll be easy to let go, if need be. The most likely outcome is that Cole ends up a boom-bust WR4 but keep an eye on training camp reports to see if he takes to lead role from Marqise Lee.
WR Dede Westbrook
(2017 WR Rank - No.96, 5.7 FPts/G)
As it currently stands, Westbrook is the WR2 in Jacksonville, ahead of Keelan Cole and with the exit of Allen Hurns, that could be a meaningful role. In his seven games of 2017, he posted 51 targets and 27 receptions for 339 yards and a touchdown. The noteworthy point is that he was nearly identical in terms of targets per game to Marqise Lee over the course of the year. And in the few weeks that they both played, Westbrook consistently out-targeted Lee.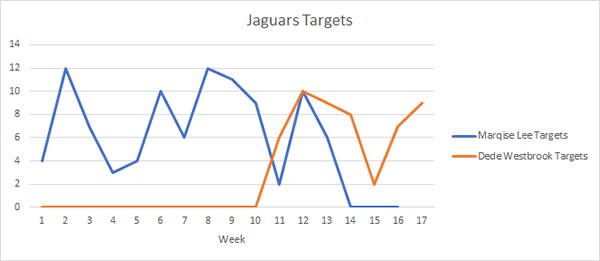 Westbrook is unlikely to be a sexy pick in fantasy drafts, but it's unlikely that he'll ever go untargeted in a game, if healthy. Westbrook's 12.6 yards per reception and sub-2 percent touchdown rate isn't exactly ideal for WR scoring, but he's a safe option to fill-in at flex during heavy bye weeks.
WR Donte Moncrief
(2017 WR Rank - No.78, 4.3 FPts/G)
At his apex with Andrew Luck, Moncrief was a touchdown machine. His 10 percent touchdown rate from 2016 was likely always unsustainable, but without Luck, he largely disappeared. Not only did his touchdown rate fall nearly 5 percent, he managed fewer targets in three extra games with Jacoby Brissett under center. Bortles might be a slight upgrade, but the volume is probably going to be even less with his new team.
As the likely WR4 on a run-heavy offense, Moncrief is going to struggle to find any fantasy value unless he scores touchdowns or he gets a promotion during training camp as a locked-in starter. In season-long roster leagues, he's likely untouchable during your fantasy draft because he'll likely only be usable if he scores. He's a decent late round flier in best ball leagues, but keep your expectations low.
WR D.J. Chark
(2017 WR Rank – N/A)
Chark was one of the stars of the NFL combine with his blazing 40 time (4.34) and even though it helped his draft stock, it didn't help his 2018 fantasy prospects. Chark currently sits 5th on the WR depth chart so he'd need to impress and likely have an injury ahead of him to see significant playing time.
TE Austin Seferian-Jenkins
(2017 TE Rank - No.27, 4.1 FPts/G)
Austin Seferian-Jenkins returns to the state of Florida after two seasons with the Jets. His 2017 has moments of interest in weeks 5 through 7 when he scored touchdowns, but he largely fell flat through the rest of the season despite notching career high in targets.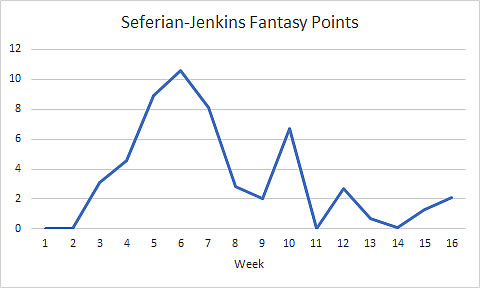 ASJ replaces Marcedes Lewis who finished as the TE22 last season, but even that mediocre finish is slightly misleading. Nearly 40 percent of Lewis's fantasy points were in Week 3 when he scored three of his five touchdowns. While Seferian-Jenkins brings a slightly different style to the team, his value is limited to a streaming option in TE-positive matchups where he'll largely be touchdown dependent.