QB Andrew Luck
(2017 QB Rank – NA; 2016 QB Rank – No.4, 25.5 FPts/G)
Wrap this man in bubble wrap. No, like seriously, protect him with more than a below-average offensive line. 2017 was a sad season without Luck. After being told all off-season by the team's front office that Luck would be ready for the regular season, he wasn't. They refused to put him on the PUP list and waited until midway through the year to admit that he wouldn't be available at all. So, many drafters may feel burned after wasting a roster spot on him as a "late-round flier", but you shouldn't forget how good he's been during his career for fantasy owners with more than 60% of his career starts ending as a top 12 QB.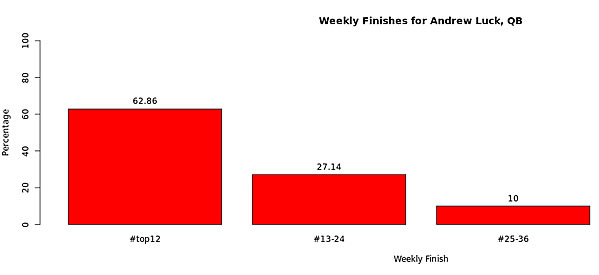 The biggest concerns about Luck's value in 2018 are potential injury risk and potential changes to his play style due to previous injuries. The former speaks for itself. Any player coming off of a significant injury is a risk to be injured again. The latter refers to Luck's sneaky rushing production and the potential for a shift to a safer style. In 2016, Luck finished with the 7th most rushing yards for quarterbacks and 2 rushing TDs. Luck has averaged just under 3 rushing TDs per season and in 4-point per passing TD leagues, these six-point scores provide real value to fantasy teams. If Luck plays a more risk-averse style and limits his rushing attempts, his upside could be significantly limited.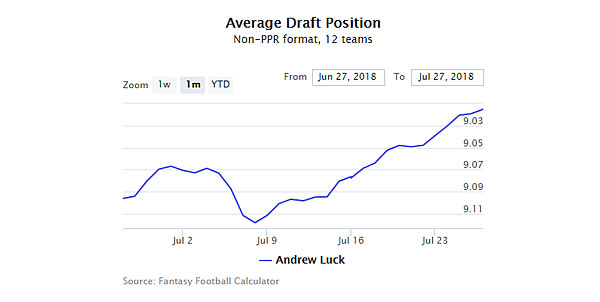 With more and more news emerging about the likelihood of Luck being healthy for training camp, his ADP has subsequently risen. As it stands, Luck is being drafted as the QB11 at the start of the 9th round. If that holds, he has the potential to be a great value. There's some concerns about his receiver corps, but the last time we saw Luck, he finished as the QB4 in just 15 games. Continue to watch training camp news for any reports about his shoulder, but if he remains a low-end QB1 during the draft, take him. He's a low-risk, high ceiling selection at that price.
QB Jacoby Brissett
(2017 QB Rank - No.24, 16.1 FPts/G)
With Andrew Luck coming off of a season-long injury, it would be a disservice to completely ignore the backup. If Brissett plays this season, it's a significant hit to the stock of every other skill player for the Colts, but Brissett could have some streaming value. He had four weeks over 20 fantasy points and four games as a top 12 QB scorer. If forced into action, he may be the one player to retain value, if only intermittently.
RB Marlon Mack
(2017 RB Rank - No.46, 5.9 FPts/G)
Marlon Mack had flashes during the 2017 season, but largely remained hidden behind Frank Gore. At the beginning of the off-season when it was clear that Gore wouldn't be returning, there was some hope that Mack could take on the lead role in the backfield. But at the NFL Draft, the Colts used two selections on the running back position which points towards a committee approach.
As a complement to Gore, Mack operated as the change-of-pace back and was primarily utilized on the outside. He only managed 93 carries, but his 33 targets are noteworthy because in his 14 games, that averages to just over 2 targets per game. And that might be necessary because as a rusher, he wasn't particularly efficient. He fell short of the 4 yards per carry mark with a measly 3.8 YPC and per NFL Next Gen Stats, he averaged the fourth most time behind the line of scrimmage among qualified backs. Additionally, using rushing efficiency stat from the NFL, which measures the total distance traveled per yard gained, he ranked among the 10 worst.
Mack had three double-digit performances in 2017 when playing in a complementary role. Based on the off-season moves and recent suspension to Robert Turbin, Mack looks like the early favorite to be the lead in a committee, but he may fall short of a true workhorse share. With his current 6th round ADP as the RB31, he looks slightly overpriced compared to the other options in a similar range.
RB Nyheim Hines
(2017 RB Rank - N/A)
Hines blazing 4.38 40-yard dash at the NFL combine brought him onto the national radar, but it's his unique prospect profile that makes him an interesting fantasy option with the Colts. Hines began his college career as a WR and shifted into a versatile RB role that included a season with 43 receptions for over 500 yards receiving. For his career, he accumulated 89 receptions and 933 yards.
There's no question about whether he'll be fast enough to play at the next level and if he can translate that into a receiving role, it could be gold. In 2017, the Colts targeted their running backs more than 80 times and in 2016, during Luck's last healthy season, he targeted the RB over 100 times. Particularly in a PPR format, this could be a valuable role for fantasy particularly with new head coach, Frank Reich, who spent two seasons coaching Darren Sproles. In standard formats, Hines is easy to leave behind, but he should be stashed in PPR formats because his athletic profile gives him a very high ceiling.
RB Jordan Wilkins
(2017 RB Rank - N/A)
Wilkins is becoming a trendy sleeper among fantasy analysts projecting the Colts running back workload. But while his size would indicate his ability to handle a heavy volume, his college production doesn't give the same rosy outlook. Wilkins never had a 200-carry season and he maxed out at 13 carries per game. He did have excellent career efficiency (6.3 YPC), but there's a real question about whether he can handle 200 carries in the NFL. Let him pass by at the end of your draft unless you're in need of a lottery ticket at the position. He'll likely be on the waivers after a few weeks.
WR T.Y. Hilton
(2017 WR Rank - No.25, 7.5 FPts/G)
Hilton was the epitome of a boom/bust player in 2017. With Brissett under center, Hilton was heavily targeted but the limited play under center led to inconsistent output. For the season, Hilton never dipped below 4 targets in a game, but had 10 weeks with fewer than 5 fantasy points. And if you were forced to make a weekly decision, you likely had to roll him out week after week because of his early draft position and most weeks you were let down.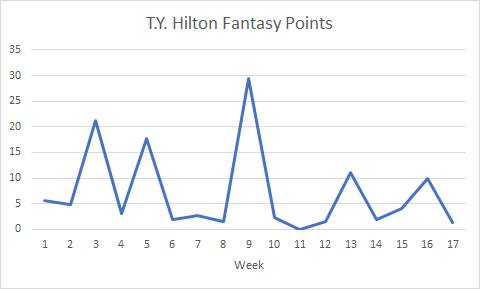 Hilton's five double digit weeks, including two 20-plus point performances, were likely good weeks for his fantasy owners, but he was a net negative with everything considered. Hilton's final ADP was WR12 in the 3rd round of fantasy drafts and at that price, he likely represented a team's WR1 for RB-heavy teams or WR2 for more balanced rosters. In either situation, he immediately became a headache during start/sit decisions. And whether that's due to QB play or his own inefficiencies, he likely sunk many fantasy teams.
But, good news appears to be here! Andrew Luck is back and in 2016, when they last played together, Hilton finished as the WR5 with eight double- digit weeks and only four weeks under 5 fantasy points. Hilton has a current ADP of WR12 in the 3rd round. That price includes the optimism that Luck will return to glory. If he slips into the WR2 range around WR16, then he becomes a valuable pick because of his weekly upside. At the WR12 price, he's a slightly risky pick, but if he's the WR3 for a Zero-RB team, he could be a valuable high upside flex. If he's a WR1 for a RB-heavy team, it's probably too great a risk.
WR Ryan Grant
(2017 WR Rank – No.51, 5.1 FPts/G)
Ryan Grant has never had a season with more than 50 targets or 600 yards, so why is he a meaningful fantasy wide receiver? Because the wide receiver corps for Indianapolis is barren and he represents the early favorite to be the WR2 on an Andrew Luck-led offense. He handled 65 targets in 2017 and converted that into 573 yards and 4 TDs on 45 receptions. Luck had 545 pass attempts in 2016 and he's averaged 585 attempts per 16 games. If Grant can earn a decent share of these targets, he could have value as a fill-in flex during bye weeks.
WR Chester Rogers
(2017 WR Rank – No.104, 3.5 FPts/G)
The argument for Rogers is similar to that of Ryan Grant except he's even less proven. Rogers' career high in targets is 37 and he's never had more than 300 yards for a season. Unless he can secure the WR2 role before the end of the preseason, Rogers in undraftable in standard sized leagues.
TE Jack Doyle
(2017 TE Rank - No.9, 6.2 FPts/G)
After rising to low-end TE1 prominence in 2016, Doyle followed up that season by improving his fantasy scoring despite worse quarterback play. With Brissett under center, Doyle had seven games with more than 6 fantasy points and he averaged 7.2 targets per game. However, his efficiency dipped in 2017 with the expanded role. Despite having 33 more targets, he scored 1 fewer TD and he dropped from 9.9 yards per reception to 8.6. With Luck back under center, there's hope that the team will have more scoring opportunities and that Doyle could become a primary option in the redzone.
Doyle's ADP sits at TE15 in the 13th round and with Luck back, that's a decent price for him. As a TE2 draft capital, Doyle can be used as a streaming option to mix-and-match matchups throughout the year or he can be easily discarded if his target share significantly dips. If you typically wait on the position, Doyle should be a prime target with his first two matchups being against the 13th (GB) and 6th (SEA) best matchups for TE scoring.
TE Eric Ebron
(2017 TE Rank – No.14, 5.1 FPts/G)
Ebron has been a disappointment to fantasy owners since he was drafted in the first round of the NFL draft. And while he's joining a team with a clear cut TE1 already on the roster, he may have joined one of the better teams at targeting the position, potentially giving fantasy value to a second TE.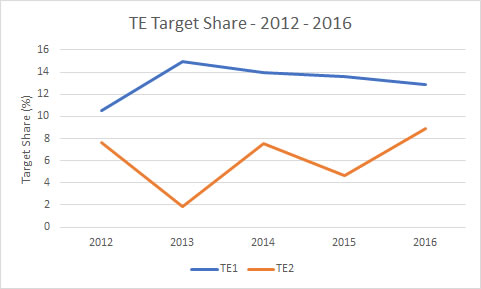 Even if Ebron comfortably sits as a TE2, he could have a target share in the 7% range and if his offensive role adds clarity this preseason, he could be a sneaky weekly play against bad defenses. Most likely only one of Ebron and Doyle will have consistent value, but an injury to either or poor play from one could open up a very valuable role.