Scouting Rookie Prospects
12/23/04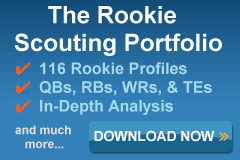 The "Gut Feeling" is often synonymous with a sense of desperation resulting from a lack of preparation. The Gut Check is a huge proponent of studying the numbers, but there's a point where one can place too much emphasis on the wrong information. This can result in the undervaluing or overlooking a player's potential. Therefore, The Weekly Gut Check is devoted to examining the frame of reference behind certain number-driven guidelines that fantasy football owners use to make decisions.

Although The Weekly Gut Check doesn't claim to be psychic, he does believe that he can dispel certain numbers biases and help you make the best choices for your team. We'll keep a running tally of The Weekly Gut Check's insights. This way you can gauge his views as something to seriously consider, or at least seriously consider running the opposite way as fast as you can!


---
Other than the draft, The Gut Check enjoys the process of scouting fantasy rookie prospects more than most any aspect of the hobby. Yours Truly doesn't fancy himself on par with anyone that seriously scouts pro prospects, but he does feel he's learned a lot from reading what others have to say about a player and simple observation.
Identifying a good prospect is like recruiting the best candidate for a job:
Actions speak louder than words.


Superior raw talent can be molded into superior production, but the results are as dependent on the organization as the player.


Experience is overrated.


Ultimately, it's still a crapshoot.
Actions speak louder than words: This is the time of year when the hype machine for pro prospects goes into overdrive and players with glaring weaknesses get picked on the first day of the draft but experience failure in the NFL. College coaches and agents fuel this hype machine because both have much to gain from their player becoming a high pick. No matter how much hype the player is receiving, it's important to observe his performance. Sounds like common sense, but it's easy to get sucked in by a coach's comments—especially if these coaches are successful on the level of Bobby Bowden, Joe Paterno, or Pete Carroll.
Superior raw talent can be molded into superior production, but the results are as dependent on the organization as the player. In other words, the training is just as important as the talent. There are many award-winning companies that subscribe to the belief that they are just as likely to benefit more from hiring an employee with no experience in a position over candidates with several years of experience. This is because they believe you can teach skills (route running, reading defenses, etc.) but you can't teach talent (heart, work ethic, etc.). Would Brett Favre been nearly as great a quarterback under Jerry Glanville's coaching staff as he was under Mike Holmgren? Did Rueben Droughns get the necessary training to be an effective NFL runner with the Lions? The Gut Check doesn't think so.
Some teams do a great job of developing raw talent at a position. This is worth noting during a draft. Pittsburgh (Ward & Randle El), Oakland (Porter & Curry), and Tennessee (Mason, McCareins, and Bennett) have a good track record of developing receivers. The Seahawks are doing a nice job with converted linebacker Michael Boulware as a safety and the Bears did a pretty good job with a former safety at linebacker in Brian Urlacher.
Experience is overrated. Likewise, a successful college career isn't a stand-alone requirement for a great NFL career. J.J. Stokes, Kevin Dyson, and Tim Couch were high draft picks based on great college careers, but were mediocre NFL talents, at best. The Gut Check feels experience and raw talent must work in conjunction to create a successful NFL player. Every team has a different system and these schemes target players with skills and experience that best match their designs. This is why the Gut Check believes West Coast offenses wouldn't have drafted Randy Moss even if his off field issues were non-existent. Can you imagine the Raiders of the Jon Gruden era benefiting the most from Randy Moss?

Ultimately, it's still a crapshoot. There are too many intangibles with people. It's the intangibles that made Priest Holmes one of the best backs of all time although un-drafted. It's the lack of intangibles that doomed Ryan Leaf. And it's the intangibles that kept Drew Brees from packing it in when the Chargers wanted to make it Phillip Rivers' team. As The Gut Check just pointed out with Brees, intangibles aren't always revealed immediately. Not to compare Brees with these guys, but many of the all-time greats suffered early disappointments before putting it all together: Johnny Unitas, O.J. Simpson, and Steve Young weren't great players from the beginning.
As mentioned in his preseason series on preparing for the draft, Yours Truly starts the evaluation process with a running notebook of college players. Although the Senior Bowl and other postseason scouting games are useful in some respects, it's best to observe players in-season. Fortunately for those of you with a late start, the Bowl games are great opportunities to do a little fantasy scouting. These are regarded as some of the biggest games of the year for most teams and its useful to observe how a prospect performs in high-pressure situations.
For now, The Gut Check is going to provide some random notes on players that caught his eye during the college season. Some will be in the NFL draft this spring; others may spend another year or two on college campuses. Hopefully these notes will give you some ideas or at least a barometer for your opinions on certain NFL-hopefuls:
Anthony Davis, RB, Wisconsin: Small back—5'8", 205 lbs. (at best)—with a great offensive line in front of him. Against UCF Davis displayed excellent acceleration through the hole. He doesn't appear to have a lot of start and stop moves in the open field. Davis is beating the first man that has a shot at him, but the blocking is so good that his yardage gained is fairly deceiving. NFL Scouts say he needs to show better receiving skills. Today, Davis had a nice, 12-yard reception on a scoring drive. Plays smart. Is willing to aggressively engage an opposing defender as a pass blocker. Overall, the jury is still out—Davis needs to show how well he runs between the tackles against a team that is a better match for this good, Wisconsin offensive line.
Darcey Johnson, TE, Wisconsin: Don't know much about the guy, but he made a one-handed catch on a sideline slant, 30-yards down the field as a man was literally tackling him. He's reportedly the third-fastest player on the team.
Alex Haynes, RB, University of Central Florida: 5'10", 225 pounds. Haynes is demonstrating that he's a powerful runner with good body lean. Showing a lot of patience as a runner and displaying both vision and decisiveness in the hole. The announcers seem to have the opinion that Haynes has the talent to be an NFL-caliber back. This is a guy to research in the off-season—a possible sleeper.
David Underwood, RB, Michigan: Against Miami of Ohio, Underwood seemed slow for an RB. His greatest detriment appeared to be his tendency to avoid contact. This was his first start, but generally backs with his size don't shy away from dishing out punishment, or at least taking it when necessary. Underwood was not impressive at all.
Martin Nance, WR, Miami (OH): Does a good job finding the zones. Displays nice concentration and body control in his route running. Almost made a terrific, one-handed catch with Marlon Jackson covering him. Looks like he has the frame to add weight without losing speed. It would be surprising if Nance becomes a first-year wonder in the NFL, but he appears to have the tools to develop into a starter in the future.
Braylon Edwards, WR, Michigan: Terrific power as a runner with the ball after he makes a catch. Edwards is a decisive, physical wide receiver with excellent body control when fighting for the ball. Although scouts compared Reggie Williams' skills to Terrell Owens, The Gut Check believes Williams isn't explosive enough an option. On the other hand, Edwards compares more favorably. This guy is the type of receiver that projects well as a primary threat in the NFL because he'll go deep but also make the intermediate catches across the middle. In the right system, Edwards could be an immediate starter in the NFL.
Ahmad Brooks, LB, Virginia: Hits hard, nice speed, and takes decent angles to the ball carrier. Good kick returner—odd combination (LB/KR)—wouldn't be surprised if he's converted to safety if he wants to be a pro.
Ryan Moats, RB LaTech: Wow…averaging 8.4 yards per carry in this game. Sure it's just UNLV, but he's showing a low center of gravity, nice burst through the line, excellent moves in the open field, and even a good stiff arm. His receiving skills need work—doesn't look smooth when he gets the opportunity to catch the ball. Excellent power for his size and announcer, and former Ohio State coach, John Cooper is very impressed with Moats and his frame of reference (Robert Smith, Eddie George, Raymont Harris, etc) is a good one for backs. LaTech was a passing powerhouse with Luke McCown last year (best passing team in the NCAAA) but now they appear to be a doing a complete 180 on offense due to Moats' skills. Moats is a very impressive player that continued to put up excellent stats against higher level of talent.
Joseph Adai, RB/WR LSU: Not sure if Adai is going to be a good fantasy starter in the NFL, but this guy is an excellent football player that will contribute to a pro team. He is carrying this LSU team against Florida tonight. Adai has balance, toughness, and plays big when the team needs a big play. Adai has "it" as a player—awareness and does whatever is needed to get the job done on the field. Has 10 carries for 96 yards with 4 receptions for 26 yards and a game-winning score. If scouts don't see this guy as a valuable prospect—although not necessarily an every down starter—it will be a surprise.
Channing Crowder, LB, Florida: Good hitter that tackles well. Generally takes nice angles and has the speed to rush the passer. Against LSU's mobile QBs, Crowder had two sacks. He also had 10 tackles—3 for a loss. Crowder should be a 1st or 2nd round prospect when he enters the draft. Didn't get to observe enough of Crowder in pass coverage, this will be important to research down the line.
Chris Leak, QB, Florida: Most impressive thing is his poise. Demonstrates toughness both physically and mentally and throws a very pretty ball. Good athlete that does a good job throwing from the pocket. This guy should evolve into a quality NFL starter and a high-round prospect within the next couple of years. Would be shocked if next year is not his coming out party.
Jason Webster, CB, LSU: This is a potential shut down corner. He is a very intelligent player that doesn't overly rely on his athletic ability. Does a nice job fighting for the ball in the end zone. Webster has made a lot of nice plays one on one with receivers in the end zone this year. Seems like a physical player—kind of like a Bobby Taylor with a potentially more savvy to his game. Sometimes he seems to be toying with his competition.
These are generally just one game entries. Yours Truly will collect various one-game observations—often multiple observations for the same player—and compile them into something more substantial. Eventually, he'll create ratings for these rookies heading into his dynasty drafts. Here's his 2004, top-50 rookie list he compiled for a draft in a league where he competes with Mike MacGregor. The players underlined were ones The Gut Check drafted. Yours Truly thought the notes in retrospect might be entertaining to share:

Top 50 Rookie List

Overall
Name
POS Rank
Comments
1
Larry Fitzgerald
WR1
Best hands, routes, adjustment to the ball, and drive I've seen in a WR. Best player on the board.
2
Roy Williams
WR2
Great speed, good hands, great size. Very little separates him from Fitz, but that's why Fitz is special. Injuries worry me.
3
Kellen Winslow
TE1
Fitzgerald may be the only receiver with better hands. Winslow will make an impact from game one
4
Shaun Taylor
S1
The best safety to come out in years. I'd like to plug him in and forget about the position for a while
5
Eli Manning
QB1
I don't want to like him, but I do.
6
Ben Roethlisberger
QB2
Has the arm and ability, but I like his attitude even more.
7
Cedric Cobbs
RB1
The best RB I've seen in terms of natural gifts. He's in a great situation too.
8
Rashaun Woods
WR3
My favorite WR after Fitzgerald. Possibly the most polished WR
9
Reggie Williams
WR4
Has the talent, but I didn't see enough of him. Lefwich raises his value for me.
10
Kevin Jones
RB2
I see bust factor all over this guy, but he has a ton of talent.
11
Julius Jones
RB3
Parcells waiting to take him sends a strong message about this guy that I like.
12
Jonathan Vilma
LB1
The best LB in the draft. Should have a long, productive career.
13
Michael Clayton
WR5
One of the top 5 overall football players drafted this year.
14
Lee Evans
WR6
Exciting player
15
Devard Darling
WR7
In a 2 years, he may turn out to be better than some of the first round picks.
16
Ben Troupe
TE2
Potentially forms a great redzone pass/catch combo with McNair. If I don't get Winslow, I want Troupe
17
Greg Jones
RB4
This guy is a horse and I believe he's too good to be benched in time.
18
Chris Perry
RB5
I'm starting to think he's underrated, but I think Rudi Johnson has the job
19
Stephen Jackson
RB6
I think he's overrated, but could be a solid starter in the NFl
20
Tatum Bell
RB7
I think this is where the Broncos may have messed up with an RB.
21
Kenechi Udeze
DE1
A more athletic version of Bruce Smith in some eyes. I won't go there, but he's a good one.
22
Sean Jones
S2
I think he's a steal. If I get Taylor and he's also still here, I could be set at safety for years.
23
Karlos Dansby
LB2
Very athletic and should make a lot of plays
24
D.J. Williams
LB3
Best athlete of the LBs.
25
Dontarrius Thomas
LB4
A warrior that tackles better than Dansby, but not as athletic
26
Ted Lehman
LB5
His physical skills are underrated compared to some of these other guys, but he's a player.
27
Quincy Wilson
RB8
I think he's a steal. Breaks tackles, good initial burst, hands, toughness. Wants the ball in big games.
28
Bernard Berrian
WR8
I was impressed with him when he was matched up with Carr. Very good athlete, too
29
Keary Colbert
WR9
One tough player. Underrated.
30
Michael Jenkins
WR10
Not impressed, but compared to Keyshawn in ability. Paired with Vick could be a decent thing.
31
Will Smith
DE2
32
Darrius Watts
WR11
Sometimes dropped easy passes, but he has the goods if he gains weight. I like this guy.
33
Phillip Rivers
QB3
Was impressive every time I saw him, but not sold on him.
34
JP Losman
QB4
I wasn't impressed in games, but his team stunk. I think his attitude got a bad rap.
35
Luke McCown
QB5
If he's available here, I have to consider him.
36
Ben Watson
TE3
It's a crowded depth chart in NE, but he has the talent.
37
Derrick Hamilton
WR12
A lot of people are very high on him. I'm not sure if they're just high. Has the physical skills and desire though.
38
Troy Fleming
RB9
Could be a surprise, but I can't draft him too high. He's likely to be a back up this year.
39
DeAngelo Hall
CB1
A playmaker at the position.
40
Dunta Robinson
CB2
Likes to blitz and aggressive.
41
Derek Strait
CB3
I like this guy. Will likely be the one QB's test a lot, but will do better more times than not.
42
Madieu Williams
S3
 Excellent player, if I don't get Jones I'd be very happy with him.
43
Bob Sanders
S4
 Didn't the Colts already get Mike Doss???
44
Jarrett Payton
RB11
Maybe I'm blinded by my desire to root for Walter's son, but I think he's going to be a much better pro.
45
Samie Parker
WR13
 Won't get the chance as a rookie under Vermeil, but a good player.
46
Kendrick Starling
WR14
 Probably too high on this guy but should stick and develop in Houston.
47
Devery Henderson
WR15
Way too much hype on this guy. Needs a lot of work.
48
Chris Cooley
TE4
A great sleeper candidate. Gibbs thinks he found the right guy here and passed up Winslow.
49
Earnest Wilford
WR16
 Underrated, but not sure if he has the speed—seems like a 'tweener at position.
50
Mewelde Moore
RB10
Excellent player, but what kind of opportunity in Minnesota????
51
Antwan Odom
DE3
 Will develop into a fine pro down the line.

This season has been a pleasure. For those of you hibernating until training camp, enjoy your sleep. As for the rest of you that see the off-season as a time to prepare for the draft and feel like talking football and keeping in touch, feel free.

See you next season!