Rookie Keepers
10/28/04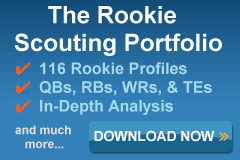 The "Gut Feeling" is often synonymous with a sense of desperation resulting from a lack of preparation. The Gut Check is a huge proponent of studying the numbers, but there's a point where one can place too much emphasis on the wrong information. This can result in the undervaluing or overlooking a player's potential. Therefore, The Weekly Gut Check is devoted to examining the frame of reference behind certain number-driven guidelines that fantasy football owners use to make decisions.

Although The Weekly Gut Check doesn't claim to be psychic, he does believe that he can dispel certain numbers biases and help you make the best choices for your team. We'll keep a running tally of The Weekly Gut Check's insights. This way you can gauge his views as something to seriously consider, or at least seriously consider running the opposite way as fast as you can!


---
The Gut Check participates in a variety of league formats, but dynasty leagues are his favorite because the owner gets to see what it is like to build a team and balance a roster of players comprised of established stars and budding talent. It's exciting to watch an unknown player develop into a fantasy asset. In a couple of weeks, it will become clearer in most leagues which fantasy teams are playoff bound and which are waiting for next year. Even if your team isn't going to the playoffs, the appeal of dynasty leagues is focusing on your squad year-round. That also means scouting and acquiring future talent that can be had on the cheap at the most opportune times of the year. This is that time of the year.
Some of the players are obvious and due to their draft position, notoriety, or position on the depth chart will command a higher value. Willis McGahee was a good example of an obvious rookie keeper in 2003. Other players are projects that eventually blossom into great players. Chad Johnson was a collegiate star but slipped into relative anonymity after the draft. It took a few years for Johnson to become a fantasy stud, but first-year starter aside, Johnson is capable of toasting even the best cornerbacks in the game—as demonstrated on Monday Night Football. Doug Gabriel is a good example of a player in 2003 that The Gut Check feels could evolve into a sought-after fantasy receiver in 2005.
Here's The Gut Check's list of obvious and not-so-obvious rookies fantasy owners should keep an eye on for the future. Yours Truly should point out he's not listing rookies that are already starting or getting significant time on the field—i.e., Mewelde Moore, Roy Williams, Steven Jackson, Kevin Jones, Ernest Wilford, etc. The Gut Check is listing players that haven't made a significant contribution, but will develop into fantasy starters. These are guys an owner can acquire off the waiver wire or in trades with playoff caliber squads that need a solid starter today and in return could give you a star of tomorrow.
The Obvious
QB J.P. Losman, Buffalo Bills
Although probably better-known at this point among fantasy owners as the guy at Tulane that handed MeWelde Moore the ball, Losman was regarded as the top quarterback prospect in the country prior to the 2003 season. But the luster faded after the Green Wave had a tough season. Personnel types began their annual, over-scrutinizing of talent and claimed Losman was too cocky. Losman was drafted after quarterbacks that his skills either match or exceed on the field.
Yours Truly saw enough of Losman to tell you that he's going to become a sought-after fantasy quarterback for years to come. The Gut Check watched a fair number of Tulane games because he was scouting Mewelde Moore. What he saw were two NFL-quality players operating behind a weak offensive line. It's difficult to maintain disciplined drop back and throwing motion when a guy like TCU All-American Defensive End Bo Schobel is coming at you unabated from your blindside. This was typical of Losman's senior year.
The Gut Check also checked out the ESPN-NFL Films special that profiled Losman, Kenechi Udeze, DeAngelo Hall, and Dunte Robinson from pre-draft workouts to their first few preseason games. This may seem like a funny way to base an opinion, but Yours Truly has found those types of shows or any televised "football skills competition" can tell someone a decent amount about a player.
Based on Losman's interactions with scouts, coaches, and teammates Losman is nothing but a confident player with some swagger that wants to compete against the very best to show he belongs there. If scheduling pre-draft workouts right after Eli Manning—at that time considered the safest bet as the top QB in the draft—is a sign of cockiness, then how can one view this as a bad thing?
If anything, cockiness was on display during this show when Dunte Robinson went to the Astros' batting practice and told everyone in earshot that he's going to put on a show. Although Robinson whiffed on just about every pitch his way, that cockiness is still what most NFL types want from a cornerback. Why wouldn't they want it from a quarterback? Jim Kelly, Joe Namath, and Dan Marino were cocky. Heck, Matt Hasselbeck is cocky—remember the coin flip in the overtime playoff match up with the Packers when the Seattle quarterback told the mic'd referee that they were going to take the ball and score?
The rumor mill on Losman getting some chances in place of Bledsoe is strong. Losman is a tough, athletic quarterback with a great arm. He's not afraid of making plays with his legs and as his senior year at Tulane proved, he can take punishment and still produce. Plus Bledsoe is too much of a statue in the pocket. If he were quarterbacking the Raiders of the 70's then it would be a different story, but he's not and it's showing up on the weekly box score.
Losman's stock is going to take a significant leap over the next month. The long-term outlook appears good. Sam Wyche is a proven quarterback coach and ownership wants a more wide-open offensive attack. Losman, McGahee, Evans, and Moulds are a promising skill set. Henry will likely garner a high draft pick in a trade that should improve the team. It's probably a good idea to grab Losman cheap, evaluate his play over the course of November-December, and act accordingly.
WR Rashaun Woods, San Francisco
The Gut Check thinks a healthy Rashaun Woods would have given Cedrick Wilson a run for his money in the preseason. But Woods' nagging injuries kept him off the practice field and "out of sight, out of mind," is a practice most coaches adhere to with rookies.
The Gut Check asked Kansas State's LB Josh Buhl about Rashaun Woods' prospects. Buhl, a former teammate of Cowboys' cover man Terrance Newman said that Woods was the most dangerous receiver his team had to face and he posed all kinds of match up problems for their defensive scheme. Buhl may not have been drafted, but he was a highly regarded college player that was a 'tweener—small for a linebacker, slow for a safety. Buhl has seen his fair share of players and when Woods is mentioned over Roy Williams as their most dangerous receiving opponent that made Yours Truly pay attention.
Think The Gut Check is relying too much on a college player that could have just forgotten about Roy Williams during a question answer session? Possibly, but Bill Walsh was very much responsible for preparing the 49ers draft in 2004. If Woods is good enough for Walsh to trade down and target, then that speaks volumes about the Oklahoma State star.
After Larry Fitzgerald, Woods was the Gut Check's favorite player from the 2004 draft class. He had Woods rated just below Fitzgerald and Roy Williams and above Reggie Williams. What specifically makes Woods such a good prospect? He was considered the most complete player at the receiver position coming out of the draft not named Larry Fitzgerald. Why was he drafted at the end of the first round? He was considered a player that lacked the deep speed to be a sure-fire primary receiver in the NFL.
But let's look at the combine numbers a little deeper and compare them to what scouts have said about Woods after reviewing his in-game performances. The Gut Check thinks you'll find that Woods' was underappreciated at the draft and Bill Walsh was all too happy to capitalize on it.
Woods is known as savvy route runner and knows how to make a catch in traffic and tight coverage. Consider some of the cornerbacks Woods faced in his career:

Player
School
Rec
Yds
TDs
Comments
Fabien Washington
Nebraska
11
134
1
Washington is a highly regarded college prospect.
Derrick Strait
Oklahoma
12
226
3
Totals from one game and with both corners playing!
Andre Woolfolk
Terrance Newman
Kansas State
7
77
1
Newman had an impressive rookie year in Dalls.
Ricky Manning
UCLA
7
143
1
One of the reasons Deion Grant was expendable in Carolina
Strait, Woolfolk, Newman, and Manning are all contributors—if not starters—in the NFL. The Gut Check hasn't heard about any Oklahoma State quarterbacks being highly touted NFL prospects—Woods is just that good. How did he put up these monster numbers besides the fact that he is known for having some of the best hands of any receiver in draft class?
Quickness in and out of breaks. Scouts cite this ability as one of the most important aspects of route running. This is what has kept Jerry Rice and Keenan McCardell viable contributors late in their careers. Neither player was a speed guy, but they both could get deep because of their ability to gain separation. Eric Moulds is another player that comes to mind that is explosive out if his breaks. This is why gaining separation is ultimately more important than blazing speed.
The 20-yard shuttle is a good indicator of this explosiveness. Woods ran a 4.05 second 20-yard shuttle. How did the other top prospects fare?

Who's Explosive?
Prospect
Height
Shuttle
40 Time
Vertical
Michael Clayton
6'3"
4.15
4.54
32.5
Keary Colbert
5'10"
4.18
4.43
34
Lee Evans
5'10"
4.02
4.33
37
Larry Fitzgerald
6'2"
4.27
4.47
35
Michael Jenkins
6'4"
4.31
4.38
34
Darrius Watts
6'1"
4.18
4.43
35
Reggie Williams
6'3"
4.34
4.48
36
Roy Williams
6'2"
3.97
4.37
39.5
Rashaun Woods
6'2"
4.05
4.47
39

Interestingly enough, the scouts' take on Woods was he was a great blocker, route runner, and receiver but he wasn't a top athlete. Only Lee Evans and Roy Williams had a better shuttle time than Woods. Plus, Woods was every bit as fast in the 40 as Fitzgerald, Reggie Williams, and Michael Clayton. None of this even shows how Woods' performance catching the ball in front of scouts was excellent.

So why isn't Woods on the field right now? He failed to gain any chemistry with the 49er quarterbacks because he was spending more time in the training room than the practice field. Hamstring injuries are troublesome. But Woods' first career touchdown versus the Rams on demonstrates two things that made him a first round pick. First, is Woods' ability to make plays in the redzone. This is the guy that caught 7 touchdowns against SMU in one game. The second thing is his ability to read coverage and find the open area—which Woods did as the coverage adjusted to the quarterback rolling left.

The Gut Check thinks Woods will likely receive more opportunities this year and he'll be a popular sleeper for 2005.

Just Below The Surface

QB Matt Schaub, Falcons
The Virginia alum led all preseason quarterbacks in passing during his rookie year. He's a smart player with a good arm and is nimble enough to be considered a mobile pocket passer—especially for a guy that's 6-5 and 237 pounds. A career 66.98% completion percentage in college isn't too shabby, either. As Schaub progresses, The Gut Check has a feeling the quarterback situation could get complicated in Atlanta if one of two things occur:
Vick doesn't make a quantum leap with the West Coast Offense

Vick succumbs to injury for more than a few games
Both are valid possibilities and if Schaub can manage the offense effectively, a defensive mind like Jim Mora, Jr. might find it more advantageous to have a more conservative offense. Although Schaub will likely be a less explosive option than Vick, he could generate longer drives and a rest the defense more effectively than Vick, a quarterback that is just as capable of scores off big-plays as 3 and outs. This is almost picture perfect for a media-crazed QB controversy within the next 2-3 seasons. No matter what happens, Schaub will wind up being too good to remain anyone's back up and should be an in-demand free agent down the road.
RB Cedric Cobbs, Patriots
Corey Dillon is a terrific back and one of The Gut Check's favorite runners to watch. Cobbs is a very similar back in terms of skill set. Yours Truly got to watch a lot of Cobbs at Arkansas. As Gil Brandt once said on NFL.com, "Cobbs was one of the most sought-after high school players in the country." This is a player with size, deceptive speed, and runs well behind his pads—in other words, he knows how to dish out punishment. The scouting consensus is that he's one of the most natural runners to come out of college in years but has been an underachiever.
The underachieving has shown up with nagging injuries and off-field incidents. The Gut Check has read many scouts' takes that stress the importance of character and work ethic. Some even go as far as to parallel the corporate world as a way to draw an example for their points. It's true that Cobbs has done some immature things and his work ethic has been suspect, but the nature of his mishaps pale in comparison to his talent. This isn't a guy that had "Lawrence Phillips" issues. He didn't even have "Randy Moss" issues. If Bill Belicheck and Scott Pioli picked Cobbs, then The Gut Check trusts the positives outweigh the concerns.
The outlook on Cobbs reminds the Gut Check of the way others viewed Deshaun Foster or Ahman Green—exceptional talents that can do things to make your jaw drop on one play then seem to underachieve the next. But Cobbs is not the same kind of back. He's not a speed burner, but a deceptively fast runner that seems to glide past people. Cobbs' running style would fit somewhere in the middle of the spectrum of Robert Smith, Chris Brown, Curtis Martin, and Corey Dillon—Smith being the fastest and least powerful runner and Dillon the slowest and most powerful. Speaking of Dillon, the current New England starter is 29 and likely to produce quality starter totals for at least a few more years if he stays healthy—which of course, is a big "if" for position with an average career life span of less than three years.
WR Bernard Berrian, Chicago Bears
Remember when David Carr took Fresno State to prominence and became the consensus #1 QB prospect in the draft? Berrian was his go-to receiver and two years ago was considered a receiving prospect on par with Lee Evans—an explosive deep threat with the toughness to catch the ball over the middle. Berrian, like Evans, hurt his knee. Unlike Evans, Berrian didn't have a full season left to come back and prove he's more durable and this ultimately hurt has draft stock.
But the Gut Check thinks Berrian is in a terrific situation in Chicago. Lovie Smith wants to establish an offense that runs on similar principles as the Rams and this means an explosive passing game that relies upon receivers with excellent run after the catch ability. Berrian is just that sort of player. His physical build, athleticism, and craftiness in attaining separation from the cornerback are reminiscent of Isaac Bruce's style of play. David Terrell, Justin Gage, and Bobby Wade? The Gut Check is sure some of these receivers will make an impact but none of them were "Lovie's players." Berrian was a hand picked player that had potential to fit into this offensive scheme.
The Bears' quarterback situation is a mess right now, which makes it a perfect time to get Berrian as a throw-in player that could pay dividends at a later date. Berrian is actually getting some time as a third and fourth receiver in the offense, which illustrates that the rookie is working hard to get better and the coaching staff is rewarding him. But don't be fooled about the Bears—the offensive and defensive lines are improving and it's shown in the tighter games they've played this year even with Grossman and Urlacher out of the lineup. Next year, the Bears could surprise a lot of people and Berrian has the type of talent to be a big reason for their resurgence.