RB Glut, A Look Ahead
11/11/04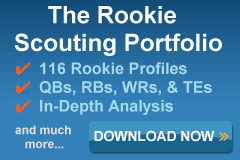 The "Gut Feeling" is often synonymous with a sense of desperation resulting from a lack of preparation. The Gut Check is a huge proponent of studying the numbers, but there's a point where one can place too much emphasis on the wrong information. This can result in the undervaluing or overlooking a player's potential. Therefore, The Weekly Gut Check is devoted to examining the frame of reference behind certain number-driven guidelines that fantasy football owners use to make decisions.

Although The Weekly Gut Check doesn't claim to be psychic, he does believe that he can dispel certain numbers biases and help you make the best choices for your team. We'll keep a running tally of The Weekly Gut Check's insights. This way you can gauge his views as something to seriously consider, or at least seriously consider running the opposite way as fast as you can!


---
Is it just Yours Truly, or does it seem like the list of backs getting dealt after the season for a 2nd round draft choice and the opportunity to start elsewhere is growing by the week. Throw in a 2005 rookie RB class that has some players capable of starting right away, and The Gut Check believes there's a good chance of an RB glut in the NFL next year. This means some fine running backs will wind up the victim of circumstance—and without a starting gig.

Here's the list of backs the media speculates will be commodities in off-season trade scenarios around the NFL:
Travis Henry

—Few thought McGahee would take the job outright this year. Entering the season, most in the media saw Henry as a back on the verge of a good year and a better deal elsewhere. Yours Truly felt this way about Henry, but now The Gut Check isn't sure Henry will garner a 2nd round pick. Teams will bring up Henry's previous injuries as a bargaining point. Although Henry has played through injury, the frequency of his health problems is a possible sign his body is breaking down and the minor injuries could lead to the type of problems that keep him off the field. Henry is one of the most physical runners in the league. Depending how teams perceive his injuries, this will either be a blessing or a curse for the former starter when the time comes to make a deal.



Anthony Thomas

—Thomas wanted a trade leading up to 2004 after Thomas Jones was declared the feature back. The A-Train has done a good enough job filling in for Jones to garner some interest. This is a player that should thrive away from Chicago. He has no history of major injuries and is an underrated receiver out of the backfield. The Gut Check thinks Thomas just isn't the best fit for the recent offensive schemes in Chicago, although better quarterback play during the last three years wouldn't have made this as apparent as it is to everyone.



Michael Bennett

—Part of a three-headed backfield with Smith and Moore, Bennett was the clear-cut starter entering the season before sustaining a knee injury. Bennett has great speed and good hands, but he's never had great vision nor has he consistently handled the ball 20-25 times per game in the pros. Bennett may not get the Vikings the best deal, but he'll be appealing to many teams. The Gut check now thinks Onterrio Smith is off the market.



Onterrio Smith

—Smith seemed like the most likely to be traded prior to his failed drug test, but it just might turn out to be a positive thing for the Vikings in the long run. Smith is a big-play back capable of handling the ball 20+ times per game. He can deliver both on the ground and in the air and his work ethic during his suspension sent a strong message to the Vikings that he's learning from his mistakes and ready to become an important cog in the offense. In contrast, Michael Bennett sulked over not getting his job back when Mewelde Moore was running wild. The Gut Check thinks Bennett with his injury history, being the eldest of the three, sulking over lack of playing time, and the least promising all-around game of the three backs is the most expendable option.



Ricky Williams

—It's been mentioned that Williams will be back for at least a year. One year isn't going to cut it for an NFL team. Unless the team Williams manages join is on the brink of a Super Bowl, The Gut Check doesn't see how an organization will be willing to invest just one year into Williams. Then again, a one-year deal with Williams and drafting a promising player behind him might not be a bad way to go, either. But the NFL doesn't draft like a fantasy league, so the likelihood of a team good enough to trade for Williams and employ him for just a year and still acquire a first-round talent in the draft is slim. Even if Williams is able to convince a team to take a chance on him over the long haul, it will take a special relationship between Williams and his coach for it to work.



Edgerrin James

—James stated he would like to play in Miami and if Indianapolis can't afford him, it could happen.



Shaun Alexander

—If the Seahawks won't pay him, someone else will—and will pay big.



Lamont Jordan

—A quality back stuck behind one of the best of all time (Curtis Martin) and has made it known how unhappy he is about it.



Larry Johnson

—See Lamont Jordan.



William Green/Lee Suggs

—One of them will likely be elsewhere by training camp 2005.
Throw in the likes of Cadillac Williams, Ronnie Brown, and Cedric Benson and it begins to appear there aren't enough starting jobs for all of them.
Here is the possible list of teams that could be looking for a starter in the off-season:
Arizona

—Emmitt Smith is having a surprisingly good year. Nonetheless, most speculate Denny Green will be looking for a younger, more explosive option for 2005 and beyond.



Oakland

—Wheatley is an old, power back. Not a promising combination for the future. Justin Fargas' health issues and lack of development on the positional aspects away from the ball have made him a disappointment. Right now, the Raiders are employing a committee of Wheatley, Zereoue, Crockett, and Redmond. Norv Turner—if he's back next year—will want one back to handle the job.



Miami

—Williams won't be back and none of the current backs appear to be the answer.



Atlanta

—Warrick Dunn has been a pleasant surprise, but Duckett has not met the expectations set for him as a first round pick. Neither seems like the best match for the zone-blocking scheme.



Dallas

—Initially The Gut Check doesn't see how the Cowboys could declare Julius Jones a bust before he even gets a season to prove otherwise, but the number of backs on the market could facilitate such a move. Besides, Jones wasn't a first-round pick and could provide excellent depth—much like former 2nd round pick Lamont Jordan has done for Curtis Martin and the Jets.



Carolina

—Stephen Davis is getting older and this is the second consecutive season he's been banged up. Deshaun Foster has shown flashes, but the Panthers might be concerned about his durability as well.



Eagles

—Westbrook has had moments, but Reid has always liked using multiple backs. The Gut Check can almost hear Reid telling reporters that he feels Westbrook used in spurts will actually raise his productivity and create more problems for opposing defenses. Unless Westbrook translates his Faulk or Barber-like potential into touchdowns and tons of yards from scrimmage down the stretch, Reid will once again look to a platoon system next year.



Tampa Bay

—Regardless of Pitman's performance, Gruden likes having more backs available to him. Look for them to make a move.



Indianapolis

—They'll need a replacement for James if they lose him to free agency.



Seattle

—Maurice Morris is a good back, but it's hard to believe Holmgren will just hand the starting job over to him if the Seahawks don't re-sign Alexander.
So it's time to match the running back with the team. Here's what The Gut Check thinks will happen and then what he would do if he were the GM for any of these teams.
Travis Henry
What Will Happen: The Gut Check believes the five teams that will show the most interest in Henry will be the Bucs, Dolphins, Raiders, Panthers, and Cowboys. All five will likely want a power back that can carry the load. The Gut Check doesn't think Parcells will want Henry due to his fumbling history, and the Bills will be reluctant to trade within their division. Yours Truly also believes John Fox feels Deshaun Foster is capable of carrying the load and Jerry Richardson would rather pursue a backup in the draft. That leaves the Raiders and Bucs. The Gut Check believes Henry is the best combination of all the backs Oakland has on their roster and instills a toughness that Norv Turner wants from a runner. Al Davis has the picks to make the deal, and both Davis and Wilson are old AFL guys. As for the Bucs, Henry is a high intensity guy that makes yards after contact and could also appeal to Gruden. If forced to pick, The Gut Check would say Oakland, because Gruden is still in sharing mode with his running game.
What The Gut Check Would Do: He'd tell Al Davis to get Henry and let him run behind Gallery for the next five years…
Anthony Thomas
What Will Happen: The Gut Check thinks Anthony Thomas gets serious interest from the Dolphins, Falcons, and Raiders, but remains with the Bears. Lovie Smith is building a winning attitude in Chicago and Yours Truly thinks the coach will be reluctant to get rid of the former rookie of the year. He'll find ways to incorporate Jones and the A-Train into the offense next year. Then again, it wouldn't be surprising to The Gut Check if Henry and the A-Train wind up in the same place.
What The Gut Check Would Do: Yours Truly would try to beat Buffalo to the punch and ship the A-Train to Oakland where the Bears can stockpile more draft picks and Thomas can run behind that mammoth Raiders line.
Michael Bennett/Onterrio Smith
What Will Happen: The Falcons, Buccaneers, and Cardinals all show interest but Denny Green and Bennett are the ones having a reunion in 2005. Green drafted Bennett in 2001 and understands Bennett's game better than any coach in the NFL. Likewise, Bennett understands Green's offensive philosophy and should be a terrific fit. Green's previous relationship with the Vikings and Minnesota's desire to unload one of their backs should make this an easy deal.
What The Gut Check Would Do: Yours Truly would inquire about Onterrio Smith just to see if they can catch Minnesota napping—then he'd settle for Bennett. Onterrio Smith has a style reminiscent of Emmitt Smith, but The Gut Check thinks the Vikings now know what they have and won't be willing to come off him. S.O.D. will be the opening day starter for the Vikings in 2005 with Moore getting extensive carries in relief and as a third-down option.
Shaun Alexander
What Will Happen: Alexander stays in Seattle. The Seahawks would be nuts to let their best player get away. If anything, they are discovering that they need to use him more than they have at the beginning of the season! The Gut Check will be shocked if Seattle even lets it get far enough for Alexander to seriously entertain offers from another team. If they do, the offer will come from Dallas and The Gut Check believes Alexander will be as good as gone.
What The Gut Check Would Do: Shaun Alexander is the type of guy Bill Parcells needs on the Cowboys. He's a good citizen off the field and a guy that can carry the team in a game. If Yours Truly were the Cowboys, he'd be praying the Seahawks screw up the negotiation process. If The Gut Check were the Seahawks, he'd get the contract signed before the Pro Bowl.
Lamont Jordan
What Will Happen: To The Gut Check his is one of the greatest mysteries in the NFL. The Jets have a guy with speed, power, cutback ability, receiving skills, and no major injuries. He plays on special teams and has little mileage. Why isn't the phone ringing off the hook for this guy? Jordan has been perceived as a malcontent and his lack of effort this preseason got him temporarily demoted to third-string.
In Jordan's defense, the RB was considered a first-round talent after his junior year but dropped because he had to carry a mediocre Maryland team on his back with nagging injuries during his senior year. Jordan has been sitting behind Curtis Martin and listening to empty promises for the last three years that he'll get more opportunities. It's not like the NFL is a job where a player can just quit and find a new one with another team (Ricky Williams possibly excluded here, and his process won't be an easy one). Jordan has to be in New York to play NFL football.
The only mitigating circumstance The Gut Check can imagine here is that Jordan has done some things in the locker room or practice field that has circulated around the league but beyond media scrutiny and gave him a bad reputation. Nonetheless, The Gut Check thinks the Cowboys, Raiders, Bucs, and Eagles will all be inquiring about Jordan's availability, but a deal won't be likely. The Gut Check believes if anyone pulls the trigger on a deal it will be Dallas or Oakland—with Parcells and his Jet connections as the favorite to make it happen.
What The Gut Check Would Do: The combination of Brian Westbrook and Lamont Jordan could put the Eagles over the top. Jordan is a guy capable of 20+ touches per game and has a good understanding of the West Coast Offense. Reid needs a bruiser around the goal line and short yardage situations. Plus, Jordan should come cheaper than most backs of his talent, which will appeal to an Eagles organization that has been savvy with their funds.
Larry Johnson

What Will Happen: The Gut Check will be surprised if Johnson is still a Chief after the 2005 draft. Dallas and Miami may show interested but it will be Tampa Bay that gets Johnson and gives him a chance to prove his draft day value. Michael Pittman is a good situational back, but Gruden was hoping to make Thomas Jones his guy before the Bucs lost him to the Bears.
What The Gut Check Would Do: Yours Truly would wait and see what happens in Seattle before unloading Johnson. If Alexander doesn't sign, a back with Johnson's size and skills could be a good fit.
William Green/Lee Suggs
What Will Happen: The Gut Check thinks Butch Davis will lose his job and the eventual replacement will come to a similar conclusion as many of the Browns' players said in training camp: Lee Suggs has game breaking ability and the team needs to benefit from what happens when one back gets the bulk of the carries. That means William Green will be expendable. The problem is the Browns won't find much of a market by the time they reach this conclusion and Green will be backing up Suggs in 2005.
What The Gut Check Would Do: Green to Atlanta would be a nice fit. Green is not a runner with amazing vision or moves. He's a downhill guy with nice build up speed and decent power. This is a guy that will wear opponents down as the game progresses. The Falcons' zone blocking scheme could be a good fit and Atlanta would get a good deal for him.
Edgerrin James
What Will Happen: Purely from the perspective of a football fan, The Gut Check dreads the thought of James not finishing his career with Manning and Harrison. 2004 is the first year since his torn ACL that James is looking like his old self. James has the ability to take over a game—he averages more yards from scrimmage than any back in the history of the league. Realistically, the Colts may not be able to afford him. James could take one for the team and agree to a smaller deal, but that depends on whether he thinks the Colts are good enough to win a championship. Looking at the Colts' defensive performances this year, there doesn't appear to be a noticeable improvement and this could influence James to go elsewhere.
The Gut Check sees the Cowboys and Dolphins drooling over the prospect of acquiring James if the Colts can't find a way to sign him. If this happens, the Edge goes to Miami—The Gut Check will explain later.
What The Gut Check Would Do: Tell Manning and Harrison ante up for the good of the team and help get James signed to another deal.
Ricky Williams
What Will Happen: It's said Ricky wants to play for the Raiders. It's also said that Ricky only wants to recoup the cash he's lost from his retirement debacle. It's rumored he's in good shape, but not football shape (way below his former playing weight). And it's been touted that Williams didn't want to be run into the ground in Miami's offense.
The Gut Check finds it hard to believe Williams still wants to play football for anything other than financial reasons. Is it inconceivable that Williams could rediscover his love for the game? No, but the situation will have to be right.
Yours Truly also thinks Williams "too many carries" explanation isn't really what Williams meant. The Gut Check is speculating here, but he thinks Williams didn't want to play in an offense lacking balance. The play calling during Ricky's second season in Miami set up the Dolphins' runner for failure. This is not a back that should be thrown passes where he's going to have his shoulders facing the sideline. This is a back that should be able to set up the play action passing game. This is a back that should be on the Indianapolis Colts.
Yes, that's right. The Colts. If Edgerrin James goes to Miami, the Colts should trade for Williams. The Gut Check is not aware of the financial implications that would bar this from happening—although someone will likely point out what they could be—but let the accountants figure it out. The Colts and Ricky need each other if James bolts town. Ricky will play for one of the best players' coaches in football. He'll also be on the most balanced offense in the NFL and his skills fit the Colts better than any back not named James. Peyton Manning and Dungy could help instill a sense of fun back into the game for Williams. Williams is an intelligent guy—albeit it very different and arguably immature with his decision-making—and it stands to reason he needs to play with players that challenge him on this level. Manning is that guy. This deal would rock the NFL in the off-season, but if Indy loses Edge they could get Ricky for a sweet deal.
Of course, what's best for Ricky is probably not what will happen. He'll likely get his way and go to Oakland…
What The Gut Check Would Do: Reach a settlement where Ricky keeps some of the money and gradually pays back the rest and let him go. The players association is already disputing the legality of the arbitration and the Dolphins are trying to use the federal courts to validate their contract enforcement. The Gut Check is not an attorney, so he has no clue about what's valid. All he knows is Ricky Williams only started to regret his decision when he figured out he might owe money and the way he quit created an outrage among his peers and fans. Whether this is why Ricky wants to come back is only something he can say, but the change of heart is as dramatic as the actions of his original decision. The Gut Check only wants to see Williams play football if his heart is really in it. He doesn't believe it is and the Dolphins should draft a running back.

IDP Tidbit: Tony Nowak does a great job providing IDP information for FFToday. One of the players Tony mentioned this week, Texans safety Glenn Earl, is a player The Gut Check has his eye on. Earl was an excellent safety at Notre Dame. Although the Texans drafted the Golden Domer in the 4th round, it was a knee injury that dropped his stock. This is a rookie that the Texans decided they'd make the investment in him this year with the hope of a big return the next. When healthy, Earl was a known as a big hitter that could play either safety position and considered a 1st or second round pick close to the level of Browns' rookie Sean Jones. The Gut Check believes the Texans got a steal in Earl. As Tony mentioned, Earl is likely to get his first start of the year. Based on his performance in training camp it's a surprise on two counts. Earl was still rehabilitating his knee this summer and missed a lot of practice-game time. The Texans appeared to have the attitude that Earl wouldn't be a factor at all, but now the rookie is healthy and has picked up the scheme to make an impact. Although Earl was on the wrong side of a Kyle Johnson catch and run for touchdown last week, fantasy owners looking for a waiver wire bargain should consider him.