Random Thoughts
12/3/04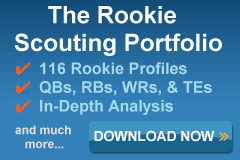 The "Gut Feeling" is often synonymous with a sense of desperation resulting from a lack of preparation. The Gut Check is a huge proponent of studying the numbers, but there's a point where one can place too much emphasis on the wrong information. This can result in the undervaluing or overlooking a player's potential. Therefore, The Weekly Gut Check is devoted to examining the frame of reference behind certain number-driven guidelines that fantasy football owners use to make decisions.

Although The Weekly Gut Check doesn't claim to be psychic, he does believe that he can dispel certain numbers biases and help you make the best choices for your team. We'll keep a running tally of The Weekly Gut Check's insights. This way you can gauge his views as something to seriously consider, or at least seriously consider running the opposite way as fast as you can!


---
If The Gut Check were an omnipotent force of management over any and all NFL organizations here's some of the things he'd do:

Hypnotize the Chargers brass and do everything they can to keep Drew Brees. Listen up, A.J. Smith. Just admit that you were impatient. If the best player on your team had enough balls to publicly support Brees when everyone in the world knew you were drafting a quarterback and still have the patience to sign a deal that will keep him a Charger for what will likely be the rest of career, you need to re-evaluate your plan.
You dump Brees and you're costing the Chargers at least two years worth of playoff appearances just to hopefully—and Yours Truly means hopefully—regain some semblance of chemistry, leadership, and developed talent you let go in Brees. Why? The guy wants to stay a Charger. At the beginning of this year, most people would have thought he was crazy—or just such a bad quarterback that he's desperate to stay in the league as a starter. In fact that's exactly what most people thought and he proved you and your coach wrong. Be men, admit your mistakes, and do what's best for the team.
Here's the deal: trade Rivers for an experienced back up with starting capability, but knows his role—like Jon Kitna or Kelly Holcomb. You still have some nice picks from dealing away Eli Manning, which might allow you to move up in the draft and nab a receiver like Braylon Edwards. Or better yet, acquire a free agent like Jerry Porter and let Schottenheimer load up on the defense.

Make scouts recognize that Carnell Williams and Ronnie Brown are clearly the best RB prospects coming out of college in 2004. The draft class will be deep at running back this year, but don't let anyone tell you different. The two backs at Auburn are the best of the lot. Cadillac Williams is a natural playmaker that despite his relatively thin frame, excels as an inside runner. This guy that piled up yards on 30-plus carry games against top notch defenses like the University of Georgia that had the likes of Boss Bailey, Charles Grant, Sean Jones, Thomas Jones, and Marcus Stroud opposing him.
Williams is able to do this because of his excellent vision not only before entering the hole, but also while running through the hole. He's a patient runner—something few runners display this early in their careers—especially when they have the type of game breaking speed Williams possesses. Cadillac is as polished a runner as you'll see coming out of the draft. He rarely loses yardage because he runs with a good body lean and this also makes him a good finisher on the inside. At the same time, Williams is perfectly capable of taking a play outside for big yardage. Although scouts like to say Ronnie Brown might be a better NFL prospect because he's had least mileage in college, The Gut Check doesn't buy into this as the reason. Williams is the type of runner that knows how to avoid a big hit. Rarely do opposing defenders get a clean shot on him.
Combine these traits with Portis-like moves in the open field, receiving skills, and kick return prowess and it's understandable why Williams has remained the unquestioned starter for Auburn despite the presence of Ronnie Brown and, until this year, Brandon Jacobs. The Gut Check believes we'll hear a lot of nitpicking about Williams' lack of size and more development needed as a pass blocker, but ultimately Cadillac will be an impact RB before his rookie year is up.
On the other hand, Ronnie Brown is already a good a pass blocker. Brown is also a more physical runner that looks for contact and has displayed his versatility lining up at fullback, tight end, and in the slot. Although Yours Truly doesn't agree that Brown is a better runner than Williams, he does admit that Brown's style will be a better fit for many NFL teams because of his down hill style and already developed skills as a blocker and receiver.
The Gut Check would like to see either of these backs in Atlanta, Houston, Oakland, or Arizona where they could make an impact right away…
But keep an eye on Ryan Moats: The Louisana Tech runner turned the NCAA's top passing team in 2003 into one of the best rushing offenses in 2004. Moats has a low center of gravity, good burst, excellent moves in the open field, a terrific stiff arm, and great balance. Yours Truly watched Moats shred defenses in the first half of the season before getting nicked up at mid-season. Former Ohio State head coach, John Cooper, labeled Moats an excellent NFL prospect. Coming from a coach that recruited Raymont Harris, Robert Smith, and Eddie George, The Gut Check thinks Cooper is a good source on the subject of RBs. Moats will likely wind up a 3rd or 4th round pick, but he has the talent to be the his draft class' S.O.D.
Bench Randy Moss until he can beat someone deep—or only bring him on the field when inside the 20. Yours Truly owns Moss in a dynasty league, and he benefits greatly from Moss monopolizing Culpepper's attention in the passing game. But The Gut Check thinks Culpepper would become an even better quarterback if forced to go to other options. It makes little sense to risk Moss to further injury. Teams are going to realize they can single cover Moss outside of the red zone until he proves he get deep—and based on last week, Moss looked several weeks away from being able to run that fast.
Get Houston TE Billy Miller back into the passing game. Miller was a terrific fantasy TE a couple of years ago when he was David Carr's only option, but he disappeared with the development of Andre Johnson. Last week was his first taste of extended looks in the passing game and he produced. When the NFL has modified it's rules to benefit TE's as much as it has, The Gut Check doesn't understand why Houston has failed to exploit Miller's talents—especially when Jabar Gaffney and Corey Bradford aren't the type of receivers that create and exploit mismatches on a regular basis. This is just too inexplicable…
Let's move on to another little ditty called Over The Hill Or My Demise Has Been Greatly Exaggerated:
Mark Brunell—Brunell was never a great fantasy quarterback. Even in his Jacksonville heyday, Brunell's best season (1996) made him the fourth-best quarterback in most fantasy leagues:
Mark Brunell
Year
Team
G
GS
Pct
Pass Yd
Pass TD
INT
Rush Yd
Rush Att
Rush TD
FF Pts
1994
gnb
2
0
44.44%
95
0
0
7
6
1
11.45
1995
jax
13
10
58.09%
2168
15
7
480
67
4
240.4
1996
jax
16
16
63.38%
4367
19
20
396
80
3
351.95
1997
jax
14
14
60.69%
3281
18
7
257
48
2
273.75
1998
jax
13
13
58.76%
2601
20
9
192
49
0
229.25
1999
jax
15
15
58.73%
3060
14
9
208
47
1
235.8
2000
jax
16
0
60.74%
3640
20
14
236
48
2
297.6
2001
jax
15
0
61.10%
3309
19
13
224
39
1
269.85
2002
jax
15
0
58.89%
2788
17
7
207
43
0
228.1
2003
jax
3
0
65.85%
484
2
0
19
8
1
40.1
It wasn't like Brunell got a fat contract to lead a bunch of stiffs in Washington. Although it can be argued that Joe Gibbs' conservative offense and injuries to the offensive line were contributors to the lackluster production, Yours Truly has a tough time reconciling the fact that Clinton Portis, Laveranues Coles, and Rod Gardner are the problem. Quarterback is the one offensive position that seriously helps or hampers the team and Brunell's veteran presence and knowledge of the game could not outweigh his dwindling arm and mobility. If Yours Truly thought it would make a difference, he'd write Daniel Snyder and Joe Gibbs and tell these two to make some sort of deal for Drew Brees before Arizona starts a serious courtship.

Verdict: Over The Hill.
Jeff George—This guy's career epitomized the concept of fantasy tease:

Jeff George
Year
Team
G
GS
Pct
Pass Yd
Pass TD
INT
Rush Yd
Rush Att
Rush TD
FF Pts
1990
clt
13
12
54.19%
2152
16
13
2
11
1
177.8
1991
clt
16
16
60.21%
2910
10
12
36
16
0
189.1
1992
clt
10
10
54.58%
1963
7
15
26
14
1
134.75
1993
clt
13
11
57.49%
2526
8
6
39
13
0
162.2
1994
atl
16
16
61.45%
3734
23
18
66
30
0
285.3
1995
atl
16
16
60.32%
4143
24
11
17
27
0
304.85
1996
atl
3
3
56.57%
698
3
3
10
5
0
47.9
1997
rai
16
16
55.66%
3917
29
9
44
17
0
316.25
1998
rai
8
7
55.03%
1186
4
5
2
8
0
75.5
1999
min
14
10
58.05%
2816
23
12
41
16
0
236.9
2000
was
6
0
58.25%
1389
7
6
24
7
0
99.85
2001
was
2
0
54.76%
168
0
3
0
4
0
8.4

When George was good, he was very good (1995, 1997, and 1999). But three or four excellent seasons out of twelve doesn't engender a lot of admiration from fantasy owners—especially when it was well-broadcasted during his career that George lacked toughness in the pocket to such an extent that opposing defenses would watch George go to the ground just at the sight of an oncoming defender and rewind the film as if they just watched a hilarious scene from a Jim Carrey movie. Combine his with his tendency not to stay disciplined within the offensive scheme and it's no wonder George hasn't played since 2001.

Still there's Yours Truly can't deny George is a talent. He can make throws that no other quarterback has ever been able to make. He's been the Nuke Laloosh of the NFL, except he never had a Crash Davis to screw his head on straight. Maybe spending three years in NFL-exile watching quarterbacks like Quincy Carter, A.J. Feeley, and Mark Brunnel starting for teams did him some good. Besides, what did 1995, 1997, and 1999 have in common? Each of those years, George was playing in a finesse offense: the run and shoot days of June Jones' Falcons; Jon Gruden's Raiders when Napoleon Kauffman was the leading rusher; and the Vikings' when they were stacked with Carter, Reed, Moss, and Robert Smith. Lovie Smith is installing the Rams' offense in Chicago. The Gut Check thinks George could have a nice, last hurrah for a player that essentially wasted his enormous talent and his hoping to make up for it—especially if Rex Grossman either can't stay healthy or make the leap in 2005.

Verdict: Demise is somewhat exaggerated.

Steve McNair—The Gut Check's favorite player has gone through a horrible 2004 campaign. This week, McNair publicly stated he's considering retirement and stuck to those words when Jeff Fisher tried to give his quarterback the opportunity to downplay them. The fact that McNair elaborated further on his thoughts about retirement to include the fact that he just wants to be able to play with his son and can't even do that right now, speaks volumes.

McNair has always been a quiet, humble player that hasn't masked how he's felt to the media. The Gut Check remembers watching McNair and Torry Holt interviewed on ESPN last year. The broadcaster referenced the Rams-Titans Super Bowl and asked both players if they'd like to have a rematch. Before McNair stated the obvious, all you had to do was watch McNair's face and you could tell the Titan's quarterback wanted this more than anything in his career—the chance to avenge a last second defeated snared out of the jaws of victory by Rams LB Mike Jones.

So when a player that has gutted through six operations and sleepless nights to captain one of the most consistently resilient and successful organizations in the last six seasons starts talking about priorities in life, it's time to seriously wonder if he's serious about calling it quits. McNair has watched his core group of players (and locker room leaders) move on: Bruce Matthews, Frank Wycheck, Randall Godfrey, Jevon Kearse, and Eddie George. These guys were part of a vast, veteran support system that was responsible for the Titans coming back year after year.

Now, McNair is the elder statesman of a team that needs vocal leadership but he's not used to this role. While McNair is the soul of this Titans team, Eddie George was its heart. George has the fire to challenge and inspire his teammates with his words. McNair has to do it with his play—and sometimes, young players are just too blind to see it.

McNair says he's going to let his body heal and decide before next season. There's a lot he'll be considering:
Can the Titans maintain or build on their current talent with their current salary cap issues?


Will the youth on this team—RB Chris Brown, WR Tyrone Calico, Ben Troupe be healthy enough to take the next step in 2005?


Can McNair return to health before training camp?
The Gut Check thinks the Titans have the pieces to be a dangerous team in 2005, but they need to know early on if McNair will return. The Gut Check thinks McNair will realize that 2004 was a lost season, and the disappointment of going from MVP of a team that arguably gave the Patriots their biggest challenge to embattled and injured signal caller of team out of the playoffs by week 11 clouded his perspective.
Verdict: Demise is Greatly Exaggerated—Fisher will talk McNair into staying for one more year, but the window could be closing fast if Tennessee can't return to form.
And last, but not least, let's end this week with another version of Intuition or Indigestion:
Brian Westbrook is returning to last season's form as a scoring threat from anywhere on the field. Owners should benefit greatly from their patience with him as his scoring streak continues.
John Navarre won't last the entire game against Detroit. Look for Green to give King or McCown another shot in relief.
Speaking of McCown, Luke McCown may get his first start this week. Although he's not a good fantasy start now, he's going to show some skills on Sunday that will make him an impressive prospect.
Fred Taylor looks healthy for a change, and isn't just gutting it out. Some of his runs against Minnesota last week show signs of a player on the verge of busting out. If you own Taylor, expect some terrific games from him during your playoffs. Yours Truly even thinks, he'll score on the Steelers.