Mid-Season Offensive Line Rankings
11/4/04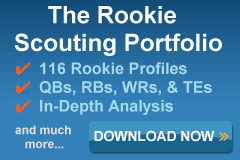 The "Gut Feeling" is often synonymous with a sense of desperation resulting from a lack of preparation. The Gut Check is a huge proponent of studying the numbers, but there's a point where one can place too much emphasis on the wrong information. This can result in the undervaluing or overlooking a player's potential. Therefore, The Weekly Gut Check is devoted to examining the frame of reference behind certain number-driven guidelines that fantasy football owners use to make decisions.

Although The Weekly Gut Check doesn't claim to be psychic, he does believe that he can dispel certain numbers biases and help you make the best choices for your team. We'll keep a running tally of The Weekly Gut Check's insights. This way you can gauge his views as something to seriously consider, or at least seriously consider running the opposite way as fast as you can!


---
The Gut Check received a huge response to his preseason column devoted to offensive line rankings. The feedback was either positive, or it was positive with constructive criticism about the evaluation process. One of the suggestions came from James Picardat. He sent Yours Truly a detailed explanation of his suggested scoring criteria. The Gut Check thought this was an improvement to the original criteria and decided he would use it for the mid-season rankings. Here's the original feedback and suggested criteria:
I like the emphasis on the Offensive Line Ratings concept. It adds a different perspective on player analysis. I have some suggestions that are based on stats you may or may not have access to. Before I begin, I must summarize my Offensive Line Rating philosophy.
Offensive Line play is a simple measure of time and space:
How much time can the o-line provide its Quarterback to make necessary reads and execute.


How much space it provides its Running Backs on a consistent basis.
With few exceptions, the offensive line MUST do their job for a play to even have a chance to be successful.
The measure of a good offensive line is the ratio of good offensive plays to bad offensive plays and penalties. Offensive linemen (with extremely few exceptions) do not carry or catch the ball, so yardage averages should not be used as the sole basis for evaluating line play other than to reflect their contributions to the success or failure of an individual play.
From the perspective of an offensive lineman, a successful run is where the back gets to the linebackers and not how long the run is after this objective is met. This generally means a run of 4-5 yards is a successful running play. A successful pass is one that is attempted and the quarterback does not get sacked. Once the ball passes him, the lineman's job for that play is basically finished, everything else is extra.
First I would like to comment on your existing categories. These are my opinions, take them for what their worth:
3rd Down Efficiency: Keep this category. Very little can skew this stat and it's production-oriented. This is the one time when the defense knows what you need to keep a drive alive.
Time of Possession: Drop this category. This stat, as you mentioned, is skewed by the offensive plays and defensive penalties that prolong drives.
Percentage of 1st Down Plays: Drop this. Most successful plays are the measure of a good offensive line. But this category skews the score because it penalizes quick strike offenses, as you mentioned.
Percentage of Stuffs to Total Carries: Keep this-it's good. It primarily measures TOTAL breakdown of the offensive line. This is a DIRECT reflection of o-line play or lack thereof.
Big Runs: Drop this. My take on this is if the offensive line gets you the first 4-5 yards, then it's up to the back to make someone miss to get the big run. That's what separates the great backs from the good backs.
Sacks Per Passing Attempt: Keep this. This is a good stat but must be taken into consideration along with the style of offense.

Big Passing Plays: Drop this. As with Big Runs, it measures the skill of receiver more than the line. All passing plays have two things in common: once it's caught the O-line's job is generally finished and all yards after the catch are the result of the receiver.
Yards Per Play: Drop this because the calculation is an average and the skill of the back/receiver would need to be extrapolated to be of any use.
Pro Bowls: Drop this or give no weight. Somewhat political I'd say. An O-line is about 5 finely tuned members of a unit, not about 1 or 2 exceptional individuals.
My Ideas on Measuring Offensive Line Play
Running Categories
Passing Categories
Miscellaneous
Stuffs Percentage
Sacks/Attempt
3rd Down Efficiency
Successful Runs Percentage
Yards/Attempt
Offensive Penalties/Yards
Running Categories
Percentage of Stuffs to Total Carries:
As you have it, unchanged. Like you mentioned with few exceptions (bad back decisions) almost all of the negative yards are the result of one or more linemen getting beaten. Measures bad offensive line plays.
Percentage of Successful Runs:
I define a successful run of 4 yards or more (3x 4 yards = 1st down). With few exceptions (Barry Sanders) if a run gets 4+ yards, the O-line did enough to help the back be successful. Runs of 1-3 yards carry no weight as there is no way to discern between a successful 1 yard run (goal line touchdown) and yard run on 3rd and two from the statistics alone. This measures good offensive line play.
Passing Categories
Sacks per Attempt:
As you have it, unchanged. This stat can be skewed by the type of offense being run but is still reliable when compared to yards per attempt below. Measures good or bad offensive line play depending on how you look at it.
Yards per Attempt:
This removes the Yards After Catch from the offensive passing yards stat, making it much more reliable to see how much protection the line is actually giving the Quarterback. The higher the average yards, the longer the O-line is sustaining its blocks and the better protection it's providing. This will expose the 3- yard slant for 80-yard completion for what it is, as well as reward the O-line for protecting on that 50 bomb. [(Yards - Yards After Catch)/Attempts] measures good offensive line play.
Miscellaneous Categories
3rd Down Efficiency:
As you have it, unchanged. A true measure of an offense to execute when the exact distance for a first down is known and the defense is adjusting to stop plays in that yardage range. Measures good or bad offensive line play depending on how you look at it.
Offensive Penalties/Yards:
With few exceptions, most offensive penalties stall drives and take you out of scoring range. Most offensive penalties are on offensive linemen (Holding, False Start). Holding is generally the big drive killer. If these two penalties could be extrapolated from the total penalties/yards it would be a useful tool in measuring offensive line play.
I hope I added some insight to what I think is a very overlooked area in fantasy football, as obviously you do too. I don't know if the necessary stats are easily available but if they can be had I think this will help refine you ratings.
So The Gut Check decided to employ James' criteria with some minor changes. When Yours Truly couldn't find the pre-calculated statistic, he looked at the box scores of every game played through week eight. What he discovered is that he could use all six suggested categories. Here's exactly how the categories are determined:
Percentage of Stuffs to Total Carries: Unchanged.


Percentage of Successful Runs: The Gut Check counted all runs on 1st and 2nd down that gained at least 4 yards. A successful run was also a 3rd or 4th down run that gain the necessary yards to make a first down-this includes short yardage runs. Another successful run was any short-yardage touchdown run. At the same time, The Gut check did not count runs of 4+ yards on 3rd or 4th down that did not gain the necessary yardage to make a first down. For instance, he didn't count an 18-yard run as a good run in a situation where it was 3rd and 19, because it still placed the offense in a very low-percentage situation for success.


Sacks per Attempt: Unchanged.


Yards per Attempt: Unchanged.


Third Down Efficiency: Unchanged.


Offensive Penalties: The Gut Check counted all penalties attributed to offensive linemen. Although there's a good argument to count the tight end as an offensive lineman, Yours Truly decided to focus only on the five primary line positions of two guards, two tackles, and a center. Otherwise, the argument for line play would also stretch to the fine block of a fullback or the receiving corps down the field. This means any penalties attributed to a tight end, fullback, halfback, or receiver were not counted for this category. Additionally, The Gut Check did not incorporate the number of penalties, but the total number of yards lost from them.
The Gut check calculated each of these categories and then assigned a ranking of 1-32. A score of 1 meant the team was the best in the league at that category. A score of 32 meant the team performed the worst. Yours Truly then averaged the rankings and subtracted them from 100 to create an overall score. Here are the mid-season results:
Mid-Season Offensive Line Ratings
Tm
Good
Carries
Pen
Yds
S/C
Yds/Att
Sck%
3rd%
Overall
Score
Comments
NYJ
2
3
1
10
4
6
95.67
C-Mart + Veteran Line + Smart QB = Top o-line score.
IND
3
6
14
1
2
3
95.17
The best overall offensive unit.
GB
11
12.5
13
12
1
2
91.42
Continuity pays off.
KC
7
30
5
6
16
4
88.67
Penalties hurt them early, but on the rise.
DAL
19
25.5
4
5
10
5
88.58
The reason why Dallas has been in most every game.
STL
4
25.5
8
8
19
8.5
87.83
Penalties and sack % indicate skill players inflate score.
PIT
9
25.5
10
7
14
10
87.42
Penalties dropped this unit, but still excelling.
NE
13
10
25
11
13
7
86.83
21-game winning streak with mostly average skill players
HOU
26
11
9
2
20
11
86.83
DD hasn't been great, but the line and Carr have.
DEN
10
31
12
14
3
12
86.33
Highly penalized, but on the rise since Droughns got in at RB.
PHI
18
7
24
4
11
18.5
86.25
Are the stuffs and good carries a reflection of Westbrook's style?
SD
22
21.5
16
9
7
8.5
86.00
Underrated unit--think Brees, LT, and Chatman
JAX
16
20
2
17
15
14
86.00
Solid, disciplined line but nothing special.
SEA
1
12.5
20
21
8
22.5
85.83
Leading NFL in good carry %--They need to run more!
CAR
12
25.5
7
23
5
13
85.75
Injuries to skill positions have hurt their performance.
MIN
5
32
29
3
17
1
85.50
Line may have been overrated due to great skill play.
OAK
15
18
15
19
9
15
84.83
Can the score be attributed to poor play from skill positions?
TEN
8
21.5
11
28
12
21
83.08
Injuries making an impact.
NYG
17
15
3
15
31
27
82.00
Run blocking good. QB and passing game bad.
WAS
14
1
17
31
18
30
81.50
See NYG.
NO
20
25.5
18
18
6
26
81.08
Score befits their nature as a team.
TB
25
4
31
20
24
20
79.33
Poor skill play.
CIN
24
8.5
28
27
21
18.5
78.83
Line is supposed to be good, but rookie QB does hurt overall.
ARI
29
16
6
26
28
22.5
78.75
Low stuffs% (E. Smith) but sub-par passing game (no Boldin?)
SF
32
2
30
25
22
17
78.67
Few penalties, but overall play is poor with young QBs.
ATL
23
8.5
22
13
32
32
78.25
The worst sack percentage in the NFL. Vick is still learning.
DET
28
5
23
22
25
28.5
78.08
Few penalties, but like SF the overall play is still not great.
CHI
6
18
19
32
27
31
77.83
The run game is solid. Pass protection and QB play is not.
CLE
21
25.5
26
16
23
25
77.25
No real bright spots here.
BUF
31
29
21
24
30
16
74.83
Is it the line or Mularkey's offense and Bledsoe's execution?
MIA
30
14
32
29
26
24
74.17
No Ricky, QB carousel, and new o-line is not good news.
BAL
27
18
27
30
29
28.5
73.42
Injuries decimate the performance thus far.
More Notes
The Broncos' offensive line is highly regarded among most coaches, players, media analysts and fans as one of the best blocking units in the league. Denver is rated 10th in this analysis. This isn't a bad rating, but it's certainly lower than one would expect. The Gut Check feels two factors lowered their score: penalties—second most penalty yardage in the NFL thus far—and Quentin Griffin.
Maybe the original mid-level rating for San Diego in the previous column was on target. The Chargers are rated 12th and this is with a stud RB at 80%. It seems to Yours Truly that the Bolts line play improved from 2003, but the numbers dramatically improved with the markedly better play of Drew Brees.
Last Sunday, The Gut Check was watching ESPN's Sunday NFL Countdown and it was brought up that the Seattle Seahawks needed to rely more upon Shaun Alexander. Yours Truly's analysis certainly supports this assertion. The Seahawks are the 14th-ranked unit, but are tops in the NFL in Successful Carries Percentage. The problem is they haven't carried the ball as much as other teams and have relied more upon on a short to intermediate range passing attack. Last week could be the start of some really good numbers for Alexander.
Minnesota is another interesting team on this analysis. They are the most penalized unit in the NFL thus far. Rookie Nat Dorsey incurred way more than his fair share of these penalties. Additionally, the Vikings have one of the highest percentages of stuffs to carries in the league. But they also have the best 3rd down percentage in the league. What gives? Randy Moss always occupies a safety and he's also a big reason why the Vikings are #3 in yards per passing attempt. Moss' injury is probably another reason why Mike Tice isn't committing to just one running back just yet. All of them are decent receivers out of the backfield, but with Moss gone he's going to need to see which one of them is the most consistent playmaker on running downs. The Gut Check still thinks Onterrio Smith will prove himself to be that man in terms of running talent, but we'll just have to wait and see.
It was a bit of a surprise to see the Jets as the top-rated offensive line, especially when you consider an offensive output that has been on the pedestrian side in the passing game. This is all the more reason that this analysis is factoring what's important to a successful offensive line and not over-emphasizing an explosive passing game. The same argument can be made for the Chiefs'—an offense with wide receiver play that has been virtually absent until very recently.
The Giants have been the surprise team of 2004, but The Gut Check thinks this is a team that will fold early in the playoffs—if they even make it to the postseason in the first place. Kurt Warner has been solid, but the Giants' sack percentage and third down percentage is bad. A lack of balance will hurt the Giants as better teams figure out ways to stop them.
Look for Washington to improve as the running game continues to gel. What about Baltimore's vaunted line? Ogden's missing time, Mike Flynn has been out, and Jamal Lewis is suspended—combine these three things with Kyle Boller and a very green receiving corps and that tells the story.
Once again, comments and criticism of this analysis is welcomed—this is an attempt to objectify the analysis of a unit of offense that comprises an underrated aspect of fantasy football success.
Intuition or Indigestion
Michael Vick put on an impressive performance in Denver and The Gut Check finally saw something that has helped Yours Truly decide that Vick will eventually be a fantasy force in the West Coast Offense. Although the Falcon's sack percentage and 3rd down percentage are among the worst in the league, Vick's tentative style of play has been a big factor here.
If you watched the Broncos game, Vick attacked the defense both as a passer and runner. This is similar to his style of play in 2002—albeit in a different offensive scheme. With the exception of the Rams' game, Vick has been more tentative. As a passer he's been less aggressive and by the time he's about to check down, the defense has been in his face due to the shorter drops of the west coast offense and forcing himself to stay in the pocket. As a result, he's been sacked more often or he's made more of those ridiculous, blind throws down the field as he's about to go down—and has been lucky none of them have resulted in easy interceptions.
On Sunday, Vick was more aggressive downfield to Peerless Price. It appeared he recognized single coverage and make a quick decision while stepping up in the pocket—something The Gut Check hasn't noticed out of Vick for most of the season. The coaching staff also called more designed runs for Vick. Although the injury factor will always be a concern for fantasy owners considering Vick, the Falcon's QB looks like he's turning the corner. Expect some good performances from Vick down the stretch as long as he doesn't hurt himself hurdling himself over on-coming defenders.
Bernard Berrian got some time last week and made the most of it on long touchdown reception in the first offensive series of the game. Look for more of Berrian on the positive side of an occasional big play in the coming weeks.
The Gut Check thinks Byron Leftwich will play after the bye week. He's never been one to rely upon his mobility and he's most effective in the shotgun. The only fear coach Del Rio may have of rushing him back is the fact that he'll be an even greater target—and an appealing one—for defenders that smell blood in the water.
Last week as a bad day to judge Anquan Boldin, because the weather conditions were not ripe for throwing the ball. Look for this week against the Dolphins' fine set of cornerbacks to be a better indication. If Bolden gains over fifty yards and looks okay doing, it The Gut Check thinks that will be the positive sign most fantasy owners want out of him.