Raiding the Infirmary
11/18/04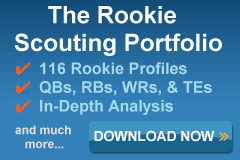 The "Gut Feeling" is often synonymous with a sense of desperation resulting from a lack of preparation. The Gut Check is a huge proponent of studying the numbers, but there's a point where one can place too much emphasis on the wrong information. This can result in the undervaluing or overlooking a player's potential. Therefore, The Weekly Gut Check is devoted to examining the frame of reference behind certain number-driven guidelines that fantasy football owners use to make decisions.

Although The Weekly Gut Check doesn't claim to be psychic, he does believe that he can dispel certain numbers biases and help you make the best choices for your team. We'll keep a running tally of The Weekly Gut Check's insights. This way you can gauge his views as something to seriously consider, or at least seriously consider running the opposite way as fast as you can!


---
One of The Gut Check's favorite techniques to acquire excellent, but under-appreciated players is to "raid the infirmary." In other words, check the injury list for the once hyped—and soon forgotten—players languishing on the waiver wire. In terms of fantasy football, this is like going to a yard sale: there's usually something of value although you may have to wade through a lot of junk to find it.
This strategy is most advantageous for keeper leagues but it doesn't mean you shouldn't pay attention if you solely participate in re-drafts. It's never too early to make a mental note of players many owners will be sure write off next summer. Don't just look for injured players, either. Some might be in the fantasy football equivalent of solitary due to extenuating circumstances. The Gut Check makes it an annual habit to raid the infirmary and he's had a few years of success doing it:

Infirmary Success Stories
Player
Pos
Acquired
Comments
A. Boldin
WR
Early 2004
Competitive league with small roster, tight cap. Owner had no choice to drop to remain competitive. Yours Truly kept room on his roster for such an occasion.
D. Morgan
LB
2003
Hasnít been healthy for a full season, but a top five LB when on the field. Definitely worked out in the Gut Check's favor until a few weeks ago when the injury bug hit.
C. Dillon
RB
2003
Went from the infirmary to solitary pretty fast with Marvin Lewis. No one in his league wanted to touch Dillon until it was certain he would be elsewhere. The Gut Check acted early and rode out the drama--8 starts and 900 yards later, Yours Truly got great value at the FF yard sale.
S. Davis
RB
2002
Steve Spurrier stopped using Davis and The Gut Check picked up the runner when he was still a Redskin (but in name only) and waited for his inevitable change of scenery. This was the start of the same logic Yours Truly used to acquire Dillon in 2003.
Chad Johnson
WR
2002
The Gut Check had been dropping and adding Johnson during his first two years in the NFL. Then he watched some games and heard about his work ethic and just held on until he exploded in 2003.
Throw in Justin McCareins, Jimmy Smith, and Rod Coleman and The Gut Check feels like the there's a lot to be said about doing some fantasy football yard-sailing.
As 2004 passes the halfway point, there are quite a few potential bargains to be had on waiver wires in many leagues. If you aren't in a keeper league, remember these names and don't write them off for 2005. If you pay attention to their progress, you might get a terrific late-round bargain in next year's draft.
Quarterbacks
Steve McNair—McNair has been having a horrible season, but don't buy into the fantasy football mob mentality that views his MVP season as a fluke. Not only has McNair been injured, but his three starting receivers have been spending a lot of time in the training room, too. Tyrone Calico is the most obvious (as well as an obvious infirmary selection), but both Mason and Bennett have been playing hurt and this has had a deleterious effect on the Titan's passing game. Chris Brown going 1 for 9 on third and short situations hasn't helped much, either.
It's true that the preseason can be a mirage for a player's fantasy prospects, but The Gut Check believes you should take the Titan's production in the preseason into account before you write them off for the near future. ESPN's John Clayton was astute enough to predict that the Titans would take a step backwards this year before making a giant move forward in 2005. The Gut Check believes this prediction will come to fruition if Calico and McNair return to health next year. The Titans were one of the most prolific offenses in the NFL in 2003 and lead the league in yards per attempt, yards per completion, and third down percentage in the passing game. The Titan's 2004 preseason was a display of the balance that the offensive unit should have when healthy. McNair, Calico, Mason, and Brown all looked fantastic as they completed deep balls and made game-breaking runs early and often. Unfortunately for Tennessee, the team suffered some close losses after looking dominant in the first half of games early this season. Then the injury bug hit and the bottom dropped out.
The key here is whether McNair has taken too much of a beating throughout his career. Can the Titans' leader come back healthy and last through a season? This is a classic boom-bust pick. If McNair regains his health, the Titans could be even better on offense entering 2005 than their 2003 season, because Brown and Calico will add a dimension to the offense they never had during the Jeff Fisher era—big plays that stretch the defense both from the run and pass. This big play ability should decrease the amount of hits McNair takes in the pocket, and makes the offense that much more unpredictable without relying on their QB's legs.
The downside is that McNair's physical style of play and toughness could have already precipitated a rapid, downward spiral in his play. This is a player with chronic back pain and ankle problems. These injuries will never get better, but can they heal sufficiently for McNair to have a few more good seasons? Remember when Larry Bird started having bone spurs and back problems? The end came pretty fast after that for a truly great basketball player.
It means Steve McNair is at a cross roads in his career. But he's very much worth a flyer at this point. Last year, Steve Young cited McNair as the most complete quarterback in football because the development of his mental approach to the game had progressed to a point further than any signal caller currently in the league. If you watched any of this year's games, there were many chances for McNair's receivers to catch some perfectly thrown deep passes that would have resulted in scores. This was the difference in at least two pivotal games earlier in the year—Jacksonville and Indianapolis. Consider picking up the heart and soul of the Titans now, and evaluate his play (and health) down the stretch of 2004. As long as McNair's body holds up, he has entered a period of his career where the game has slowed down enough for him to generate excellent numbers with good skill players around him—much like three physical quarterbacks with a penchant for running did later in their careers: Rich Gannon, Steve Young, and John Elway.
Kurt Warner—There seem to be a lot of contrasting views of Kurt Warner's ability right now. One side of the fence believes Warner is in serious decline: his thumb still isn't healthy but he's hiding it; his mechanics in his drop back are sloppy; and he no longer keeps his eyes downfield in the face of pressure. The other side believes Warner is a good quarterback playing in a bad situation and any bad habits he's developed are correctable in a better offense.
The Gut Check thinks the The Giants have overachieved this season more than any team in the NFL. The offensive line was supposed to be a shambles—and still is in pass protection where they were ranked near the bottom of the league in sack percentage and third down conversions for the first half of the season. Tiki Barber has carried this offense. This is a back that has been used to running behind a bad offensive line. He's been known to make a lot out of a little crease or hole, but his fumbles limited his production and future opportunities. Tom Coughlin should be credited for not being afraid to confront a modern-day pro athlete and give him serious consequences if he doesn't address a problem. Likewise, Barber should be credited for being a man that can respond to the challenge.
Although Barber and Shockey are the real deal, Amani Toomer and Ike Hilliard could never be mistaken for Isaac Bruce and Torry Holt. In the Gut Check's opinion, the receivers and offensive line are more of a problem than Warner. Look at Warner's mid-season stats:
Warner: Mid-Season
Year
Team
G
GS
Att
Comp
Pct
Yds
YPA
Lg
TD
INT
20+
40+
Rate
2004
Giants
9
9
268
168
62.7
1927
7.19
62
6
4
21
5
85.5
Projected
16
16
476
299
62.80%
3426
7.19
11
7

These stats show an efficient quarterback (completion percentage of nearly 63% and 85.5 rating) that throws for a decent amount of yards, but is ranked 17th in yards per attempt and near the bottom in touchdown passes. Wide receivers need time to get deep and the offensive line—as evidence by their high sack percentage per attempt—isn't giving Warner the room to operate. Amani Toomer has long speed-the kind from long strides that builds up. This doesn't help Warner get rid of the ball quickly to the outside. Toomer he's never been a receiver with the complete game as a route runner. His routes tend to be on the outside and rarely over the middle. Ike Hilliard is the middle of the field guy, but he's never lived up to the potential of his first round label. Both are solid receivers, but neither has a complete game. In most effective, NFL offenses Toomer and Hilliard would be #2 and #3 receivers at best. This means Warner has to rely on the tight ends and backs more often and he can't make the type of successful adjustments under pressure that result in huge plays that stretch the field.

The Gut Check thinks there will be a coach that sees this on film and takes a chance on Warner. Once again, this may initially mean a back up role, but Yours Truly still thinks Warner could be productive in the right situation. Joe Gibbs' offense seems well suited for Warner. Neither Jay Schroeder nor Mark Rypien were fleet-footed quarterbacks, but paired with an effective ground game and big-play receivers they excelled in Washington. Coles and Gardner are highly capable receivers that would benefit from a veteran quarterback whose skills haven't declined as sharply as Mark Brunnell's. The Gut Check isn't saying this move is likely, but from the perspective of matching a player with the scheme this would be a good one. Of course, the most obvious choice would be Chicago where Lovie Smith is trying to recreate the Rams offense in many respects, but it appears the Bears plan to stick with Rex Grossman.

Brad Johnson—The Gut Check is not a fan of Brad Johnson's game. He's a good quarterback, but he's the anti-Favre of the NFL—a player that just doesn't take any chances. If you've ever seen the move Tin Cup, Brad Johnson's quarterbacking style would be similar to Don Johnson's character that always seems to lay-up rather than go for the gusto. While this is boring and somewhat limiting for fantasy owners, he's still appealing to coaches because he doesn't make a lot of mistakes—Dennis Green in particular. Under Green in Minnesota, Johnson did throw for 20 touchdowns in 13 games in 1997. Since Johnson threw for 26 scores just last year, it's hard to imagine that someone won't be interested in his services for 2005. The Gut Check figures Dennis Green wouldn't mind having a veteran like Johnson back up Josh McCown, a player with a bit of a reckless streak.

Running Backs

Julius Jones—This is a player Yours Truly would grab right away if he's actually available in your keeper league because he'll probably have a nice audition for the last month of the Cowboys' 2004 season. This is a player that runs hard, has breakaway speed, and good receiving ability. He's not much different than his brother in terms of ability. Jones is scheduled to return Dec. 6th and could face Seattle, Philly, Washington, New Orleans, and New York during this stretch—a decent sample of good and bad units against the run.

If Jones looks good, he's all but assured a starting job. If the results are mixed, the Cowboys could draft a back or acquire a free agent starter. Even if Jones doesn't win the spot outright, he'll have the off-season to improve and could still get another shot in training camp. Injuries and running backs go hand in hand, so it never hurts to stock talent away—Jones could be just that guy.

Travis Henry—Yours Truly has written enough about Henry this year. He'll just add the Henry is likely the prime candidate to find him self to be the 2005 version of Corey Dillon in 2004 and Stephen Davis in 2003.

Tony Hollings—This guy is so written off, his face is beginning to appear on the back of milk cartons and or the "Have You Seen Me Lately" mass-mailed, CART-A-SORT postcards everyone takes directly from mail box and dumps in the trash. This guy is a potential steal, because most owners run out of patience too early with players like him. His situation was the type almost geared for initial frustration.

Hollings was selected as a supplemental pick after he was declared academically ineligible for his senior year. The Blesto Scouting Service—a well-respected group in NFL circles—rated Hollings among the best RBs in college football, second only to Greg Jones after the 2002 season. The impressive thing about this rating is that Hollings was a defensive back until he was inserted into the Georgia Tech's offensive lineup out of desperation. Hollings wound up leading the NCAA in rushing until he tore his ACL.

The Houston Texans originally saw Hollings as their version of Buffalo's Willis McGahee—future franchise back once he heals. But Domanick Davis surprised everyone with his play and it cost Hollings the extensive opportunity he was slated to receive in 2004. Although Hollings had an impressive preseason, nagging injuries kept him on the bench when Davis went down and Jonathan Wells got the carries.

This is why many fantasy owners have lost their patience with Hollings. They feel the back is an injury-prone bust that was over-hyped for six college games, and now stuck behind Domanick Davis with little chance of doing much in the future. The Gut Check doesn't see it this way. Georgia's Robert Edwards was a defensive back that also appeared over-hyped for a number of college games when the Bulldogs put him in as their starting running back until he was lost with an injury. Edwards eventually became the NFL's rookie of the year. It's a fact of the NFL that running backs get hurt more frequently than most other positions. Hollings is still an injury away from getting extensive playing time.

This is a talented back with breakaway speed and deceptive power. He's not a track star-turned-football player like Michael Bennett. This is a football player that knows how to deliver a blow. Despite this contrast from a guy like Bennett, Hollings still needs development on the finer points of the pro game at the position. This learning curve is going to take longer, but it should yield worthwhile results. Don't count Hollings' rookie season into your evaluation process—he was still recuperating from his knee injury. Wait and see what a healthy Hollings can do on a football field.

Yellow Jacket's coach Chan Gailey has been a successful offensive coordinator for the Cowboys, Dolphins, and Steelers. This is a guy that has an eye for offensive talent and his decision to convert Hollings into a running back was a wise one. Fantasy owners should give Hollings at least one more year before writing him off. Most owners won't do this—and this will be to your benefit. If it works out, The Gut Check is certain that you can cope with others telling you how you were extremely lucky or stupid to think Hollings could be a franchise back before he actually accomplished anything—especially when he's making a significant, positive impact to your starting lineup.

Wide Receivers

Peter Warrick—Warrick is the embodiment of the NFL's (and America's) tendency to tout someone as the next great thing, and just a few years later, that person isn't even a blip on the radar. Scouts were drooling over Warrick's hands, routes, and play making after the catch. So what happened? Warrick went to the Bengals and suffered through a mediocre quarterback rotation on a team with a losing attitude. He discovered he needed laser eye surgery to improve his vision (dropped passes anyone?).

Plus, Warrick's athleticism didn't stand out in the NFL like it did in the ACC. The wide receiver discovered he couldn't cut across the field and score touchdowns like he did at Florida State—most defenses in the NFL have 5-6 starters athletic enough to adjust on the fly to his running style. The only three players that have displayed the ability to run in the open field in the NFL like they did in college were Gayle Sayers, Barry Sanders, and Michael Vick. This discovery in itself for Warrick dramatically changed the original expectations for the WR's success. 99% of the players in the NFL just can't expect to come to full stop while running with the ball and find open field after changing direction.

Yet Warrick still developed into a viable fantasy option in 2003 with 80 receptions, 833 yards, and 7 touchdowns. Obviously, these aren't the stats of a dangerous deep threat (a little over 10 yards per catch), but his seven touchdowns reflect a proficiency to get open in the red zone and his 80 receptions demonstrate the rapport Warrick established with Jon Kitna.

Was this just a one-year deal? The Gut Check doesn't think so. Warrick has improved his performance every year since he entered the NFL.
Warrick
Last
First
Year
Team
G
GS
Rush TD
Rec
Rec Yd
Rec TD
FF Pts
Warrick
Peter
2000
cin
16
0
2
51
592
4
95.2
Warrick
Peter
2001
cin
16
0
0
70
667
1
72.7
Warrick
Peter
2002
cin
15
0
0
53
606
6
96.6
Warrick
Peter
2003
cin
15
0
0
80
833
7
125.3

The Bengal's receiver is a crafty player with a high football IQ—one of the main reasons Warrick has been a moderate success although his after the catch athletic talents didn't translate to the NFL as many projected. Plus, there's still a chance Warrick could develop into a fine primary fantasy option. Just look at Hines Ward's career stats and you'll notice a similar performance trend.


Ward
Last
First
Year
Team
G
GS
Rush TD
Rec
Rec Yd
Rec TD
FF Pts
Ward
Hines
1998
pit
16
0
0
15
246
0
24.6
Ward
Hines
1999
pit
16
15
0
61
638
7
105.8
Ward
Hines
2000
pit
16
0
0
48
672
4
91.2
Ward
Hines
2001
pit
16
0
0
94
1003
4
124.3
Ward
Hines
2002
pit
16
0
0
112
1329
12
204.9
Ward
Hines
2003
pit
16
0
0
95
1163
10
176.3

Ward and Warrick are similar in terms of physique and athleticism. Warrick is more on the finesse side of the spectrum with shifty moves and Ward is pound for pound one of the toughest players in the NFL. The fact that Warrick tried to play this year with a fractured shin does speak to his dedication and love for the game.
Although the Gut Check likes Kelley Washington's prospects, Warrick will be an excellent security blanket—at the very least—for a still-developing Carson Palmer. A healthy Warrick and Chad Johnson in 2005 should facilitate Palmer's improvement to the point that he's a viable fantasy QB. 2005 will be Warrick's sixth year since his selection in the first round—this fact coupled with his production and Washington's presence are the reasons Warrick could wind up sitting on many leagues' waiver wires right now. This is a low cost-good return investment for next year.
Charles Rogers—Surprisingly enough, some owners will write him off as a brittle player and not worth a good pick—especially with Roy Williams on the scene and Harrington struggling. If this is the case in your league, take advantage of it. The Gut Check anticipates the Lions will address their quarterback situation in the offseason—Yours Truly would like to see the combination of Mariucci and Drew Brees, but he's just throwing it out there—and fantasy owners will likely get excited about Detroit's offense all over again. Act now if Rogers is the victim of someone's foolishness. Even with the excitement that re-draft leagues will have over the promise of a Rogers/Williams combo, the 3rd year receiver that's played the equivalent of half a season will still be undervalued.
Tim Carter—The New York Giant speedster had a nice start before suffering a season ending injury. He's the most athletic of the Giants' receiving corps, but his injury history makes him boom-bust pick. Nevertheless, 2005 will only be Carter's 4th year in the league. Carter was initially seen as a semi-sleeper choice out of Auburn. He's displayed a level of toughness that the Giants like, but his injuries have muted his development and New York's enthusiasm. Next year will be a pivotal season for Carter to put it all together on the field. With an aging Toomer and Hilliard and a somewhat promising Jamaar Taylor, and likely a heralded rookie drafted in 2005, Carter will be expected to step up.
Tight Ends
George Wrighster—The Jaguars tight end was making a move for more playing time before going down in week five. Wrighster is capable of getting deep and it appeared Leftwich was looking to him in the red zone with increasing frequency before he got hurt. Don't forget about this guy on draft day next year if the Jaguars don't acquire another receiving threat at the position. Kyle Brady has been a disappointment in the Del Rio coaching regime and Wrighster is just a second-year player. The Gut Check doesn't think the Jags will pursue a big name tight end in the off-season—and that's good for both Wrighster and the bargain-shopping fantasy football owner.
Kris Wilson—The Gut Check mentioned Wilson earlier this season. He'll surely be underappreciated as the second banana to Tony Gonzalez. But don't be fooled, Dick Vermeil has high hopes for Wilson as receiver in the offense. Keep in mind Gonzalez will be entering his ninth NFL campaign in 2005—which makes him an old player by NFL standards. Although Gonzalez shows no signs of slowing down, he's been playing with a chronic foot injury. Wilson is the type of player that could prolong Gonzalez's career in the Chiefs offense, because Kansas City can split Gonzalez away from the line. Wilson's youth and potential could one day make fantasy football's consistently great tight end expendable. The Gut Check watched a lot of Pittsburgh football in admiration of Larry Fitzgerald's game and discovered Wilson in the process. This is player that runs good routes, and makes big plays in traffic. As Yours Truly may have mentioned before, there were some receptions Wilson made in college where he had to take big hits or acrobatic catches that could have made it easy for someone to mistake him for Fitzgerald. Keep an eye on this guy…
Defensive Linemen
Rod Coleman—This guy should be a hot, waiver wire pick up this week after recovering from injuries sustained in a car wreck a little over a month ago. As FOX Sports color commentator and former Chief NG Bill Maas explained during the Falcons-Bucs game this weekend, Coleman was originally designated to be a linebacker when with the Raiders but they needed someone to imitate DT John Randle in a drill against the offense line during a practice. The Raiders coaching staff used Coleman and the soon-to-be-former linebacker was so impressive against the Raider's first-team offensive line as a defensive tackle, they kept him there. Coleman played spot duty as a defensive lineman in pass rushing situations and actually recorded 9 sacks two seasons ago. The Falcons acquired Coleman in the off-season and the pass rush thrived with him in the middle. The defense suffered a lull while he was gone, but last week against Tampa Bay Coleman returned to the field and recorded two sacks—dominating any lineman he faced and forcing double and triple teams. His returned freed the Falcons defense to sack quarterback Brian Griese a total of 6 times.
If your league requires a defensive tackle, Coleman is the hot prospect because he's becoming an every down threat as a lineman and still young enough to make an impact for several years.
Linebackers
Roosevelt Colvin—Colvin was a highly regarded free agent from the Bears that was brought to New England, but suffered a hip injury that's still limiting his return to form in 2004. Colvin is getting playing time, but it will likely be next year before he's ready to be the force the Patriots expected him to be. Colvin is a terrific pass rusher prior to his injury:
Colvin
Year
Team
G
Total
Tckl
Ast
Sacks
INTs
Yds
Avg
Lg
TD
Pass Def
2001
Bears
16
69
59
10
10.5
2
22
11
14
0
6
2002
Bears
16
64
55
9
10.5
0
0
0
0
0
8
2003
Patriots
2
5
3
2
2
0
0
0
0
0
0
2004
Patriots
9
21
11
10
2
0
0
0
0
0
1

21 sacks in two seasons is a great reason to keep an eye on Colvin's progress. The Patriot' interior line of Wilfork, Traylor, and Seymour should continue to improve, and a healthy Colvin would benefit. Like most of these picks, monitor Colvin's health and act accordingly.

Safties

Sean Jones—Only Shaun Taylor was considered a better prospect at the position in the 2004 draft. Jones suffered a torn ACL on a freak play in practice as he tried to leap over Dennis Northcutt on a cross route. Jones is almost as big as Taylor and just as athletic. The Georgia Bulldogs have a history of producing athletic defensive starters in the NFL—Mo Lewis, Champ Bailey, Kendrell Bell, Boss Bailey, Jermaine Phillips, and Charles Grant among them. Jones may not turn out to be as exciting a player as Taylor, but he's also less likely to have the personal problems Taylor has already exhibited.

This is an aggressive, hard-hitting player with good range. If you miss out on Jones this year, keep an eye out for Georgia's other soon to be great safety prospect—Thomas Davis.

Glenn Earl—The Gut Check already mentioned Earl last week. He'll be available on most waiver wires until the preseason—but don't wait too long, you'll hear his name a lot more in camp when he's fully recovered and has a year under his belt.