The Weekly Gut Check - Vol. 121
Second Half Wonders
6/12/08



The "Gut Feeling" is often synonymous with a sense of desperation resulting from a lack of preparation. The Gut Check is a huge proponent of studying the numbers, but there's a point where one can place too much emphasis on the wrong information. This can result in the undervaluing or overlooking a player's potential. Therefore, The Weekly Gut Check is devoted to examining the frame of reference behind certain number-driven guidelines that fantasy football owners use to make decisions.

Although The Weekly Gut Check doesn't claim to be psychic, he does believe that he can dispel certain numbers biases and help you make the best choices for your team. We'll keep a running tally of The Weekly Gut Check's insights. This way you can gauge his views as something to seriously consider, or at least seriously consider running the opposite way as fast as you can!


---
Iím a proponent of using second half performances from the previous season as a predictor of success for the following year. I call these players Second Half Wonders because when their second half performances were at least 20% better than their first half numbers they did as well, if not better, the next season.

Generally, I narrow my list of candidates by searching for players who last year experienced at least a 40% second-half increase to their first half numbers. I make an exception if the player is already a starter for his team because his stats are likely decent to begin with and the subsequent second half jump wonít likely be as high (often in the 20%-30% range). This will give me a small, but strong pool of candidates at each position who are not always popular breakout candidates youíll find among other preseason predictions.

Here you can find examples of Second Half Wonders by position from 2002-2006. Youíll find that receivers and runners who qualified as Second Half Wonders had the strongest track record of success because of the level of turnover among these players compared to the relatively greater longevity of quarterbacks and tight ends.

Who are the Second Half Wonders heading into the 2008 season? Beginning with quarterbacks, there were 11 players who fit the statistical profile for a Second Half Wonder. Three of themóChris Redman, Troy Smith, and Matt Mooreóall could possibly start in 2008, but they are currently backups or face serious competition for the top spot. Personally, I like the prospects of Matt Moore a great deal. Draft analyst Mel Kiper viewed Moore as a strong prospect and was surprised an NFL team didnít draft Moore. Heís not alone, hereís a Rookie Scouting Portfolio sample of my pre-draft evaluation of Moore at Oregon State.

The Panthers got a bargain when the Cowboys inexplicably elected not to add Moore to their final roster because they felt they had great depth with septuagenarian Brad Johnson holding down the fort behind Tony Romo. In fact, Moore looked good enough down the stretch that John Fox is comfortable with the second year QB backing up Jake Delhomme. If youíre dynasty league owner, Moore is a player to stash away because heíll have a good chance to start by 2010.

The six most reasonable Second Half Wonders at QB with 2008 breakout potential are listed below.


Croyle has been named the starter going into 2008 and with a healthy Larry Johnson, the venerable Tony Gonzalez, and the up and coming Dwayne Bowe, he has the weapons to be productive. The issues for Croyle include his offensive line and his propensity for injury. His second half is also more productive as a result of his limited time as a starter during the first half. Nor was his second half anything you would desire from a starting fantasy QB. On the other hand, new offensive coordinator Chan Gailey has a penchant for working with young quarterbacks. As a proponent of a power running game paired with a play action passing game, Gaileyís methodology is a good fit with the strong-armed, but slight-framed Croyle. In Croyleís draft class only Jay Cutlerís arm was stronger and if the Chiefs can keep the third-year QB healthy, he should continue to make progress. But for 2008, Kansas Cityís new incumbent is the least likely candidate on this list to experience a break out.

Kurt Warner isnít a breakout candidate, but is a player who could perform at a high level if the Cardinals organization believes the veteran gives them the best chance to win. When Warner took over for the injured Matt Leinart, his numbers were definitely starter material. Although Leinart made a case for being the Southwestern regionís spokesman for beer bongs, the Cardinals committed a large chunk of change to see him succeed. That doesnít mean you ignore Warner though. The Arizona offensive line is improving, but still a work in progress and Leinart could take a beating. Warner will continue to be the highly regarded back up fantasy owners can use in a pinch.

Kellen Clemens and Trent Edwards have the talent and both made significant strides in 2007. Nevertheless, the two quarterbacks will likely need another year of seasoning and rapport building with their surrounding talent to become productive fantasy starters. Although Clemens has the more established receiving corps, I believe Trent Edwards has the leadership skills, mobility, and accuracy under pressure to develop into a future Pro Bowl performer. These two players should become established AFC starters by 2010, but in 2008 consider them late round gambles or early season free agent pick-ups.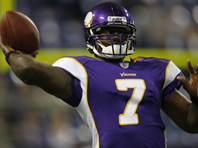 The most likely breakout QBs are Tarvaris Jackson and Vince Young. Jackson benefits from a great offensive line, dynamic ground attack, and the addition of free agent Bernard Berrian to a young, but talented receiving corps. Personally, Iím not enamored with Jacksonís decision-making, pocket presence, and accuracy, but the stats show heís on track to develop into a borderline fantasy starter. Vince Young was a candidate last year, but injuries and inconsistency derailed high hopes that many had for the Madden cover player. The Titans brought back offensive coordinator Mike Heimerdinger who engineered a spread attack that helped Youngís mentor Steve McNair have an MVP season. I continue to hear about the possibilities of lots of 2-TE sets due to the addition of Alge Crumpler and the pre-existing rapport with Bo Scaife, but with Justin Gage, Justin McCareins, Roydell Williams, Chris Johnson, and either Mike or Paul Williams the Titans will have a passable spread attack. This change should ultimately help Young, but very few quarterbacks perform at a high level immediately after a switch in offensive philosophies. Look for Young to be good enough to crack your starting lineup on bye weeks, but youíre taking a huge risk to make him the man on your fantasy squad.

The most viable Second Half Wonder runners either injury subs who made the most of their opportunity or veterans experiencing a renaissance.


Grant, Fargas, and Graham have a strong opportunity to maintain a hold on the starting gigs they earned in 2007. Obviously, Grant should have a lock on the Green Bay job and will be viewed as a potential #1 fantasy RB. Right now, Fargas is seen at best as the guy keeping the starting position warm for Darren McFadden. The Michigan/USC alum is a hard-nosed runner with speed who won over his coach Lane Kiffin. I donít think Fargas will just roll over for McFadden and I wouldnít be surprised if the Arkansas star plays situational back to Fargas in 2008. Compounding the problem might be Michael Bush, who is returning from injury. This makes the Oakland backfield crowded so Fargas is best targeted as a mid-to-late round depth.

Graham will hold onto the Buccaneers job at least to begin the year if he can get his contract situation straightened out. Cadillac Williams is likely a long away from returning to the field, much less returning to form and Warrick Dunn has a year or two of productivity left in those legs, he just didnít fit into the Falcons system. Look for Graham to have the best crack at starting, but Iím doubtful heíll be as good as he was with the versatile Dunn making his return.

Selvin Young surprised many fantasy owners in 2007 and the Broncos cut Travis Henry. This makes the undrafted rookie from Texas the odds on favorite as the primary back. Heíll have value, even if Ryan Torain or Ahmad Hall show something in camp that add a sparkle to coach Shannahanís fickle eye. Iíd consider adding Pierre Thomas to the mix despite the fact Reggie Bush has recovered from his PCL injury. Thomas has won over the coaching staff as a definite contributor, especially with Deuce McAllister aging fast for this point of his career due to multiple injuries to his knees.

Fred Taylor and Jamal Lewis returned to life in 2007. Will Taylor to hold off Maurice Jones Drew and remain the primary back or will age catch up to him. Most savvy fantasy owners will be cautious about Taylor in summer drafts, but if you can get him as a low-end #2 RB and pick up one of the rookie runners in a good situation, things could work out in your favor. Lewis got a new contract and some will worry if the Browns RB will run as hard in 2008 after his new deal. Iím more worried about Derek Andersonís career path looking more like Scott Mitchell than Tom Brady. Lewis was excellent in the second half of 2007 and he will be seen as a top-twenty pick by many. Although he should get even better line play and has strong skill players around him, Iím not as sold on Lewis returning to his halcyon days for an entire season. But if you can manage to land him as your #2 RB and follow up with solid depth at the position you could do a lot worse.

Several wide receivers qualify as Second Half Wonders. Adding to the intrigue is the number of pass- catchers moving on to other teams. Devard Darling, Ernest Wilford, D.J. Hackett, Bryant Johnson and Isaac Bruce and got hot in the second half of 2007, but only the veteran Bruce will be in a system that heís familiar with. Jabar Gaffney, Nate Burleson, Anthony Gonzalez, and David PatteRn all have a chance to start or see significant reps on Sundays, but their upside is limited due to the presence of a more established player or a young receiver expected to develop ahead of them. These are the eight candidates left.


Colston is a no-brainer. The Titans liked what they saw from Gage to make a new deal with the former Bear. At the very least, he should be a solid player #3 or #4 WR in fantasy lineups with upside once Mike Heimerdinger and Vince Young work things out. Sidney Rice saw a lot more time and targets in the Vikings offense. With a Bernard Berrian expected to draw attention from opposing defenses, Rice should at least continue to produce at the rate he did in the second half of 2007. The rest is up to Tarvaris Jackson. Santana Moss looked good down the stretch. Mossí return to prominence is in the hands of young Jason Campell grasping the Holmgern version of the West Coat offense Jim Zorn will bring to D.C.

Williams, Brown, and Evans have teased fantasy owners thus far. Garrardís presence may be the difference maker for Williams. Brown needs a healthy McNabb and more importantly an equally strong receiver opposite him. Otherwise, I donít see his upside getting much higher than what he has attained. Evans has the skills, but stats are linked to the development of Trent Edwards and the addition of a complementary receiver. The safest candidate is clearly Brandon Marshall, who was actually a more consistently productive player than the Bengals Chad Johnson. He wonít be the draft day value youíll find from the other players mentioned, but he should continue his second half run of 2007.

Tight Ends with Second Half Wonder production are potential end of draft bargains.


Pope is a huge target with nice agility for his size. He just needs to maximize his skills and with Boldin and Fitzgerald on the outside, he should exploit single coverage. Iím just not sure he has the speed to compete with outside linebackers at this level. Scheffler has shown flashes of athleticism to make the big play, but there hasnít been a big-time TE in Denver since Shannon Sharpe. Jay Cutler is promising enough to make Scheffler a respectable starter. Zach Miller and first-year starter JaMarcus Russell will get to know each other better in 2008, but counting on him as anything more than a free agent pickup is a gamble. Lewis can catch, but his role in the Jacksonville has been fairly one-dimensional to this point.

The players I like the most for 2008 from these lists are generally the most obvious: QBs Vince Young, and Trent Edwards if Kurt Warner doesnít get another chance in Arizona; RBs Ryan Grant and Jamal Lewis; WRs Colston and Marshall; and TE Tony Scheffler. Still, the rest of the players are often great mid-to-late round selections or players to remember for the waiver wire.