The Weekly Gut Check - Vol. 130
Putting Logic In The Ejector Seat
8/14/08



The "Gut Feeling" is often synonymous with a sense of desperation resulting from a lack of preparation. The Gut Check is a huge proponent of studying the numbers, but there's a point where one can place too much emphasis on the wrong information. This can result in the undervaluing or overlooking a player's potential. Therefore, The Weekly Gut Check is devoted to examining the frame of reference behind certain number-driven guidelines that fantasy football owners use to make decisions.

Although The Weekly Gut Check doesn't claim to be psychic, he does believe that he can dispel certain numbers biases and help you make the best choices for your team. We'll keep a running tally of The Weekly Gut Check's insights. This way you can gauge his views as something to seriously consider, or at least seriously consider running the opposite way as fast as you can!


---
How you see him defines you either as an optimist or a cynic. Optimists love that he makes them feel like a kid again in all the best ways. With him, nothing is impossible and his story is one of inspiration married to devil may care. Cynics hate that he's everything that terrifies overly responsible adults. He's reckless, mistake prone, and indecisive, and he still seems to get away with it.

It began as the quarterback for North Hancock Central High in Kiln, Mississippi. He was the coach's son, but didn't throw more than a half dozen passes per game. Only one college team offered him a scholarship – as a defensive back. He convinced Southern Miss to give him a shot at quarterback – that is, if you call seventh-string on the depth chart a real shot. But by the second half of the third game of his freshman year versus Tulane, he led his squad to a comeback victory despite a lingering hangover. Let's see, a high school wishbone quarterback fortunate just to get a scholarship as a safety becomes the starter after beating out six other guys and leading his team to a come from behind win while wasted? Yeah, that happens every day.

It continued his senior year after he lost control of his car and the vehicle did its best Mary Lou Retton imitation without a springboard, sticking the landing against a tree after executing a triple somersault. Once his brothers took a five-iron to the window to get him out of the car, he had the pleasure of doctors removing nearly a yard of small intestine from his body. Was his career over? Nope. He had to miss the season then, right? Nah. He returned to the football field six weeks later – sans 34 pounds - to beat Gene Stallings' Crimson Tide in (what else?) a come from behind victory. Yeah, that happens every year. Just ask Drew Bledsoe or Chris Simms about the timetable for returning from internal injuries.

According to Gary D'Amato of the Milwaukee Sentinel, the eventual second round pick of the Falcons was greeted by the head coach telling the media prior to an exhibition game that it would take a plane crash for him to put this guy in the game. Not that this partying QB did anything to give Glanville a better impression. He wasn't on time and he didn't work hard in practice (hard to do it after a few rounds too many at the local watering holes). But it didn't matter to former Jets and then-Packers GM, who wanted him desperately. When the trade was consummated the next year, the quarterback was diagnosed in the post-trade physical with avascular necrosis. What's that, you say? Ask Bo Jackson – it ended his career. It could have ended this quarterback's career before it ever truly began. But instead of the GM nullifying the trade, which he had every right to do, he overruled the doctor's recommendation. Ask Lee Suggs if the Jets were so kind to him when he was originally their choice over Thomas Jones.

Has anyone accumulated most of the important passing records quarterbacks both covet and dread? Has another player ever won three consecutive MVP awards? Has anyone else started 16 seasons worth of games while playing with injuries that would sideline most quarterbacks? Has anyone else had the game of his life the night of his father's funeral?

His career has been predicated on risk. He plays to win in football and life. And now that the minute by minute media spectacle is drawing to a close and the games are about to begin, I'd like to weigh in on what really matters to fantasy owners: The Madden Curse.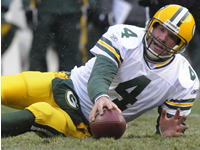 2-3 the Madden Curse strikes #4.

Ridiculous? Ask Shaun Alexander, Marshal Faulk, Ray Lewis, Michael Vick, and every other non-Titan who has effectively lost their season after gracing the cover of the video game if the curse didn't matter. Even the Titans players saw a decrease to their production and they seem to have a limited amount of resistance to the curse. Ask LaDainian Tomlinson why he turned it down. Tell me you haven't thought about the fact that LT got hurt for the first time in his career in the playoffs. You could say just the decision alone impacted the player.

So here is Brett Favre on the cover of the Madden video game. It's the ultimate showdown between football's irresistible force and immovable object. If Favre misses a game, even the greatest skeptics could be convinced there is something to it. Me? I am a believer already. But I've taken any shred of logic and placed it in an ejector seat. And when you look at Brett Favre's career, that's what you have to do, because as I've illustrated, he's the human embodiment of the exception to the rule and I'm excited to see what might be the most intriguing story of the 2008 season. How will the Madden Curse strike? Will it strike? Or could Favre being Favre, strike back? Here are the possible scenarios and the odds.

The Madden Curse strikes Brett Favre (2-3): I just detailed Favre's career and he's beaten the odds time after time. He's not indestructible; he is indefatigable. If the wishbone, a car wreck, Jerry Glanville, a Vicodin addiction, breast cancer, and his father's death can't stop him, do you really think Madden can? My fiancée says he'll probably wind up having something stupid happen like an infected hangnail and miss a game. It better not happen, MacGregor and I got him as a bargain in a salary cap, inter-site league. The odds Favre gets hurt with a young, promising line? With the curse weighing heavily, it's nearly a coin flip, but spot Favre beforehand.

The Madden Curse strikes the Packers (4-1): Maybe it's because I believe the Packers organization earned the curse to rain down on them. But, how can you blame the Packer organization for moving on? This is business, right?

Listen fool (not you, Ted Thompson), you're in a league where the average career length (3 years) and rampant free agency generates a window of opportunity that is two to three years long. You had one of the great quarterbacks in the game still performing at a pro bowl level and brought you within one boneheaded play from a Super Bowl? So what do you do? You did him like the Browns did Ernest Byner after his mistake in Denver? Lest you forget, Byner helped lead the Redskins to the big game and a win it while the Browns haven't come that close to the Super Bowl since.

I know this is a business and your boy, Aaron Rodgers, was potentially headed for a raw deal. I just earned Suzy Kolber say before the Monday Night preseason game that Rodgers deserves it because he waited three years without a single complaint. So what! Performance is what matters, not waiting one's turn. Just because he waited doesn't mean he earned it. We're not talking about Steve Young who had extensive time to prove what he could do before the Niners released Montana. Favre was your team's best chance to win it all. Not one player in that organization was going to think they earned the special treatment afforded their long-time quarterback.

If the Packers continually passed over their young quarterback, who cares? There's no guarantee Rodgers is a franchise player. The odds are against him and he was not guaranteed the job because he waited his turn. Do you promote people in an organization for doing a good job or because they waited their turn? If it's the latter, I bet most people aren't satisfied working there, especially if they had a chance for a superstar to lead them.

Although the $25 million licensing deal for Favre was in negotiation prior to the un-retirement rumblings, the fact you broached the topic during this situation sure looks like you were attempting to bribe Favre not to play. I feel for Packers fans. Technically they're the bosses because the city owns the team. Look for the city to say bye-bye to you unless the Packers at least go 9-7. With Ryan Grant's early hold out and Favre leaving, the curse looks like it's heading to Wisconsin.

The Madden Curse strikes itself (8-1): The trading of Favre already threw a kink in EA Sports' marketing plan. Although they are giving fans a chance to download and print a cover with Favre in a Jets jersey, it's not the same. It wouldn't at all be surprising when it comes to having someone like Favre on their cover, it's possible that the Madden game winds up with a reverse curse - some sort of bug or defect, requiring a massive recall on this year's release.

Can you imagine X-Box 360s and PS3's beginning to smoke like a Mississippi barbeque within minutes of loading the disc? Or maybe users won't be able to get past load screens of Favre in his Packer's jersey (just as Packers fans are having trouble getting past it in real life)? Maybe it's something subtler like Aaron Rodgers getting attacked by a horde of fans from the stands whenever he throws an interception (you never know, someone at EA Sports' programming department could be a huge Favre fan). As much as I enjoy the game, I believe this scenario would be the greatest form of divine justice for fantasy owners with the guts to take Favre.

If it happens, we'll see a nation filled with paunchy white-collar stiffs and half-baked students rioting in the streets. Best Buys and Wal-Marts around the country will need to bring in the National Guard. Wal-Mart will actually have a real excuse to lock their employees inside. The problem is most fantasy football fans play Madden, too. When you really think about it, wouldn't you rather see the curse end or get a dose of its own medicine? Seriously, you could play the same version from six years ago and still enjoy it. Come to think of it, that's the last time I've had time to actually play it.

The Madden Curse strikes John Madden (20-1): Could the Big Kahuna himself get his comeuppance? Does he pull a hammy tripping over a frozen Turducken while getting off the bus? Or will he develop a food allergy that causes that tube of salami otherwise known as his tongue to swell into a porterhouse steak and prevent him from speaking for 8 weeks? If it happens, will Madden still love Favre in the way your mom slobbered and fainted over Elvis (or was it Paul, John, Ringo, and George)?

Now that all logic has been ejected from my vehicle and is bouncing around the highway still belted into the booster chair, here are my gut feelings about the season ahead.

Although I have him ranked 10th at his position, I'm sky-high on Donovan McNabb this year. He's almost two years removed from his ACL tear and his shoulder is healthy. I know he doesn't have any true studs at receiver, but I don't care. McNabb is tough, smart, and accurate. I get the feeling McNabb will be a top five quarterback – I can't stand behind it stats-wise, but bid a huge amount of my quarterback budget on the Eagles QB in a contract experts' league where five-person teams have to act out roles of NFL management and staff. I'm the GM and Mike MacGregor is the owner. We made the playoffs after inheriting a dismal team from CBS Sports. Just so you know, MacGregor was all for pursuing McNabb.

Since we have some legitimate concerns about our starting QB's health we opted for the most durable quarterback in history to back him up. The only curse I want with this squad is Jevon.

Steven Jackson's prospects scare me. Throw surpassing the f/carry threshold out the window and I still get the feeling his career isn't going to rebound the way many expect. Scott Linehan is shaping up to have the same curse as Brian Billick of leaving the Randy Moss-led, Vikings offense and looking impotent by comparison. Hopefully the return of Al Saunders will help things out, but the fact Jackson isn't happy with his contract and was a no-call, no-show to begin camp doesn't have me enthused about picking Action Jackson. If Jackson picked one of Dwayne "The Rock" Johnson's characters to base his nickname on rather than Carl Weathers, then I wouldn't be thinking that the Rams runner's performance is about to be as enticing as an In The Heat Of The Night re-run.

Remember this name – Part I: Keenan Burton. The rookie from Kentucky won me over two years ago. He's going to make first round pick – and first receiver off the board – Donnie Avery more famous for being an answer to a trivia question than the answer in St. Louis.

Chris Perry will be the Bengals starting runner by midseason. Did you see his quickness and power? Did you see him catch the ball? He's a true steal in this draft. I think Rudi Johnson's career as a starter is over in Cincy.

Ray Rice will be the offensive counterpart to Ray Lewis in terms of ability, guts, and work ethic – I can't shake the idea that he's going to make Willis McGahee look like a pimped out Chevrolet Monte Carlo parked next to a Lamborghini Gallardo. Three days after writing this, the Monte Carlo is already in the shop getting one if its wheels checked. McGahee will supposedly be ready by opening day. He may be ready to take the field, but he won't be ready to keep his job.

DeAngelo Williams is a lot better than owners who soured on him think. Here's what I said about Williams two years ago:
DeAngelo Williams, Panthers: I believe Wiliams is the best runner in this draft not named Reggie Bush. The fact Jacksonville wanted Williams and Carolina's John Fox chose him over Laurence Maroney, Lendale White, and Joseph Addai adds validation to my point. These are defensive-minded coaches that value the power running game. Deshaun Foster is a talent, but he was George Seifert's pick. Stephen Davis was Fox's choice when Foster got hurt. Greg Jones was Jacksonville's choice despite the presence of Fred Taylor.

Why would two coaches that like the power running game want a back of DeAngelo Williams' stature? The answer is simply "Williams' stature." The rookie out of Memphis is a short, but muscular back with excellent quickness, vision, receiving skills, and power. Yes, power. I watched Williams carry two linemen about the combined weight range of 550-600 lbs from the two-yard line in the 4th quarter of a game—the play after he just made a long run. If that's not a display of power and stamina, then I don't know what is (and neither do the two coaches that coveted him). Williams won't be the next Stephen Davis, but the point is he is more than able to carry the load for an NFL team.

Deshaun Foster is the starter and Jon Fox has made it clear the UCLA alum will get every chance to shake the injury bug he's suffered since his transition to the pros. Still, I think it is more likely Foster is playing for a second contract, and an opportunity to start elsewhere. Foster can be a great help to Carolina now and have the luxury develop Williams at a comfortable pace and utilize his talent as a receiver and change of pace back in 2006.

This should become more apparent as you watch Williams in limited time this year. If the Colts selected Williams he would have been my highest rated RB as an impact rookie. If Reggie Bush is a comparable player to Gale Sayers, then I will compare DeAngelo Williams to Tony Dorsett. If you're in a dynasty league, and already have two strong starters at RB, I strongly suggest you consider Williams despite the fact he's not slated to start this year.
Put him on the Texans, Jets, Bears, Bucs, Broncos, Titans, and Packers (you heard me right), and I believe he'd out perform the runners there. The Panthers are going to rebound on offense thanks to Delhomme's veteran leadership, an improved offensive line, and a great 1-2 punch at RB. As with the Rice/McGahee article, I wrote this three days before this piece came out.

I love hearing that Derek Hagan looks like the best receiver on the field in Miami. He was a player I rated highly in the 2006 RSP:

Derek Hagan, Dolphins: Hagan began the year as one of the best prospects of the class, but his post-season workouts in the Senior Bowl and combine were disappointing. The problem was Hagan didn't display great hands. He fought the ball or had costly drops on easy throws.

This wasn't the Hagan I saw at Arizona State University. The player I saw caught 40-yard bombs over his shoulder with a player wrapped around his waist 2-yards prior to the ball arriving. The player I'm talking about displayed leaping ability and concentration that reminded me a bit of Herman Moore but with more speed.

Former Lions starter, Gary Danielson compared Hagan's game to Rod Smith's because Hagan has a knack for getting open. As much as I like Hagan's game, I believe it will take Hagan more work to generate similar comparisons as a pro.

Still, I think Hagan is an absolute bargain in dynasty leagues. Miami is looking for a player to beat out Marty Booker and I believe Hagan will achieve that objective sometime in 2007. While Hagan isn't a burner, he's very athletic and has more speed than people expected from him. The Dolphins rookie should develop into a terrific complement to Chambers. If Nate Burleson can have a 1000-yard season in his sophomore year with Culpepper, I believe Hagan can come close, if not exceed those totals at the same point in his career in Miami.
So far, he's catching everything in sight. I bet he works his way to becoming a solid fantasy option for years to come.

Matt Leinart seems too casual to be a real leader for an NFL football team. I admit that I think he comes across as a pampered player who won't win over teammates. Put Ben Roethlisberger in that offense and we're talking serious playoff run.

You never discount a healthy runner who will do anything within his power to become a better player. If that means asking Marshall Faulk how he prepared to be the focal point of Mike Martz's offense and then following it to the letter, that's what he'll do. If it means calling out his veteran teammates as a rookie when players were laughing and cutting up in the locker room after a loss, then that's what you get when you have Frank Gore on your team. My gut says 1800 total yards is likely because he's a terror in the open field and Martz will find a way to get him there like he did with Faulk.

Speaking of mentoring, Robert Meachem approached David Patten (at least this time around, don't change it to "PatteRn," Mike, but leave this in because I want readers to know who the culprit is) at the end of last season and asked if he could train in the off-season with the veteran receiver. Meachem is in shape and looking good. My greatest beef with Meachem was his tentativeness as a receiver holding onto the ball while facing down contact. If he continues to show improvement here, he's going to make some waves. If you watched him run through the Cardinals back ups in the fourth quarter for a score, you can see what he was like in college on short passes

Trent Edwards is going to make Lee Evans a consistent fantasy producer. At the very least, Edwards will become a veteran gun for hire that will keep a team competitive while an organization looks for a franchise signal caller. I seriously doubt Edwards is going to be anything less than a long-term starter for the Bills. He's a gutsy player in the pocket who showed small flashes in key moments during games in 2007. Evans and Edwards worked together in the off-season and I believe that's all it's going to take.

Remember this name – Part II: Mike Walker. If you're in a dynasty league get him while he's still an unknown. You'll thank me in 2009.

If you have two RBs and two WRs and find yourself in round five with Calvin Johnson available, for the love it is of finding an absolute beast of a player at a good value, call his name!

Leigh Bodden literally won me a league last year. He also was a stud CB in most IDP leagues, but I wouldn't presume his new situation in Detroit makes him nearly as good.


Here are more updates to my rankings. The projections are for a 12-team league and a starting lineup of 1 QB, 2 RB, 3 WR, and 1 TE lineup with FFToday default scoring. In order to remain conscious of space and formatting, I will only list the top 32 QBs, RBs, and TEs and the top 50 WRs. I had a number of e-mail requests for me to provide projections for other scoring systems, but I will not have the time to do more than this type of league. I suggest you register for a MyFFToday account (it's free), input your league scoring system, and use your scoring system to run the numbers from the Crank Score Calculator to get the raw data. Then use the previous articles as a guide to calculate the simplified new Crank Score.
| | |
| --- | --- |
| Tier Color Codes | |
| Elite | |
| Primary Starters | |
| Secondary Starters | |
| Tertiary Starters (WR) | |
| Primary Back ups | |
| Secondary Back ups | |
| Flier/Waiver Wire | |
The tier color codes are my way of grouping the players by specific ranges in Crank Score. Once can see the codes have some mathematical logic, but it is still a subjective delineation on my part. One could argue that there are only two elite backs or there is seven to twelve elite receivers depending on how one looks at the impact of the Crank Score attributed to the positions. Again, this is a limited list of players. There are far more flier/waiver wire picks for my personal draft list. The players in bold reflect changes from last week and there are significant changes – some bigger than others.
Ranking Changes
Brett Favre is now a top-ranked back up in my rankings because he has been afforded a month to learn the base offense. It wouldn't be pretty to start the season, but I think he'll catch on quicker than many expect. He'll be a terrific second half quarterback in 2008. I like what I see out of a slew of young signal callers:
It appears I was too quick with my enthusiasm for Jonathan Stewart. I still expect him to contribute, but DeAngelo Williams is nailing down this job. This is a very good tandem to draft if you have a pick at the turn of a round. Ricky Williams, Darren McFadden, and Chris Johnson move up my list with impressive beginnings to camp and following it up with good performances in limited time after their first preseason game. None of them move up into starter territory, but each deserves mid-round consideration.
Marvin Harrison has been pronounced fit to play and that means a significant bump. He's still going to be a great deal in most drafts. Laveranues Coles gets a solid bump because he finally as a quarterback with an arm to match his speed. I'm beginning to believe Roddy White's development won't suffer as much as I first anticipated, because I was impressed with Matt Ryan's play. I'm not expecting a repeat of his breakout numbers, but he'll be a decent starter in 2-3 WR lineups.