The Weekly Gut Check - Vol. 136
Housecleaning
9/25/08



The "Gut Feeling" is often synonymous with a sense of desperation resulting from a lack of preparation. The Gut Check is a huge proponent of studying the numbers, but there's a point where one can place too much emphasis on the wrong information. This can result in the undervaluing or overlooking a player's potential. Therefore, The Weekly Gut Check is devoted to examining the frame of reference behind certain number-driven guidelines that fantasy football owners use to make decisions.

Although The Weekly Gut Check doesn't claim to be psychic, he does believe that he can dispel certain numbers biases and help you make the best choices for your team. We'll keep a running tally of The Weekly Gut Check's insights. This way you can gauge his views as something to seriously consider, or at least seriously consider running the opposite way as fast as you can!


---
Every week there are items that don't make my column in lieu of the fact I'm writing about a specific topic. This week there is no large topic. There will be a more thematic topic next week, but today is clearing away the odds and ends that include random opinions, advice on a handful of players, and even a non-traditional game day recipe.

Playing By The Rules

Plaxico Burress deserves his suspension. If don't show up to work and don't call, you earned your punishment. What makes him more important than the single parent that has two jobs and has to call if he or she is going to miss their scheduled work time or get fired? If your answer is 'he's a million-dollar athlete that is an integral part of his team', then you don't get what I am saying.

The Unwritten Rule of Retaliation

Apparently, Rodney Harrison said Ricky Williams' block on Mike Vrabel was dirty. Once you stop laughing that Rodney Harrison is making this point – it's like Larry Flynt calling an adult magazine 'obscene' – you should look at the play on NFL.com. I didn't think it was a dirty play – if anything it was a high effort play. Although Vrabel wasn't likely to catch Brown, there was no guarantee Brown doesn't stumble, lose the ball, or come up lame during the run and slow down significantly before he reaches the end zone. Brown wasn't in the endzone; he was at the 25-yard line when Ricky dove for Vrabel's legs.

Just because the team didn't expect the Dolphins - namely Williams - to show that much effort to go full speed in the 4th QTR with a big lead and make a play that any coach would applaud him for doing tells you that they are simply upset about getting their butts whipped. Yes, the hit to the legs was the point of contention, but Williams got in front of Vrabel and no other player was engaged with the defender at the time of the hit.

And if you don't believe what I just said about it not being a dirty play, then just call it retaliation for what you see at 0:28 of this highlight reel and you'll understand why Vrabel got what he got. I'm a Vrabel fan and his late hit was clearly a dirty play. I am not saying Ricky Williams was right to do what he did, but to borrow the logic of those of you who might defend Burress, it's the nature of the league.

Wildcatting the Offense

Football Outsiders writer Doug Farrar provides the best explanation of the Wildcat/Single Wing plays from the Dolphins-Patriots and Raiders-Bills games that I have seen this week. It is notable the analysis theorizes these conclusions:

a) The Dolphins implemented and executed a more complex and effective use of his formation than the Raiders.
b) The Bills were a faster defense that made better adjustments to the Raiders formations.

Like Farrar, I also look forward to seeing how the use of this formation develops as the season progresses. If the play is a simply gimmickry, defenses will shut it down within the next month. If it continues to work, one could link its effectiveness to the influx of talented backs and the league's increased adaptation of a running back by committee approach.

If I were a betting man, my money would be on the defenses. I remember when the option or the pitch out to the back running in the opposite direction of the line shift were plays that were effective in highly specific down and distance situations, but disappeared as quickly as they arrived.

Guys My Age

The only two players still active in the NFL who were drafted in 1991 are Brett Favre and John Kasay. They're not only active, but also productive. Do you remember the two quarterbacks drafted ahead of Favre in the first round? Seattle picked Dan McGwire, a 6-8, 240-pound, novelty act from San Diego State and Todd Marinovich, the USC wunderkind-cautionary tale for overzealous, football fathers. Neither player ever started a full season for their team.

Never Again Will I …

… Pick a quarterback with a college career running the spread formation. As an NFL insider I had the pleasure of speaking with last week said to me, if they can't sit in the pocket and deliver the football downfield with accuracy, they won't last long in the league. Since he's been involved in the game almost as long as I've been alive and I'm beginning to come to the same realization, I'll skip the rest of the steps and take his word for it.

… Answer e-mail questions about who to start/sit/add/drop from people who don't have enough class to say 'Hello', 'Matt', 'please', 'thank you', and end the e-mail with their name. If I – or any other person you e-mail – take the time to answer your question with a personalized response, take the time to personalize your question. If you think this is dumb to mention, I'm probably the most responsive writer in this industry when it comes to answering e-mail questions and I've been doing it for five years without saying a word about this kind of behavior until now.

…Select Edgerrin James in a draft again and I'm sad to say it. He was a staple of some of the best fantasy teams I've fielded, but his career as a fantasy starter is over. It's a shame the Colts didn't keep him one more year.

…Take a player the year after he posts a record season. The odds of him even coming close to that production are too small.

I Can't Wait…

…To see Harry Douglas be a more integral part of the Falcons offense. He'll develop into the true fantasy threat.

…To see ESPN to allow Steve Young to stop dying his hair. The past two weeks the camera lights gave his hair a purple hue. And Steve, if Brett Favre looks like George Blanda at the end of his career and is still play, you can stop using Just For Men.

…For Chris Henry to come off suspension and take over for Chad Ocho Cinco (I throw up in my mouth just a little bit everything I have write or say that name) whose labrum has to be bothering him more than he's letting on. Why else would they not-so-coincidentally, bring back Henry after Ocho Cinco got hurt? It wasn't for his community service.

…For someone to e-mail me with the name of a receiver in the NFL who performed at a high level with a torn labrum. I heard ESPN say it has been done, but I didn't catch them give an example. Nor have I seen someone provide an example in writing.

…To make a return visit to the Pro Football Hall of Fame. It has been more than 30 years since my first trip.

I Will Always…

…Wait until at least round four to draft my first quarterback. This year I recommended Brees, Roethlisberger, and McNabb – so far, two out of three ain't bad.

…Wonder why I can't stop dropping 1-3 'unknown' players too early in the season and come to regret it later when they become true commodities.

…Miss playing fantasy football the way it was done prior to computers being an essential part of the average American's life.

If I Were You…

…I would pick up Tennessee LB Stephen Tulloch this week if you belong to an IDP league. He will be starting at MLB against the Vikings and he is finally rounding into the form that prompted the Titans to draft him a few years ago. He is undersized, but he is fast and can wrap up very well. He could be a valuable player no one considered in drafts.

…I would pick decent athletes with great football skills over great athletes with 'developing football skills' every day and twice-on Sunday. Some teams have scouts who believe their job is to find a great athlete and the coach's job is to teach them the game. But it always comes back to the same point: This is professional football. If I'm going to pay someone millions of dollars they better show a pretty advanced understanding of how to play the game in addition having athletic skill. They don't have to be cognizant of every sound technique known at the position they are projected to play, but they better show on film that they understand situational football and move around the field like a pro. It's the same for fantasy football. Ask yourself who in their prime is more athletic? Jerry Porter or Hines Ward? Laveranues Coles or Jerricho Cotchery? Deuce McAllister or Stephen Davis? Now ask yourself which players you would start on your fantasy team? I rest my case.

…I wouldn't abandon ship on Carson Palmer. The running game is getting better and he was typical Palmer against an aggressive Giants team.

…I would consider Josh Reed as a free agent receiver in deep leagues. It's clear James Hardy isn't ready and Roscoe Parrish(ed) is ripe for a bad ESPN pun on his last name. Josh Reed reminds me of Ike Hilliard. Both were coveted college prospects with run after the catch skills and sticky fingers. Neither made a quick transition to the NFL, but now they are becoming favorites of their quarterbacks.

Smart or Outsmarting Yourself?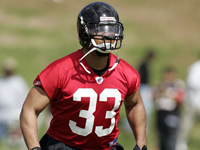 Is it time to trade Michael Turner?
I continue to hear people say it is time to trade Michael Turner before he reaches the more difficult portion of his schedule. I have the opportunity to trade Turner and Delhomme for Donovan McNabb and DeAngelo Williams (I have Jonathan Stewart). Would you do it? My #1 back is Adrian Peterson, but after Stewart, the rest of my depth chart is Pierre Thomas, Ricky Williams, and LaMont Jordan.
The argument for such a move is that Turner will be a #2 fantasy RB at best against decent teams and trading him now would net you a fantasy point profit if you have decent RB depth. The basis of the argument is focused on Matt Ryan limiting the offense because it is his rookie season and defenses will stack the line to force Ryan to beat them.
The argument against the trade is that Turner will remain effective because he is a power runner with speed and will wear down good defenses in tight match ups. This side of the debate also believes that if you drafted Turner, he was likely your second back which means your depth isn't likely to be good enough to lose him for what you would get in return.
Personally, I've tabled the debate (and the trade) for another week. If Turner can get between 90-120 yards and a score against Carolina I'll lean more in the direction of keeping him. I'm not much into buying and selling my players like I'm some day trader. It takes a ton of knowledge to effectively do it and not get burned.
Dear Al…
Every week that goes by that you do something to undermine the authority of your head coach and he handles it with the same aplomb you would expect from Jeff Fisher, the worse you look at his expense. I have a really bad feeling that we're going to find out there is a very complex story with the Raider's owner that will only come out when he's left this planet.
Dear NFL…
Please do institute a rookie salary cap. This might prevent owners from getting impatient with their first day draft picks, allow them the learn more gradually, and become better players when they do take the field. Sure, there are players who do better by getting thrown into the chaos. But then there's Aaron Rodgers, Steve McNair, Larry Johnson. Steve Young (when he got his second chance by sitting behind Joe Montana), and Justin Tuck. Guys who learned what to do through observation.
Dear Rams…
It doesn't matter which quarterback you start, you will still be arraigned on manslaughter charges come Monday.
Dear Browns…
My first experience seeing a lake was in your town. It was during a time where not long before the river caught on fire. I was three years old and I remember pointing down to the water's surface at a fish…floating lifeless in the chemical murkiness. I heard they've cleaned the water extensively. Of course, I heard your team was a playoff contender and you had a Pro Bowl quarterback (who the opposing defenses down the stretch made look like the undrafted free agent he was, but you still gave him a big payday).
From the Galley
I have stumbled into a sweet setup on the home front. Due to the fact that it takes me 2-3 attempts to complete any project that involves tools and my fiancée is an interior designer who would probably blow up our house if we ever had a gas oven and she were expected to cook, our agreement is that she does the handy work and I cook the meals. The exterior of the house is already primed and my neighbors are beginning to wonder if the 'hermit with the dog-fighting cat' moved out and the nice lady adopted the cat (who lays at the foot of her ladder for hours on end as if he would help if he could).
While barbeque is a great game day option, I'd rather be watching the game than manning the grill. So what I'm looking for are recipes that are tasty, reasonably healthy, and quick enough to make during the pre-game shows that the family will eat all day. If you want to share some, drop me a line.
Here's an example of something quick, simple, cheap, and reasonably healthy my family digs. May you'll like it, too. No MSG, either.
Lo Mein (Prep/Cook Time is approximately 20 minutes)
Serves 3-5 (depending on what you call a serving size)
Ingredients & Equipment
1 Wok
1 Large saucepan
1 Colander
1 sharp knife to prep ingredients
2 boxes of wheat spaghetti or fettuccine noodles
3 tablespoons of peanut oil
4 cloves of minced garlic
1 teaspoon of fresh ginger (sliced)
1 tablespoon of ginger powder
2 carrots, sliced diagonally in ¼-inch pieces
2 golden delicious apples sliced into bite-sized cubes
4-5 stalks of bok choy – slice the stalks into bite-sized pieces and separate from the leaves, cut up the leaves, too.
2 tablespoons of soy sauce
1 tablespoon of caraway seeds
2 tablespoons of sesame oil
2 teaspoons of pepper
1 pinch of salt
1 tablespoon of brown sugar (optional)
Directions: Heat water in a large saucepan until boiling. Boil noodles for five minutes and drain in a colander. While the noodles are boiling heat the peanut oil in the wok on medium or medium high heat. Add the garlic, ginger, and ginger powder and allow it to cook in the oil for a minute. Add the carrots, bok choy stalks, and apples with the pepper and salt; make sure they get well coated in the oil, cooking for a minute or two. Turn down the heat to medium or medium low and add portions of the noodles a bit at time. Each time you add the noodles, add a bit of soy sauce, caraway seed, and sesame oil. Keep doing this until you have all the noodles in the wok and mixed well so all the ingredients are mixed well and the noodles shine from the coating of sesame oil. Turn the heat down to low add the sliced bok choy leaves and the brown sugar, and mix well. Remove from the heat and serve in bowls with a bottle of Sriracha Hot Chili Sauce if someone eating this concoction wants some heat.